This Halloween no-bake white chocolate cheesecake has the pretty colours of halloween and a taste to match.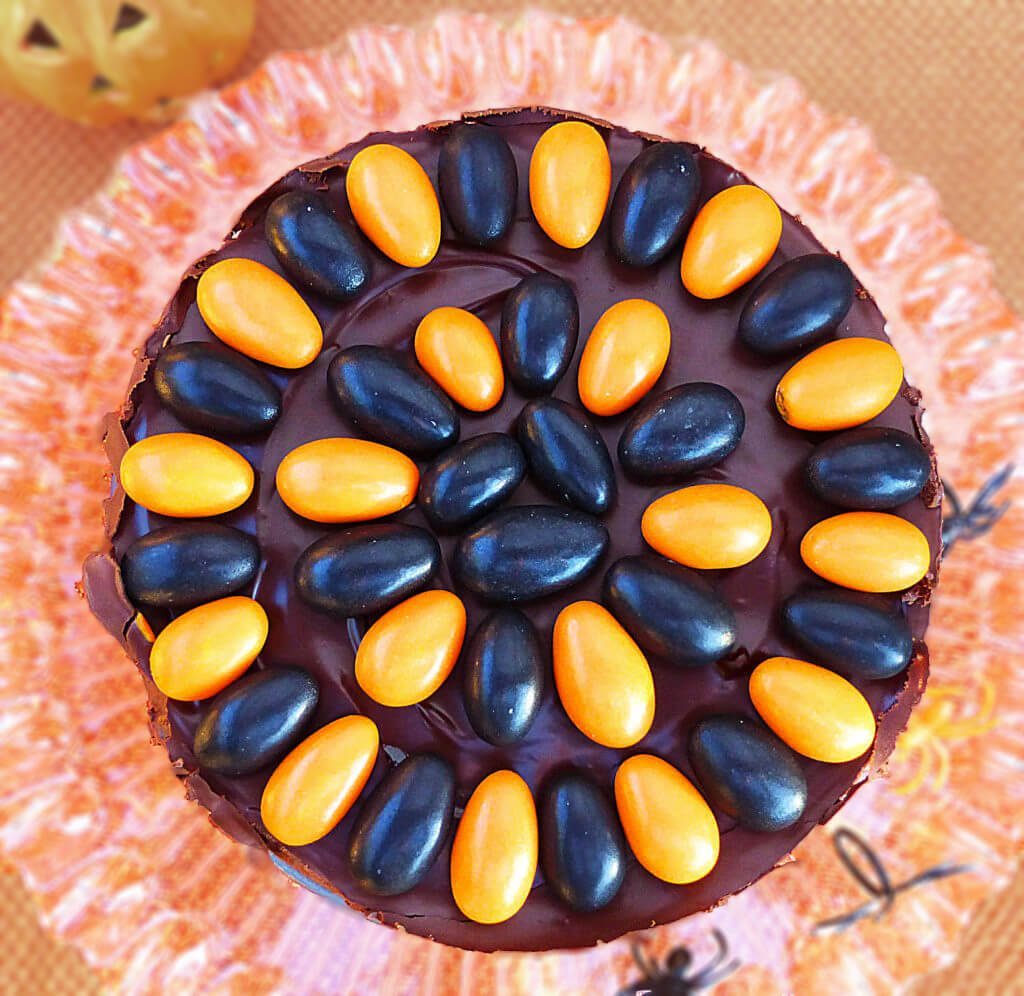 Often, when you come up with a totally new, pretty much off the bat recipe, you don't really know how it is going to turn out. I am not so bothered when it is a cupcake or cookie, but when I plan something a little special, like this Halloween-inspired extravaganza, I get a little nervous, not only when making it, but showing it to others.
Sometimes new recipes work, other times, not so much (or not like you'd planned in your head, anyway). Like this dessert. Pretty much everything seemed to fail before my eyes, and at one point, I did consider slinging it in the bin.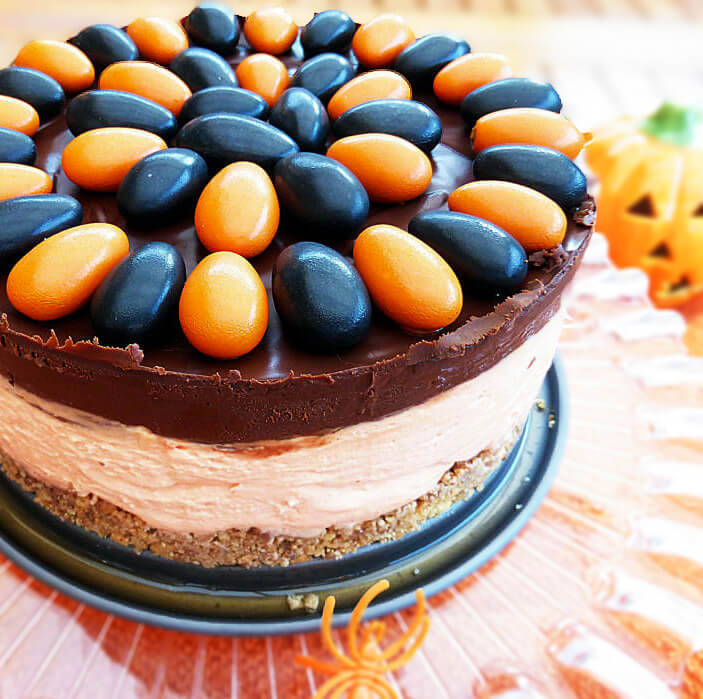 So, what was wrong with it? Well, the middle was squidgy in comparison to the harder ganache, so although it melts in your mouth, it didn't cut amazingly well (put it this way: the slices will never win a beauty pageant). The colour of the filling was supposed to match the orange of the candy on top when as you can see, it is a pale peach colour. I used too much ganache and it was much thicker than I had anticipated. The base was supposed to be as dark as the black candy I used. Yep. Total failure.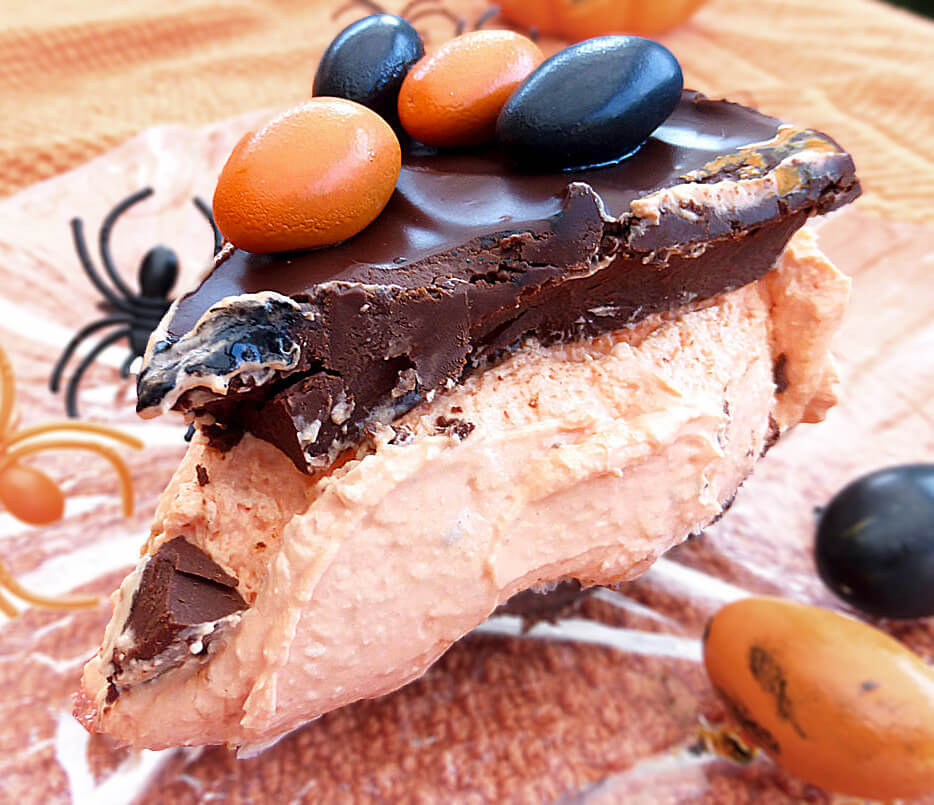 But you know what? My disappointment didn't last long – one bite was all it took. Who cares about superficial beauty, or things being less than perfect, as long as it tastes good?
As mentioned, I used way too much ganache – if you don't want as much, just half the chocolate and the cream. You might also want to add a little honey or sugar if you prefer your chocolate sweeter. I topped my dessert with Halloween-coloured candied almonds, but you could use any sweets (or none at all, if you prefer).
I attempted to make my filling orange by using a combination of red and yellow food colouring, and although it is a pretty shade, it most certainly isn't orange. Feel free to omit it (it does nothing to affect the taste of the dessert). The dessert was enough to feed six adults (you don't need a lot).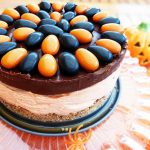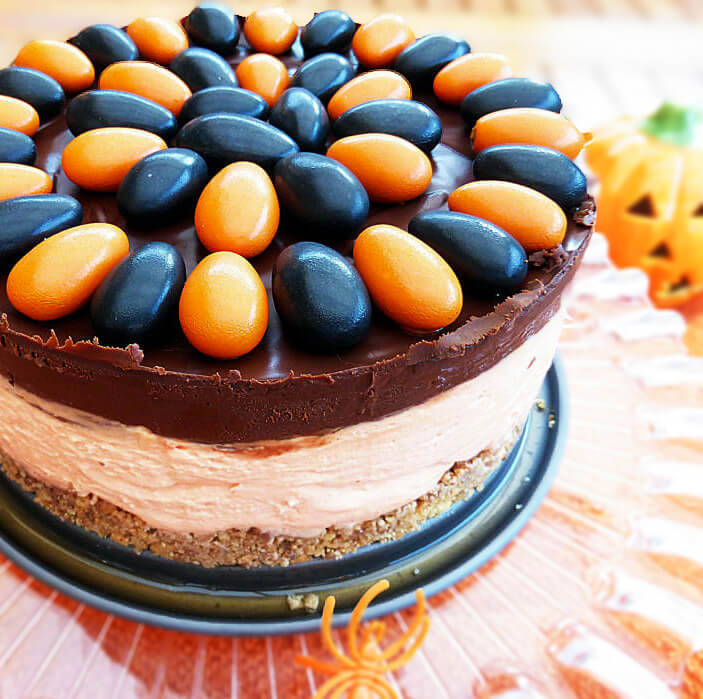 Halloween No-Bake White Chocolate Cheesecake
Ingredients
Crust:
150g

(1½ cups) crushed chocolate digestives (or Oreos)

50g

(3½ tablespoons) butter

(melted)
Filling:
160g

(5.4oz) white chocolate

(melted)

400g

(14oz) cream cheese

200g

(3/4 cup) Greek yoghurt

1

teaspoon

vanilla sugar

red & yellow or orange food colour

(optional)
Ganache:
200g

(7oz) good quality dark chocolate

250ml

(one cup) whipping cream
Instructions
Melt the butter and crush the digestives. Mix together until everything is well coated and then pour into a small springform pan (mine was 18cm / 6in). Push down into the bottom of the pan with the back of a spoon until you have a fairly even coverage. Pop in the fridge while you make the filling.

Melt the white chocolate for the filling and leave to cool. In the meantime, beat the cream cheese, Greek yoghurt and vanilla sugar together using an electric whisk. Add enough food colouring until the desired colour is reached (if using), then finally, the cooled chocolate and whisk again just until everything is combined. Pour over the crust and smooth off the top. Leave in the fridge for several hours (I left mine overnight).

For the chocolate ganache: heat the cream in a small pan just until it starts a slow, rolling boil. In the meantime, chop or break up the chocolate into small pieces and put in a medium sized bowl. When ready, pour the cream over the chocolate (so that it is all covered) and leave for five minutes (don't be tempted to stir before that). After the allotted time, the cream and chocolate will have transformed into thick, shiny ganache.

Pour over the hardened filling and using a small palette or frosting knife, smooth the chocolate into place. Leave to set for around 30 minutes before attaching any decorations, then place in the fridge to completely set for several hours.

Pop into the freezer for around and hour before serving, just to make it a little easier to slice (the middle will still be squidgy, especially when you try to cut through the hardened ganache). Keep in the fridge until you are ready to eat it. Enjoy!
If you love desserts, check out these other cheesecake recipes:
Chocolate Cheesecake with a Peanut Butter Cake Crust
Daim Bar and Gooey Caramel No-Bake Cheesecake
Triple Chocolate Caramel Cheesecake
Snickers and Peanut Butter Cheesecake