Weekends are for indulgence and it certainly doesn't get more indulgent than this Daim Bar and Gooey Caramel No-Bake Cheesecake.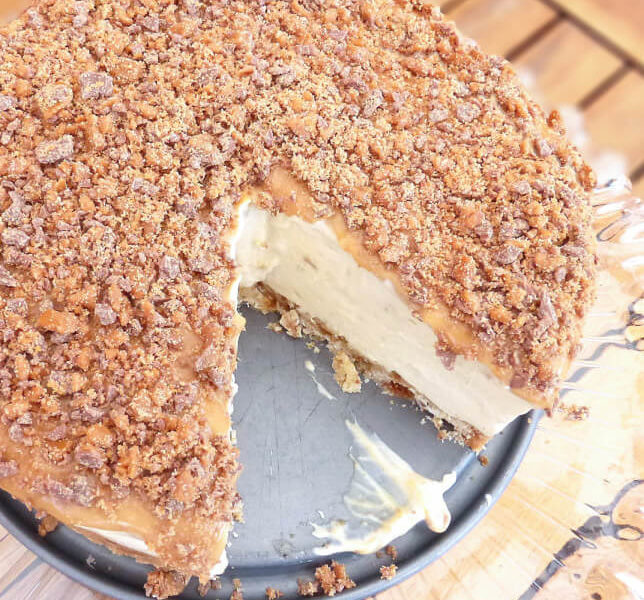 Homemade buttery shortbread crust peppered with bits of crunchy Daim. Luscious caramel and cream cheese filling. Sweet caramel ganache sprinkled with even more crushed Daim. I know. Right?
Daim bar is a classic Swedish candy which is found all over Europe. When researching for an equivalent for my transatlantic friends to use, I discovered that Daim was intentionally developed to replicate a Heath bar.
The Swedish candy company developing the Daim (formerly Dajm and in the UK, Dime) wanted an exact copy. However, Heath's manufacturers wouldn't give up the details of the ingredients that went into a Heath bar, and so the Swedes kind of made it up as they went along!
Apparently, the Skor bar (which means "shoes" in Swedish and carries the Swedish emblem in the logo) was developed later and made to copy the Daim bar, so internationally we have more than our fair share of creamy, crunchy toffee chocolate bars to go round!
When I start to consider making a more elaborate dessert (like this one), there is a ton of thought that goes in to it. Okay. Scratch that. What I should say is that I can't make up my annoyingly indecisive mind just what I should do.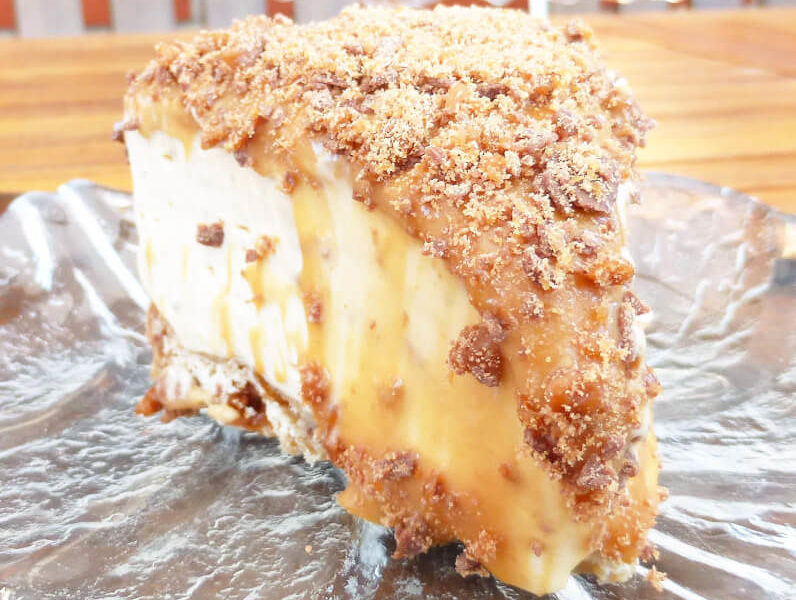 With this one, I was pretty clear on the filling and base (they are very similar to my Snickers and peanut butter cheesecake), but couldn't decide how to do the topping. I went back and forth between having a thinner, drip-effect caramel or a fairly solid ganache.
As it happens, it is a mixture of both. I went for the firmer ganache but even after a night in the fridge and an hour in the freezer, it never hardened. So, when the spring-form was removed, it did run down the sides a little.
Therefore, if I were to make this cheesecake again, I would definitely go for a runnier, drip-look and add the topping and crushed Daim to decorate right before serving. However, to give a true representation of how I got the end result (and what you see in the pictures), I have given directions for exactly how I made it.
As usual, I like to make my cheesecakes and cakes on the smaller side (less for me to guzzle, then) and this was baked in my favourite 6″ (18cm) tin. You could get six large slices or 8 normal portions from it.
Alternatively, you could still use the same amount of ingredients but in a larger tin, meaning that the dessert would not be as deep.
Daim Bar and Gooey Caramel No-Bake Cheesecake
Ingredients
Crust/Base
50g

(1/4 cup) butter

35g

(1/3 cup) icing (confectioners') sugar

60g

(1/2 cup) plain (all-purpose) flour

½

teaspoon

vanilla sugar

(or extract)

2

tablespoons

crushed Daim bars

(see notes)
Filling:
400g

(1 + 3/4 cups) cream cheese

150g

(6 tablespoons) caramel (or dulce de leche)

2

tablespoons

crushed Daim

(see notes)

85g

(3/4 cup) icing sugar

150ml

(1/2 cup) whipping cream
Topping:
220g

(1/2 cup) caramel (or dulce de leche)

3

tablespoons

whipping cream

The remainder of the crushed Daim for decoration
Instructions
Pre-heat the oven to 150°C (300°F) and grease a small spring-form cake tin (mine is 6 inches/ 18cm). Finely crush the Daim (or Health/Skor) bars using a food processor or blender and put to one side.

For the crust/base: melt the butter and beat in the icing sugar. Sift the flour and vanilla sugar together and then add to the butter mixture. Finally, add in two tablespoons of crushed Daim (Heath/Skor)and stir until a dough begins to form. Push into the spring-form pan and smooth out towards the edges until an even crust has been achieved. Bake in the oven for around 20 minutes, just until the edges are browning but it still looks slightly soft (it will harden as it cools). Allow to cool completely.

For the filling: beat the cream cheese together with two tablespoons of Daim and the caramel. Add the icing sugar and then beat until nice and smooth. In a separate bowl, whip the cream until light and fluffy and then gently fold into the cream cheese mixture until it is well-incorporated. Pour over the cooled base and pop into the fridge to set for about an hour.

For the topping: beat the caramel and whipping cream together until nice and smooth. Pour over the hardened filling and then sprinkle the remainder of the Daim bars over the top. Cover and refrigerate overnight. The cheesecake stays very soft (although not at all runny) so for an easy slicing, pop in the freezer for about 30 minutes before cutting. Enjoy!
Recipe Notes
Daim bar is a hard butterscotch type candy originating in Sweden and popular throughout Europe. I have checked to see what an American equivalent would be and it seems that either Skor or Heath bars would be very similar. The recipe includes a total of 112g Daim (this was 2 double packs) which is used throughout the recipe as indicated above.