There's a lot to say about this Chocolate Cheesecake with a Peanut Butter Cake Crust and Salted Peanut Dulce de Leche Topping.
The title itself is a right old mouthful (not unlike the dessert), but you have to make sure you include everything. It's not just a chocolate cheesecake and it wouldn't be half the dessert it is without the salted peanut dulce de leche topping.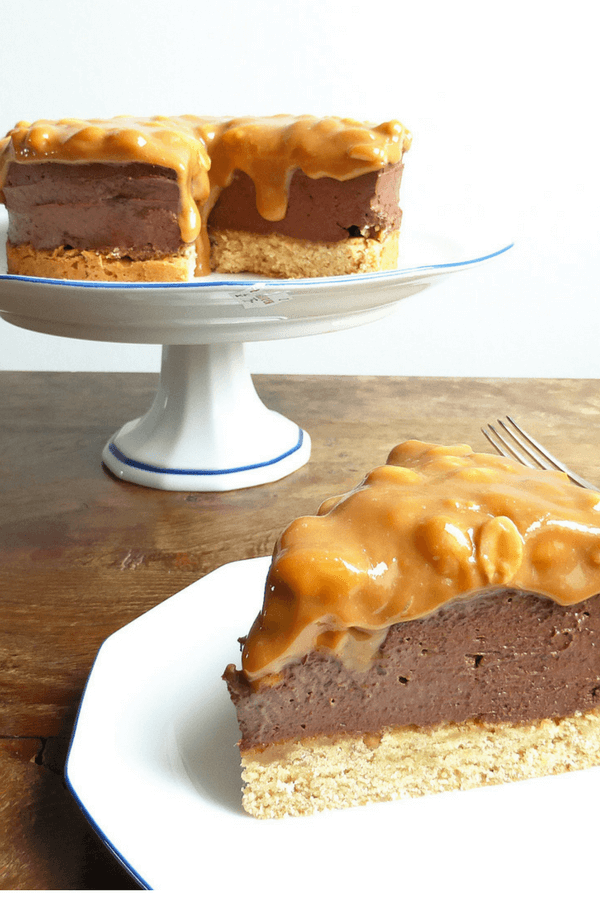 Describing the dessert is something else, too. First, there is the gluten free peanut butter cake as its base. Then we have a rich cream cheese, Greek yoghurt and dark chocolate cheesecake filling. And finally, the pièce de résistance, the salted peanut dulce de leche topping with whole peanuts. Oh, yes.
I love coming up with crazily decadent desserts. Remember my overload cake and silk pie? You know what though? They taste all the better for being simple. Yep, there's nothing more taxing in this dessert than scooping the dulce de leche out of its can for the topping. And yes, I did say can. It's okay to cheat every now and again. Pinky promise.
However, if you'd like to make your own from scratch, or just learn a little more about the sweet ambrosia of the gods, have a read of Food 52's article about it.
This chocolate cheesecake with a peanut butter cake crust is a fairly small dessert (made in a 6" pan) but you need only a slither. Trust me on that one. It could easily be sliced into ten bits!
Chocolate Cheesecake with a Peanut Butter Cake Crust and Salted Peanut Dulce de LecheTopping
---
Ingredients
Base/Crust:

80g (1/2 cup) gluten free flour blend (or use regular flour)
1/2 teaspoon baking soda
50g (1/4 cup) peanut butter
50g (1/4 cup) softened butter
4 tablespoons brown sugar
1 egg
1 teaspoon vanilla sugar

Filling:

100g (3/8 cup) Greek yoghurt
300g (1 + 1/3 cups) cream cheese
150g (1½ cups) icing sugar
200g (1½ cups) good quality dark chocolate

Topping:

400g (around 1½ cups) dulce de leche (one can in the UK/Sweden)
20g (2 tablespoons) icing sugar
100g (3/4 cup) salted peanuts

NOTES:

I used gluten free flour but you could use regular if you preferred.
All conversions to cups are approximations.
Directions
~ For the base/crust: Pre-heat the oven to 350ºF (175ºF). Beat the butter, peanut butter and sugar together until nice and light. Beat in the egg. Add the flour, baking soda and vanilla sugar. Pour into a greased 6 inch springform pan and bake for around 14 minutes. Using the back of a spoon, smooth down the top (it should have risen a little), so that you have a fairly flat surface. Allow to cool completely.
~ For the cheesecake filling: start to melt the chocolate (I use a Bain Marie/double boiler). While this is happening, mix the greek yoghurt and cream cheese together, then add the icing sugar. Stir in the chocolate and mix until everything is combined. Pour over the cooled base. Place in the fridge for an hour or so.
For the topping: pour the dulce de leche into a bowl. Sift the icing sugar in and mix until everything is combined. Throw in the salted peanuts and stir them in. Pour over the cheesecake filling. Cover and refrigerate for three hours or better still, overnight. When ready to serve remove the outer part of springform. Leave at room temperature for a while so that the filling is silkier and the dulce de leche can drip a little over the sides. Slice and enjoy!
7.8.1.2
309
https://www.theculinaryjumble.com/chocolate-cheesecake-with-a-peanut-butter-cake-crust-and-salted-peanut-dulce-de-lechetopping/