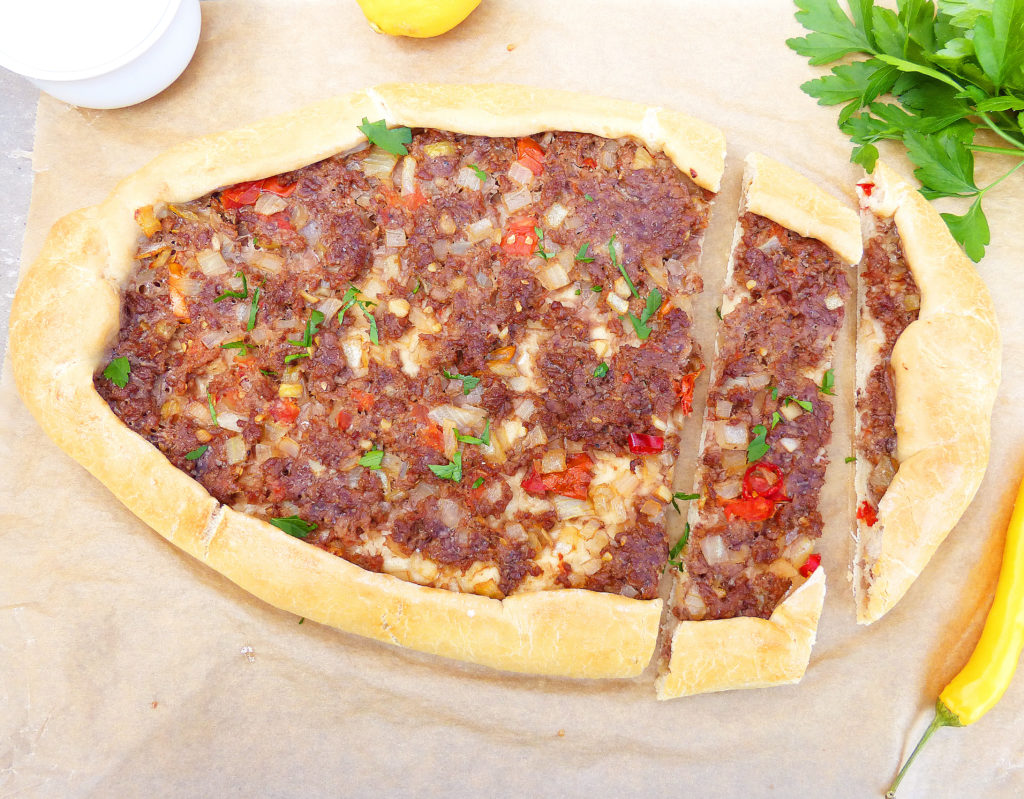 Pide (pronounced pea-day) is a Turkish flatbread pizza which is traditionally oval shaped. However, don't let the word "pizza" fool you –  you won't find these smothered in tons of cheese or slathered in tomato sauce.
Although they have a delicious dough base, that's where the similarity to the pizza most of us know and love ends. Instead, you'll find a simple topping consisting of ingredients like sausage, cheese and spinach, and ground beef.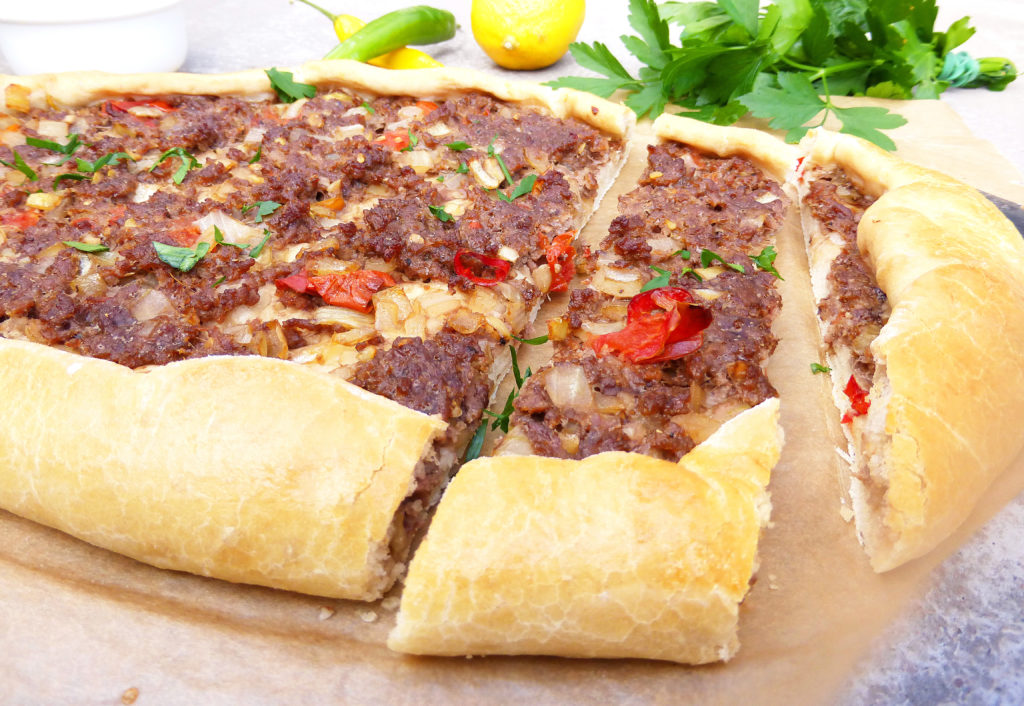 I worked and lived in Turkey for two summers and I remember pides well. You can pick them up from a vendor on a busy street corner or find them in restaurants; they are also a staple in most Turkish households.
However, although I lived in Turkey, I wasn't exactly doing a lot of baking in those days (better not ask what I was doing), and had no idea how to make a pide.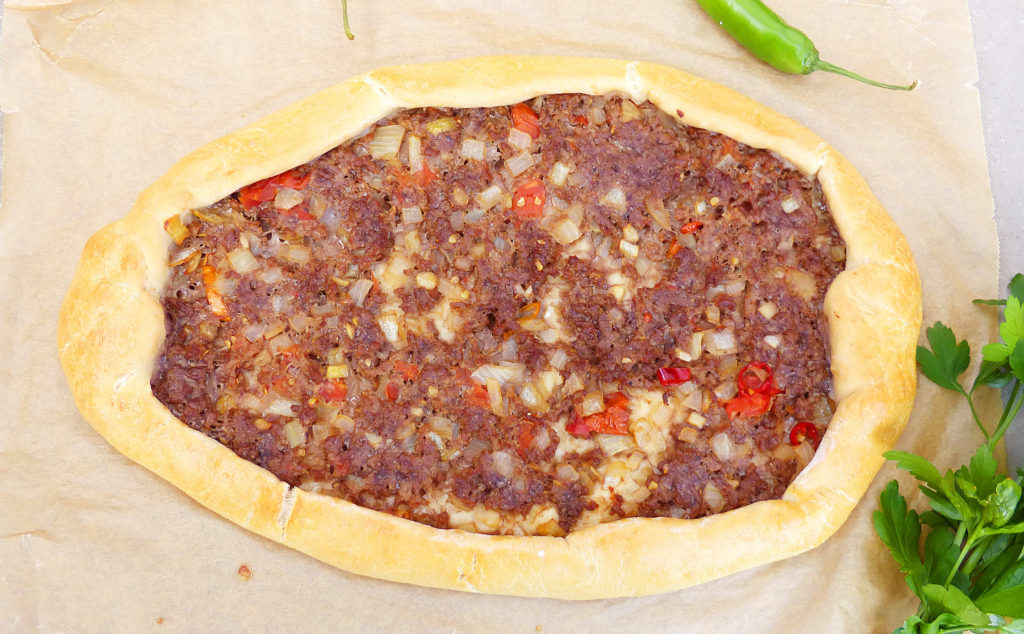 I did a little research to find an authentic recipe I could recreate, and came across this one from Ozlem's Turkish Table .  Because I wanted to keep it as convincing as possible, I followed their recipe pretty closely, but I love a little heat, so threw in some chillies (if you prefer things a little milder, just leave them out).
The shape of mine was a little off, too (think raft rather than canoe), but in essence, I think I captured the sentiment pretty well! The measurements below made two large pides, more than enough for four people (stretching to six if you add some salad).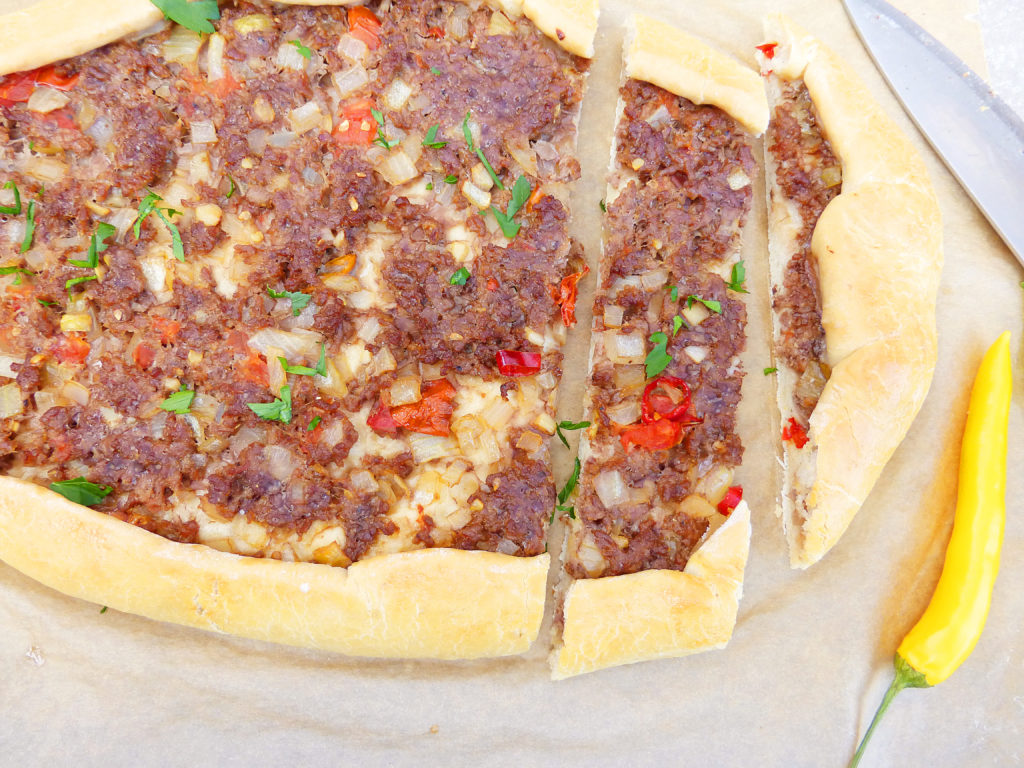 Spicy Turkish Pide with Ground Beef and Chillies
---
Ingredients
Dough:

12g (1 tablespoon) dried yeast (if you prefer dried, see here )
1 cup warm water
2 tablespoons olive oil
150g (1 cup) bread flour
225-300g (1½ - 2 cups) all purpose (plain) flour
1 teaspoon sea salt

Topping:

1 tablespoon olive oil
1 onion (finely chopped)
2 cloves garlic (finely chopped or crushed)
1 small red chilli pepper (finely chopped)
1 small orange chilli pepper (finely chopped)
1 tomato (diced)
1/2 teaspoon cumin
1/2 teaspoon coriander
1 teaspoon sea salt
Black pepper to taste
400g mince (ground) beef
1 egg & 1 tablespoon olive oil (for the egg-wash)
Parsley (for decoration)
Directions
~ Pre-heat the oven to 180°C (350°F) and line a large baking tray with grease-proof/baking paper.
~ Start off by preparing the bread dough: In a large bowl, combine 1½ cups of all purpose flour, the bread flour and sea salt. In a separate bowl or jug, combine the yeast with the warm water and leave to activate for around ten minutes.
~ Stir the olive oil into the yeast/water mixture and then pour into the dry ingredients. Gradually add more all purpose flour, just until a sticky but workable dough is achieved (if bread is something new to you, check out my tips on how to make the perfect bread, whatever the recipe).
~ Knead the dough on a floured surface until it is smooth and elastic. Divide it and roll each half out into a long, oval shape (once you've started rolling the dough out, you might find it easier to transfer it to your baking tray and finish the shaping there). Let the dough rest while you prepare the filling.
~ In a frying pan, heat the oil and fry the onion, garlic, and chillies (if using) for five minutes. Add the spices and tomato, and continue to cook for a further two minutes.
~ Place the ground beef in a large bowl and add the tomato/onion mixture along with salt and pepper to taste, then mix well to ensure everything is combined.
~ Spread the mixture evenly over the dough, leaving an approximate one inch gap all the way round. The mince is not cooked prior to going in the oven, so it needs to be a fairly thin covering to ensure it cooks right through.
~ Gently roll over the edges all the way around. Beat the egg and then add the remaining olive oil. Brush over the raised edges. Bake in the oven for around 30 minutes - the crust should be a deep brown colour. Sprinkle with a little parsley (optional), slice and serve either immediately or when cold. Enjoy!
7.8.1.2
24
https://www.theculinaryjumble.com/spicy-turkish-pide-with-ground-beef-and-chillies/