These homemade spicy beef pasties are prepared completely from scratch and make a filling, delicious dinner or snack.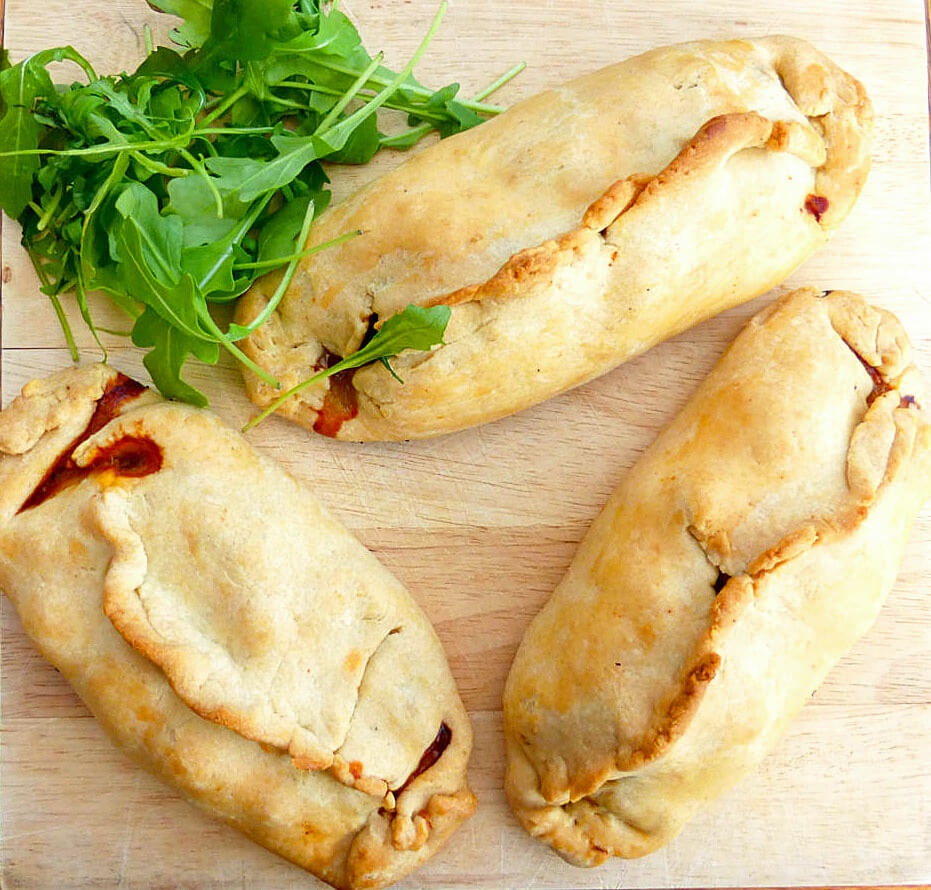 One of the things I miss most about not living in the UK is pasties; they are a national institution (if you'd like to know more about our favourite pastry, especially the most famous variety from Cornwall, have a read here).
Of course there are pies here in Sweden, but nothing that could ever come close to being described as a pasty. Last week, I had some really nice beef strips I'd bought with the intention of making stroganoff, but decided to go with some beef and onion pasties instead. The filling is entirely flexible – if you prefer mince (ground beef) use that, or alternatively, why not use chicken or just vegetables?
If you find it easier to use ready-made pastry, go ahead. Even Jamie Oliver admits to not bothering to some pastry from scratch. I don't attempt pastry very often as it can be tricky (give me a loaf of bread to make any day of the week), but where possible, I prefer to prepare my food from scratch if I can.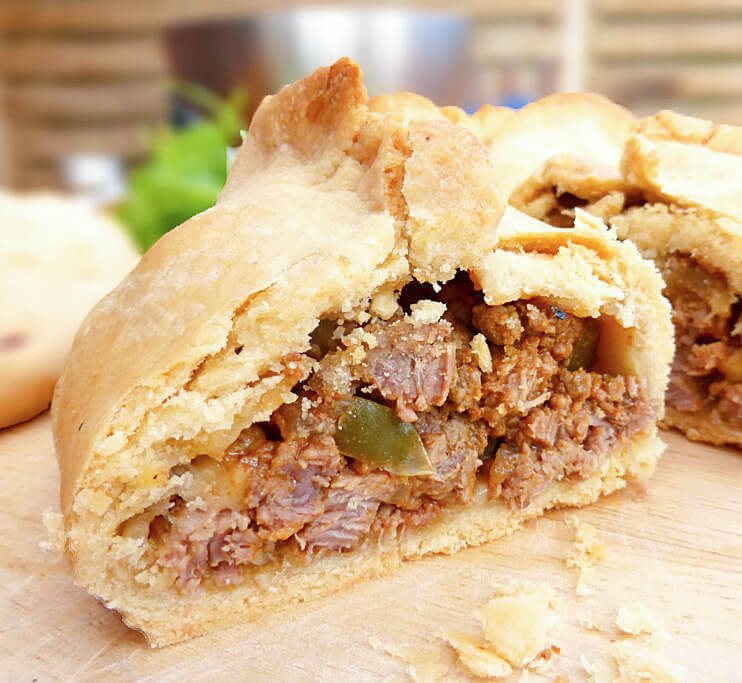 Traditionally, pasties are packed with meat, vegetables and potatoes in a rich gravy. However, I like my food with a kick and decided to bypass tradition and go for something a little different. I loved how these turned out – the crumbly, buttery pastry is the ideal encasing for the juicy meat flavoured with spices. These are what I refer to as rustic, which basically means they look far from perfect, but that's all part of the charm!
The measurements below yielded four large pasties. My eleven year old eats like a horse and managed a full one (and then wanted more), whereas my less voracious nine year old could only manage a half! Therefore, if you have a younger family, it might be an idea to make six smaller pasties.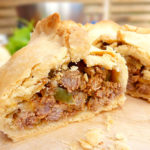 Homemade Spicy Beef and Onion Pasties (from scratch)
Servings
:
4
large pasties
Ingredients
Pastry:
340

g

(2 + 3/4 cups) plain flour

170

g

(2/3 cup) butter (cold and chopped into small pieces)

1

teaspoon

sea salt

4-5

tablespoons

cold water
Filling:
1-2

tablespoons

oil

(for frying)

700

g

(25oz) meat (minced or finely chopped)

1

small green pepper

1

onion

2

tablespoons

ketchup

1

tablespoon

HP or Worcestershire sauce

1

tablespoon

water

1/2

teaspoon

cumin

1

teaspoon

paprika

1

teaspoon

chipotle chilli powder

pinch

cayenne

(adjust to personal taste)

sea salt and pepper
Instructions
Firstly, prepare the pastry: In a large bowl, mix the flour and salt and then add in the butter. Rub the butter and flour with your fingertips until the mixture comes together as crumbs. Add only as much water as you need to get it to come together as a dough (one tablespoon at a time). Form into a ball, place back in the bowl, cover with cling-film and leave in the fridge while you make the filling.

For the filling: I blitzed my beef in a food processor so it was small chunks of meat, but you could leave it in strips or even use mince. Heat the oil in a large frying pan and fry the onions until softened, then add the green pepper. Next, throw in the meat and fry until it starts to brown.

In a small bowl, mix the HP sauce (or Worcestershire sauce), ketchup, water, the herbs, spices, salt and pepper and stir until combined. Pour over the meat and cook for one or two minutes. Set aside and allow to cool.

Pre-heat the oven to 200°C (400°F). Cut the pastry into four (or six) fairly equal balls and roll out until you have rough circle shapes that are quite thin. Place the meat mixture along the middle part of the circle (you can pile it up a bit) making sure that you have space at the edges and not too much filling that you can't pull both sides up to join at the top.

Pull the long sides up to meet each other and pinch together (you could use a touch of water to seal them, but I didn't think it was necessary). Turn the outside edges over to seal the pasties (you will get some juices running out as they cook, but that's normal).

Place the pasties on a large baking tray which is well-greased or lined with grease-proof paper and bake for around 20 minutes. Lower the oven to 175° and continue to bake until the outsides are a nice golden brown (normally around 15-20 minutes). Remove from the oven, allow to cool a little and enjoy warm, or alternatively, leave and eat them cold. Enjoy!
If you like homemade pastry, you'll love these recipes:
Individual Chicken and Ham Pies 
Individual Leftover Chilli Pies (Gluten Free)
Gluten Free Sour Cream and Goat's Cheese Pie (from scratch)