This gluten free sour cream and goat's cheese pie was SO good.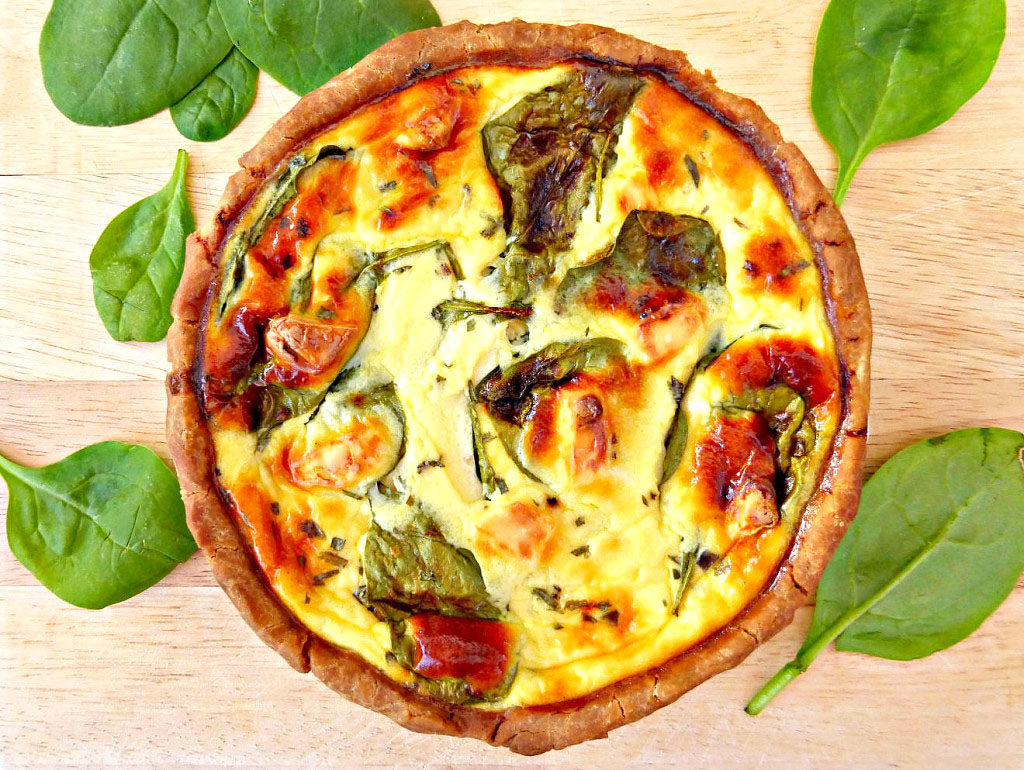 It was the first time I'd used gluten free pastry and I was pleased with everything about it.
Using milk and lower-fat sour cream, the filling is creamy and delicious, without having the calories that come with cream. The goat cheese gives it a beautiful tang but if you prefer to use something in its place, blue cheese or feta would work just as good.
This made one small pie – double the ingredients to make it family-sized!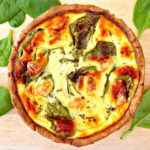 Gluten Free Sour Cream and Goat Cheese Pie (from scratch)
Ingredients
Pie Crust:
50

g

(1/3 cup) buckwheat flour

25

g

(1/5 cup) starch (corn, potato or tapioca)

25

g

(1/6 cup) rice flour

1/2

teaspoon

salt

40

g

(3 tablespoons) butter (cold and chopped into small pieces)

1

egg
Filling:
1/2

cup

sour cream

75

g

(1/3 cup) milk

2

eggs

1/4

teaspoon

tarragon

Sea salt and pepper

30

g

(1/4 cup) goat cheese

Handful of spinach
Instructions
Lightly grease a small pie dish (mine was a round 15cm).

Mix the flours, salt and starch in a large bowl. Add the butter and rub it in to the flour until it resembles crumbs.

Beat the eggs and add to the flour mixture. It should come together as a sticky dough; however, If it doesn't, add one teaspoon of cold water at a time, until the mixture starts to come together.

Using your hands, scrape up the dough and form into a rough ball. Put back in the bowl, cover with cling-film, and leave to rest in the fridge for 30 minutes. Heat the oven to 190°C (375°F).

Roll the dough out between two pieces of cling-film or grease proof paper until it is just under 1/4 inch thick. You might find that even though it has been chilled, it isn't amazingly co-operative! If that's the case, don't panic too much, and just push the dough into place in the pie dish. Although its stickiness might make it a little tricky to roll out, it actually means that it is very pliable and can easily be smoothed into place.

When ready, prick all over with a fork, and put back in the fridge for another ten minutes to firm up again.

Bake for around 10 minutes and then remove from the oven. It should look bubbly and greasy - I nearly had a heart attack the first time, but it settles itself beautifully when it is allowed to cool.

While the pie crust is cooling, make the filling. Whisk the eggs, sour cream, milk, tarragon, salt and pepper together. Lastly, add the spinach. Layer the goat cheese over the bottom of the crust and then pour over the egg mixture. Bake for around 20-30 minutes until the top is golden. This makes the perfect lunch served with a crispy salad! Enjoy!
If you like pies, you'll love these recipes:
Beetroot & Black Pepper Puff Pastry
Gluten Free Galette with Pears in Caramel