These amazing, pillowy soft brioche burger buns are topped with sesame and poppy seeds.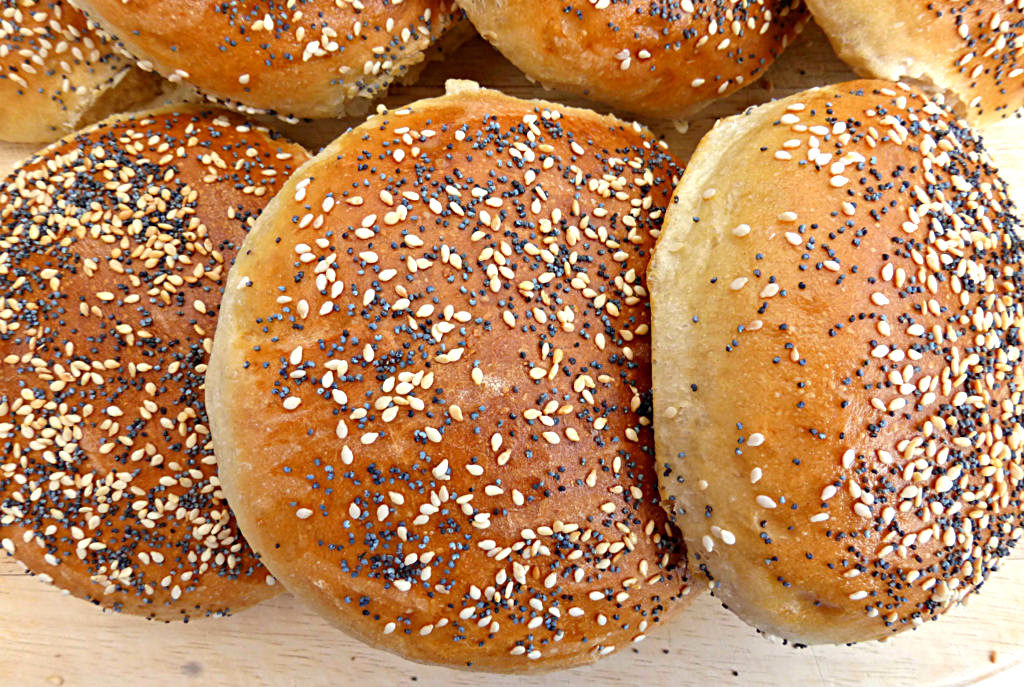 I've made my own burger buns for a while now – to me, shop bought are too soft and artificial tasting (they are also invariably packed full of additional nasties). But last time we had burgers, I fancied something a little different.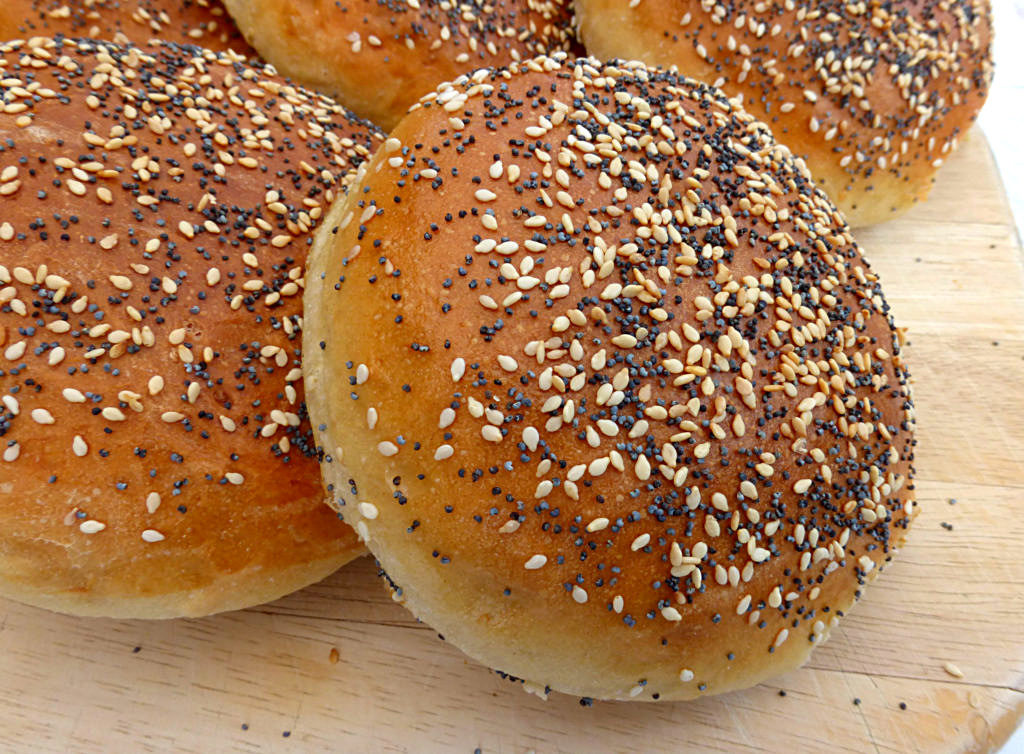 I came across a recipe which was billed as "Possibly the best burger buns EVER" and my curiosity was piqued. The recipe comes from Parsley Sage Sweet and she wasn't exaggerating about how good they were – they ARE amazing!
It's very unusual for me to make a recipe without changing any ingredients, but this one of the exceptions – the only amendment was to use fresh yeast (see the original for quantities required if using dried yeast).
The measurements below made eight really lovely sized burger buns – there's four of us in our family, so I usually freeze four buns so I don't have to make them from scratch next time. Freeze them as soon as they have completely cooled and they will taste just as good as the day they were made!
Soft Brioche Burger Buns with Sesame and Poppy Seeds
---
Ingredients
1 cup water (warm)
3 tablespoons milk (warm)
50g yeast (fresh)
2½ tablespoons sugar
2 large eggs
3 cups strong (bread) flour
1/3 cup all-purpose (plain) flour
1½ teaspoons salt
2½ tablespoons unsalted butter (softened)
Sesame and poppy seeds
Directions
~ Combine the water and milk in a jug. Crumble in the yeast, then add the sugar and leave the liquid for around 5-10 minutes, or until the yeast activates and begins to froth. Beat one egg and add to the mixture.
~ In a large bowl, combine the all-purpose (plain) flour along with 2.5 cups of the bread flour. Rub in the butter as you would when making a crumble (I use my fingers), until you are left with large crumbs. Stir in the liquid until a sticky dough forms. Add a little more flour as and when you need it, bearing in mind that the more flour you use, the heavier the buns will turn out.
~ When the dough is still very sticky, pour out onto a well-floured surface. Add more flour until you are able to knead the dough and then do so for around 8-10 minutes, adding more flour when/if needed. Your end result should be a smooth, soft dough that is not too sticky nor too dry.
~ Form the dough into a ball and place back in the bowl. Cover with a tea-towel or cling-film and leave in a warm place to rise (between 1-2 hours).
~ Knock the dough back down and divide into eight roughly equal shapes and form into rounds. Place on a large baking sheet lined with grease-proof paper, cover with a tea-towel and once more leave to proof for around one hour (the buns really spread out, so you will need to give them plenty of distance if you don't want them to join up).
~ Pre-heat the oven to 200°C and place a baking tray or tin with water (about a quarter of the way up) in the bottom of the oven. Beat the second egg with one tablespoon of water and brush on top of the buns. Sprinkle with sesame and/or poppy seeds and bake for around 15 minutes (you may need to turn the tray half way through the cooking time so that they brown evenly). The buns are ready when the bottoms sound hollow when tapped. Allow to cool on a wire rack and then enjoy with burgers!
7.8.1.2
23
https://www.theculinaryjumble.com/soft-brioche-burger-buns-with-sesame-and-poppy-seeds/