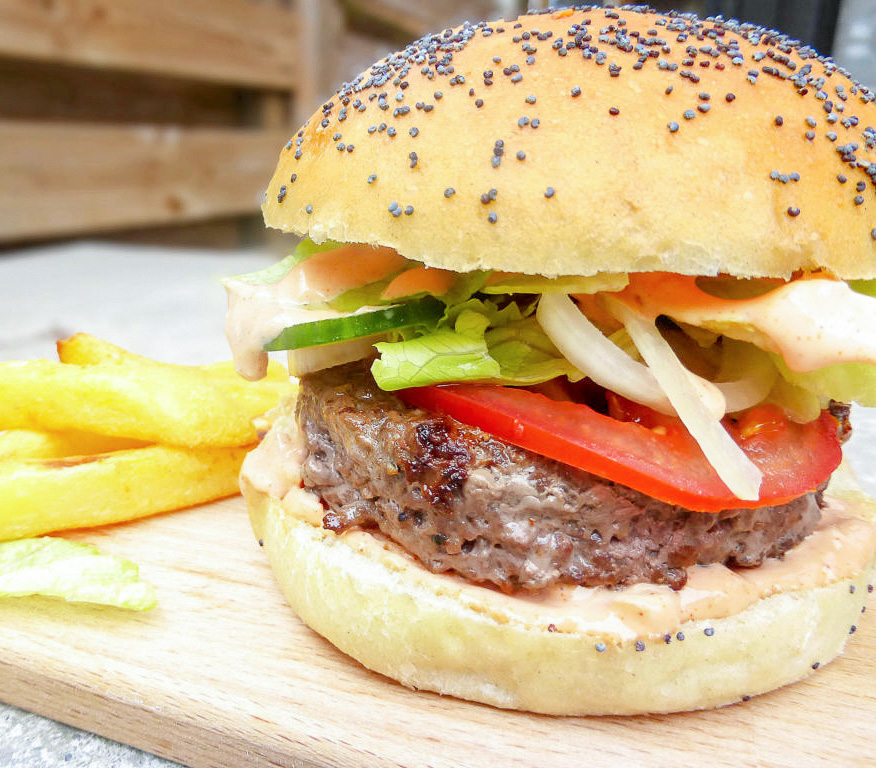 We make homemade burgers from scratch a lot. They just taste so much nicer than store-bought versions.
However, up until recently, I wasn't very happy with the shape of my patties. The control freak in me wanted them all uniform-shaped and prettily round, rather than irregular, rustic looking blobs.
Although we've been making this burger recipe for years, it's waited until now to go on the blog. I went in search of something to mould the perfect patties and came up with a weird metal contraption with a silicone handle that I believe is meant to be for eggs.
It worked perfectly! Although I don't think you are ever going to get a perfectly shaped homemade burger (especially after cooking, these  were rather pleasing on the eye.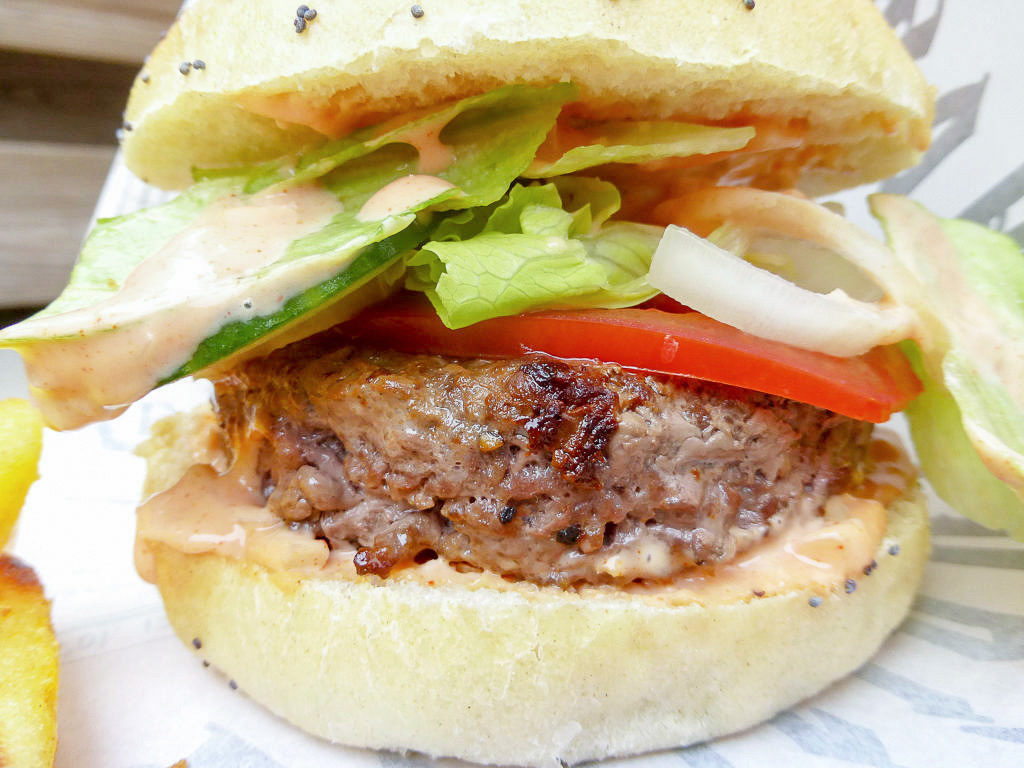 Anyway, back to the recipe. In the past I've featured healthier alternatives to takeaway (takeout) such as a BLT with smoky chilli mayo and gyros with homemade tzatziki.
There's just something so rewarding about making a meal that is balanced, yet tastes like it came from your favourite fast food place.
Everything about this meal is made from scratch. Although the time it takes to make your own buns might seem like a waste (or totally infeasible), it doesn't take as long as you might imagine.
Making bread can feel intimidating, but it doesn't need to be. If you've never tried it before or previous attempts have been disastrous, have a quick read of my easy, no nonsense bread making tips.
The measurements below made 7 large patties. I used four and then froze the remaining three. If you don't want to make such a large batch, you could always halve the ingredients.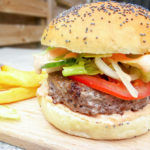 The Juiciest Homemade Burgers From Scratch (even the bun)
Ingredients
Bread buns:
4

bread buns (see directions)
Burgers:
1

kg

(2.2lbs) mince/ground meat

Sea salt - to personal taste

Pepper - to personal taste

2

teaspoons

Worcestershire sauce

½

teaspoon

chilli powder

1

tablespoon

oil

(for frying)
Burger sauce:
5

tablespoons

mayonnaise

2½

tablespoons

tomato ketchup

½

teaspoon

dried mustard

½

teaspoon

smoked paprika

1

small onion

(finely chopped)
Additions:
Lettuce

Onions

Tomato

Cucumber
Instructions
For the bread, please follow my recipe for

brioche buns

(please note, although the original recipe called for both poppy and sesame seeds, the one used for this burger only had sesame seeds).

For the burger: Add all ingredients to a large bowl. Mix with your hands or a spoon until the meat comes together. Either press them into seven patties of equal size using your hands, or use a mould to shape them. Place in the fridge for at least an hour before cooking as this will help them keep their shape when cooking.

When the burgers are ready to be cooked, heat a griddle or frying pan with the oil in it. When the oil is hot, add the burgers. Don't be tempted to turn them too quickly - let them sit there for a while (trying to move them about too soon could result in half the burger getting stuck to the pan). Turn them several times while cooking until the burgers are how you like them, making sure they are cooked right the way through.

For the burger sauce: mix all the ingredients (apart from the onion) together in a bowl. Chop the onions very finely then stir in. Taste and adjust to your personal preference.

Cut the bread buns open and spread the burger sauce over both sides. Place the burger on one half and top with the salad ingredients you are using, and then drizzle a little more sauce over the top. Place both bread bun halves together. Serve with fries (mine were made in an Actifry) or a tasty salad. Enjoy!