These ridiculously gooey fudgy milk chocolate cherry brownies will leave you begging for more. One is never enough.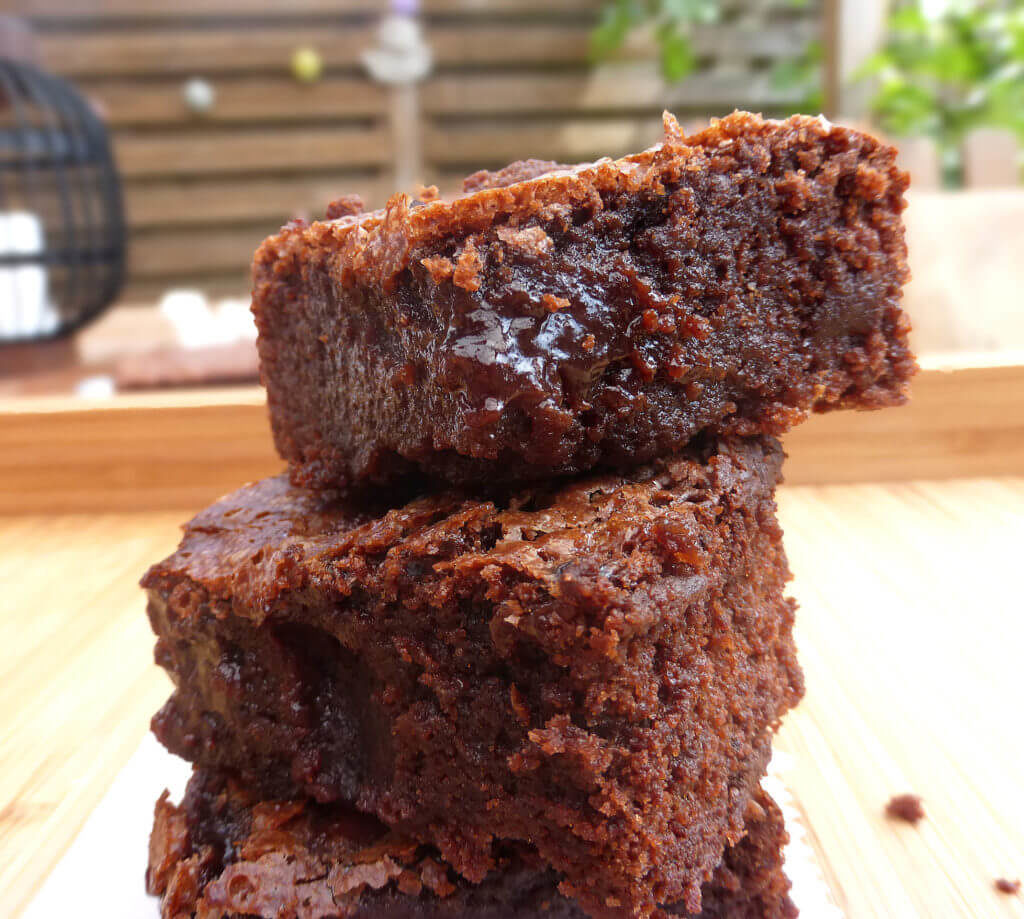 Regular readers will know that I have a passion for brownies. They will also know how much I rabbit on about putting coffee in my chocolate cakes, and my adamance that the coffee enhances their flavour to a whole new dimension.
I know the addition of coffee isn't up everyone's alley, and this is something I discussed in my coffee overloaded Almost Tiramisu Double Espresso Cake post.
But you know, I am always up for being proven wrong (with teeth firmly gritted, that is), and so thought I would make a batch of brownies sans coffee and see for myself.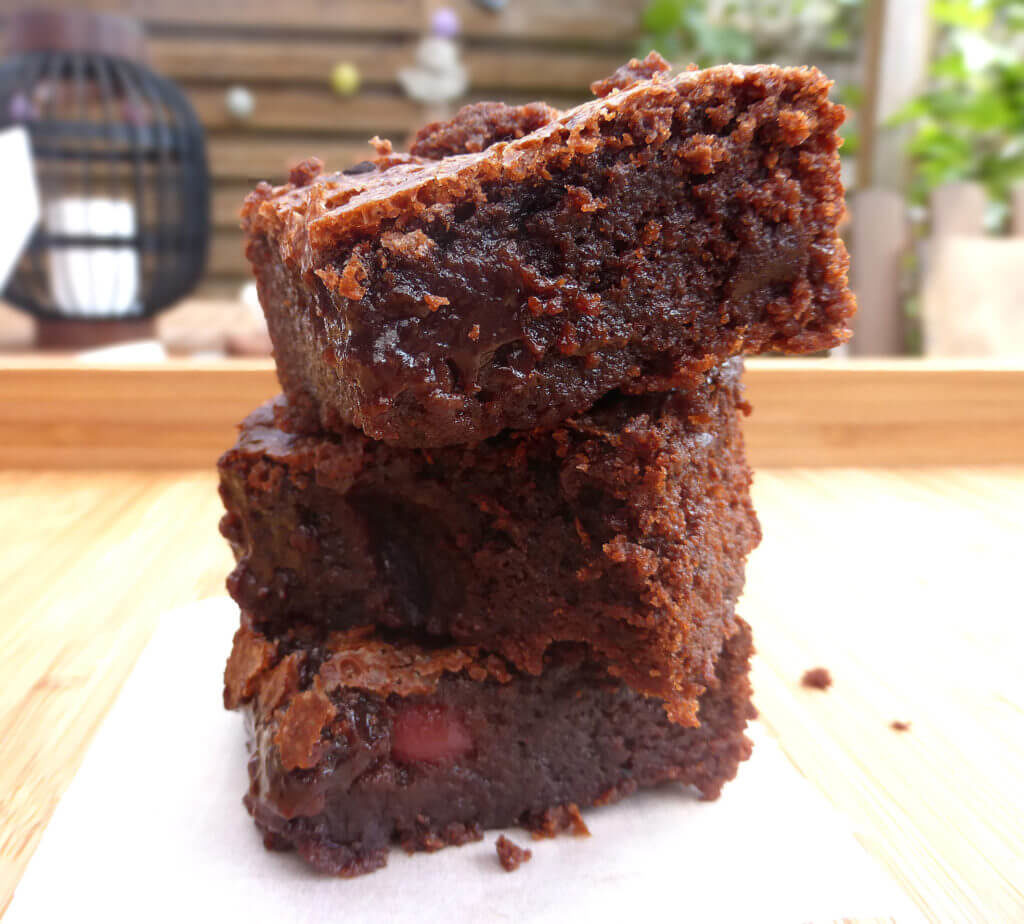 The verdict? Well, let's not be coy here: a brownie is a brownie. What's not to like?
These brownies were really good. So good that I think they could just be my favourite so far. Maybe. That said, I think that might have more to do with using milk chocolate rather than not using coffee, so I am not stepping down from my coffee and chocolate cake soap box just yet.
Another bone of contention where brownies are concerned is their texture. I like them any way they come, but if someone pinned me down and forced me to say which I preferred, I would be team gooey. Ultra ooey-gooey.
The brilliant thing about brownies is that you can bake them to your own liking – if you don't want them it soft in the middle, just bake it for a little longer. Simples!
I came up with this recipe for the kids I teach for our end of term picnic (when I also made my vanilla and berry cupcakes ), and decided to use milk chocolate rather than my usual dark chocolate, which made them a beautiful colour.
I also added in the cherries on a bit of an impulse, and I am glad I did – I loved them. There was something sublime about the squishy, slightly tart fruit mixed in with the sweet brownie.
Watch this video to see how my base brownie recipe is made (I use this for all my brownies and then change amounts or add in other ingredients)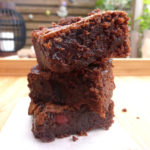 Cherry Brownies
Ingredients
200

g

milk chocolate

200

g

butter

100

ml

brewed coffee (or milk)

120

g

brown sugar

120

g

white sugar

3

eggs

80

g

spelt flour

30

g

cocoa

1

teaspoon

vanilla sugar

100g

cherries
Instructions
Pre-heat the oven to 170°C (325ºF) and prepare a large square/rectangle baking tin by lining it with baking paper or by greasing.

Slowly heat the chocolate and butter in a pan until just melted then add in the coffee (or milk)

In a large bowl, whisk sugars together with the eggs, then add in the cooled chocolate mixture.

Sift the vanilla sugar, flour and cocoa and stir into the wet ingredients until just combined.

Pour into the prepared tin and push the cherries down into the top. Bake for around 20-22 minutes for a gooey brownie and 25-30 minutes for a firmer one (if you want it to be ultra gooey, keep checking every minute or so from 17 minutes). The brownie's top should be JUST set if baking it gooey and for a firmer brownie, an inserted skewer will come out clean

Remove from the oven and either allow it to cool completely or serve it warm with ice-cream. Enjoy!