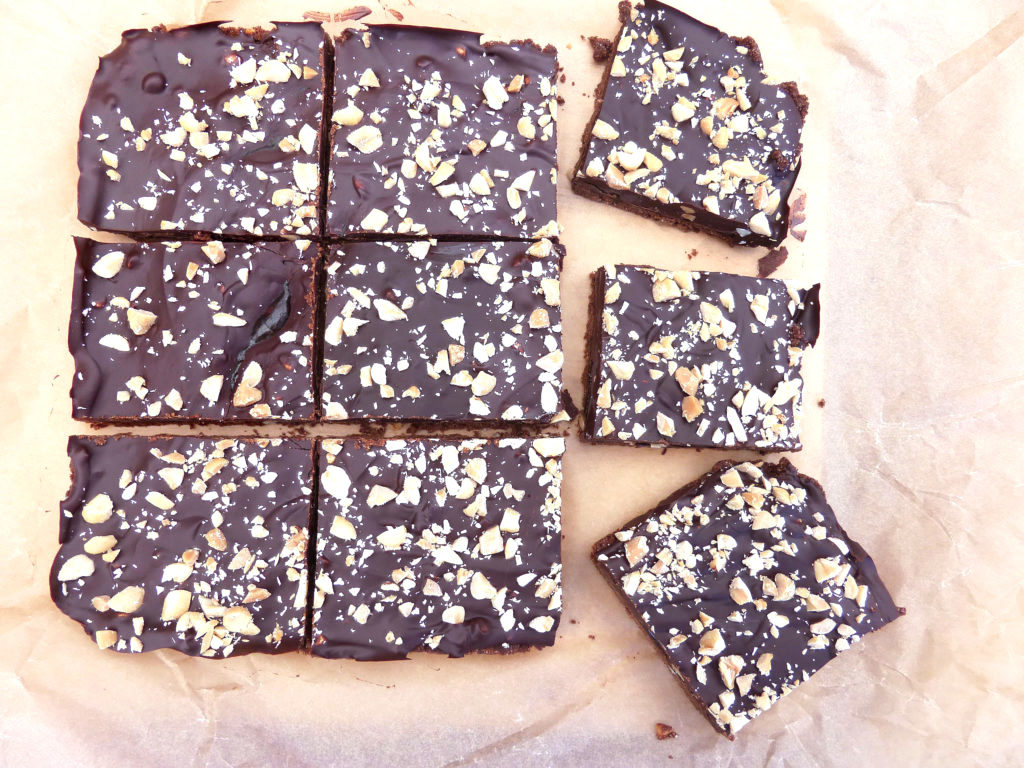 I am not sure about you guys, but when the weather warms (yes! We finally have weather we can call warm in Sweden), I feel a yearning for lighter, heathier food.
Just as filling stews are perfect for winter, salads and easy to eat meals are usually what I crave when summer hits.
The same goes for desserts. Although I can eat a pie or pudding all year round, I like simpler desserts made with Greek yoghurt and berries. As for cakes, warmer weather means I just can't face sickly frosting or tons of butter.
So, when browsing through Pinterest (actually, does anyone just browse Pinterest? For me, it is more of an unhealthy obsession that leaves me bleary-eyed and pinning like a lunatic), I was inspired by the gorgeous salted caramel bars from Lauren Kelly Nutrition.
I decided to make my own salted caramel slices version following Lauren's original idea, but tweaking heavily to accommodate the ingredients I already had at home.
The fabulous end result was these salted caramel slices. Such beauties. And you know what? They aren't anywhere near as naughty as you might imagine.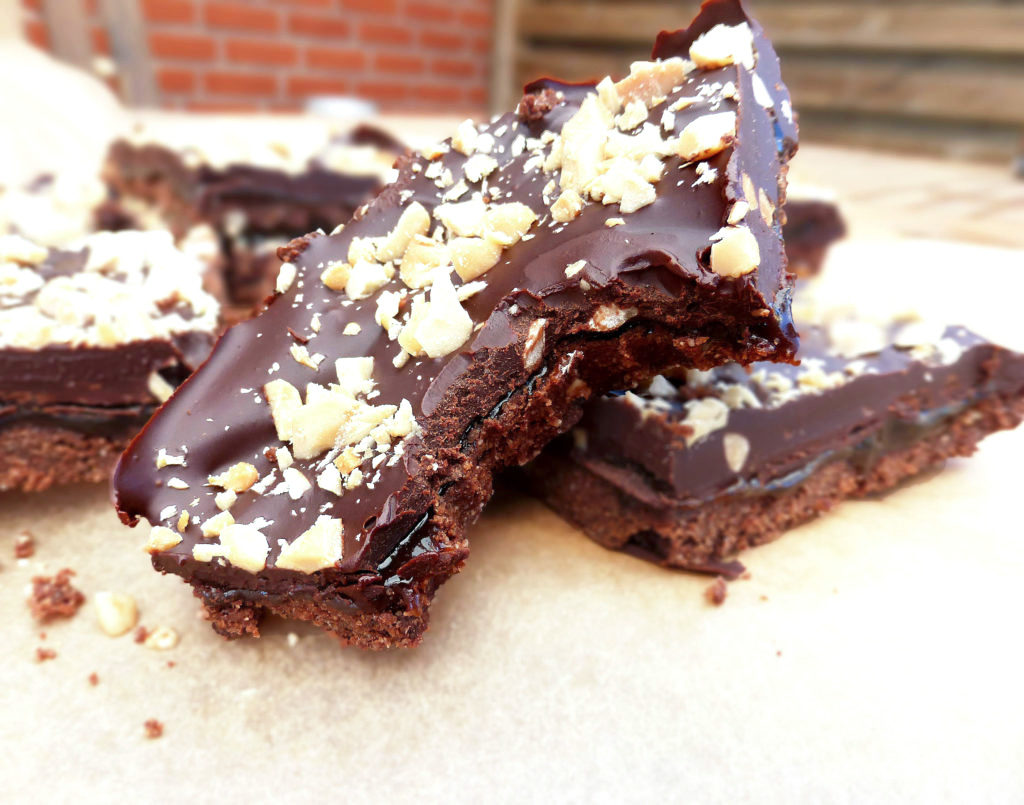 Although there's caramel oozing out, it is made with coconut sugar and milk. And the sinful looking topping? Dark chocolate, a touch of peanut butter and honey. Not to mention the fudgy base which is no-bake, gluten free and made with coconut flour.
If I hadn't made these myself, there is no way you would have been able to convince me they weren't jam-packed with fat, sugar and goodness knows what else. But they aren't.
Admittedly, I sprinkled a few chopped roasted salted peanuts over the top, but these can be substituted with a little sea salt, if you preferred.
What I particularly loved about these was how deliciously gooey the salted caramel slices were. After making them, they were put in the fridge for an hour or so just to set. However, in the process of taking photos, the heat caused the hardened caramel to melt, and it began to seductively drip down the sides of the slices.
And I tell you something, coconut sugar makes the most intense caramel I've ever eaten. The flavour was sublime (not to mention its stunning colour).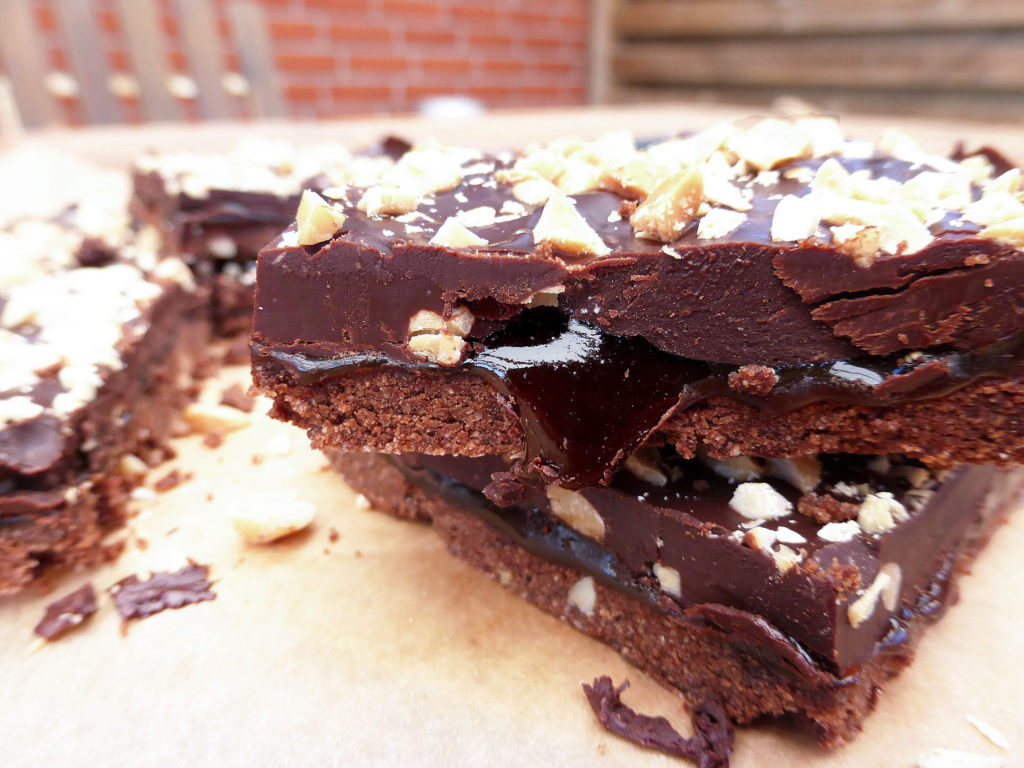 If you're somewhat reluctant to try gluten free cooking, or are not too sure how less fat or no refined sugar translates with regards to taste, try these. I swear you will not be disappointed.
Oh, and I forgot to say, these gorgeous salted caramel slices are simple and quick to make, too.
No Bake Peanut Butter Salted Caramel Slices (gluten free & no refined sugar)
---
Ingredients
Base:

80g (½ cup) coconut flour
2 tablespoons dark cocoa powder
1 teaspoon vanilla sugar
2 tablespoons honey
2 tablespoons peanut butter
1 tablespoon coconut oil
1 tablespoon coffee powder - see note 1
1 tablespoon water

Caramel:

65g (1/4 cup) coconut sugar
1 tablespoon honey
2 tablespoons milk
1/2 teaspoon sea salt

Topping:

150g (1 + 1/4 cups) good quality dark chocolate
1 tablespoon honey
2 tablespoons peanut butter - see note 2
Chopped salted roasted peanuts or sea salt to decorate

NOTES:

1 - if you don't like coffee in your cakes or desserts, omit the coffee powder and use just the water.
2 - you don't need peanut butter in the chocolate nor the honey - feel free to omit these if you'd prefer.
Directions
~ Start by mixing all the dry ingredients for the base together in a large bowl.
~ In a pan, add the honey, peanut butter and coconut oil and heat just until everything has melted. Mix the coffee powder with the water and add to the other wet ingredients.
~ Pour the wet ingredients into the dry and stir until everything is well combined. Tip out into a square tin lined with baking paper (mine was 8x8 inches). Press the dough down with your fingers until it is evenly distributed in the pan. Place in the fridge while you make the caramel.
~ Add the coconut sugar, honey, milk and salt to a pan and heat until a rolling boil is reached. Turn the heat down a little and then continue to cook for around four or five minutes. Remove from the heat and pour over the crust, smoothing it evenly with a knife. Pop it back in the fridge while you make the topping.
~ Using a Bain Marie or double boiler, gently heat the chocolate, honey and peanut butter until everything is melted. Remove from the heat and pour over the caramel, again smoothing out towards the edges to achieve an even coverage. Sprinkle with peanuts or sea salt and place back in the fridge just until the chocolate topping has set. Cut into nine slices and enjoy!
7.8.1.2
188
https://www.theculinaryjumble.com/no-bake-peanut-butter-salted-caramel-slices-gluten-free-no-refined-sugar/