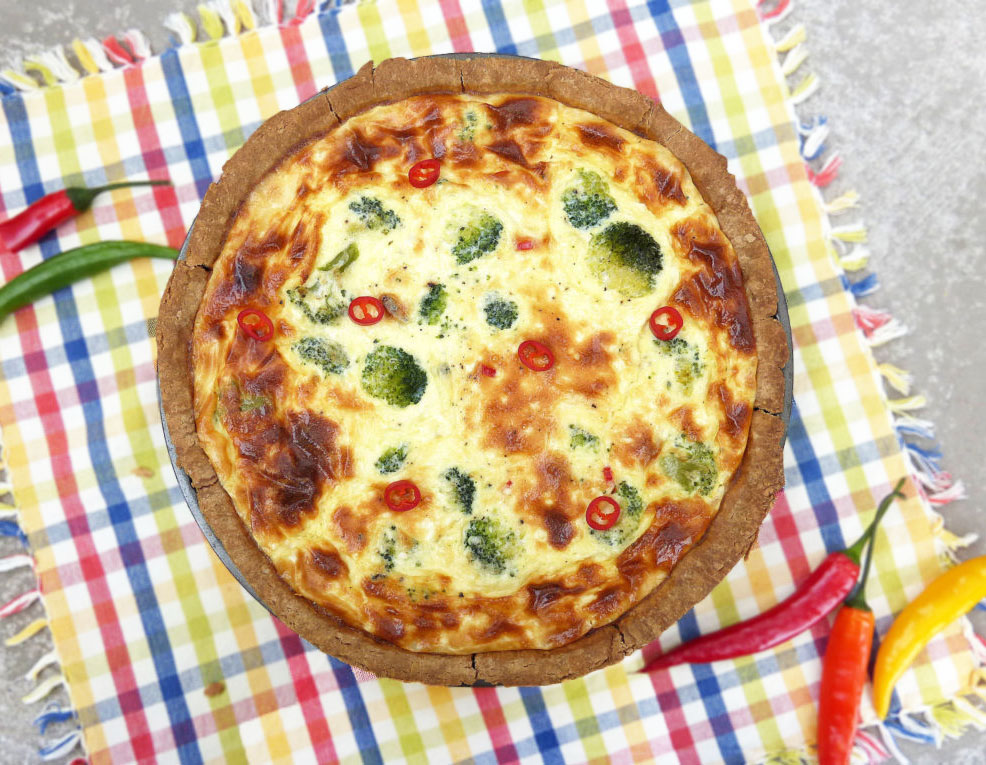 I think it's safe to say I like a good quiche, or anything else wrapped up in pastry come to think of it. And it doesn't matter if it is a savoury goats cheese pie or a sweet rustic strawberry galette.
Pastry love must be in my roots; us Brits just can't get enough of it. I have fond memories of my nan making a gorgeous gooseberry pie with fruit from her garden, and all things pastry are just so quintessentially British.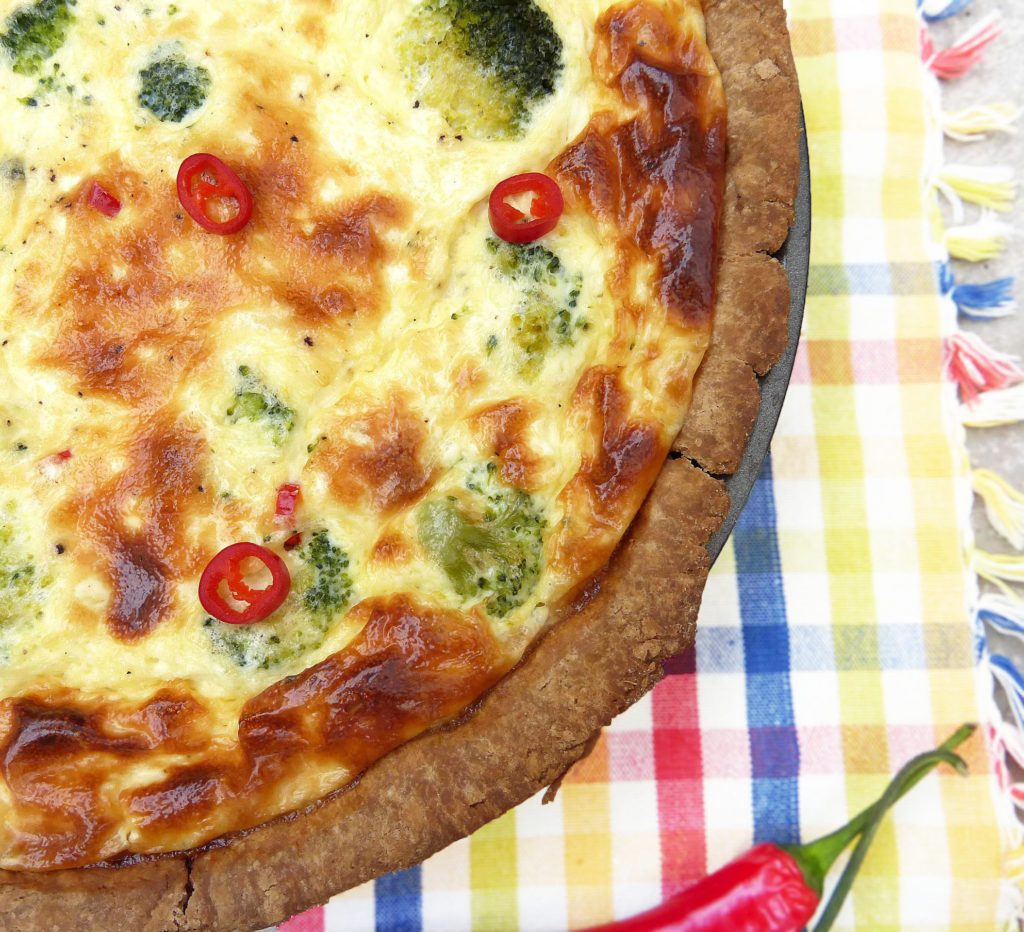 I found my love of all things pastry-fied grew even more (if that's possible) when I discovered how easy it is to make a gluten free option; in fact, I find gluten free pastry easier to handle than the regular kind.
I make quiches frequently because they are just so adaptable, and it has been known for me to not even bother with measuring any ingredients, just a dollop of cream here and a drop of milk there, with however many eggs I fancy. If only all baking could be so whimsical.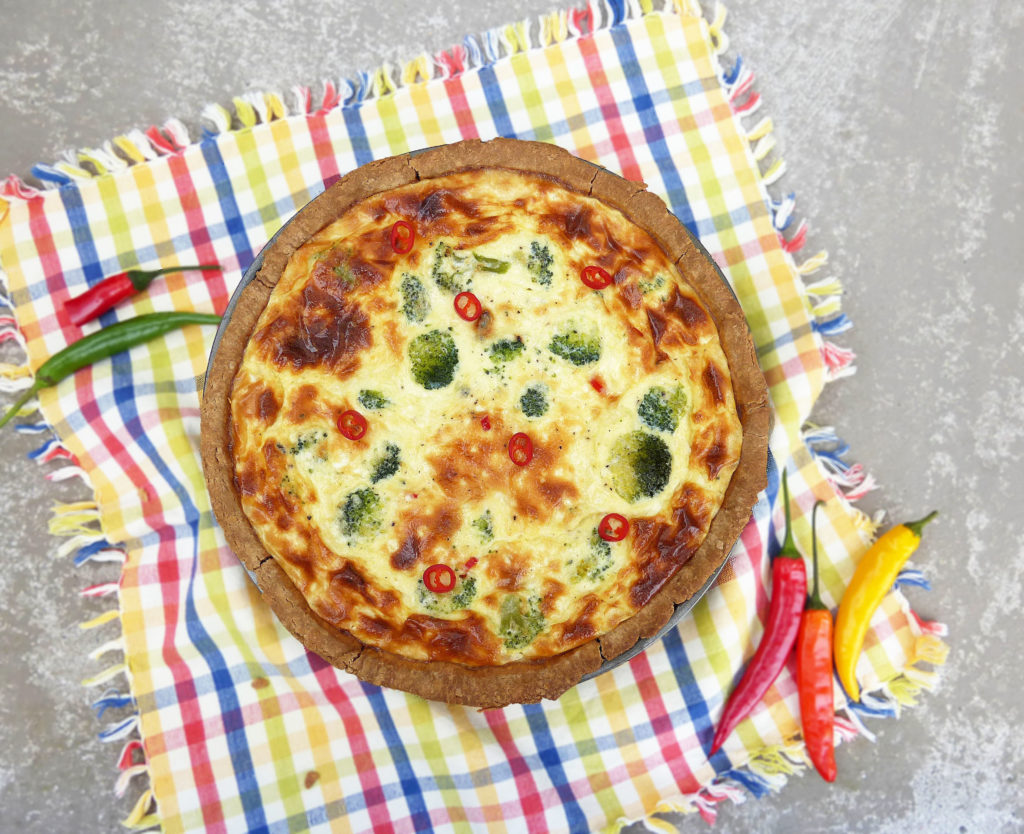 Quiche is also excellent for using up food slowly decomposing in your fridge. Bits of old cheese? In you go! Almost past their use-by-date mushrooms? I'll take them!
Despite my somewhat lackadaisical approach to pie-making, as yet, I've never had a quiche catastrophe (although now I've put that out there, it's gonna happen, isn't it?).
With regards to this particular quiche, I did get the ingredients measured out and recorded, so don't worry. The sharp, saltiness of the blue cheese up against the spicy chilli was just divine. And when baking, it puffed up almost like a soufflé!
It's a large quiche and will easily feed four or six hungry mouths for a main meal, served with potatoes or a delicious salad.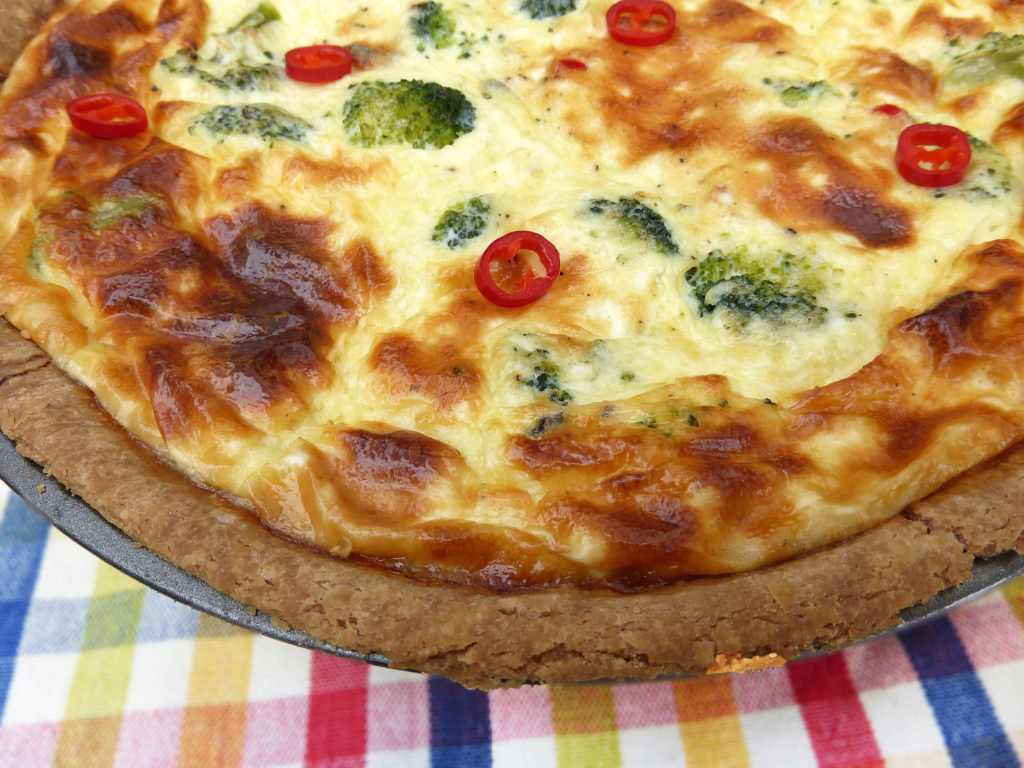 Blue Cheese, Broccoli and Chilli Quiche (with a homemade gluten free crust)
---
Ingredients
Crust:

200g (1 + 1/4 cups) gluten free flour (see notes)
2 teaspoons sea salt
80g (1/3 cup) butter
2 eggs
Water (if needed)

Filling:

4 eggs
100g (3/8 cup + 1 tablespoon) cream cheese
60g (1/2 cup) blue cheese
1 cup milk
1 cup cream
Handful of broccoli florets
Chopped fresh chives
Salt and Pepper

NOTES:

I used a ready made teff and buckwheat mixture from Semper (a Swedish brand) but any gluten free mix would work!
Directions
~ Lightly grease a pie dish (mine was round and 11 inches in diameter.)
~ Mix the flour and salt in a large bowl. Add the butter and rub it in to the flour until it resembles crumbs.
~ Beat the eggs, add to the flour mixture and stir until it comes together as a sticky dough. If it doesn't, add a touch of cold water, a little at a time, just until the mixture does pull together.
~ Using your hands, scrape up the dough and form into a rough ball. Pop it in cling-film and leave to rest in the fridge for 30 minutes. Pre-heat the oven to 190°C (375°F).
~ Roll the dough out between two pieces of cling-film or grease proof paper until it is fairly thin. Transfer to your dish and using your fingers, push the dough evenly over the bottom and up the sides.
~ When ready, prick all over with a fork, and put back in the fridge for another ten minutes to firm up again.
~ Bake blind for around 15 minutes and then remove from the oven.
~ While the pie crust is cooling, make the filling. Whisk the eggs, cream cheese, blue cheese, milk and cream together then add the broccoli, chives and sea salt and pepper.
~ Bake for around 40-45 minutes until the top is golden and the pastry is a deep brown colour. Eat either warm or when cold with a lovely fresh salad. Enjoy!
7.8.1.2
173
https://www.theculinaryjumble.com/blue-cheese-broccoli-and-chilli-quiche-with-a-homemade-gluten-free-crust/