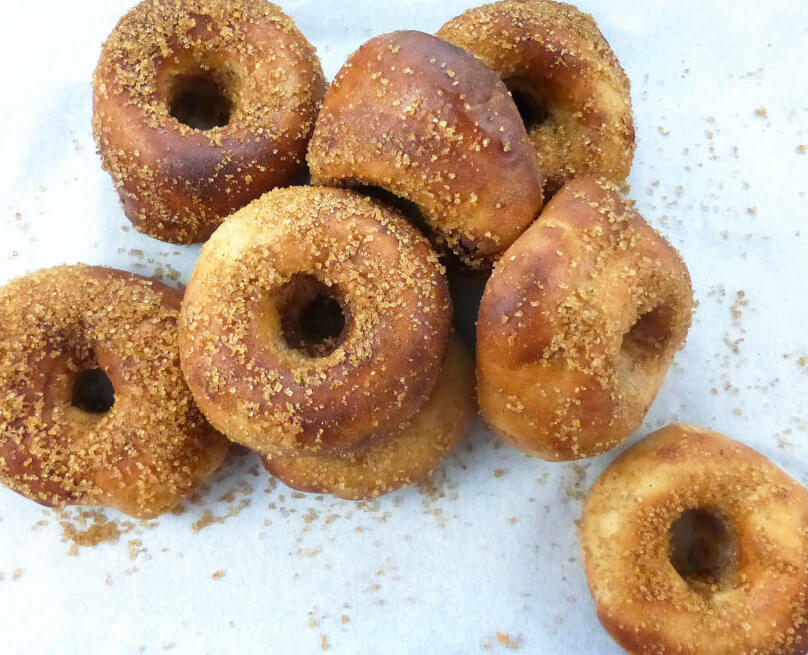 Doughnuts are one of my kids' favourite things. Of all time. They'd been badgering us to take them to Dunkin' Donuts, so we did just that last week. They were in dough heaven, but me? I wasn't overly impressed, if I'm honest.
I think I actually prefer the ones I make at home in my trusty Actifry. Up until now, I've made Nutella doughnuts and homemade fruit of the forest jam doughnuts, to name just two.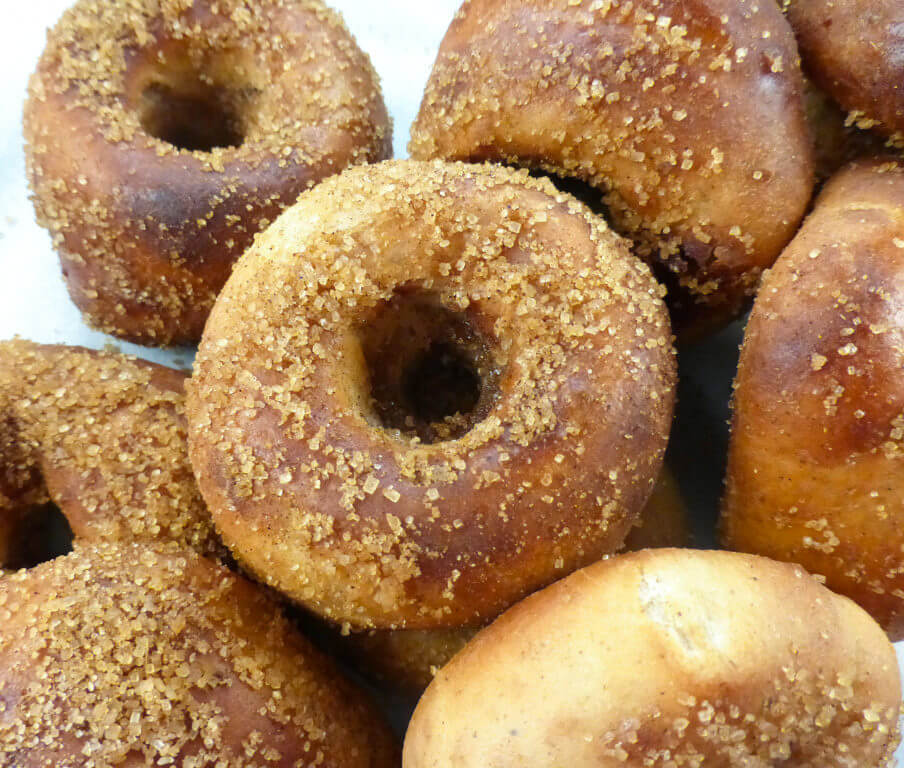 However, sadly, my ever-faithful kitchen pal is getting old and just a little battered. I need a new one but I am not sure whether to go for another Actifry or try a Phillips Airfryer instead.
Anyone got one? Are they good? Anyone had both and has a preference? Let me know in the comments.
Anyway, so, as we are full steam ahead towards Christmas, I thought I would make a gingerbread version of my doughnuts.
I think the distinctive flavours of the traditional seasonal spice mix go so well with many things, and tasted amazing in the gingerbread brownies I made for last Christmas. And of course, who can forget the daddy of them all, traditional Swedish pepparkakor?
I've made cinnamon doughnuts before but only add the spice to the sugar coating. This time, I wanted the gingerbread spices infused through the dough, too. Wow. What can I say? What a flavour.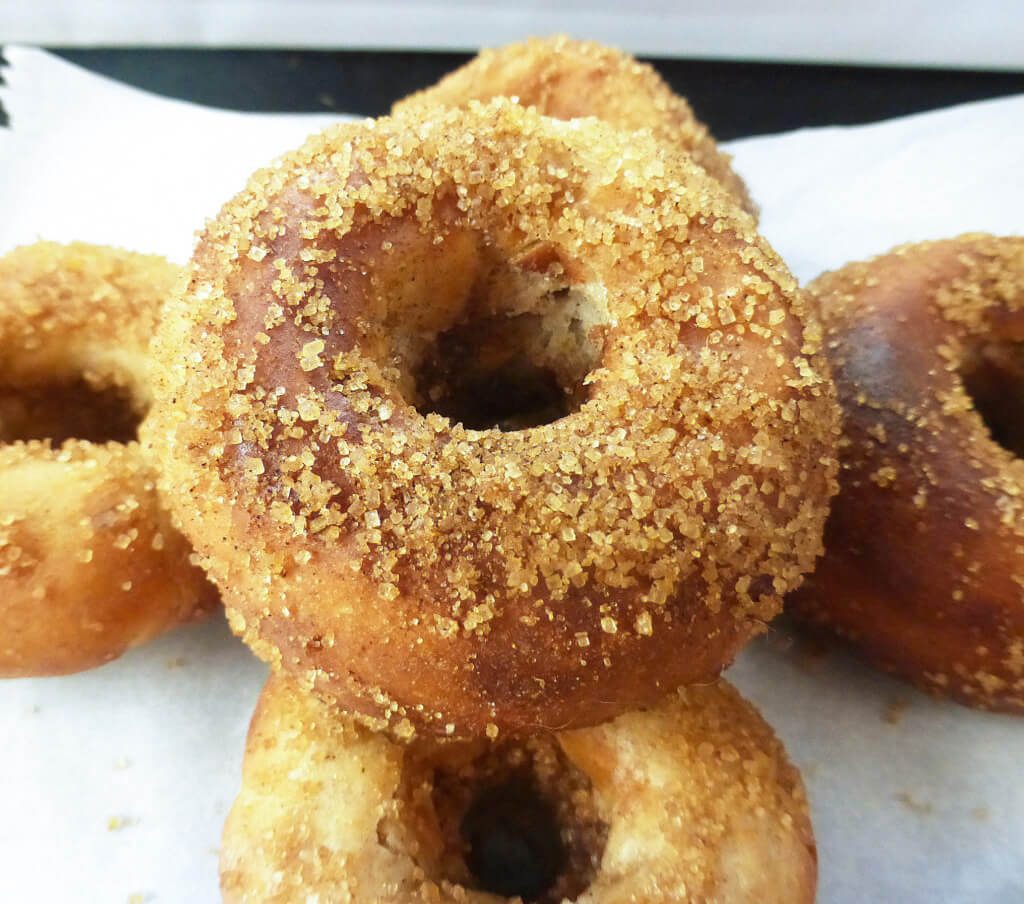 Although I love my healthier doughnuts, it is important to mention that these have not been deep fried and therefore, won't ever taste identical to a regular doughnut. Just putting it out there. There is no way you could replicate the taste and texture brought about by deep frying something, but these aren't trying to copy anything. They are an alternative, one that has much less fat but still tastes good.
The idea of making doughnuts in an Actifry is catching on; so many more people are giving it a go. But I like to think I was one of the first (to write about it, if nothing else), and it is exciting to hear people say they are inspired to give them a go themselves.
I made the dough for these in my bread maker. However, you don't need one to make this recipe. The measurements below made around ten doughnuts.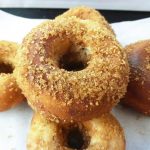 Gingerbread Actifry Doughnuts
Ingredients
Doughnuts:
125

ml

(½ cup) milk

30

g

(2 tablespoons) butter

1

small egg

30

g

(2½) tablespoons sugar

225

g

(1½ cups) flour

1/2

teaspoon

vanilla sugar

1

teaspoon

cinnamon

1/4

teaspoon

cardamom

1/2

teaspoon

crushed cloves

1/2

teaspoon

ginger powder

Pinch

of salt

7

g

(2 teaspoons) dried yeast

1

tablespoon

vegetable oil

(for cooking)
Sugar Coating:
20

g

(1½ tablespoons) butter (melted)

1/4

teaspoon

cinnamon

1/8

teaspoon

ginger

20

g

(1 teaspoon) brown sugar
Instructions
In a pan, heat the milk and butter together, just until the butter starts to melt. Remove from the heat and allow the butter to completely melt.

Pour the liquid into your bread machine and add all the other ingredients, then work the dough as per the manufacturer's instructions. If you do not have a bread machine, follow the instructions for my jam doughnuts (please bear in mind that the recipe calls for fresh yeast whereas this one uses dried, meaning that the preparation is a little different).

Divide the dough into equal parts (around 10). Work each one into a round ball, flatten slightly and then using a round cutter smaller than the dough ball, cut out a hole in the middle (make it quite a large hole as it shrinks fairly substantially as the dough expands). Take the "holes" and remould to make more doughnuts.

Place the doughnuts on a flat baking tray lined with baking paper, cover and let proof for another 45-60 minutes.

Remove the rotary part of your Actifry, pour in the vegetable oil and let the machine run for a minute. Then, carefully place each doughnut inside the Actifry (you will need to cook them in batches). Cook the doughnuts until they are evenly browned, manually moving each one around and turning them over.

Mix all the coating ingredients together and melt the butter. When the doughnuts are done, brush each one with some melted butter and dip them in the sugar mixture. The holes will have closed up further during cooking, so use something you can push into the doughnut to retain the hole as it cools (I use several icing bag nozzles but anything a similar shape will do). Snaffle those bad boys while they are still warm. Enjoy!
Recipe Notes
Disclaimer: I use grams to measure my ingredients. To help out my American readers, I've also included cup measurements. However, I've used online resources which have not been verified personally, so accuracy cannot be guaranteed.