This year, why not try your hand at some traditional Swedish pepparkakor (gingerbread) cookies?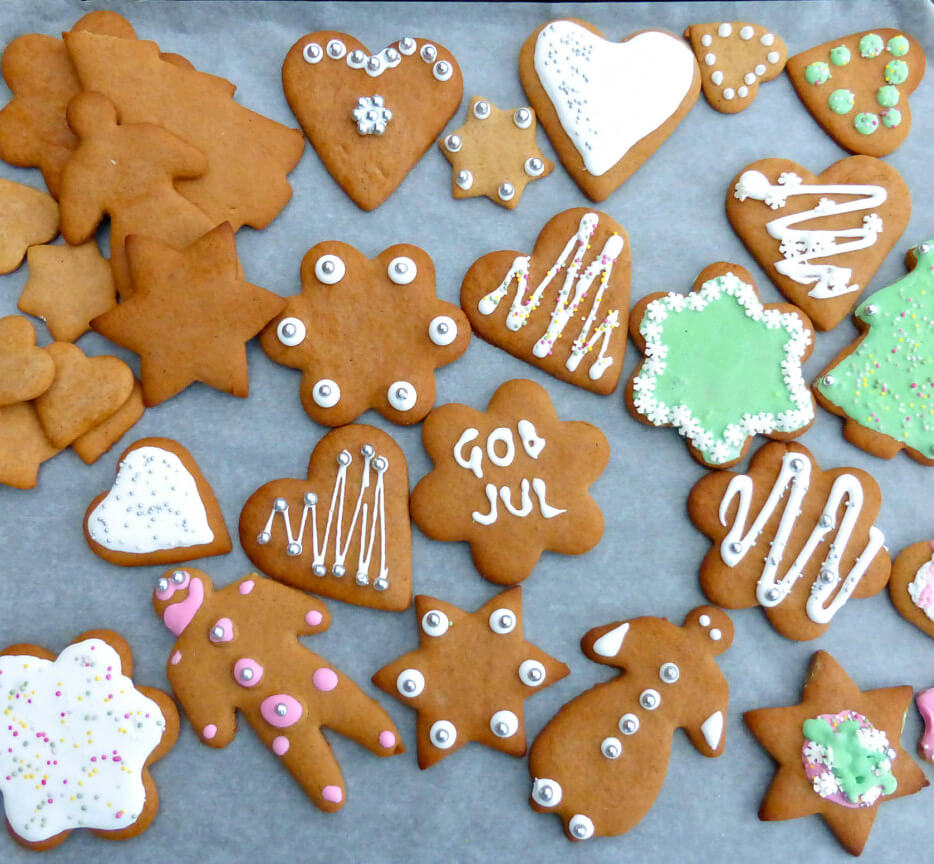 Although making pepparkakor (gingerbread) is a national institution here in Sweden, where families gather together to make and decorate the cookies in the run up to Christmas, I've never actually made my own. However, I enjoyed it so much that it most certainly won't be the last time!
Pepparkakor are very easy to make (even with your own icing rather than shop bought), and the longest part is leaving the dough in the fridge for a day or two before rolling it out.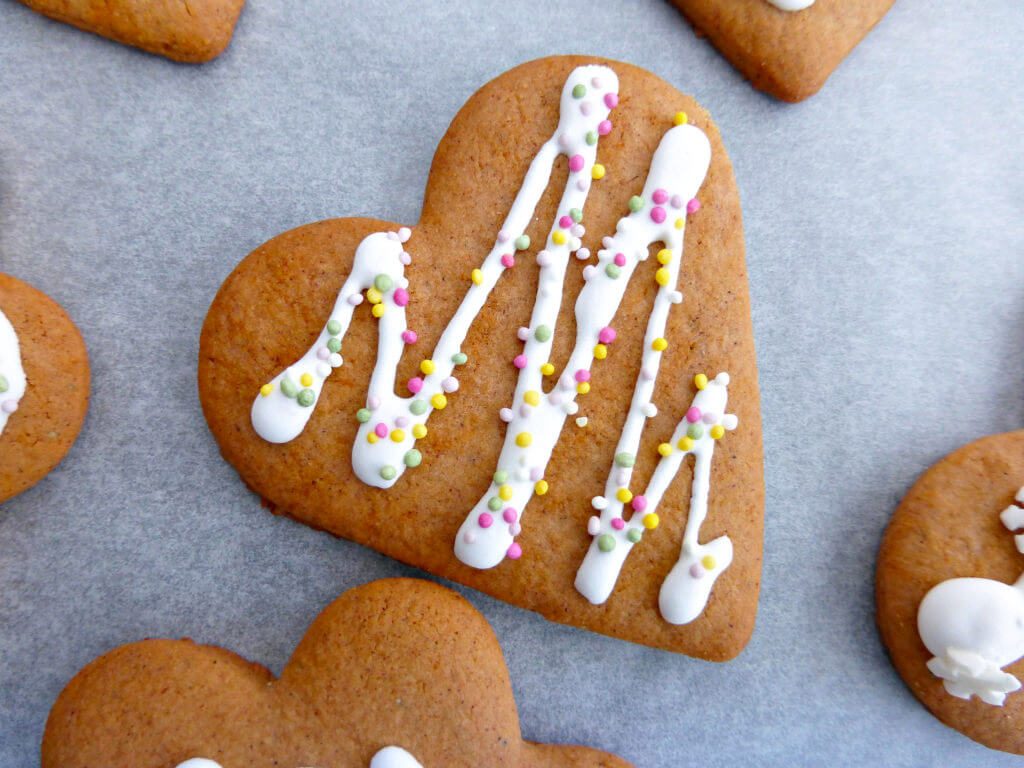 I loved that my kids were able to help me, including the 12 year old, who sauntered past and feigned nonchalance, but had a great old time rolling them out. It was also fun to choose different cutters (despite never actually making any pepparkakor, I seemed to have amassed a great many cutters over the years), and get messy with the decorations. I actually gave my 9 year old a piping bag and let him get on with frosting his own (and for a control freak like this mrs, that was huge).
There isn't a great deal of variation between traditional pepparkakor recipes out there, but I followed the one from Mitt Kök, and just halved the measurements.
I made a variety of different sizes and the ingredients below made around 70 cookies in total.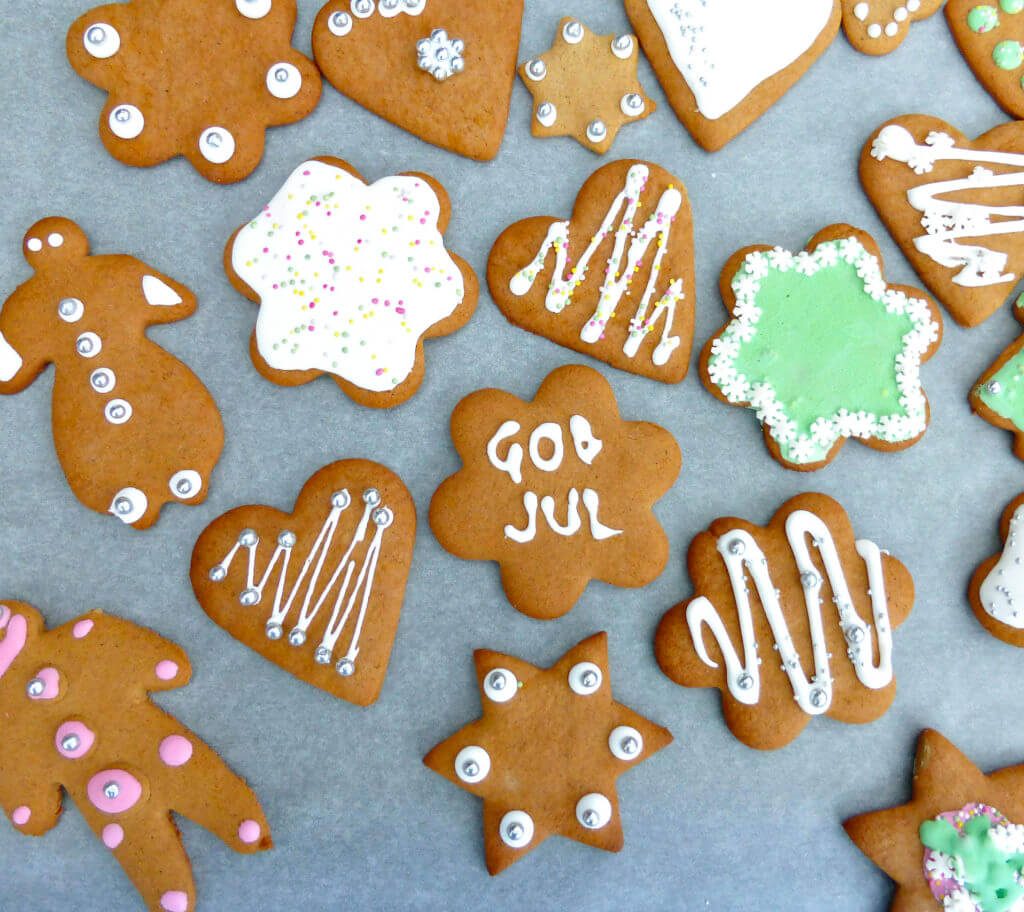 I also cut the cookies in a mix of varying thicknesses – traditional pepparkakor is very thin which gives it an amazing crunch, but as this was my first time, I was worried that the dough would tear when I tried to move it.
It didn't, it was actually very pliable, but in my trepidation, I did cut some a little thicker than others (they all tasted supreme, so how thin you cut them really does depend on your personal preference).
I found that the flavour of ginger and the other pepparkakor spices resulted in cookies that were fairly mild, and next time I will definitely add more. If you're like me, enjoying a good strong kick of spice, just bump up the amount you use (especially the ginger and cinnamon).
Gingerbread is gorgeous on its own and there is certainly no need for all the fancy-shmancy decorating if you can't be bothered. It also lasts really well, too. Pop it in an airtight container and you're good to go for up to a week. If you have any trouble eating them up (as if) why not make them into my gingerbread truffles?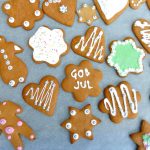 Traditional Swedish Pepparkakor (Gingerbread)
Ingredients
Cookies
170

g

(3/4 cup) sugar

100

ml

(just under 1/2 cup) light syrup

100

ml

(just under 1/2 cup) water

125

g

(1/2 cup) butter

1

tablespoon

cinnamon

1/2

tablespoon

cardamom

1/2

tablespoon

dried cloves

1/2

tablespoon

ginger

1/2

tablespoon

bicarbonate

baking soda

350-400g

(3-3½ cups) plain (all-purpose) flour
Icing
1

egg white

150

g

(1½ cups) Icing sugar

1/2

teaspoon

distilled white vinegar

water
Instructions
Add the sugar, syrup and water to a pan and heat the ingredients until they start to bubble, then remove from the heat and allow to cool for a while.

In a large bowl, add the butter and all spices and then pour over the warm mixture. Continue to mix until the butter has completely melted.

Sift the flour and baking soda together and then add the wet ingredients, stirring until a dough forms. With your hands, form into a rough ball shape, cover with clingfilm (or place in a plastic bag) and leave in the fridge for at least 24 hours.

When you are ready to bake, pre-heat the oven to 200°C (400°F) and divide the dough into three or four bits (it's easier to work with the dough in smaller quantities). Roll out very thinly (the thinner they are, they crunchier the end result). Use your favourite cutters and then place on a baking tray lined with grease-proof paper. Bake for between 5-10 minutes depending on how big/thick they are, but watch them carefully. The gingerbread is ready when they are a deep brown colour.

For the frosting: Add all ingredients (except water) to a food processor (or bowl if using an electric whisk) and work until a smooth paste forms. Slowly add one teaspoon of water to the mixture until the correct consistency is achieved (see notes).

Decorate your cookies with whatever you like and allow the icing to set (I left mine overnight without covering them). Next day, place in an airtight container until ready to eat. Enjoy!
Recipe Notes
Disclaimer: I use decimal measurement systems in my recipes. To help out my American readers, I have used online resources to convert the measurements. However, as these have not been verified by myself, accuracy can't be guaranteed.
If you've never made royal before, watch this video: this video - although the ingredients are slightly different, the principle is the same.