Actifry jam doughnuts? Made in an Actifry? You bet ya!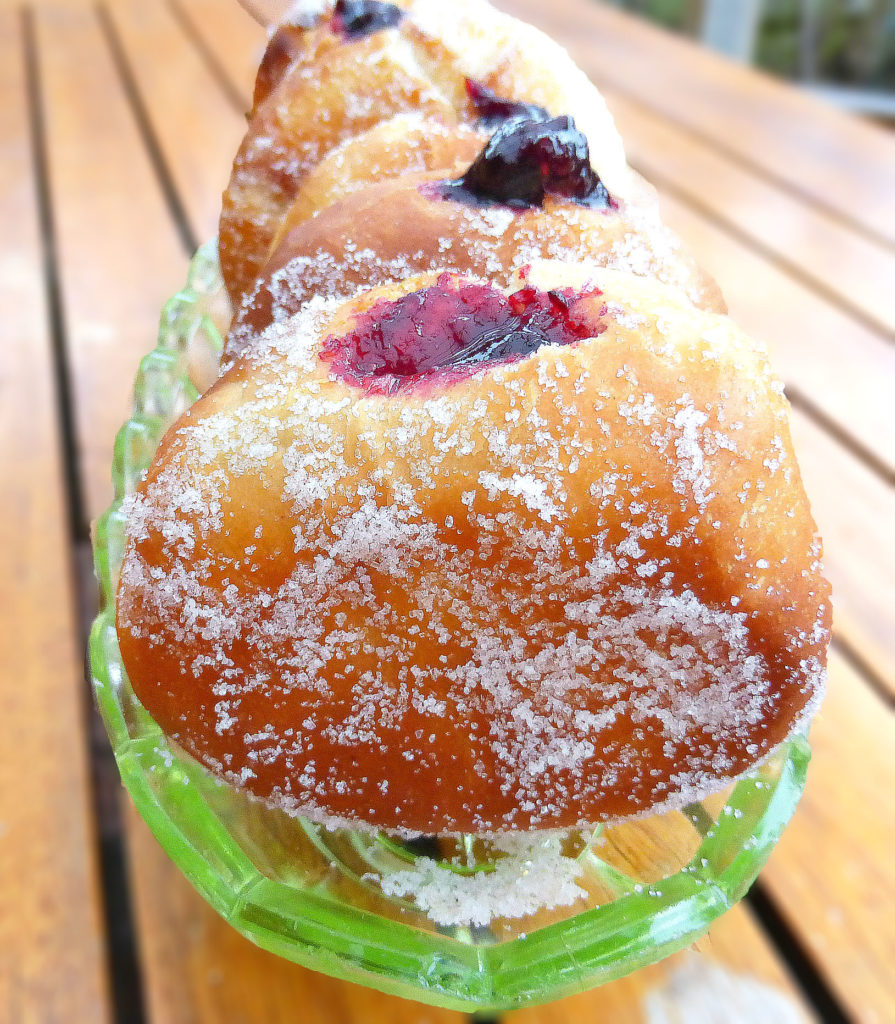 I bought my Actifry so I could make healthier chips and doughnuts. The chips (or fries for those who are not Brits) are a done deal. Loved them from the word go.
But doughnuts? Oh, man. I can't begin to tell you how disappointed I was when not only was there no recipe in the box but I couldn't find anything at all when scouring the internet. I felt robbed.
So I decided to come up with my own recipe. Now, I am not saying I am the first person ever to throw dough into the Actifry and call it a doughnut. However, I am saying that when this post was first published in January 2016, nobody else was writing about making them.
Since this post was first published I've created several more recipes, including a decadent Nutella doughnut, S'mores doughnuts, doughnuts with a chocolate glaze and even a festive gingerbread doughnut. Phew. So. Many. Doughnuts.
My pleasure at creating these amazing treats was heightened even further by Tefal featuring my jam doughnut recipe in their article, Are you getting the most out of your Actifry?
Anyway, back to these beauties. Although I would find it difficult to come across a doughnut I didn't like, those filled with jam are my favourites. So how does a fried doughnut compare with those made in an Actifry? Very well, as it happens.
Don't get me wrong, there is something magical that happens to dough when it is deep fried and the taste and texture are hard to replicate. However, Actifry doughnuts don't trail in too far behind. The wonder of an Actifry is that you get a very similar affect to deep frying without all of the fat, leaving you to have your cake doughnut and eat it.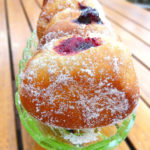 Actifry Jam Doughnuts (with homemade fruit of the forest jam)
Ingredients
Doughnuts
100

ml

(1/4 cup) water

150

ml

(1/2 cup) milk

60

g

(1/4 cup) butter

25

g

(2 tablespoons) fresh yeast - see notes

1

egg

400-450

g

(3 cups) bread flour

1/2

teaspoon

vanilla sugar

1/4

teaspoon

nutmeg

60

g

(1/4 cup) sugar
!Coating
30

g

(2 tablespoons) butter (melted)

30

g

(2 tablespoons) sugar for coating
!Homemade jam (optional)
around 200g (1 cup) berries (fresh or frozen)

2

tablespoons

sugar

2

tablespoons

water
Instructions
Mix the water, milk and butter in a pan and warm just until the butter starts to melt, then remove from the heat. Let it sit for a while until all the butter has melted and the liquid is lukewarm. Add the yeast and finally beat in the egg. Let the mixture stand for around 5-10 minutes until the yeast begins to activate and froth.

In a bowl, mix 300g of the flour, nutmeg, vanilla sugar and 60g sugar. Pour in the wet ingredients and stir until a dough begins to form. Add as much flour, a little at a time, until you have a workable dough.

Knead the dough until it is nice and smooth (around 8-10 minutes) and then put back in the bowl, cover and leave to rise in a warm place for about an hour.

Knock back the dough and then cut into 16 pieces (or less if you'd like them a little bigger). Smooth them into balls and slightly flatten them before placing on a baking tray lined with grease-proof paper. Cover and leave to rise for a further 45 minutes.

For the Actifry: take out the rotary part of the Actifry and pour in one or two tablespoons of oil. Put the lid on and let it run for a couple of minutes, so that it is warm when you put the dough in. Place the dough balls with a little space in between them (you may need cook them in several rounds - mine can only fit 6 in), replace the lid and start to cook (if you don't own an Actifry, you could shallow or deep fry the doughnuts; however, as I have never made the doughnuts this way personally, I am sure of the quantities of oil required for these methods).

Cook for a couple of minutes and then turn them over. Additionally, because you are not using the rotary part of the Actifry, you will need to move them around the pan so that they cook evenly. Watch them very carefully because they cook quicker than you might imagine. When they are a nice golden brown all over, remove from the Actifry, then brush on some melted butter before tossing them in the sugar.

If you want to fill them, allow them to cool slightly and then take a small sharp knife and make a cut in the one of the sides of each doughnut. Wiggle the knife around a little so that you get a small hole but be careful that you don't make a hole so deep that the doughnut splits in half.

For the homemade jam: heat the fruit, water and sugar together in a pan. Allow to cook for around 15-20 minutes until the liquid reduces and you are left with a nice, thick mixture. Leave to cool completely.

Take a piping bag with a fairly small nozzle and place your jam/filling inside. Push the nozzle down into the doughnut and pipe the filling. Enjoy!
Recipe Notes
I use vanilla sugar in all my recipes. Please see this handy guide to converting the sugar to other vanilla sources.
I often use fresh yeast in my bread, but I know it's not readily available for everyone. Here is a useful guideline for converting fresh to dried or instant.