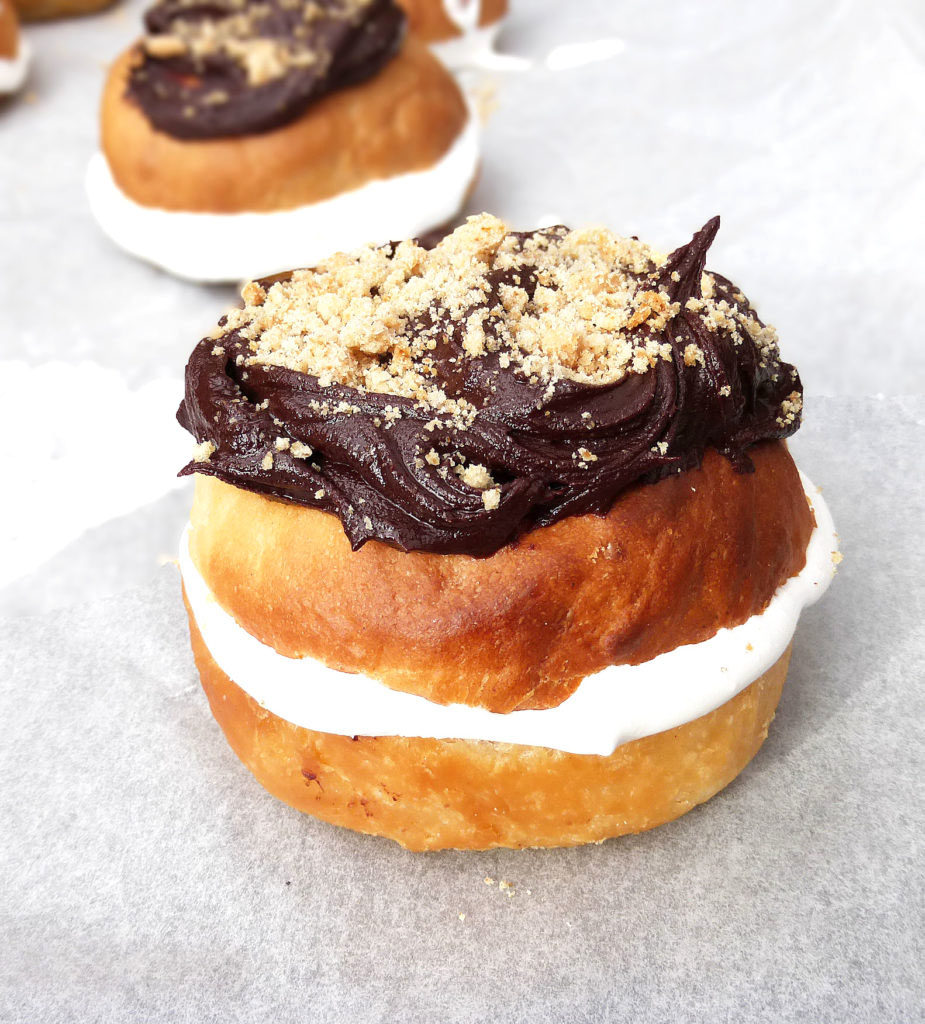 A little while ago I made some Graham crackers to go on both my S'mores molten brownie cupcakes and these doughnuts, the final of my trio of S'mores themed recipes.
Regular readers will know that I enjoy making doughnuts in my Actifry – there's just something so rewarding about making a notoriously unhealthy food just that little bit better for you – and these little bundles of deliciousness are my latest effort.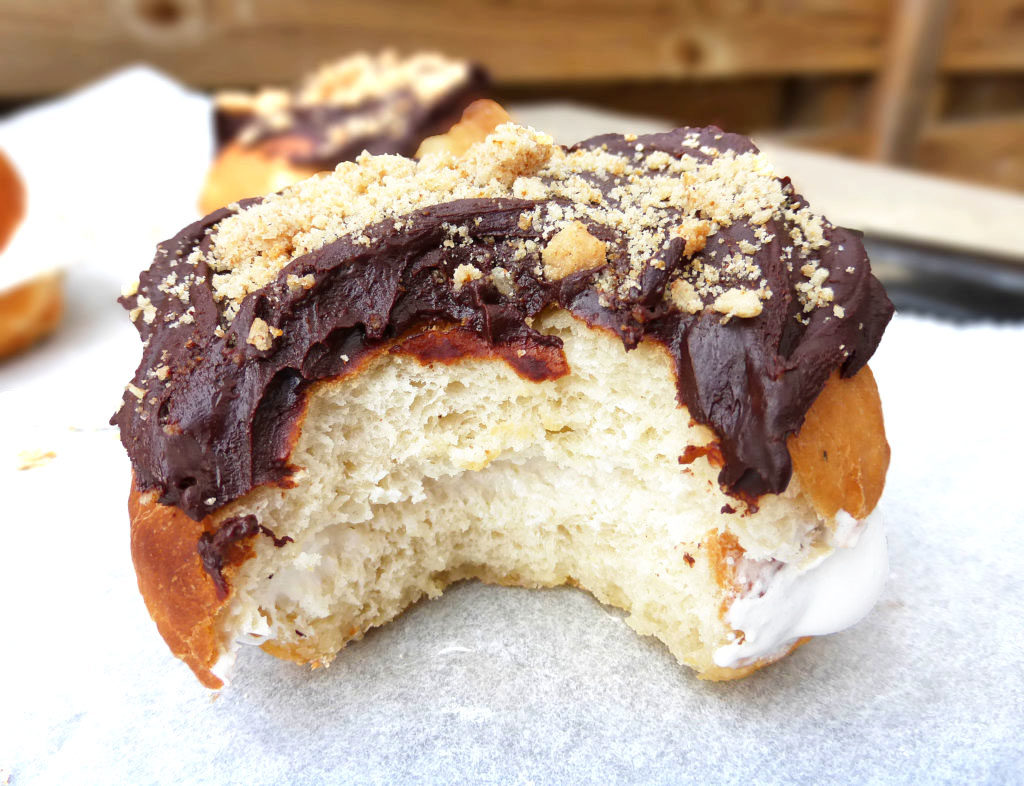 My Actifry doughnuts are my most popular recipes (my Nutella version has over 1.1k re-pins on Pinterest, which is awesome) and naturally, have raised a fair bit of interest due to how they are made.
Many people want to know if they taste like "real" doughnuts, and the simple answer is: nope! There is absolutely no comparison between deep fried dough and something made with very little oil. However, they do taste like doughnuts and most importantly, are delicious.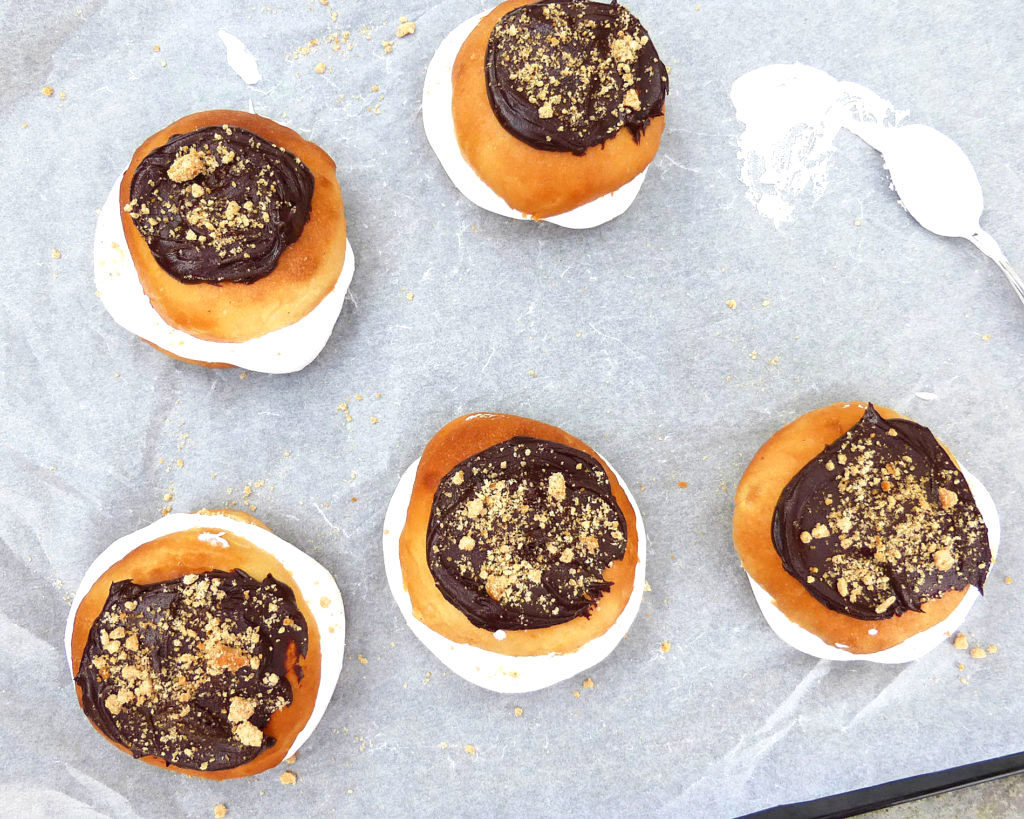 These are filled with homemade marshmallow crème and topped with chocolate ganache, both of which complement the soft dough perfectly. The are messy, gooey, and irresistible – just how I'd expect a S'mores treat to be.
The ingredients below made 6 fairly small doughnuts. If you need more, just double the recipe.
S'mores Doughnuts with Homemade Marshmallow Creme (made in an Actifry)
---
Ingredients
Doughnuts:

50ml (3 tablespoons) water
75ml (1/4 cup) milk
30g (2 tablespoons) butter
25g (2 tablespoons) fresh yeast (see notes)
200-250g (1½ cups) white bread flour
1 teaspoon vanilla sugar (see notes)
Pinch of nutmeg
Pinch of cinnamon
30g (2 tablespoons) sugar
1 tablespoon oil (for cooking)

Marshmallow Fluff:

See recipe here (you might not need it all)

Topping:

100g (just under 1 cup) chocolate (chopped)
1 tablespoon whipping cream
30g crushed graham crackers (to garnish)

NOTES:

I use vanilla sugar in all my recipes. Please see this handy guide to converting the sugar to other vanilla sources.
It's rare I don't use fresh yeast in my bread, but I know it's not readily available for everyone. Here are some useful guidelines for converting fresh to dried or instant.
Directions
~ Heat the water, milk and butter in a pan, just until the butter is starting to melt. Remove from the heat and allow to cool until it lukewarm, and then sprinkle in the yeast (if using dried yeast, add to the dry ingredients later). Stir until combined and leave for around 10 minutes to activate.
~ In a large bowl, mix around 200g of bread flour with the sugar, vanilla sugar, nutmeg and cinnamon. Pour in the wet ingredients and gradually add more flour as necessary (check out my tips on making bread ).
~ Knead for around five minutes until the dough is smooth and elastic and then place back in the bowl and cover with a towel. Leave in a warm place until it has pretty much doubled in size.
~ Knock back the dough and briefly knead again and then divide into 6 roughly equal sized balls, pulling the outsides in to make a nice, smooth finish.
~ Place the dough balls on a baking tray lined with grease-proof paper, cover, and leave in a warm place to proof for around 45-60 minutes.
~ Remove the rotary part of your Actifry, then sprinkle in around one tablespoon of vegetable oil. Pop the lid on and let it run for a while, then gently place several doughnuts in. Cook for a couple of minutes, then flip them over. Because the rotary part is not being used, you will also need to manually shuffle the doughnuts around to ensure even cooking. The more doughnuts in the pan, the longer they take.
PLEASE NOTE: not all Actifry machines are the same - mine looks like this - it is over 3 years old and appears to have been replaced with a newer model.
~ When golden brown, remove from the Actifry and leave to cool on some kitchen paper before transferring to a wire rack to cool completely.
~ For the ganache: gently heat the chocolate together with the cream in a Bain Marie (double boiler), just until the chocolate has melted. Remove from the heat, beat quickly and then leave to set a little.
~ To assemble: cut the doughnuts in half and spread a little marshmallow crème on the bottom part of each one. Place the top back on and spread over a little ganache. Sprinkle with crushed graham crackers to finish off. Enjoy!
7.8.1.2
83
https://www.theculinaryjumble.com/smores-doughnuts-with-homemade-marshmallow-creme-made-in-an-actifry/