This chocolate and fresh raspberry layer cake is simple sponge cake with rich chocolate frosting.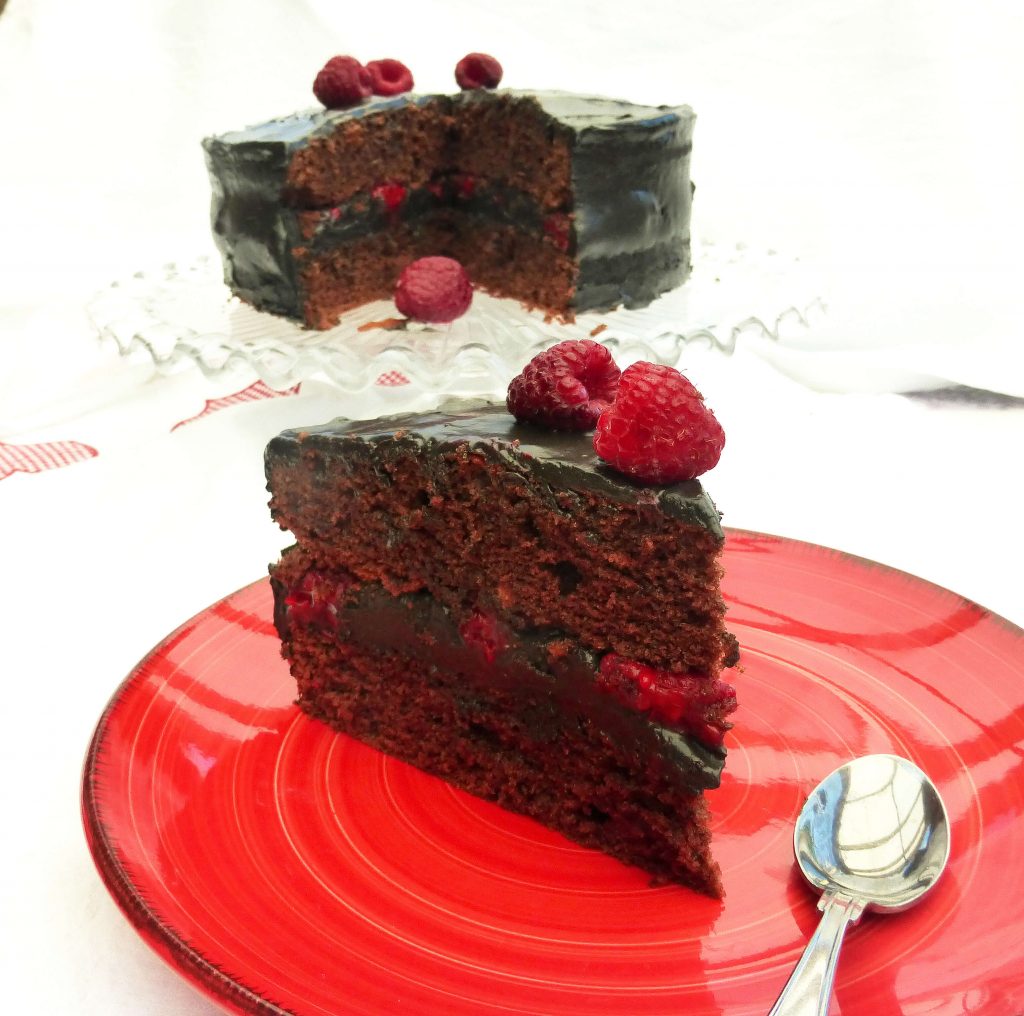 During the past several weeks, I have made tons of layer cakes; probably more than I've ever made in my whole life. One reason is that I've recently bought two 8″ cake tins which makes it much easier to make two-level cakes.
Previously, I had always made a large cake and then halved it. Have you ever tried to cut a soft cake in two? You need the hands of a brain surgeon and nerves of steel. Stress like that I can live without, believe me.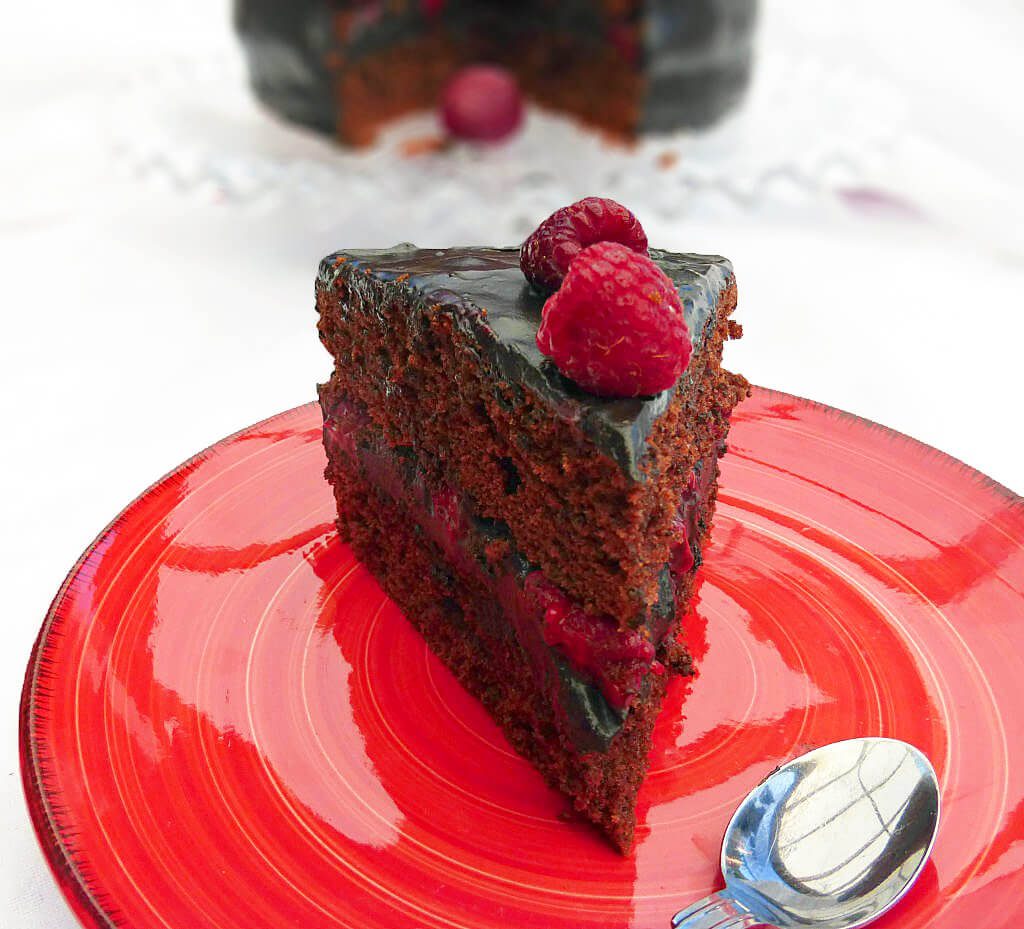 The other reason why I've made more than my fair share of cakes recently is that as the end of the school term is rapidly approaching here in Sweden, there's been loads of end of term activities, events and parties – and you know me, any excuse to get baking.
I had a ton of chocolate frosting to use up from a cake I'd made previously and thought that the tartness of the raspberries would go particularly well with the rich, sweet frosting. I wasn't wrong. In addition, the colour contrast between the bright red raspberries and almost black frosting was so pretty.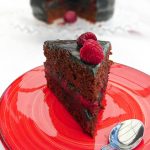 Rich Chocolate and Raspberry Layer Cake
Ingredients
Cake:
175g

(3/4 cup) butter (softened)

175g

(3/4 cup + 2 tablespoons) sugar

3

large eggs

150g

(1 + 1/4 cups) plain (all-purpose) flour

2

teaspoons

baking powder

30g

(1/4 cup) cocoa powder

2-3

tablespoons

milk
Frosting:
110g

(1/2 cup) cream cheese

150g

(2/3 cup) butter

150g

(1½ cups) icing sugar

30g

(1/4 cup) cocoa

black food colouring

(optional)

around 10-15 raspberries

(extra for decoration)
Instructions
Pre-heat the oven to 180°C (350°F) and grease/line/cocoa 2 x 8" cake tins.

Beat the butter and sugar together (I used a food processor) and then add one egg at a time until they are fully incorporated.

Add the cocoa, flour and baking powder and slowly mix using the lowest setting on your processor, just until everything has combined. Add just enough milk for the batter to achieve a dropping consistency (start off with one tablespoon at a time).

Divide the batter between the two pans and bake for around 20-25 minutes, until an inserted skewer comes out clean and the cakes begin to pull away from the edges of the tins. Remove from the oven and let the cakes sit in their pans for about ten minutes, then turn out onto a wire rack and allow them to cool completely.

For the frosting: Beat the butter and cream cheese together until soft and fluffy. Add in just enough icing sugar to make a spreadable, thick frosting consistency. Spread around one third of the frosting on the flat side of one of the cakes and then gently place the raspberries on top. Place the second cake on top (flat side down) and push down gently. Spread the remaining frosting over the top and sides, smoothing with a palette knife. For a finishing touch, add a few raspberries to the top of the cake. Cut into slices and enjoy!
Recipe Notes
The frosting used to decorate this cake was leftover from something else. I've calculated the amount left and what is needed to frosting this cake. The frosting includes black food colouring but is not necessary and can be omitted.
If you like raspberries, you'll love these recipes:
Meringue Sandwich with Raspberry Whipped Cream