These gluten free oat cookies have a simple, white chocolate drizzle and go great with a cup of tea.
I really like oat cookies – oats are naturally gluten free and taste fantastic in a cookie.
I've made this basic recipe tons of times, just tweaking it slightly such as adding chocolate chips, ginger, or topped with milk chocolate (check out my recipe for copycat chocolate hobnobs). However, you don't need to dress these up if you don't want – they taste just as amazing when completely naked!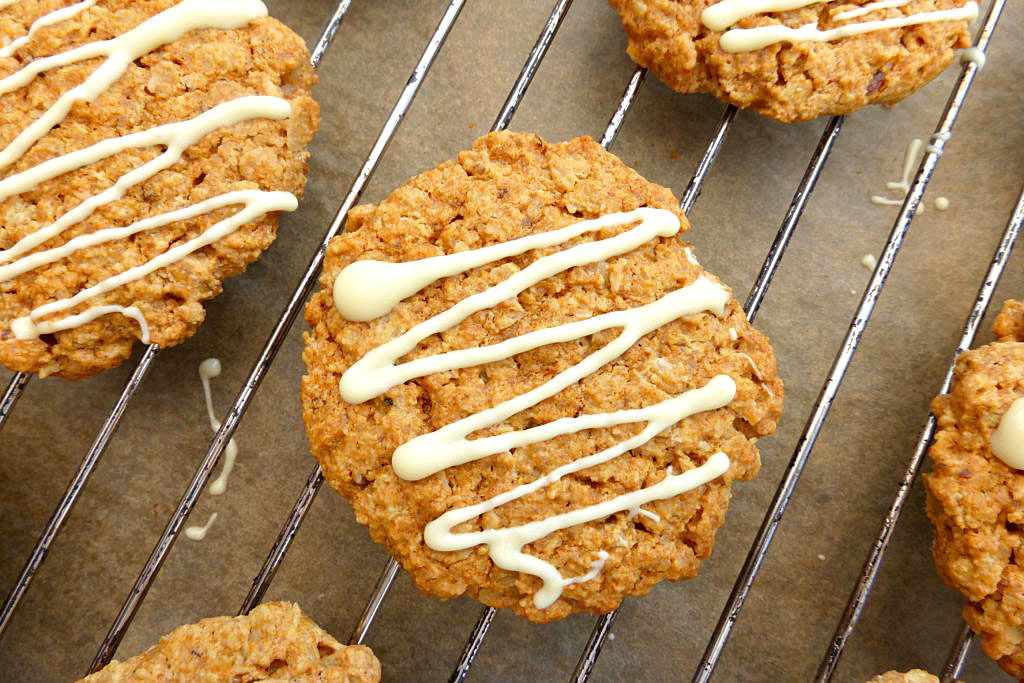 The measurements below yield around 12-18 cookies, depending on how large you make them (baking times may also vary too), but you could easily halve (or double) the recipe to suit your needs.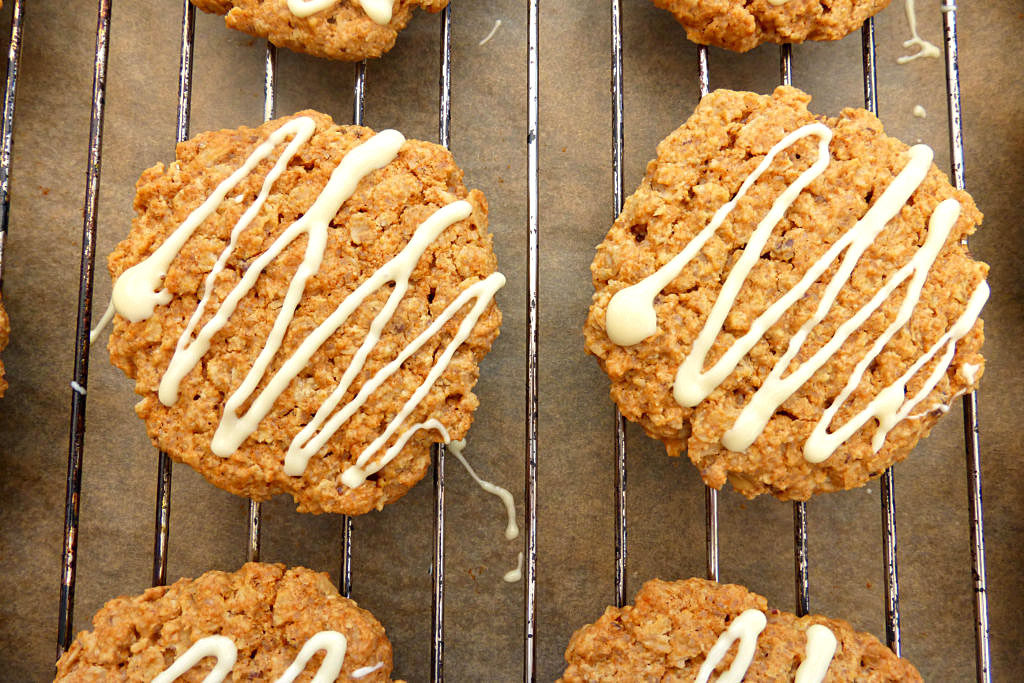 Gluten Free Oat Cookies with a White Chocolate Drizzle
---
Ingredients
75g (1/3 cup) butter (softened)
75g (1/3 cup + 1 tablespoon) brown sugar
1½ tablespoons milk
3 tablespoons syrup (light or golden)
1½ teaspoons bicarbonate of (baking) soda
1½ teaspoons flax seeds
1 teaspoon vanilla sugar
105g (1 cup + 1 tablespoon) oat flour
105g (1 cup + 2 tablespoons) oats
10g white chocolate (for the drizzle)
Directions

~ Pre-heat the oven to 150°C (300°F) and line a baking tray with grease-proof paper.

~ Beat the butter and sugar together and then beat in the milk and syrup.

~ In a separate bowl, mix the dry ingredients together and then add to the wet, stirring until well combined. Take roughly one tablespoon of dough and form into a ball (move quickly because the dough is sticky). Place on the baking tray and then using a fork, flatten the balls into rough round shapes. Leave a little space between them (they puff up but don't spread out a great deal).

~ Bake for around 15 minutes until they are golden. The edges will feel fairly firm but the middles will be very soft. A minute or two can make all the difference between being ready and burnt, so keep an eye on them!

~ After removing them from the oven, let the cookies sit on the tray for around ten minutes until they firm up, then move them to a wire rack to cool completely.

~ Melt the chocolate and then drizzle over the cold cookies. Enjoy!

7.8.1.2

144

https://www.theculinaryjumble.com/gluten-free-oat-cookies-with-a-white-chocolate-drizzle/

The Culinary Jumble