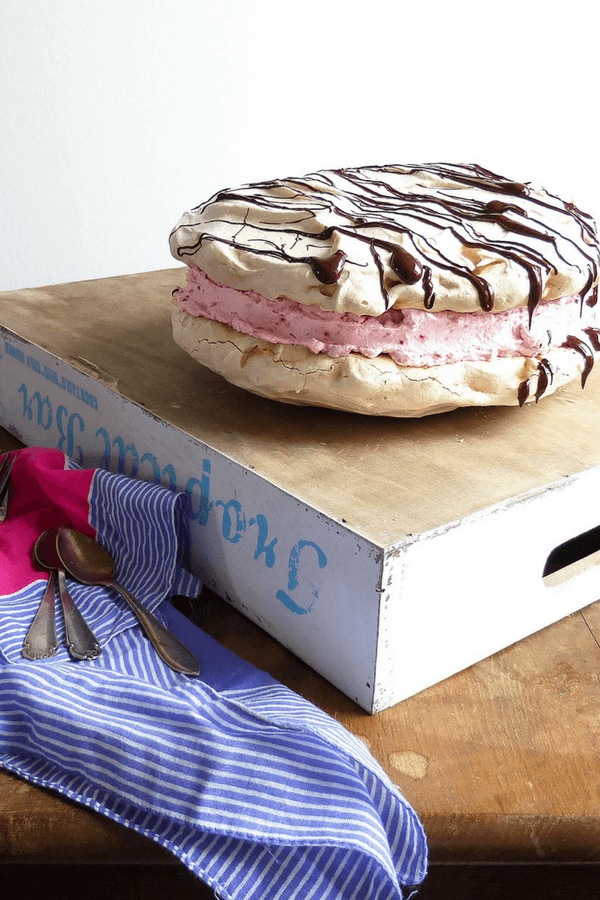 Desserts don't come much easier or more delicious than meringue.
There's really nothing more strenuous than whisking a few egg whites. Mind you, separating them can make the hands tremble a little. And anyone who has ever separated five eggs only to notice a smidgen of yolk slip in when adding your sixth, knows exactly why your hands do shake.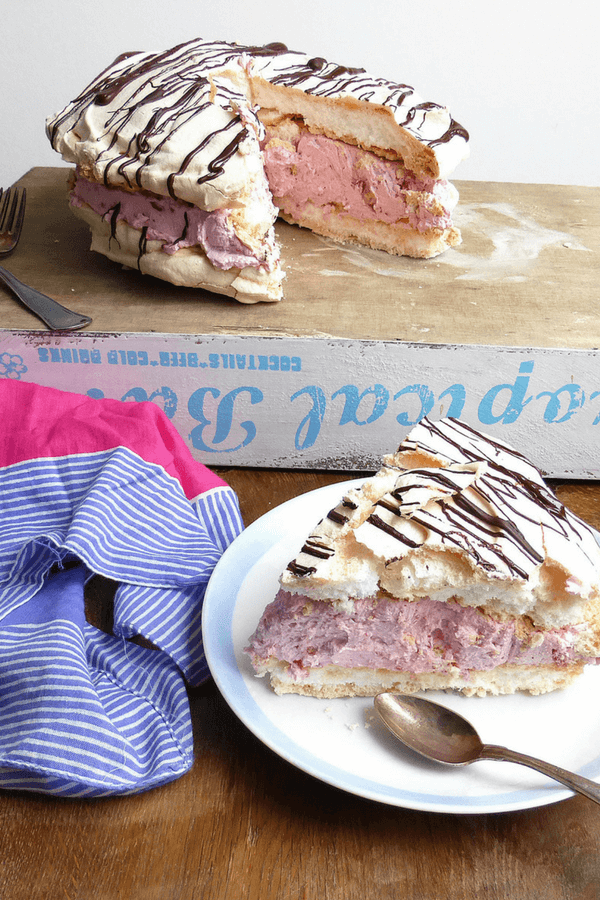 I love meringue. I like it crispy on the outside and melt in your mouth soft in the middle. And it has to be said that I like my meringue all the more when there is some kind of cream involved. Like this meringue sandwich stuffed with raspberry whipped cream.
Although there are a few slight discrepancies over the exact ingredients of a meringue, they are minor. Along with mandatory egg whites and sugar, you will usually find either cream of tartar or white wine vinegar, which stabilise the meringue.
The temperature you should bake your meringue on also varies; however, most experts would agree that if you can, leave your meringue in the oven overnight to cool completely. I first did this when I made my Blackberry Curd Pavlova, and I was really pleased with the results.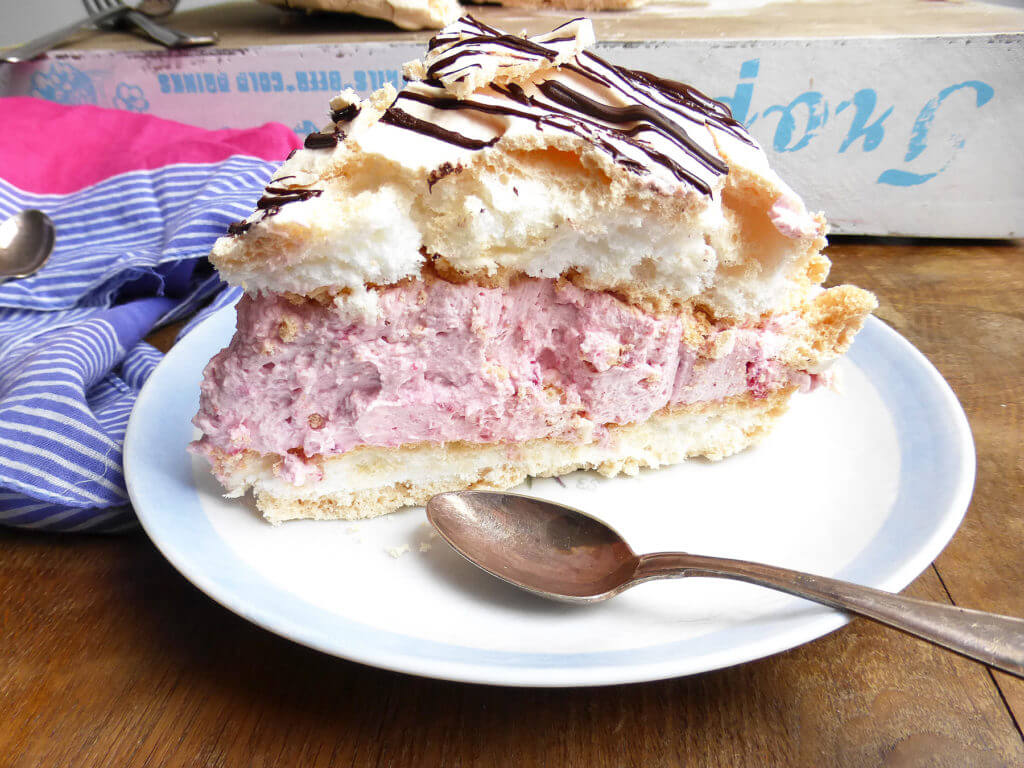 If you're new to making meringues, the culinary guru Martha Stewart thinks she knows the way to guarantee success when making them, and offers a comprehensive checklist. Who doesn't like a guaranteed success, eh?
The raspberry whipped cream is just as simple as the meringue itself. I'd never tried mixing berry sauce direclty into the cream before and wasn't sure if it would work, but it was amazing. Creamy, fruity, heaven.
The meringue is fairly large and will easily feed 6-8 people. If you don't fancy raspberries use strawberries or any other kind of berry.
Meringue Sandwich filled with Raspberry Whipped Cream
---
Ingredients
Meringue:

4 large egg whites
225g (1 cup) sugar
1 teaspoon corn-flour
1 teaspoon white wine vinegar

Filling:

200g frozen or fresh raspberries
1 tablespoon sugar
1 teaspoon water
2 teaspoons cornflour
500ml (2 cups) whipping cream
20g dark chocolate (melted) to drizzle over
Directions
~ Heat the oven to 140ºC (285ºF). Line a large flat baking tray with greaseproof paper and draw two identical circles of around 18cm each.
~ In a large bowl, whisk the eggs until stiff peaks form. Slowly add the sugar, then the cornflour and white wine vinegar.
~ Divide the mixture equally between the two circles on your prepared tray smoothing out to the edges of the circles.
~ Bake for 50 minutes then turn the oven off. Leave the meringue inside until it is completely cold (if you can, overnight is best).
~ To make the filling: Heat the raspberries in a pan along with the water and sugar until they are bubbling. Add the cornflour and cook for around 5 minutes until the mixture has thickened. Remove from the heat and leave until completely cold. Whip the cream in a large bowl until thick then add the raspberries. Continue to whisk for a minute, just until everything is evenly distributed.
~ When ready to serve, place one of the meringues curved side down. Slather over the raspberry cream mixture and place the other meringue on top (flat side down). Melt your chocolate and drizzle over. Slice and serve. Enjoy!
7.8.1.2
312
https://www.theculinaryjumble.com/meringue-sandwich-raspberry-cream/