Super soft and doughy, these cheddar and ham pinwheel rolls are great for a school lunchbox.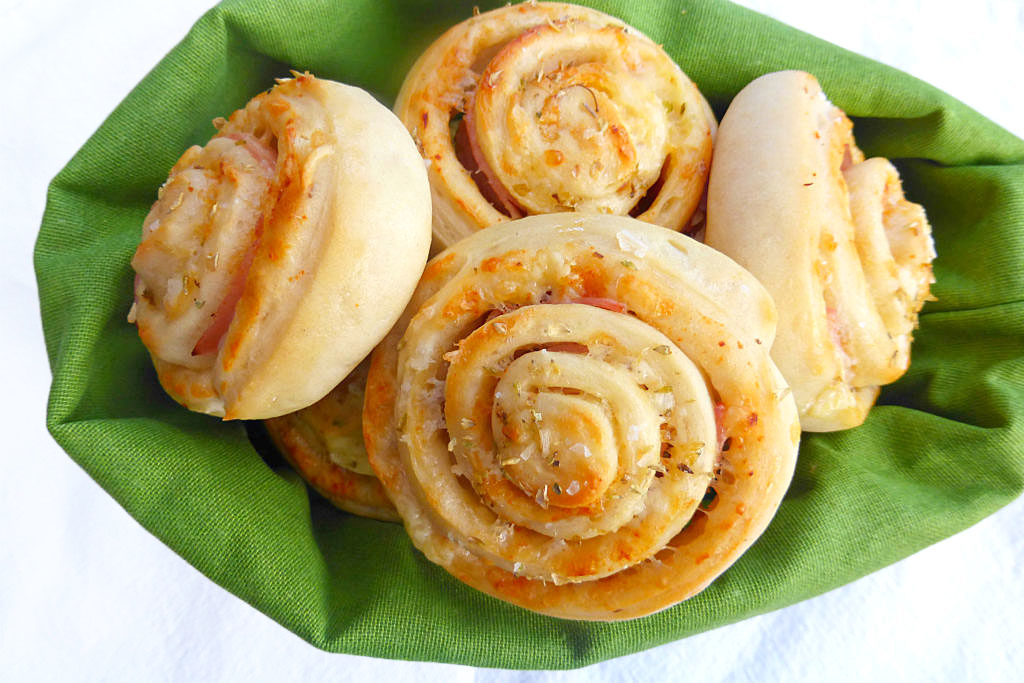 I love bread. I love cheese. And I don't mind a bit of ham. You can therefore imagine how much I loved these little beauties!
These delightfully doughy cheese and ham pinwheels have the amazing tang only strong cheddar can bring and are flavoured with paprika and oregano. Delicious!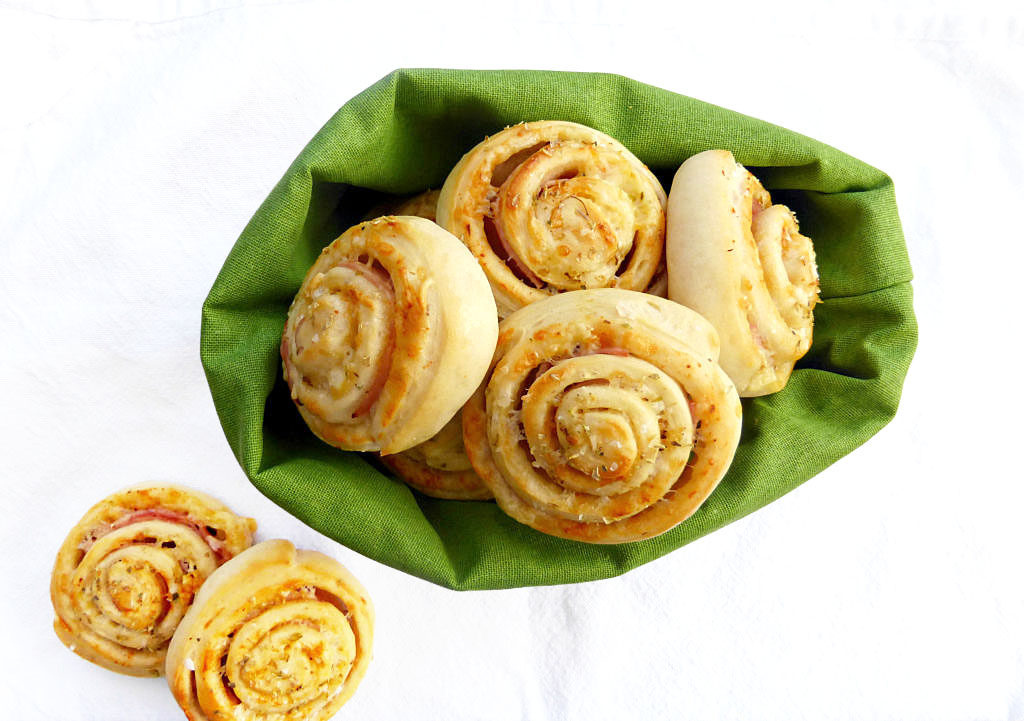 Although I love making more elaborate breads like my Monterey Pepper Jack spelt focaccia and mozzarella with red onion bread, I also truly get that sometimes, there's a need for speed.
These are so simple, you won't believe it. They also have a very short rise/proofing and can be on the table in just under an hour.
I served mine with BBQ chicken and salad and they also make a great snack (pop them in the microwave for a couple of seconds just to warm them up a touch). The measurements below made 12 lovely buns!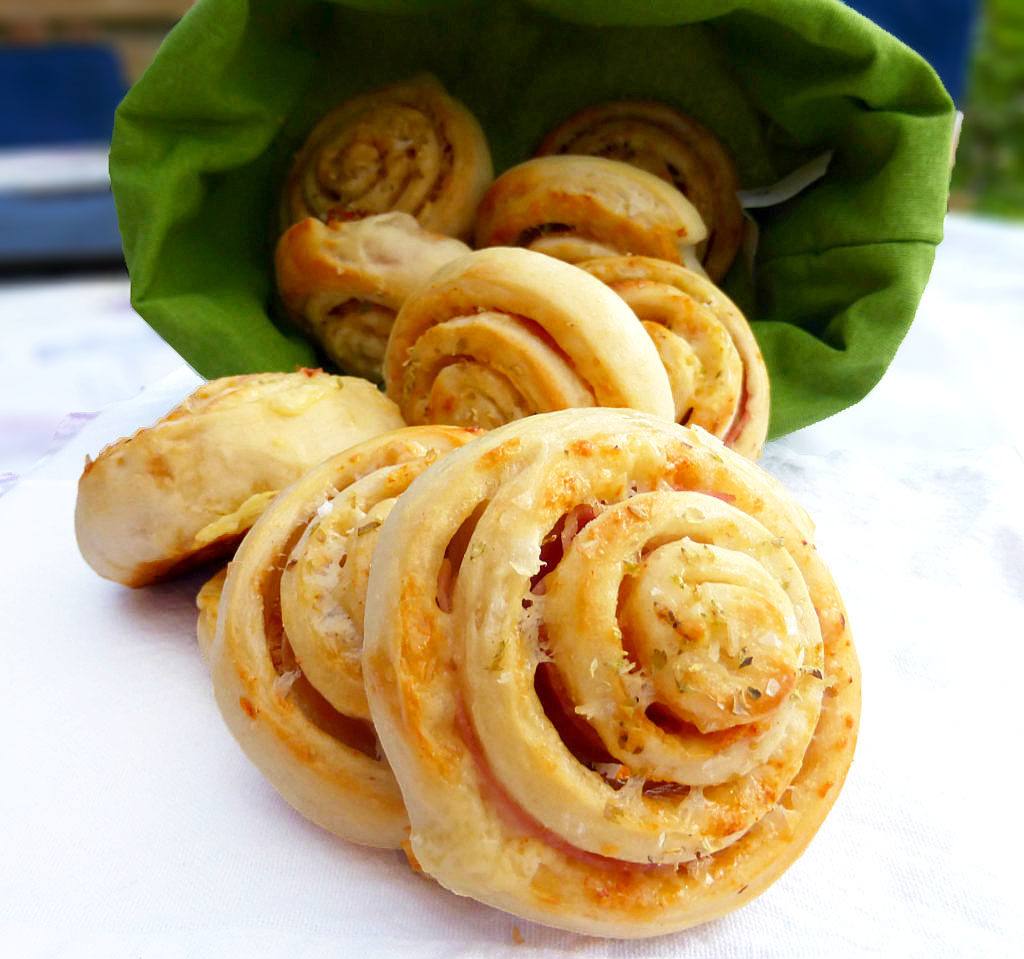 Cheddar and Ham Pinwheel Rolls from Scratch
---
Ingredients
Dough:

250ml (1 cup) milk
25g fresh yeast - see notes
1 tablespoon oil (I used rapeseed/canola)
300-400g (2½-3 cups) bread flour (I used white)
1 teaspoon sea salt

Filling:

50-100g (½-1 cup) grated mature cheddar cheese (use as much or as little as you like)
6 slices ham
1/2 teaspoon paprika

Topping:

1 egg (beaten)
1 teaspoon oregano
1 teaspoon sea salt

NOTES:

I use fresh yeast in my bread. If this is not available or you'd prefer to use dried, check out this helpful converter.
Directions
~ Heat the milk until it reaches lukewarm and then crumble in the yeast. Leave to activate for around 10-15 minutes until the mixture starts to froth. Add the oil and stir to combine.
~ In a large bowl, mix 300g (2½ cups) of flour with the sea salt. Add in the wet ingredients and stir until a very sticky dough pulls together. Flour a flat surface with plenty of flour and pour out the dough, then sprinkle more flour on top. Slowly start to work the dough together, adding more flour if it is too sticky to handle (only add a little at a time and only when the dough becomes too difficult to work with).
~ Knead the dough for around 8 minutes, until it is soft and pliable. Place back in the bowl and leave it in a warm place to rest for around 20 minutes. Pre-heat the oven to 250°C (180°F) and line a baking tray with grease-proof paper.
~ Take the dough and roll it out into a rectangle shape. A good dough will initially resist being rolled out, springing back into place. Therefore, roll it out for a while and then leave it to rest for a few minutes (you might have to do this several times). Aim for a rectangle of around 40cm x 30cm, but it doesn't have to be exact.
~ With the shorter side facing you, sprinkle the whole dough with grated cheese, leaving a thin edge all the way around with no cheese on it. Top with the ham and then sprinkle with paprika.
~ Gently, start to roll the dough up, taking care to keep an even thickness throughout. Cut into equal, fairly thin slices and place on the baking tray. Wash the rolls with egg and then sprinkle with oregano and sea salt. Leave in a warm place (I just left mine on top of the oven) for around 15 minutes.
~ Bake for around 8-10 minutes, until the rolls are nice and golden in colour. Leave on the tray to cool for a while and then transfer to a wire rack. Enjoy warm or cold!
7.8.1.2
132
https://www.theculinaryjumble.com/cheddar-and-ham-pinwheel-rolls-from-scratch/