These butterfly cakes with cream cheese frosting are straight out of my childhood.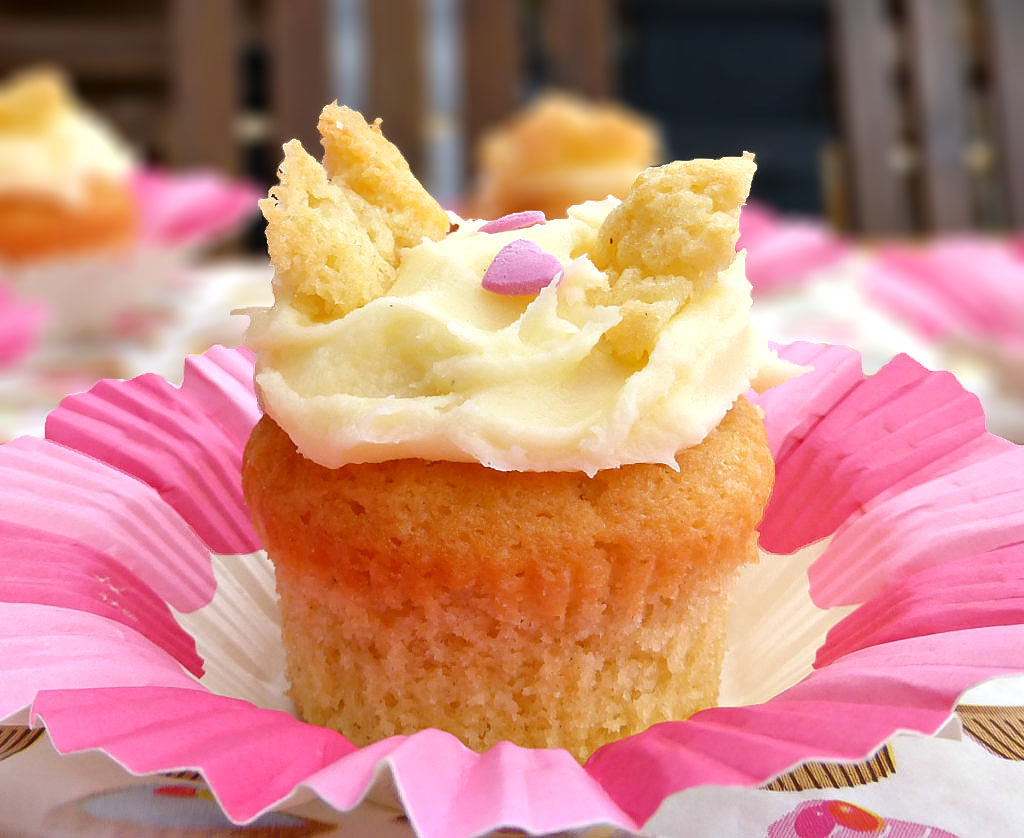 Butterfly (also known as fairy) cakes were a huge part of my childhood. My mum didn't bake very often but when she did, it was invariably these.
I have no idea what recipe my mum used, but mine are made from a very traditional sponge cake recipe (equal amounts of butter, sugar and flour) and are so simple to prepare – your kids will love making them!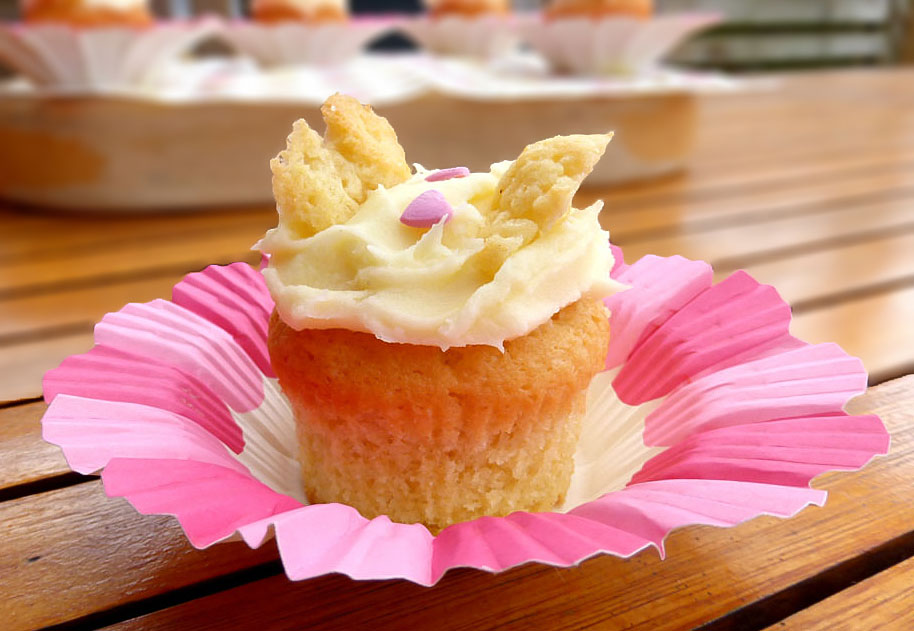 For the frosting, I veered a little away from tradition and added cream cheese to the butter (I prefer it that way) but if you like unadulterated buttercream, go for it! Additionally, I used jam, which isn't included in more traditional butterfly cake recipes.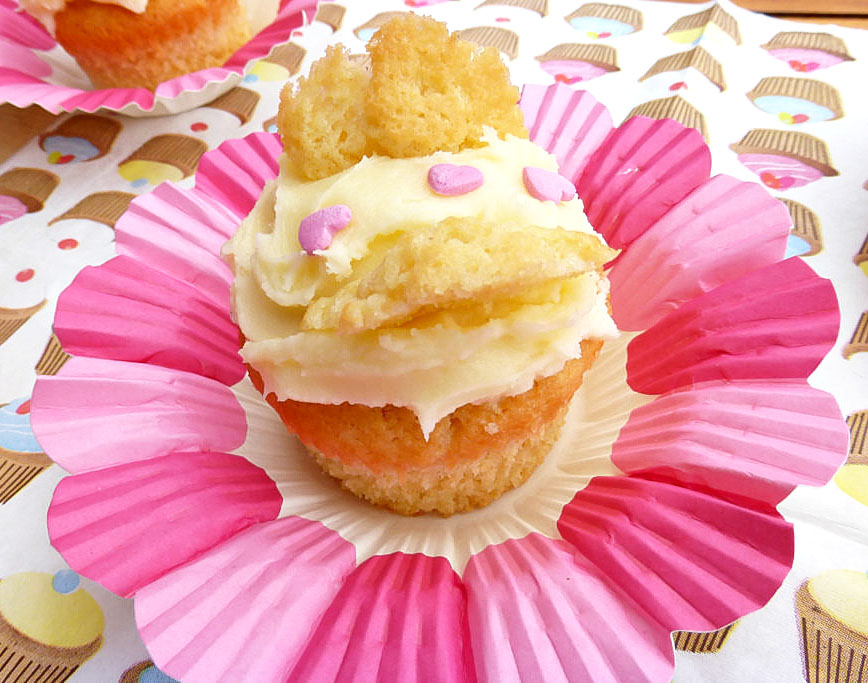 The measurements below will make between 12-18 cakes depending on how large your cupcake cases are; however, you could easily halve the ingredients and make fewer. The recipe calls for plain flour and baking powder but if self-raising flour is readily available (it's not here), you could just use that instead and omit the baking powder.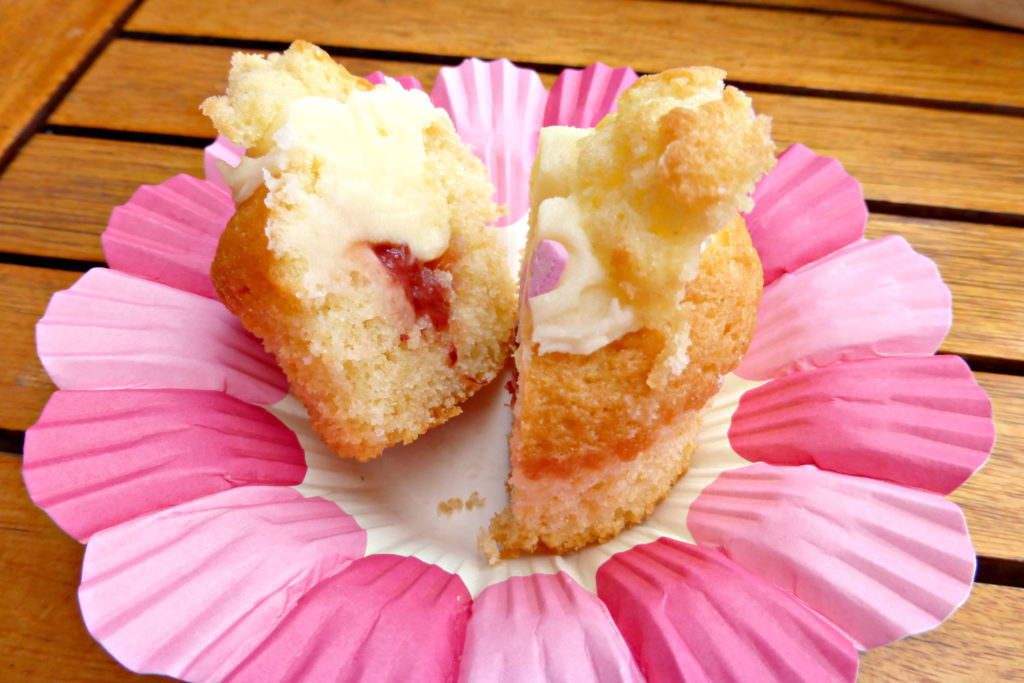 Butterfly Cakes with Strawberry Jam and Cream Cheese Frosting
---
Ingredients
Cakes:

200g (7/8 cup) butter (softened)
200g (1 cup) caster sugar
4 medium eggs
200g (1 + 2/3 cups) plain (all-purpose) flour
1/2 teaspoon vanilla sugar (see notes)
2 1/4 teaspoons baking powder

Icing (frosting):

50g (1/4 cup) butter
50g (1/4 cup) cream cheese
180g (1 + 3/4 cups) icing sugar
1/4 teaspoon vanilla essence
Jam of choice
Directions

~ Pre-heat the oven to 190°C (375°F) and prepare a muffin tin with cupcake cases.

~ Cream the butter and sugar together (either by hand or using an electric mixer) until fluffy and soft and then beat in the eggs, one at a time.

~ In a separate bowl, combine the flour, baking powder and vanilla sugar and then fold into the wet ingredients and mix well.

~ Bake for around 16-20 minutes, just until the tops spring back when gently pushed. Remove from the oven, take out of the muffin tin, and allow to cool completely on a wire rack.

~ For the frosting: beat the cream cheese and butter together until light and fluffy. Sift the icing sugar and vanilla sugar together and then mix into the butter/cream cheese until thoroughly combined. If the mixture is too thick, add a little milk a touch at a time.

~ Gently cut the tops off the cakes (put them to one side) and make a hole in the centre of each one being careful not to go right through the bottom (also keep the cake you have "dug" out). Pour a little jam into the holes (around a teaspoon) until it comes up to the top of the hole and then gently push the centre of the cake you have just removed down on top of the jam (don't do it too hard or the jam will squish out the sides!).

~ Take a dollop of frosting and place on top, spreading it out a little (it is not meant to be incredibly neat or cover the whole of surface). The "wings" are made by cutting the top you retained early in half and placing on either side of the cake. Sprinkle with any decoration you fancy or just leave as they are. Enjoy!

7.8.1.2

87

https://www.theculinaryjumble.com/butterfly-cakes-with-strawberry-jam-and-cream-cheese-frosting/

The Culinary Jumble