This healthier dark chocolate Swedish kladdkaka is gluten free with less sugar and butter.
Kladdkaka is a really popular cake/dessert in Sweden and it is notoriously packed with white sugar and butter. I love it that way, make no mistake, but I thought about trying to reduce some of both.
This has got a third of the sugar and butter used in my more decadent kladdkakor but it's not lacking a great deal of the taste! Obviously, using Greek yogurt and raw brown cane sugar make a difference but not all difference is bad difference. Right?
One great thing about kladdkaka is that it is very hard to get wrong. The fact that it is not supposed to rise means it is pretty much full-proof. Armed with this information, I decided to experiment with gluten free flour and as I'd anticipated, it worked really well. I used a ready-made blend but I think you could also bake this using just almond flour, or even oat flour (but I haven't personally tried it, so am just speculating).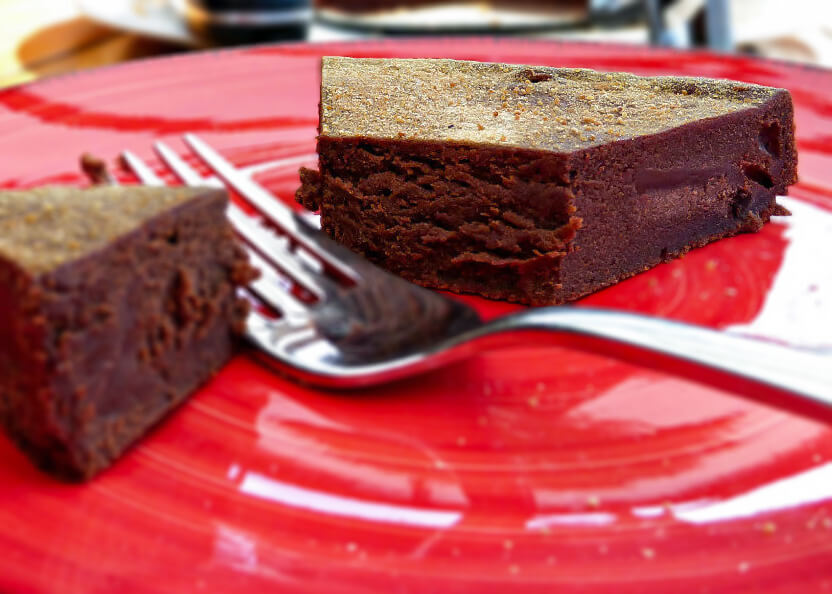 How you like your kladdkaka depends on who you are speaking to, and this one is sticky rather than full on gooey (check out my decadent dark chocolate version if you like things to get messy). The great thing about kladdkaka is its versatility – if you like a firmer texture, just bake it for a little longer (or reduce the time if you like it molten in the middle).
Kladdkaka is traditionally decorated with a sprinkling of icing (confectioners') sugar but I am increasingly trying to look at other alternatives to using it. I read somewhere that you could grind regular sugar to give it a finer grain, so decided to try it with coconut sugar – success!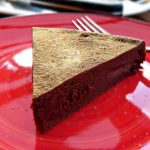 Healthier Dark Chocolate Swedish Kladdkaka (Gluten Free)
Ingredients
50g

(1/4 cup) butter

40g

(3/8 cup) cocoa

2

eggs

60g

(1/3 cup) raw brown cane sugar

1

teaspoon

vanilla sugar

75ml

(5 tablespoons) brewed coffee (cooled)

100ml

(just under 1/2 cup) Greek yoghurt

50ml

(3 tablespoons) milk

40g

(1/3 cup) dark chocolate (roughly broken into pieces)

120g

(1 cup) plain (all-purpose) gluten free flour
Instructions
Pre-heat the oven to 175°C (350°F) and grease a springform pan.

Melt the butter and then add the cocoa. When combined, stir in the coffee.

In a separate bowl beat eggs and sugar together. Add cocoa/butter mixture, vanilla sugar, Greek yoghurt and milk and whisk to combine thoroughly. Mix in the flour and then throw in the chocolate, stirring just until it is combined.

Bake for around 15-17 minutes - if you would like a gooey centre, the cake is ready when the outsides are fairly firm but the middle is still wobbly. Before serving, sprinkle with icing sugar or fine coconut sugar. Kladdkaka tastes great cold but is particularly fantastic warm out of the oven, especially if you are going for a gooey version (if it has cooled you can always pop in the microwave for a short burst to warm it up, too). Enjoy!