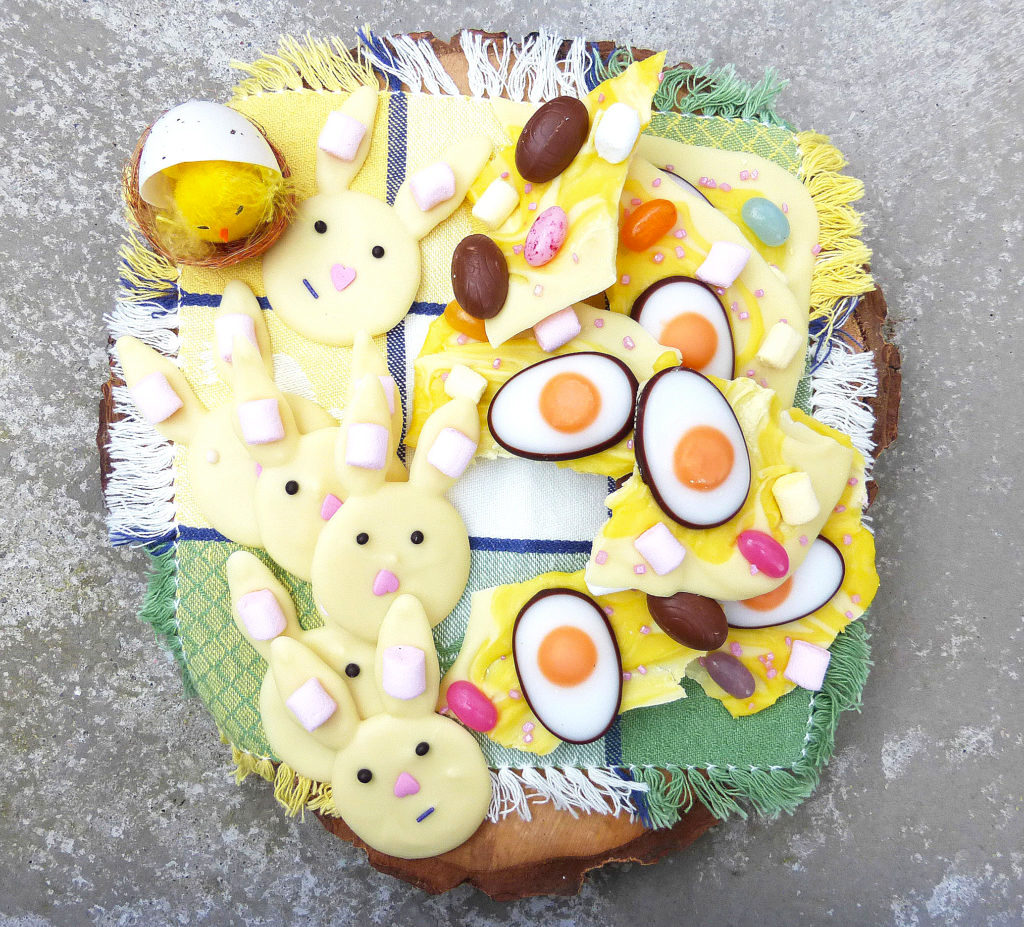 I think I know what you're thinking: They are odd-looking Easter treats, aren't they? You're wondering what the heck those things with the ears are, and why do they look so fed up. Am I right?
Well, let me tell you that these quirky little guys are not quite as I had envisaged. The plans for my white chocolate bunnies were great. In my mind they would be gorgeous, have life-like faces full of charm and beaming Easter happiness.
What I ended up with were bunnies who looked sad at best and right on creepy at worst, and at some angles, are decidedly more crazed pig than anything else. And every time I looked at them, it was as if they were silenting deploring "help me"!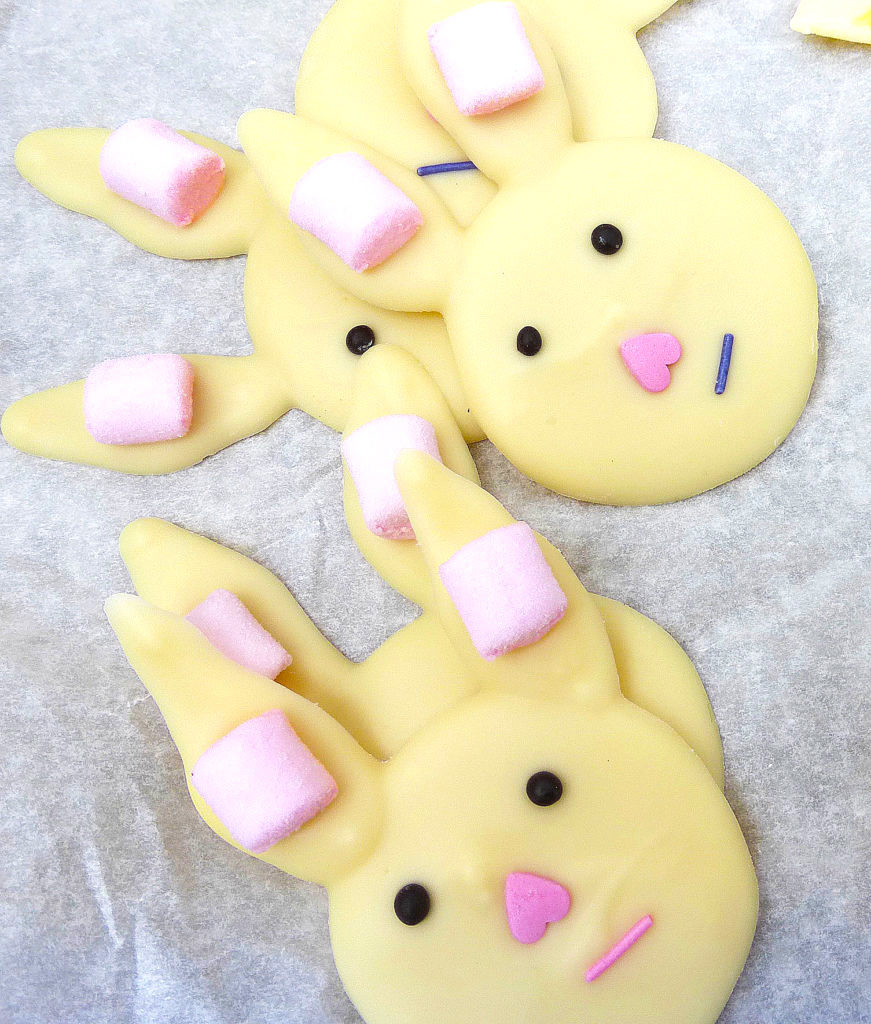 My oafish, shaky hands are to blame, along with tiny decorations I could hardly pick up let alone try to assemble on melted chocolate.
And I am not a decorating queen; don't have the patience for all that delicate work, really. But you know what? I absolutely adored the ears, they were fun to make, and are chocolate (most important fact), so what's a skew-whiff smile here or there between friends?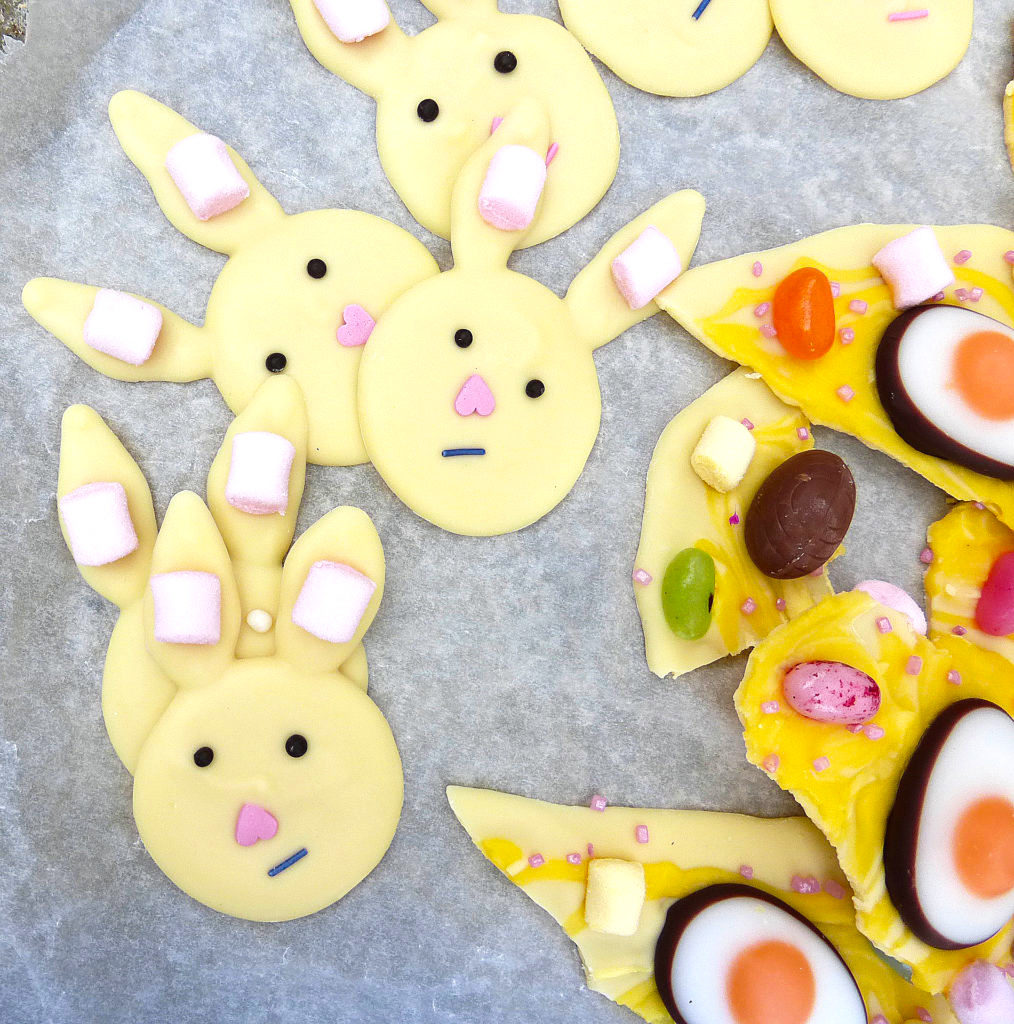 The bark is a little prettier, and went more according to plan. I love bark, and one of my most popular recipes over social media is the one I made with caramel and shortbread.  Bark is quick, adaptable to what you have at home, ready in no time, and is virtually impossible to get wrong.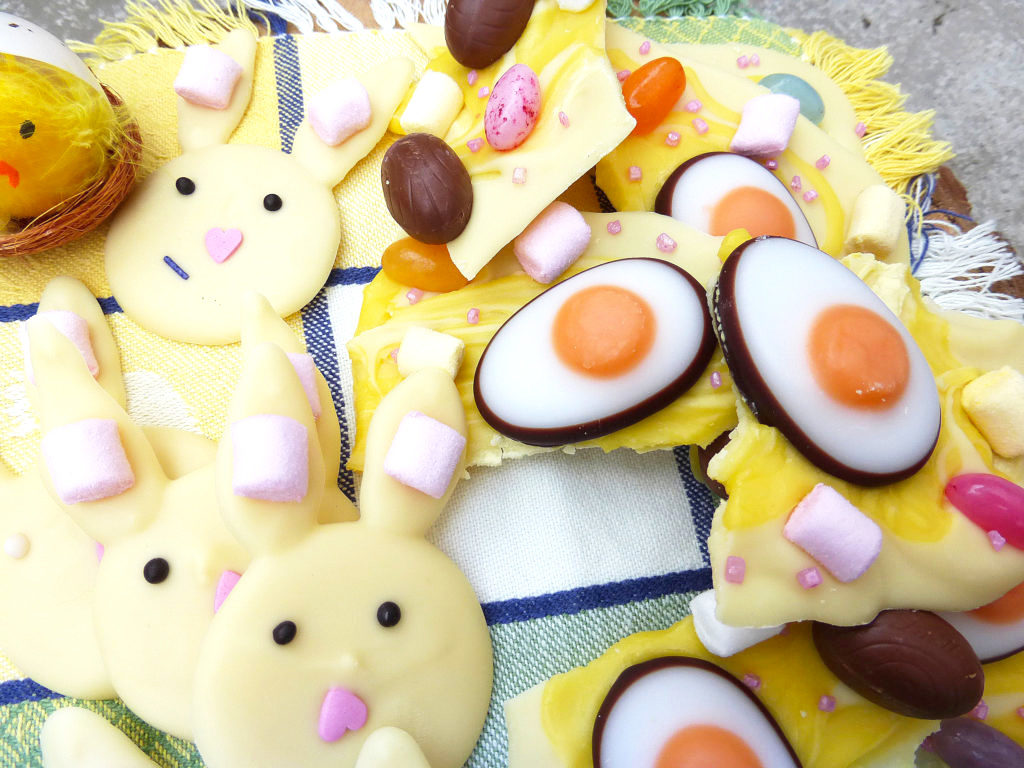 This one is topped with fondant candy I found in Lidl, and they are delicious, but I think it would probably be all the better with real Crème eggs (which I can't get here in Sweden).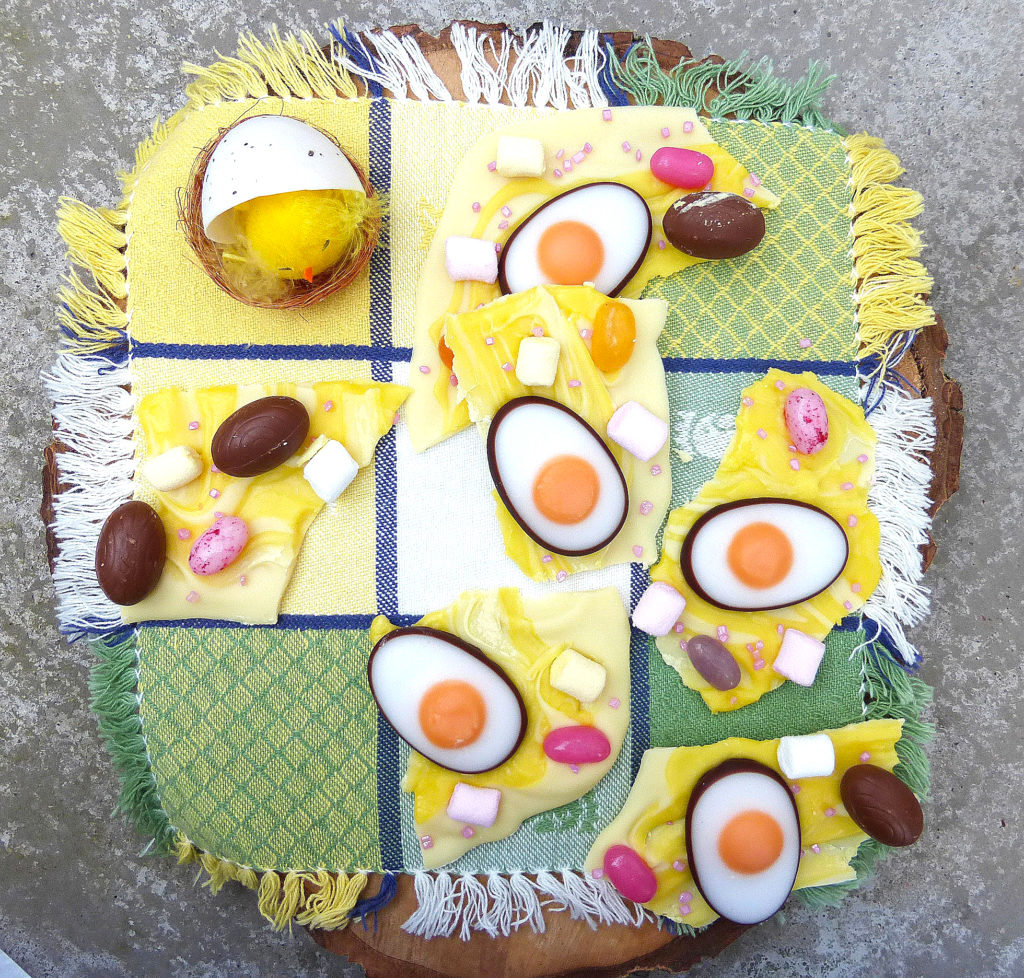 Using only 200g (1½ cups) of white chocolate, these Easter treats are cheap, simple and fun to make, so get your kids involved in some Easter crafting!
Two White Chocolate Easter Treats: Forlorn Bunnies and Eggy Bark
---
Ingredients
200g (1½ cups) white chocolate (melted)

Rabbits:

Mini marshmallows
Decorations for the face

Bark:

Around 50g (1/2 cup) icing sugar
A few drips of water
Yellow food colouring
Anything you'd like to use to decorate (I used mini marshmallows, jelly beans, sparkly sprinkles, chocolate eggs and fondant eggs).
Directions
~ For the rabbits: draw fairly small circles on a piece of baking paper (I drew around the rim of a glass) and then draw the rabbit's ears. I then turned the baking paper over so that you could still see the outline of the rabbit but the chocolate mixing with the pencil was prevented. I made 9 rabbit shapes.
~ Melt all the chocolate (I used a Bain Marie/double boiler) and carefully spoon a little into the middle of the round part of the rabbit. Gently use the spoon to push the chocolate out towards the edges of the circle. The chocolate naturally spreads out in a circle shape, so you shouldn't need to play with it too much. Take another small amount of chocolate and do the same with both ears (this time I used a thin skewer to spread the chocolate out to the edges of the ears).
~ Leave for a while and when the chocolate is starting to set, push one mini marshmallow in the middle of each ear. Then decorate the rest of the faces however you like (maybe you could even make them smile? hah!).
~ For the bark: after making your rabbits, spread the remaining chocolate on a sheet of baking paper and smooth out so that a thin, roughly rectangular shape is achieved. You can go fairly thin with bark (in fact, it is supposed to be thin enough to snap when ready), but just make sure it isn't so thin that the baking paper can be seen through it.
~ Mix the icing sugar with a couple of drops of water and food colouring. You are looking for a thick, but malleable consistency. Swirl this into the white chocolate. Then it's time to add any other toppings you like - push them gently into the chocolate and then leave the bark to harden (in the fridge it will take less than an hour). Finally, break the bark into shards and enjoy!
7.8.1.2
116
https://www.theculinaryjumble.com/two-white-chocolate-easter-treats-forlorn-bunnies-and-eggy-bark/