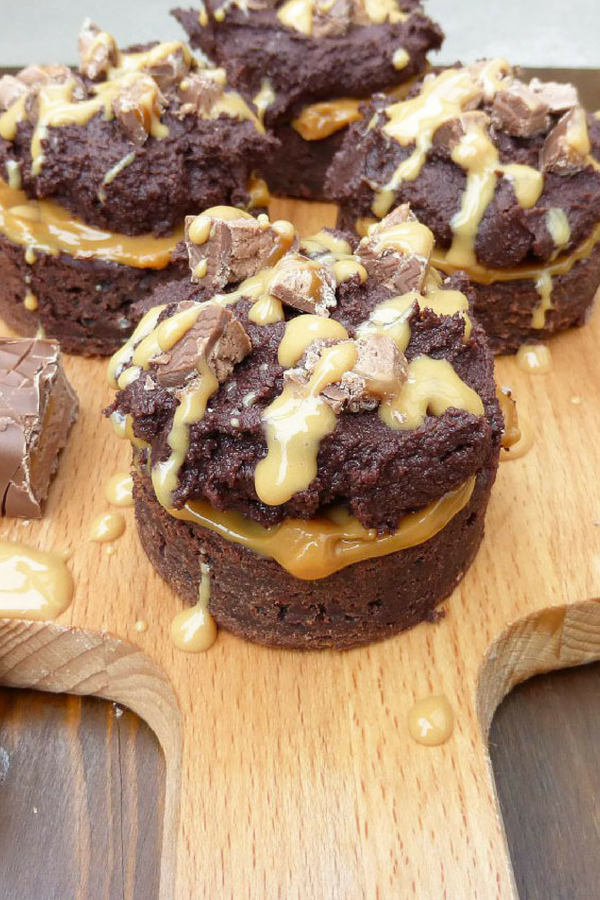 Caramel Mars Bar brownie cakes. Oh, yes. With chocolate cream cheese frosting. Indeed. No other words are needed.
I've made tons of brownies, cakes and desserts, but I told my kids that this one, so far, is my absolute favourite. So decadent, and so good.
The chocolate bar in question this time is a Mars Bar (or if you're in the US, a Milky Way – I know, I know. So confusing). Although I am not a huge Mars Bar fan, I have to say there is something very moreish about the combination of caramel, nougat and chocolate together.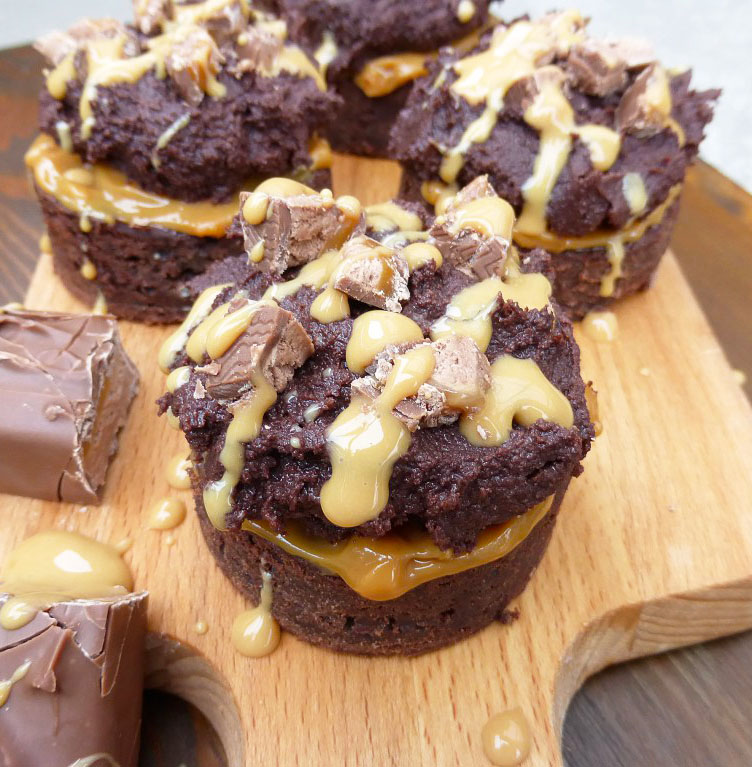 My original idea had been to use the Mars Bars to replicate my Snickers cheesecake  but I had some frosting leftover from my Liquorice Allsorts cake and wanted to finish that off.
And so, these caramel Mars Bar brownie cakes were born. I used my good old favourite brownie recipe, which has NEVER failed me yet, cut out circles, then dolloped with caramel and frosting, not to mention more caramel and a few sprinklings of Mars for good measure.
Never one to waste food if I can help it, I saved the extra brownie bits after cutting out the circles and used them to make individual Mars trifles.

The ingredients below made six cakes, but you could cut out smaller circles if you wanted to make more.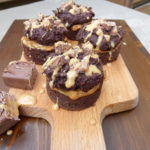 Caramel Mars Bar Brownie Cakes with Chocolate Cream Cheese Frosting
Ingredients
Brownie
100g

(3/4 cup) dark chocolate

150g

(2/3) cup butter

30ml

2 tablespoons brewed coffee

30ml

2 tablespoons milk

60g

(1/3 cup) brown sugar

65g

(1/3 cup) white sugar

2

eggs

1

teaspoon

vanilla sugar - see notes

40g

(1/3 cup) plain (all-purpose) flour

15g

1 tablespoon cocoa

1 x 56g

Mars Bar

(chopped into small pieces)
Caramel:
1/2

tin

200g caramel (dulce de leche) or your own homemade
Frosting (mine was leftover from another recipe. However, the measurements below will be enough to top six individual cakes):
75g

(1/3 cup) butter

75g

(1/3 cup) cream cheese

100-150g

(1-1½ cups) icing sugar

30g

cocoa
Additional Toppings:
2

tablespoons

caramel

(as above mixed with around 1 teaspoon of milk)

Around 25g

- half a regular Mars bar (chopped)
Instructions
Pre-heat the oven to 170°C (325°F) and grease (or line) a square 8 x 8 inch baking tin.

Slowly heat the chocolate and butter in a pan until just melted, then add the coffee and milk. Leave the mixture to cool for about 10 minutes.

In a large bowl, whisk the sugar with the eggs, then quickly beat in the cooled chocolate mixture.

Sift the vanilla sugar, flour and cocoa together and stir into the wet ingredients, then mix until well combined. Lastly, throw in the chopped Mars Bar and give it one final stir to incorporate it.

Pour into the prepared tin and bake for around 20 minutes (until an inserted skewer comes out clean), but don't overcook! Remove from the oven and allow to cool completely (I usually leave my brownies in the fridge overnight as it makes for a cleaner cut).

For the frosting: beat the butter and cream cheese together until nice and light. Sift 100g (1 cup) icing sugar with the cocoa and beat into the other ingredients, gradually adding more icing sugar as needed.

When ready to assemble, using a round cookie cutter, cut out six circles from the brownie (the rest can be frozen and used to make trifles - link above). Spread around 1-2 tablespoons over each circle and then pop into the freezer for around ten minutes to set a little (tinned caramel never goes completely hard, but it will help the frosting stick better).

Top each brownie with a large dollop of frosting (or you could pipe it if you preferred). Mix the additional 2 tablespoons of caramel with a touch of milk, just until you have a somewhat runnier consistency, and then drizzle over the cakes. To finish, sprinkle with some chopped Mars Bars. Enjoy!