This ultimate summer dessert: chocolate and strawberry trifle is a great alternative to regular trifle.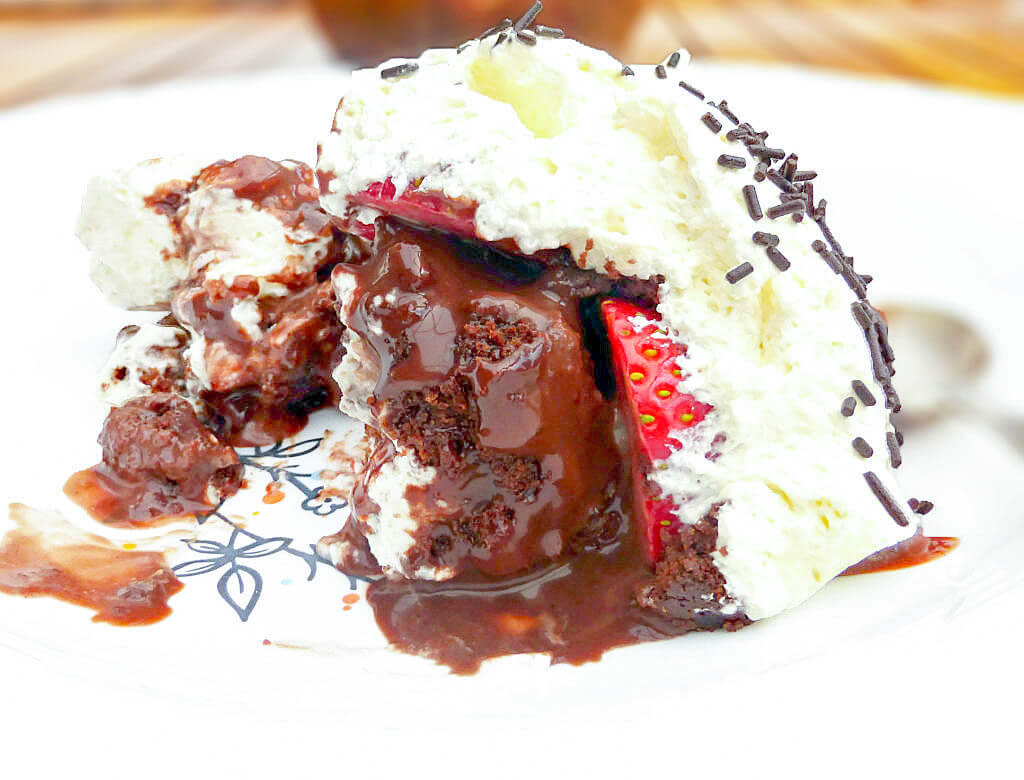 I don't like trifle. Not in the traditional sense of custard and glacé cherries, anyway. However, I fell in love with this gorgeous dessert, packed with fudgy cake, rich chocolate sauce, juicy strawberries and naughty-but-nice whipped cream. Now, this is what I call a trifle!
This kind of decadence you probably don't want to make every day or just for yourself, but it goes down a storm at a party or a special summer dinner with friends. I made it for a gathering of local expats and the whole thing disappeared rather quickly (always a good sign, don't you think?).
The chocolate cake included in the trifle was the result of a catastrophic baking moment when I tried to cut a cake in half, but it was so dense and fudgy that it literally crumbled. I wiped away my frustrated tears, packed it in a bag, and threw it in the freezer. A month later, I remembered it was there and decided on making a trifle in the way I'd like a trifle made (no custard, tons of chocolate). If you haven't got any baking disasters lurking away in the back of your freezer, you could use any leftover cake or brownie, or make your favourite chocolate cake specifically for the trifle (it will be worth it, promise).
The chocolate sauce is so simple and it's made in minutes. Then all you need to do is whip up a bit of cream, cut a few strawberries, and bingo, pretty much instant dessert. This trifle was huge and gave around 15 fairly large portions; however, you could easily halve the ingredients and make something a little less extravagant.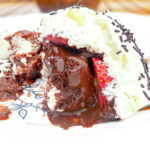 The Ultimate Summer Dessert: Chocolate and Strawberry Trifle
Ingredients
!Trifle:
1

medium sized cake or pan of brownies

400

g

strawberries

(sliced)

700

ml

whipping cream

chocolate vermicelli

(sprinkles)
!Chocolate sauce:
125

g

tablespoons sugar

30

g

cocoa

25

g

corn-flour

1

cup

milk

1

cup

cream

1

teaspoon

vanilla sugar

1

tablespoon

butter
Instructions
First, make the chocolate sauce by heating all the sauce ingredients (apart from the butter) in a medium-sized pan. Let the mixture come to the boil and then continue to cook for around five minutes. Remove from the heat and then whisk in the butter until it has melted. Set to one side to cool (you should end up with a fairly thick sauce of a pouring consistency).

Whip the cream until nice and thick and then place in the fridge until it is required.

To assemble the trifle, start by placing half of the cake or brownies in a large bowl (break them into smaller pieces and try to get a fairly even layer which pretty much covers the whole of the bottom of the bowl). Next, pour half of the chocolate sauce evenly over the cake. Then, place half of the strawberries on top, followed by half of the cream.

Follow the above a second time with the remaining ingredients, and then sprinkle with chocolate vermicelli to give it a real trifle feel. Place in the fridge until ready to eat. Enjoy!
Interested in more summer recipe ideas?