Oh, how pretty these gluten free mini quiches with cottage cheese and chives are. Even better that they have reduced fat and a lighter filling.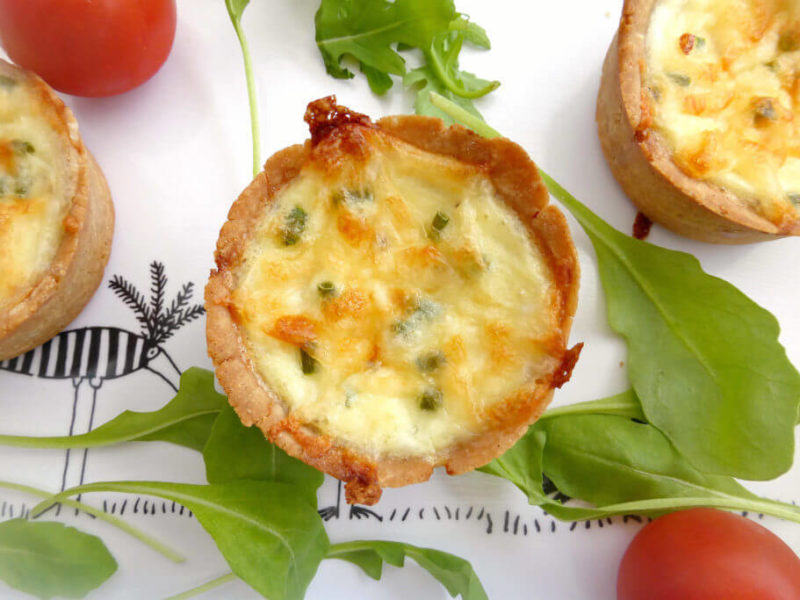 For me, quiches are synonymous with summer. There's nothing better than a bit of pie on a picnic or for a lazy summer lunch.
I've been experimenting a lot with gluten free pastry lately. Although some baking (such as bread) doesn't work very well without gluten, I find pastry quite forgiving. Don't get me wrong – it doesn't taste the same as regular pastry, but it does taste good.
Ultimately, it comes down to weighing up a difference in taste against a painful, bloated, wheat tummy. For me, this makes choosing gluten free pastry a bit of a no-brainer.
These gluten free mini quiches with cottage cheese and chives also have less fat than regular quiches. There is a little butter in the pastry itself, but the filling is made with cottage cheese and just a touch of mozzarella sprinkled over the top.
The great thing about any kind of quiche is their flexibility. If you'd rather have cheese instead of cottage cheese, or would like to add other ingredients, then go for it!
The measurements below yielded six gluten free mini quiches – just double the recipe to make more!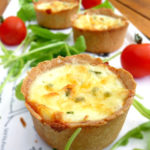 Gluten Free Mini Quiches with Cottage Cheese and Chives
Ingredients
Pie Crust:
50g

(1/2 cup) buckwheat flour

25g

(1/4 cup) corn starch

25g

(2 tablespoons) rice flour

1½

tablespoons

coconut flour

1/2

teaspoon

salt

40g

(3 tablespoons) butter (cold and chopped into small pieces)

1

egg

1

tablespoon

water

(if needed)
Filling:
2

eggs

100g

(1/2 cup) cottage cheese

2

tablespoons

milk

1/2

teaspoon

sea salt

Pinch

black pepper

1

tablespoon

fresh chives

A sprinkle of mozzarella
Instructions
Pre-heat the oven to 190°C (375°F). Grease six holes in a non-stick muffin pan with a little butter.

In a bowl, mix the flours together, add the salt and finally, the chopped butter. Rub together until the mixture resembles breadcrumbs.

Beat the egg and then stir into the dry ingredients. Add a little water, if needed (coconut flour really soaks up moisture, so you will need to give the egg mixture a couple of minutes to work with the flour before deciding if you need any water). The end result should be a dough which is workable but not too sticky or dry.

Cut into six equal pieces and roll into balls. Push down with the back of your hand to make a rough circle, then place them all in the prepared muffin tin. Gently work the dough with your fingers until it is evenly distributed and pushed up the sides of the muffin pan holes. Place in the fridge for 30 minutes and then using a fork, make holes in the bases, and then bake for around 10 minutes. Remove from the oven and let the pastry cool for a while.

For the filling: Beat the eggs and then stir in the cottage cheese, milk, chives, pepper and salt. Pour into the six mini pastry crusts and bake for around 10 minutes. Remove from the oven and sprinkle each one with a little mozzarella and put back in the oven to bake for a further 5-10 minutes, just until they are golden brown and feel set when you gently touch the tops. Remove from the oven and either allow to cool completely or eat when warm. Enjoy!
If you are interested in recipes with gluten free pastry, check these out:
Gluten Free Galette with Pears in Caramel Sauce
Blue Cheese, Broccoli & Chilli Quiche