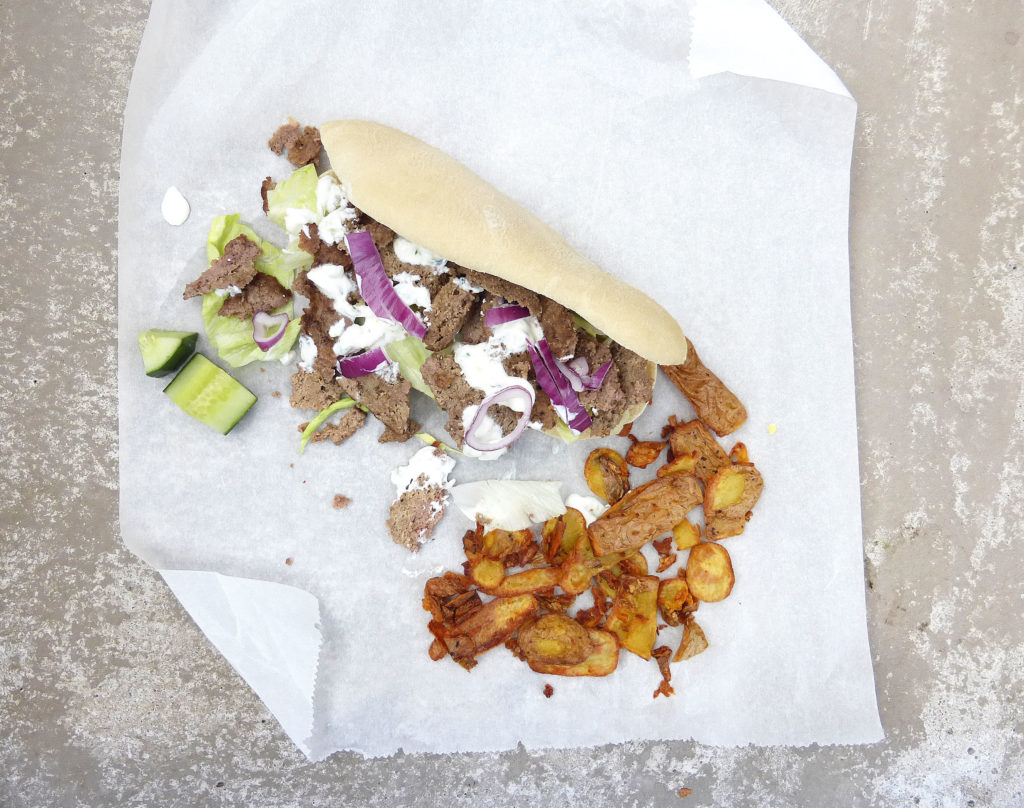 I love a good take-away, me. It's not only the food, but also the fact we don't need to cook (or should I say there is no mess to clean up).
We don't have them very often though (do you know how expensive Sweden is?) and they are most definitely an every-now-and-then treat.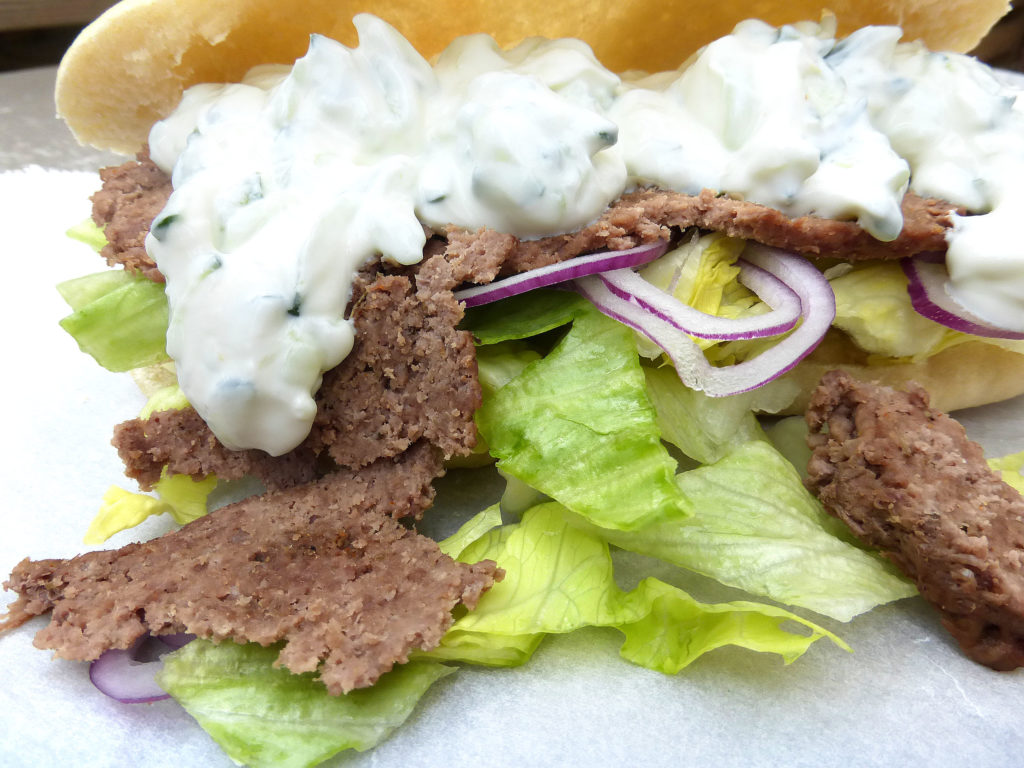 But what if I told you that you could have homemade takeaway (or, "fakeaway") whenever you liked?
Food that is not only all the way homemade from scratch, but is also low in fat and most definitely easier on the wallet?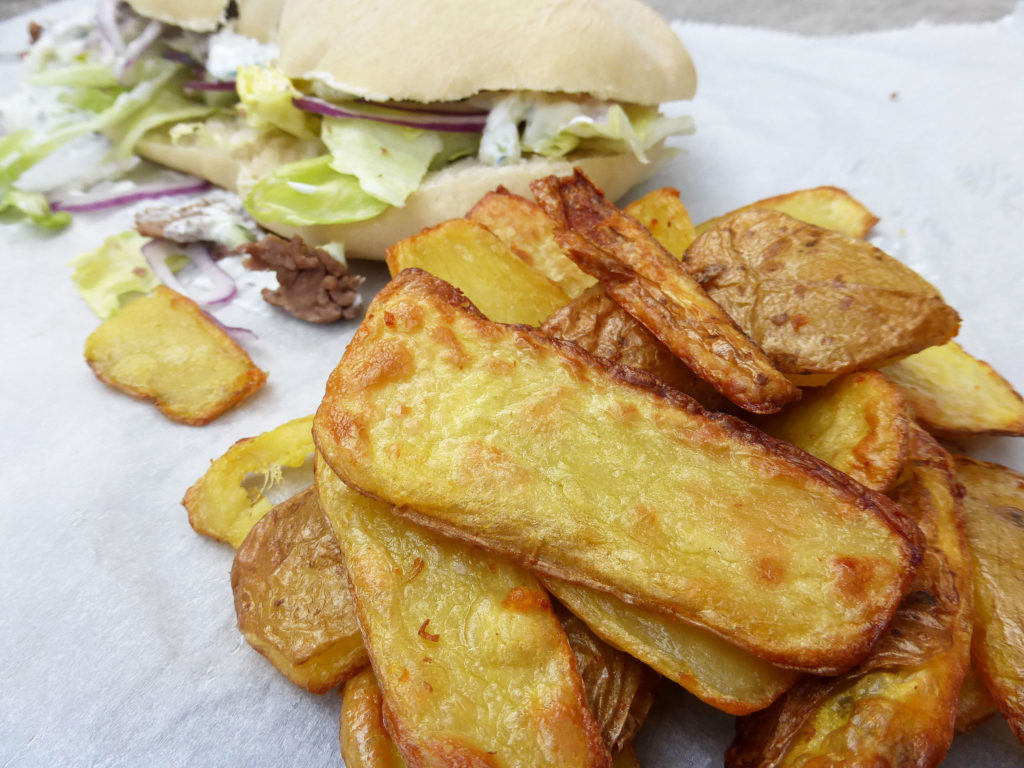 This recipe is the first in a series featuring some of my favourite takeaway meals made from scratch.
The gyros comes from a delicious recipe for doner kebab and is made in a slow-cooker. It's then popped in some freshly-baked pita bread, smothered with homemade tangy tzatziki, and served with healthier potato skin fries made in an Actifry.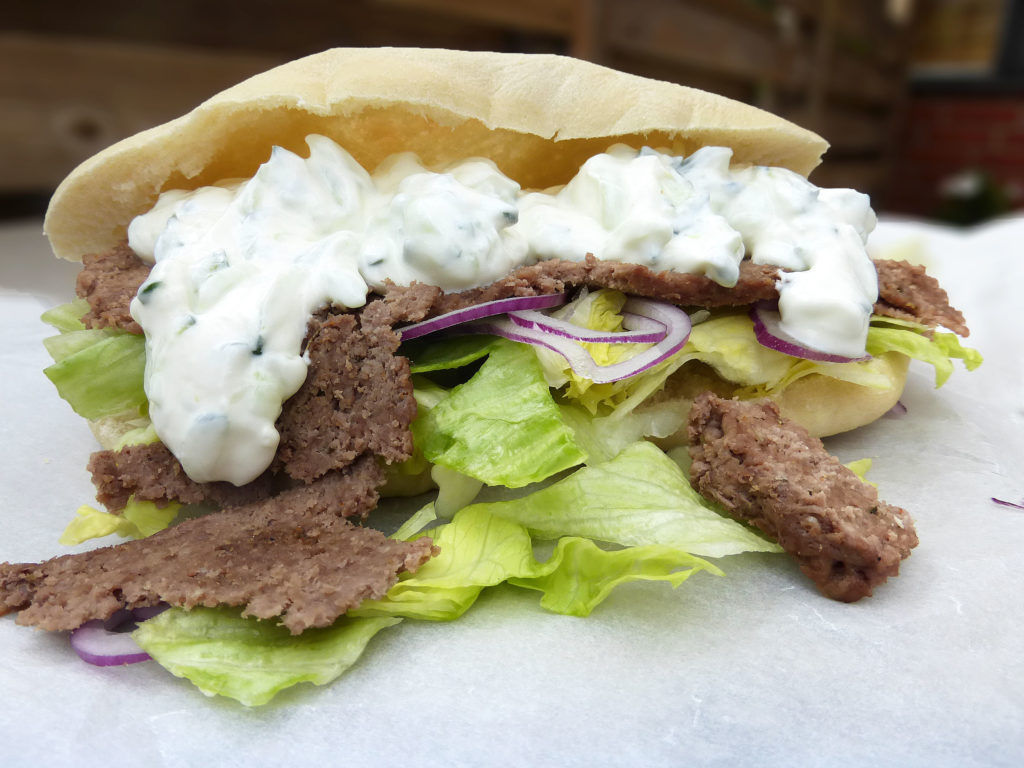 I love a good doner kebab, and I have to be honest and say that the first time I made it,  I really didn't hold out much hope that it would taste nice let alone be a replica of my favourite takeaway; but boy, how wrong was I? I've made it loads of time and it has never let me down.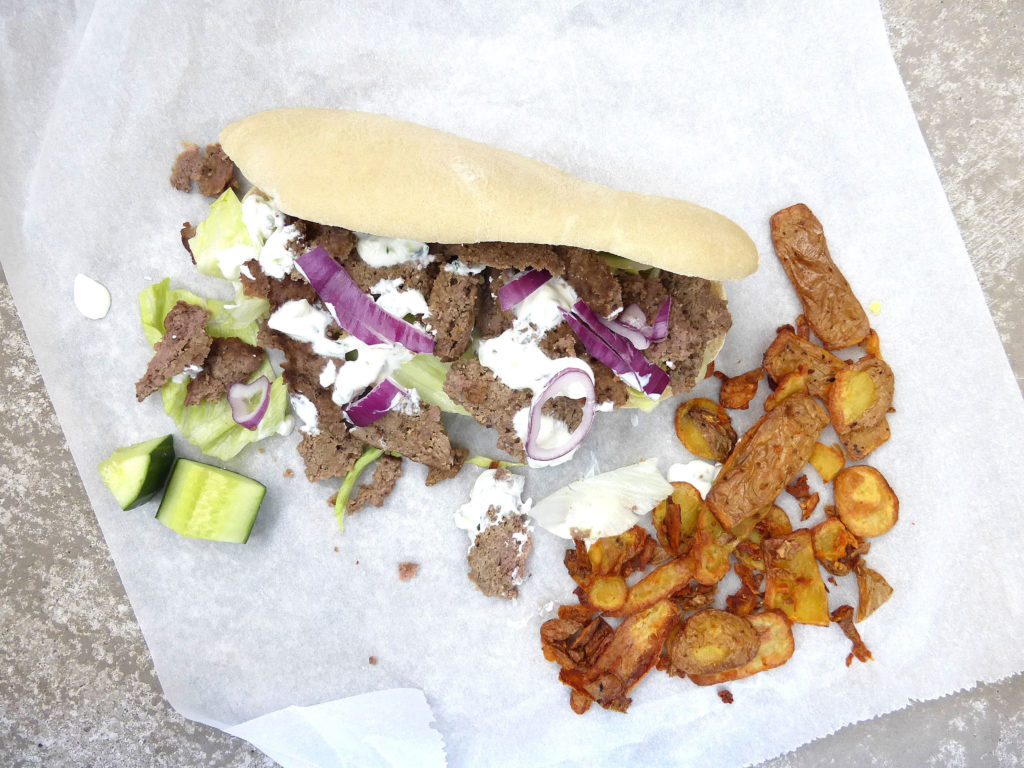 Gyros and doner kebabs are pretty much one and same, the only difference is where they come from (the former comes from Greece and the latter, Turkey). I decided to call these gyros purely because I wanted to serve tzatziki with them, which is obviously Greek.
I doubled the original kebab recipe (the only change I made) and the measurements below made four kebab meals (we also had some meat leftover).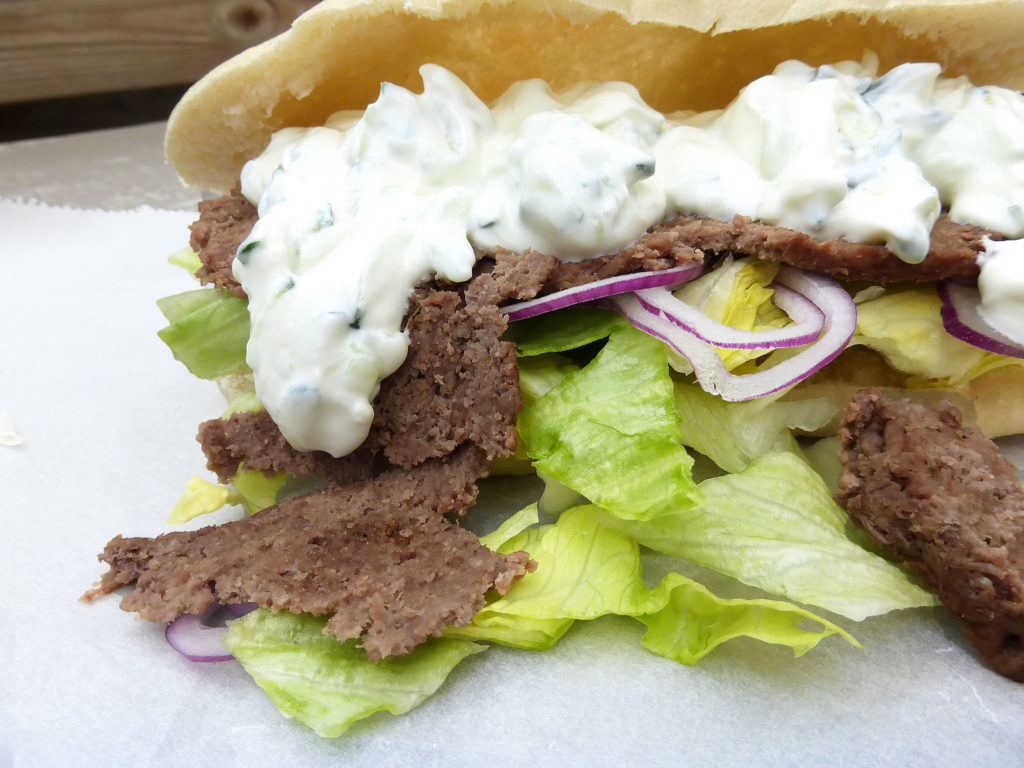 Saturday Fakeaway: Gyros and Tzatziki in Homemade Pita Bread with Potato Skin Fries
---
Ingredients
Kebab:

4 teaspoons sea salt
1½ teaspoons cayenne pepper
2 teaspoons garlic powder
2 teaspoons black pepper
3 teaspoons oregano
2 teaspoons mixed herbs
1kg (2.2lb) lamb mince

Tzatziki

See my recipe here

Pita bread:

25g fresh yeast
160ml (2/3 cup) lukewarm water
1/4 teaspoon sugar
1 tablespoon olive oil
250-300g (2 - 2½ cups) bread flour
1 teaspoon sea salt

Potato skin fries:

Several large potatoes
1 tablespoon oil
1 teaspoon chilli powder
Sea salt & Pepper

Additional ingredients:

Salad of your choice (we used onions, lettuce and cucumber).
Directions
~ For the kebab: mix all ingredients apart from the mince in a large bowl. Add the mince and either using a large spoon or your hands, make sure all the ingredients are well combined.
~ Form the mince into a long rectangle patting to make the shape. Cover in tin foil (I used a double wrapping to keep all the juices in) and place in your slow-cooker. Cook either on low for six hours or on high for four.
~ When the kebab is ready, cut into very thin slices using a sharp knife (I found a serrated edge worked better). Keep the kebab wrapped in the foil until ready to eat, as it does dry out quickly.
~ For the pita bread, please see here . Although the original recipe uses wholemeal flour, these were made using white flour.
~ For the tzatziki, please refer to the link above for the recipe and instructions.
~ For the potato skin fries: thickly slice the peel off several potatoes (we use leftover peel when we make mash potato, for example) and then place in your Actifry. Drizzle over 1 tablespoon of oil and the chilli powder and then cook until crispy. Remove and then season with salt and pepper.
~ To assemble, cut the pita breads along the edge, open them up and place the salad on the bottom half. Top with kebab meat, cover with a little more salad and then smother in as much tzatziki as you fancy. Serve with the fries and you're good to go. Enjoy!
7.8.1.2
194
https://www.theculinaryjumble.com/saturday-fakeaway-gyros-and-tzatziki-in-homemade-pita-bread-with-potato-skin-fries/