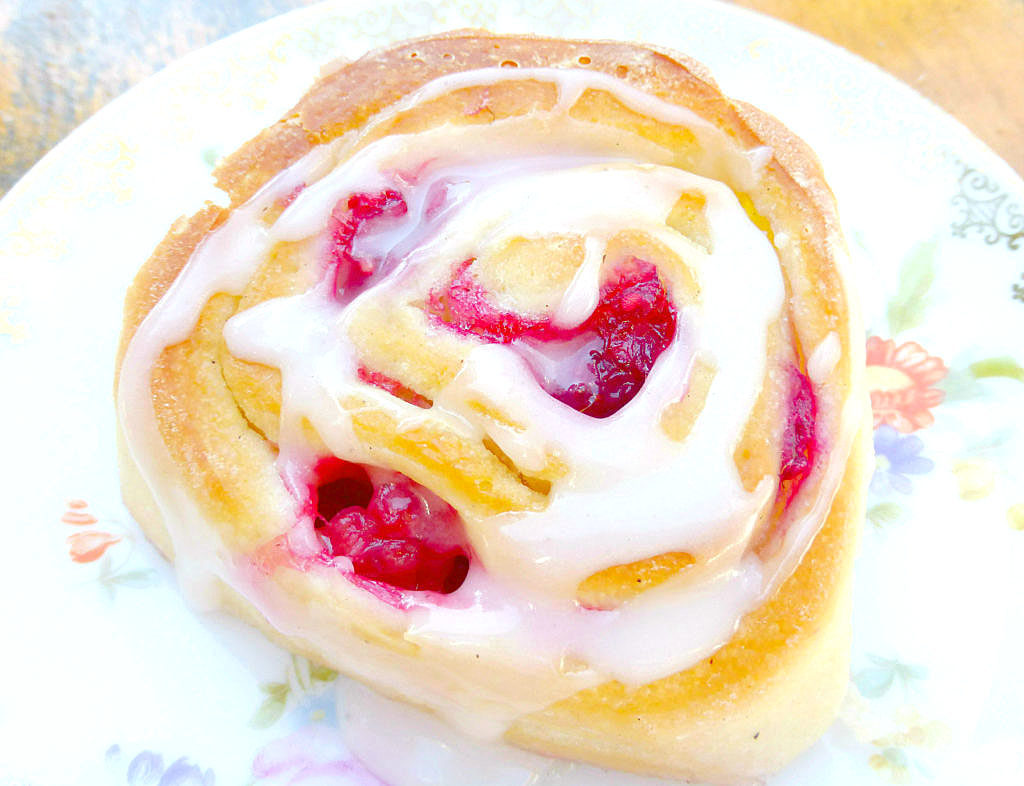 I've been so excited recently because the blueberry and raspberry bushes we planted a few months ago are producing fruit.
As someone who cares about the stuff my family consumes, knowing we are eating our very own home-grown fruit gives me a little thrill! Plus, it tastes so much better.
So, cue these gorgeous raspberry and vanilla overnight buns. I'm no stranger to making these sweet rolls, which are allowed to rise overnight in the fridge, ready to bake in the morning.
My first ever attempt was Low Fat Cinnamon Buns with a Coffee Drizzle, which have always been a firm favourite. Since then, I've made all kinds of overnight buns including blackberry swirl skillet buns and saffron & white chocolate buns.
In fact, baking bread in general has become my new favourite hobby. Although I can see why so many people are put off by the thought. If you fancy making your own bread but aren't sure where to start, have a read of my simple beginner's guide to making bread and give it a go.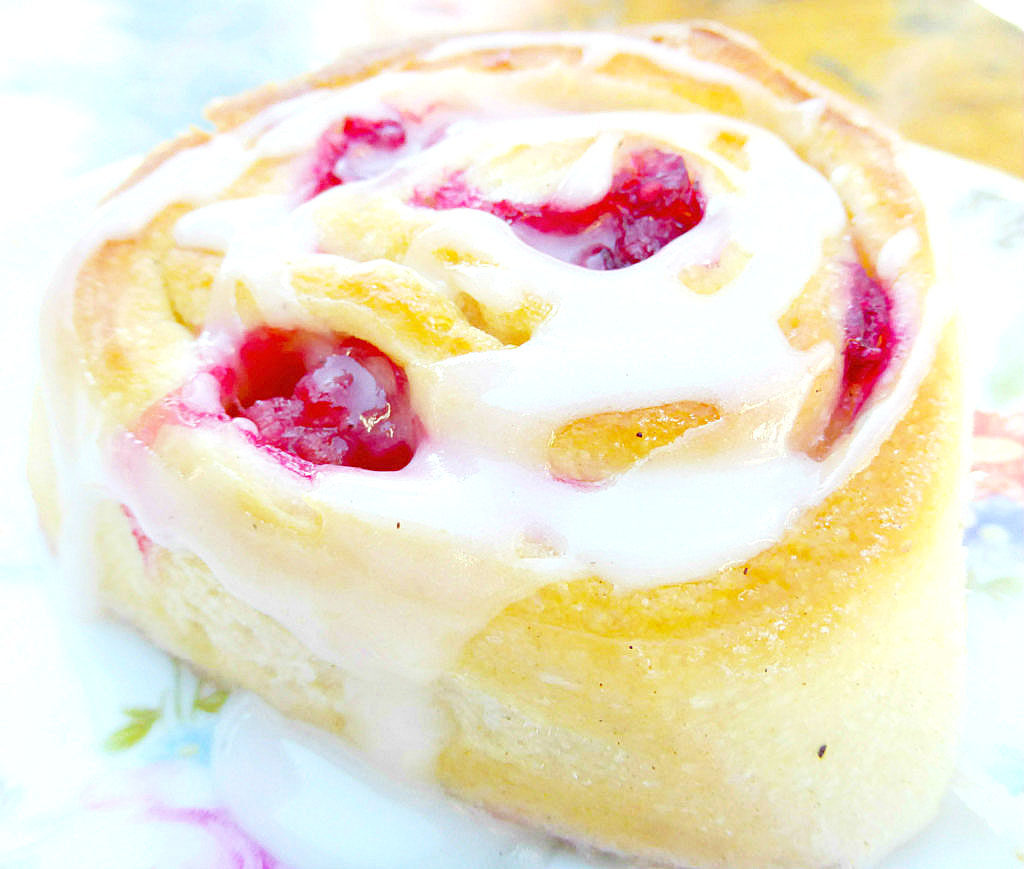 My kids commented that these were the best I'd made so far! I think they're right. Even if I do say so myself. The slight sweetness of the bread with the tart of the raspberries along with a hint of vanilla, just smashes it. I also think they are the prettiest I've made.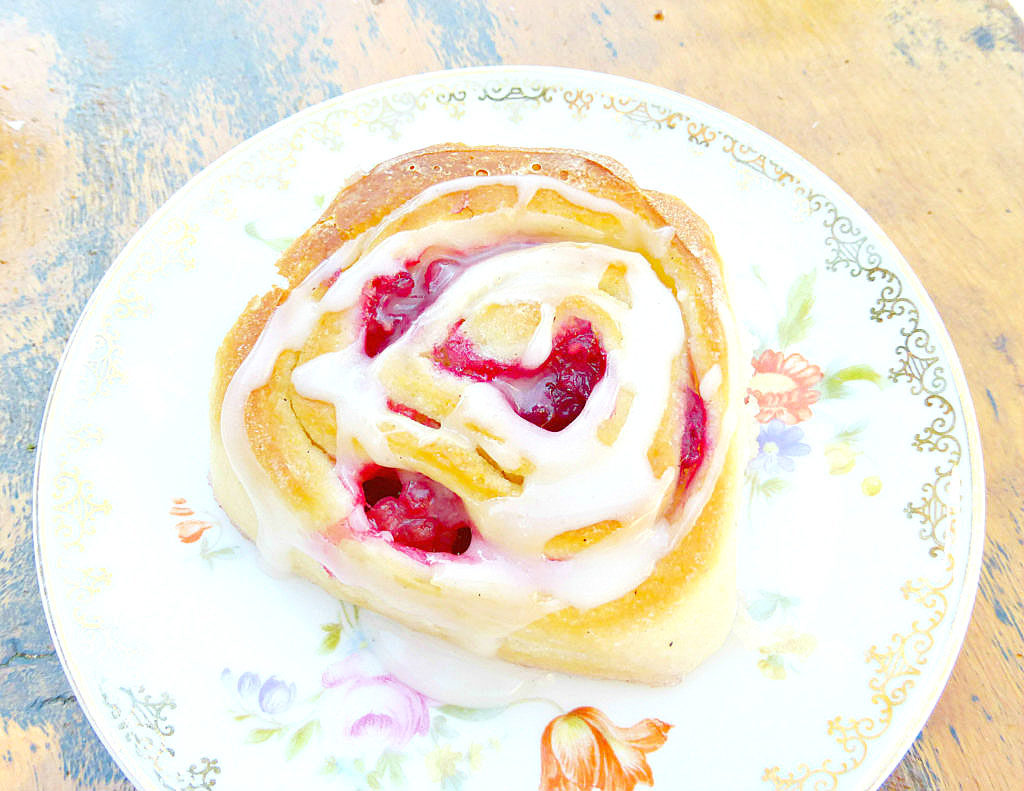 Overnight buns are a great weekend brunch, when you want something nice but often can't be bothered to do a lot – as mentioned, all the hard work is done the night before so you just need to bake them in the morning. What could be easier? The ingredients below made 14 small buns, which is enough for a family of four.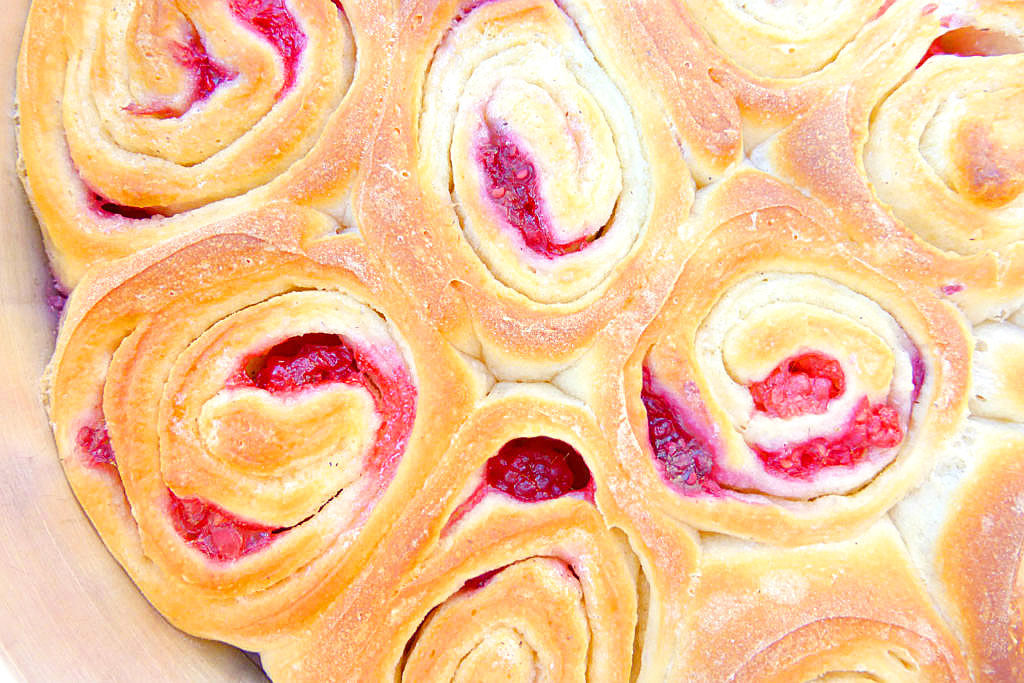 Raspberry and Vanilla Overnight Buns
---
Ingredients
Dough:

25g fresh yeast - see note 1
3/4 cup warm milk
2 tablespoons sugar (any)
200-250g (1½ - 2 cups) bread flour (I used white)
1 teaspoon vanilla sugar - see note 2

Filling:

50g (1/4 cup) sugar
1 teaspoon vanilla sugar
30g (2 tablespoons) butter (melted)
Handful of raspberries

Frosting:

70g (2/3 cup) icing (confectioners') sugar
1/2 teaspoon vanilla sugar
1-2 tablespoons water

NOTES:

1 - I use fresh yeast in my bread. If you'd like to convert my measurements to dried, this should help .
2 - I use vanilla sugar. If you don't have access to this, use extract/essence instead.
Directions
~ Heat the milk until it is just luke-warm and crumble in the yeast. Add the sugar and leave the mixture to activate for around ten minutes. Grease a baking tray or tin (I used a 26cm round bundt but it doesn't matter what you use).
~ Melt the butter for the filling and allow to cool. Then add the vanilla sugar and sugar and stir to combine. Set to one side.
~ In a large bowl, mix 200g of the flour with the vanilla sugar and pinch of salt. Pour in the yeast liquid and quickly stir to combine. Continue to add just enough flour so that it pulls together as a dough. Pour out onto a well floured surface and knead until the dough is nice and smooth (if you are new to bread making, check out my easy to read tips ).
~ Start to roll the dough out until you manage a fairly large rectangle/square shape (don't worry about it being exact). Cover the surface with the filling keeping an inch free all the way around. Sprinkle with the raspberries and very carefully start to roll up the dough. When you've finished, keep the seam side face down.
~ Cut the roll into equal sized pieces (either go for smaller ones as I did or make them a little larger) and place them quite close to each other in your chosen baking tin. Cover with cling-film and pop in the fridge overnight.
~ The following morning, remove the buns from the fridge and allow them to come back up to room temperature. Pre-heat the oven to 200°C (400°F). Bake the buns for around 17-20 minutes, just until they are a nice golden colour. Remove from the oven and let them cool a little.
~ For the frosting, mix the icing sugar and vanilla sugar together and add just enough water to form a fairly thick paste. Pour or drizzle over the buns (either in the pan or individually as I did) and enjoy while they are still warm!
7.8.1.2
121
https://www.theculinaryjumble.com/raspberry-and-vanilla-overnight-buns/