This delightful one layer blueberry and courgette cake has a gorgeous tangy lemon buttercream frosting.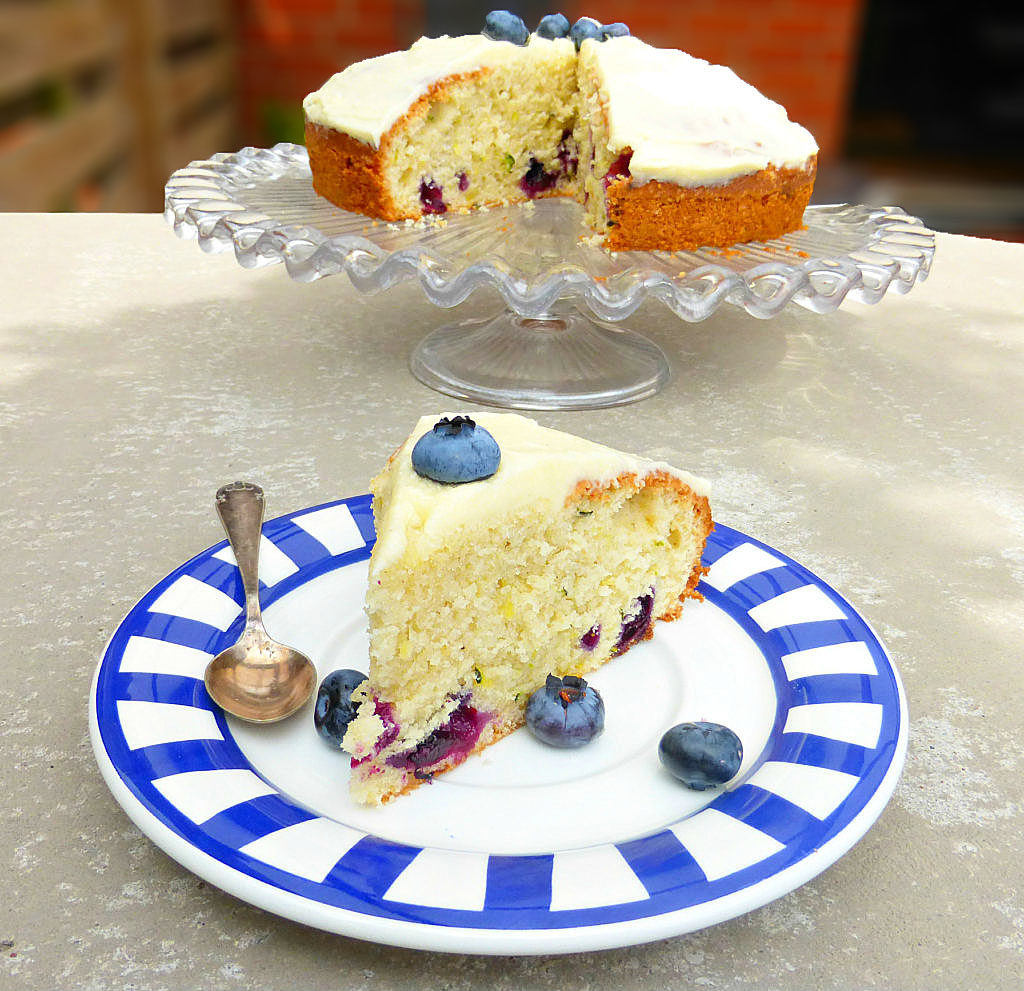 We've just come back from our holidays in Poland – what an amazing place! Everything is so cheap (compared to Sweden, anyway), the people are friendly (so much fun and really refreshing to find people who don't speak any English – quite a rarity these days), and the scenery is stunning. We are definitely going back sometime soon!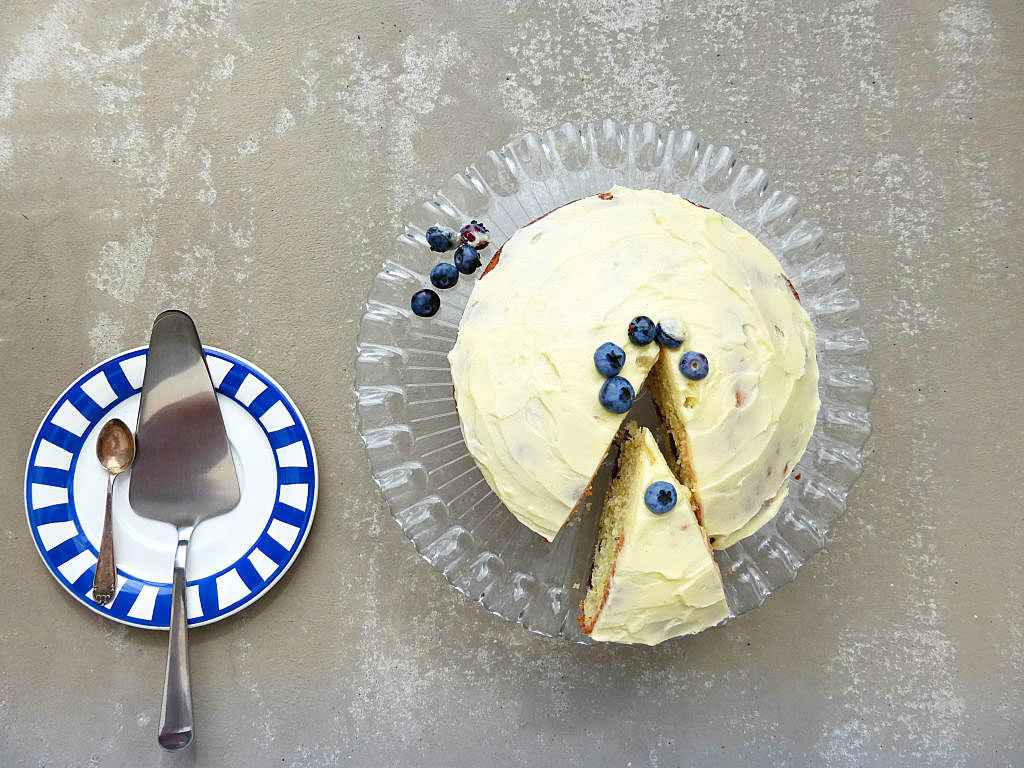 Before I went, I stumbled upon this gorgeous Blueberry and Courgette (Zucchini) Cake with a Lemon Buttercream Frosting from the talented Amanda, featured on her blog, I am Baker, and just had to make it! It's rare for me to copy someone else's recipe without amending anything, but that's what happened with this cake, and for good reason – it's perfect as it is!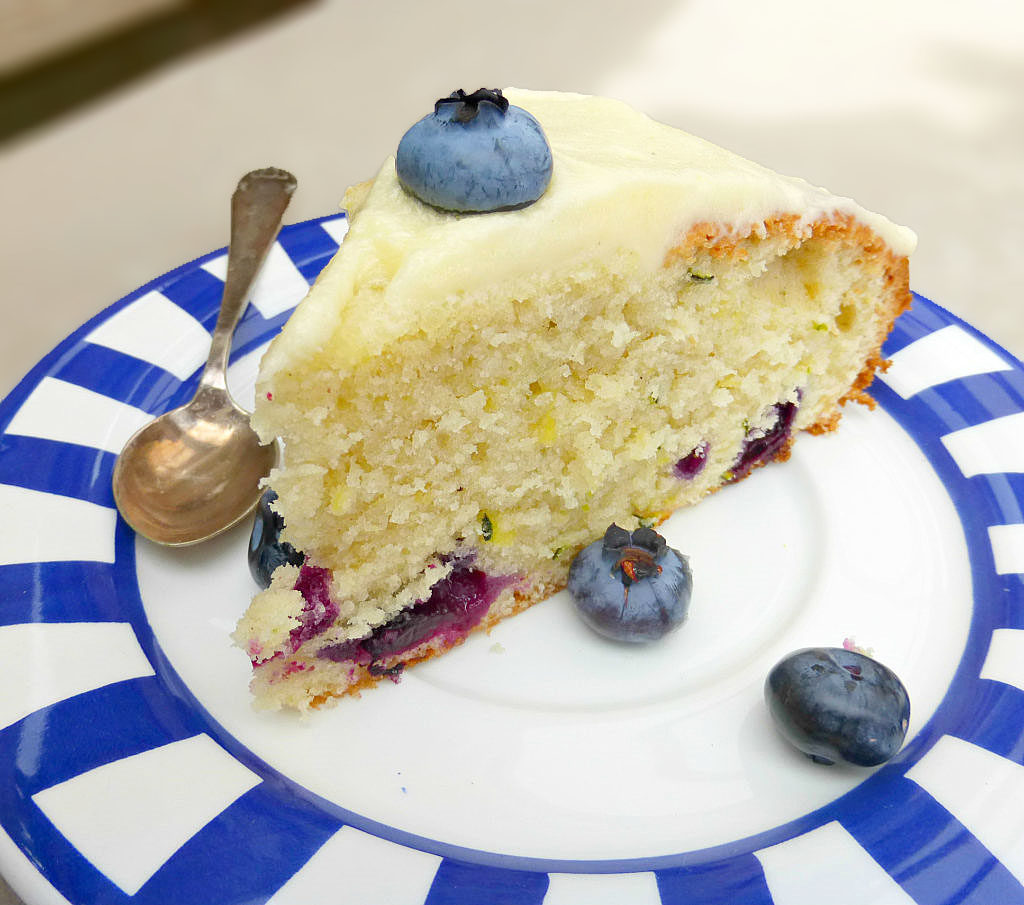 The only difference was that I used half of the ingredients and made a one-tier cake, rather than two; this meant that I needed less frosting as I only decorated the top and didn't fill it.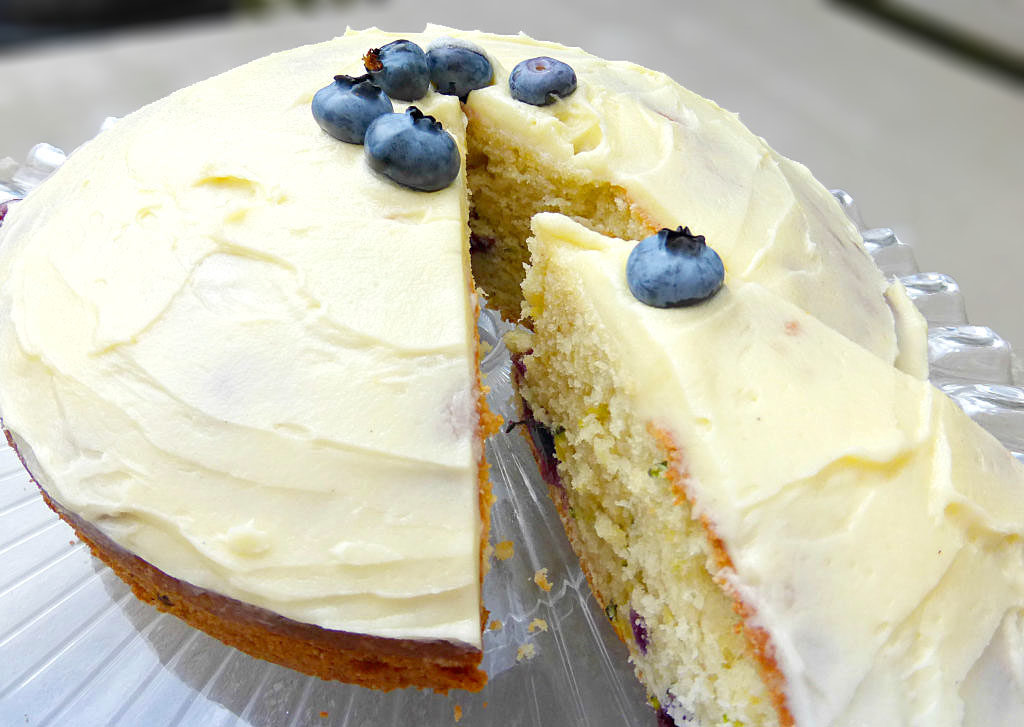 This cake tastes amazing – it is peppered with blueberries (I had a few left after making this Lemon, White Chocolate and Blueberry Kladdkaka) and also courgette (zucchini), which you can't taste at all, but adds a great moistness to cakes.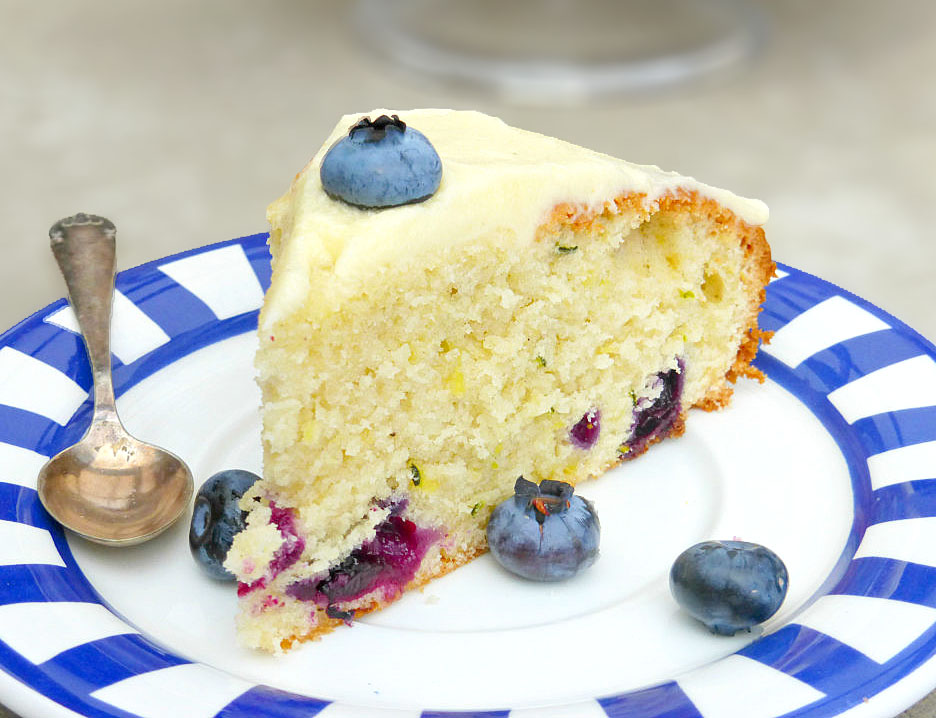 Blueberry and Courgette Cake with Lemon Buttercream Frosting
---
Ingredients
Cake:

2 small eggs
1/2 cup vegetable oil (I used half olive and half canola/rapeseed)
1 teaspoon vanilla sugar
1 cup (200g) white sugar
1 cup (95g) finely shredded and drained zucchini
1½ cups (200g) all-purpose (plain) flour
1/2 teaspoon salt
1/2 teaspoon baking powder
1/4 teaspoon baking soda
1/2 cup (50g) blueberries (you could use more if you like them in a cake)
Frosting:
1/4 cup (55g) butter (softened/room temperature)
1/2 cup (50g) icing sugar
1 tablespoon lemon juice
1 teaspoon vanilla sugar
Handful of blueberries (optional)
Directions
~ Pre-heat the oven to 175°C (375°F) and grease/flour an 8" cake tin.
~ Wash and grate a small courgette and then squeeze out any excess liquid (I just did this by squashing it between two sheets of kitchen paper). Measure one cup (or 95g) and then set it to one side.
~ In a food processor (or large bowl with an electric mixer) beat the eggs, oil and sugar until smooth. Then, add the flour, vanilla sugar, salt, baking powder and baking soda and continue to mix until everything is well-combined. Finally, fold in the blueberries just until they are evenly distributed.
~ Pour into the prepared pan and bake for around 35 minutes, until an inserted skewer comes out clean. Leave in the pan to cool for around five minutes and then turn out onto a wire rack to cool completely.
~ For the frosting: beat the butter, icing sugar and vanilla sugar together until nice and smooth. Add just enough lemon juice to make a thick frosting. Slather over the cold cake and then decorate with a few blueberries. Enjoy!
7.8.1.2
131
https://www.theculinaryjumble.com/blueberry-and-courgette-cake-with-lemon-buttercream-frosting/