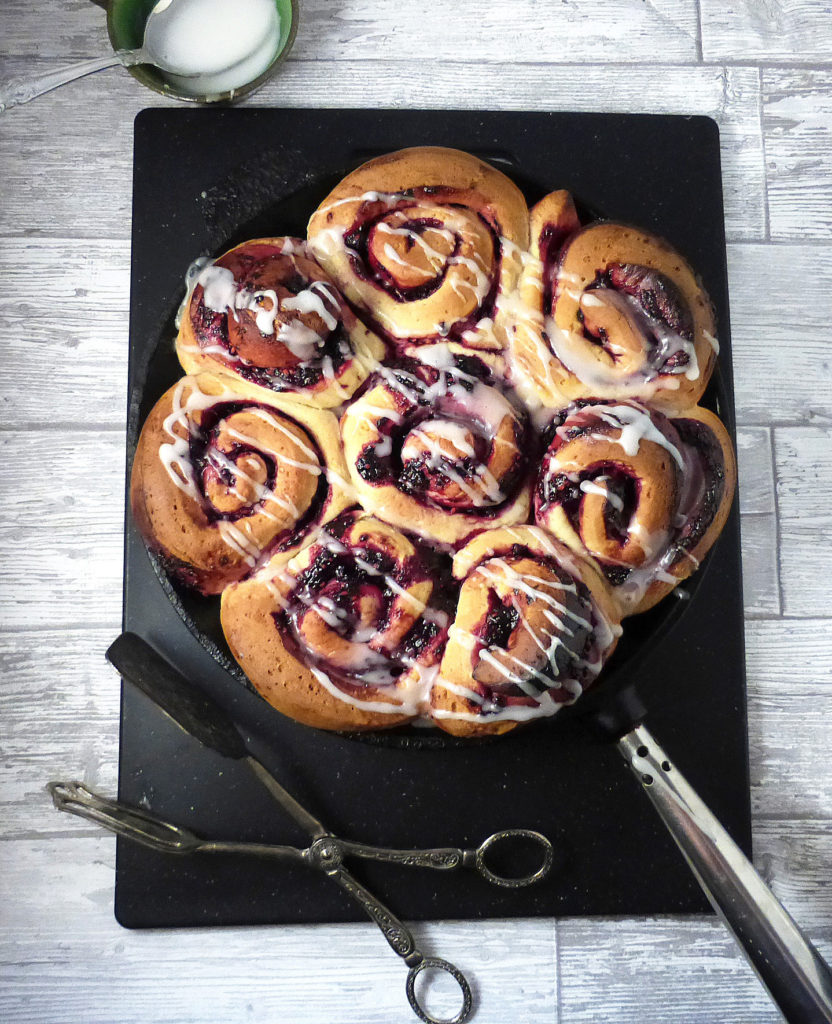 There's something fundamentally awesome about overnight buns.
What's that then? What is so fascinating about the delicious doughy ones?
Well, you wake up in the morning and there you have it: buns already made with the tiresome hard work long behind you. The only thing left to do is pop them in the oven and then devour them.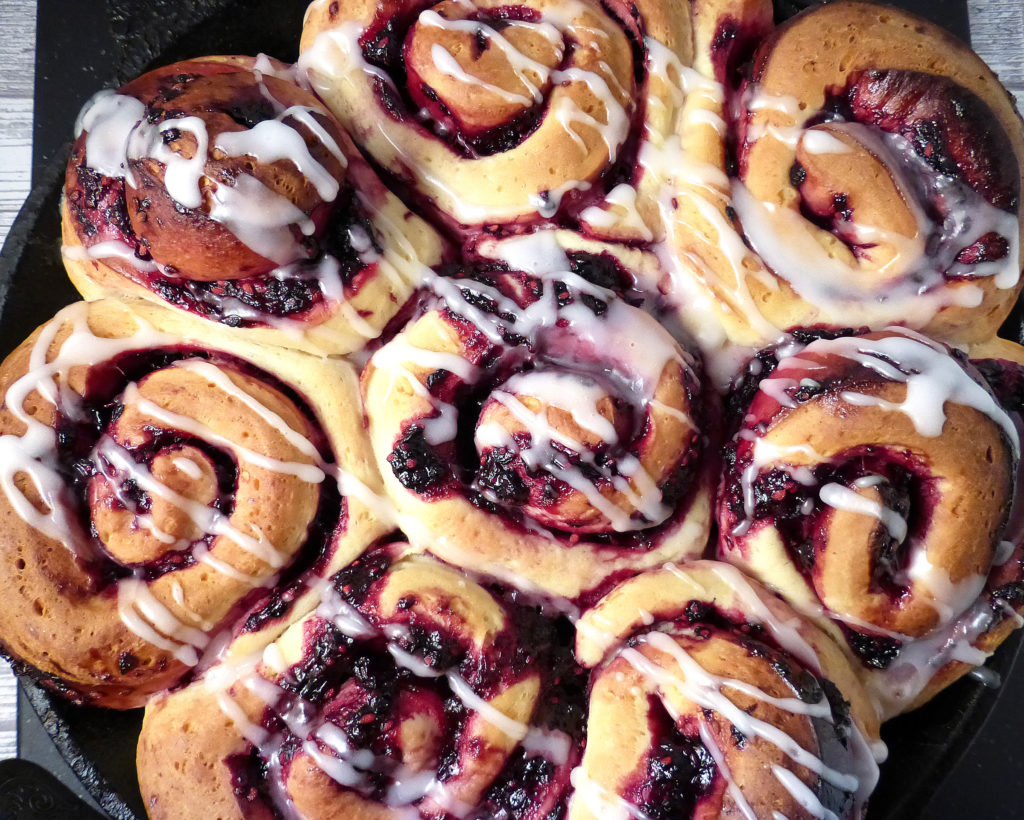 I make overnight buns a lot. There's my Low Fat Cinnamon Buns with a Coffee Drizzle, my Saffron and White Chocolate Buns and my……okay. You get the picture.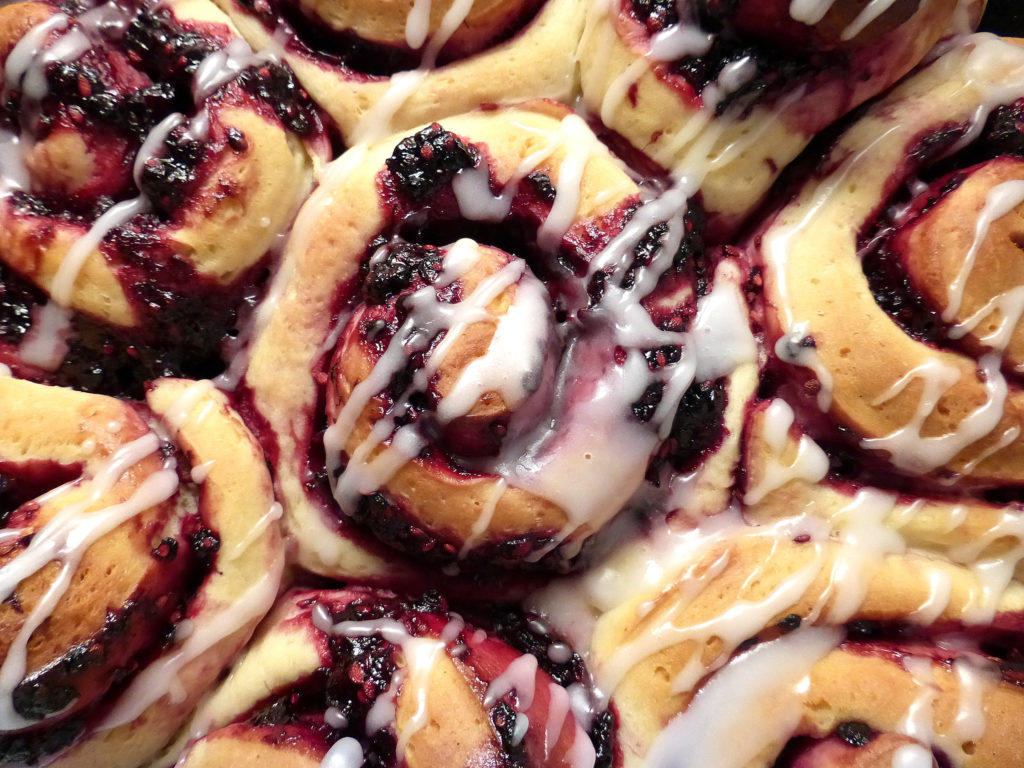 My other penchant is skillets. Cookies, cakes, stews, you name it. All can be cooked or baked in a skillet. So why not overnight buns, I thought. Absolutely no dang reason why not.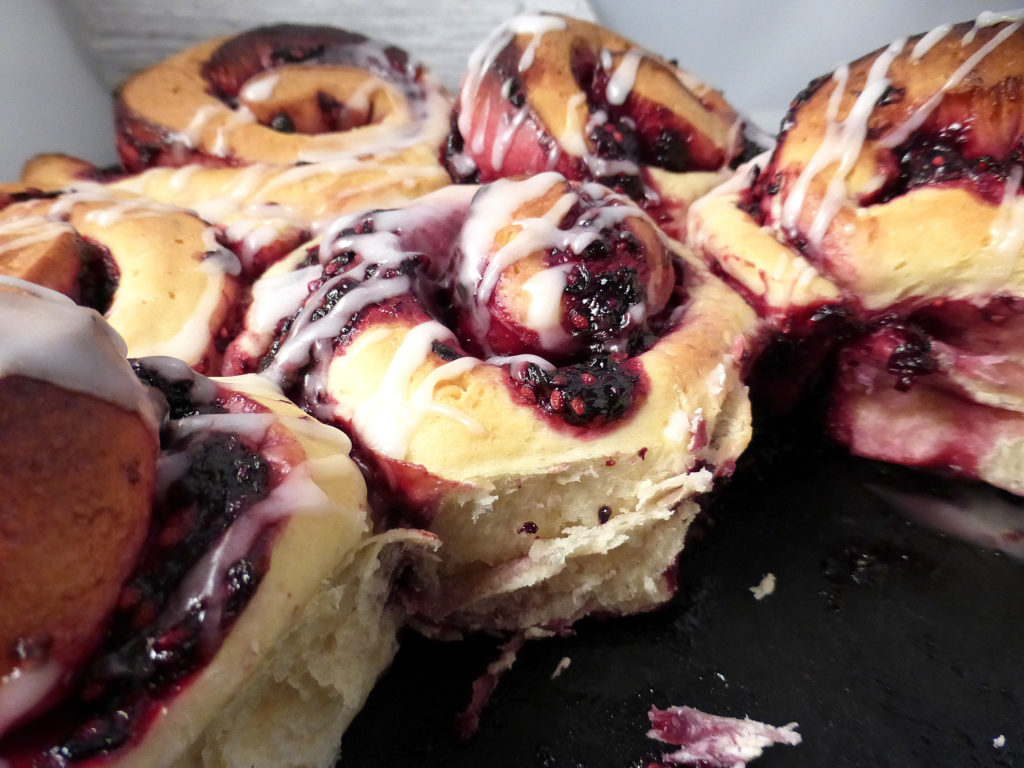 Apart from being baked in a skillet, these are just regular overnight buns. I used blackberries in mine but any fruit would work. I also made my dough in a bread maker, but you could make it by hand if you wished.
The ingredients made eight buns and my skillet is fairly small.
Blackberry Swirl Skillet Overnight Buns
---
Ingredients
Dough:

1 egg
50g butter (chopped)
200ml milk
1 tablespoon olive oil
450g bread flour
4 tablespoons sugar
7g dried yeast
Pinch of salt

Blackberry sauce filling:

200g blackberries (fresh or frozen)
1 teaspoon vanilla sugar
2 tablespoons sugar

Drizzle:

Icing sugar
1 tablespoon water
Directions
PLEASE NOTE: These were made in a bread maker. Instructions may vary between different machines, so please consult the manufacturer's instructions before making this recipe. If you don't have a bread machine, follow the bread making instructions for my
Raspberry Buns
~ Add the egg, butter, milk and oil to your bread machine tin. Next, add the flour, sugar, yeast and salt (keeping the yeast and salt at opposite sides of the pan). Set your machine to make the dough (only).
~ In a pan, heat the blackberries, vanilla sugar and sugar together. Cook on a medium heat for around 20 minutes until the sauce has thickened and the berries are nice and soft.
~ When the dough is ready, roll it out into a long rectangular shape with the shorter sides about half the length of the longer sides. Have the shorter length towards you. Spread the blackberry mixture all over the dough, but leaving approximately a 1cm edge all the way round.
~ Very carefully, roll up from the edge facing you, as tight as you can, until you have a fat roll. Place the seam facing down. Slice into 6 or 8 buns. Most methods for making buns usually state that you should roll the long side; however, this time, I wanted super thick buns and did it this way for that reason.
~ Grease a fairly small skillet or baking dish. Place the buns very close to each other. There should be space for all of them to fit in but it will be a squeeze. This forces he bread has to rise up rather than spread out, resulting in higher buns. Cover with clingfilm and place in the fridge overnight.
~ The next day, remove the buns from the fridge and allow them to come to room temperature (about an hour or so). Pre-heat the oven to 200ºC (400ºF) and bake for around 20 minutes. Don't be alarmed if some of them really pop up and the blackberries ooze out - it's all part of the charm. The buns are ready when they are a nice golden brown colour on top.
~ Remove from the oven and allow to cool for a while. Mix one tablespoon of water with just enough icing sugar to make a runny drizzle. Dollop it all over the buns and serve while they are still warm. Enjoy!
7.8.1.2
279
https://www.theculinaryjumble.com/blackberry-swirl-skillet-overnight-buns/