This creamy homemade Oreo and white chocolate fudge take your fancy? Whip up a batch, now!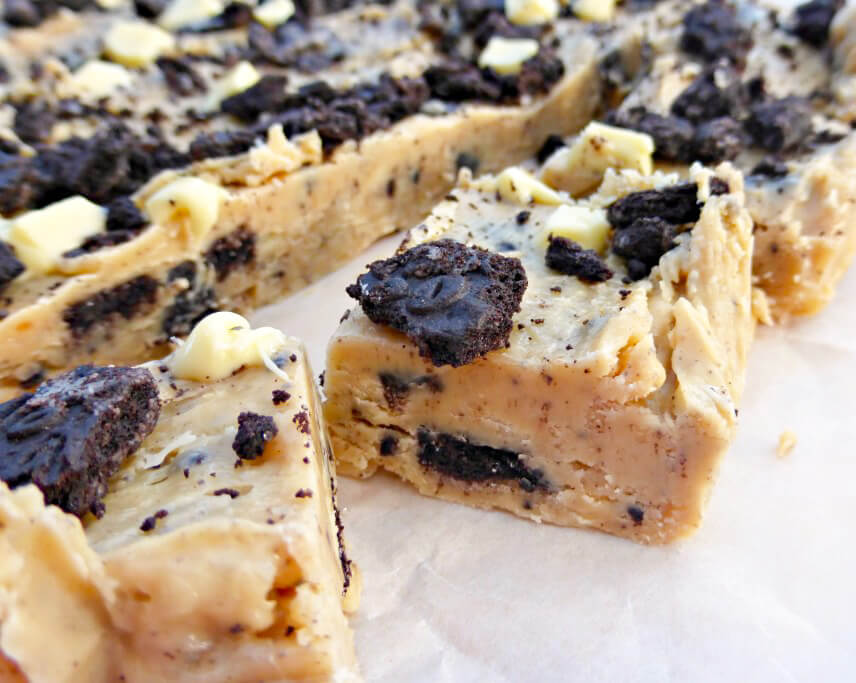 Homemade fudge is one of those things that I often fancy but can rarely be bothered to make: all that sweating over a hot stove for at least 20 minutes, stirring until my arms become numb, and then no guarantee it is going to work, is not really my kind of baking! Don't get me wrong – the hard work does pay off, and these were delicious, but I won't be making them again any time soon!
Inspired by the recipe from  Ziggy Scribe,  we had some Oreos in the cupboard (I rarely have store-bought biscuits in the house – making cookies is usually my job) – and I fancied trying to make some fudge with them. I also threw some white chocolate for good measure!
Traditional homemade fudge normally calls for around three cups of sugar. THREE! I just couldn't bring myself to ever justify using that much, so my recipe has a third, with only one cup (which still seemed like a heck of a lot when I was pouring it out!). Despite the reduced sugar, these could never be remotely labelled "healthy" but we all need a treat every now and again, don't we?!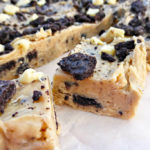 Creamy Homemade Oreo and White Chocolate Fudge
Ingredients
1

cup

brown sugar

1

cup

milk

1

400g

tin condensed milk

2

tablespoons

butter

seeds of one vanilla pod

10

Oreos

(crushed)

80g

white chocolate

(roughly chopped)
Instructions
In a heavy-bottomed pan, bring the sugar and milk to a boil. Continue to cook for five minutes on a medium heat, stirring regularly to ensure the mixture doesn't stick.

Remove the pan from the heat and add the condensed milk, returning to the heat and allowing to boil once more. Continue to boil for around 20 minutes, stirring continuously, until the fudge is very thick.

Remove from the heat and beat in the butter and vanilla for around 4-7 minutes (the longer you beat it, the firmer the fudge will turn out).

Throw the Oreos into the fudge (keeping back a tablespoon or so to sprinkle on top) and quickly stir them into the mixture. Pour into a tin lined with grease-proof paper and sprinkle with the white chocolate and remaining Oreo pieces.

Place the tin in the fridge until set (it shouldn't take very long) and when completely cooled and hardened, cut into squares. Enjoy!
If you like sweet things, you'll love these recipes:
Chocolate Granola and Soft Toffee Slab