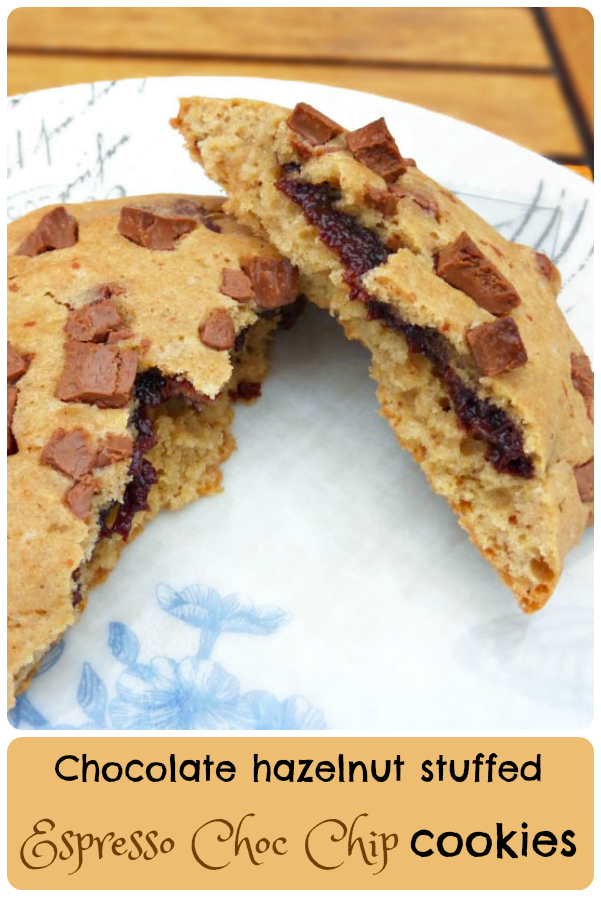 These chocolate hazelnut stuffed espresso chocolate chip cookies were born after I'd made some homemade chocolate hazelnut spread and wanted to use it up – my kids were also begging for homemade cookies, so thought why not use the "Nutella" – so I did!
This is a slightly lightened-up version of a regular cookie and of course using homemade chocolate spread makes it just a little bit better for you! However, make no mistake – they aren't healthy, but everyone is allowed to let loose a little! Even with a reduced amount of sugar, they were very sweet – you could definitely drop 20g of the sugar without sabotaging the flavour (I will do this next time).
Using homemade chocolate spread meant that the middles were not quite as gooey as Nutella, but just as tasty. If you don't have the homemade stuff, just use Nutella.
The measurements below made five monster cookies, but you could easily make them a little smaller if you preferred! We ate ours warm, and they were soft and gooey, but the one remaining cookie hardened up to be lovely and crispy when cooled!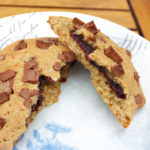 Chocolate Hazelnut Stuffed Espresso Chocolate Chip Cookies
Ingredients
70g

butter

melted

80g

brown sugar

1

teaspoon

vanilla sugar

1/2

teaspoon

cinnamon

2

tablespoon

freshly brewed coffee

(cold)

1

egg

(beaten)

140g

plain

(all-purpose flour)

1/2

teaspoon

baking soda

Pinch

of salt

60

g

chopped chocolate or chips

Around 80g homemade chocolate spread

(or Nutella)
Instructions
Pre-heat the oven to 175°C and line a baking tray.

Melt the butter and leave to cool slightly. In a large bowl, beat the butter and sugar, then add the vanilla sugar, beaten egg and coffee and mix until well-combined.

Sift the flour with the baking soda and cinnamon and gently stir into the wet mixture until just combined, then add 40g of chocolate chips - the dough will be very sticky!

Spoon around one tablespoon of cookie batter onto the baking tray and top with a teaspoon of chocolate spread (you might need to give it a gentle burst in the microwave beforehand to make it a little more pliable - just don't melt it!). Top with another tablespoon of cookie batter, making sure the chocolate spread is completely covered. Repeat one at a time with the remaining batter, to make sure you have enough to make all of the covers!

Sprinkle the remaining chocolate chips over the tops and then bake for around 20 minutes until they are golden brown. Serve warm (perhaps with a little ice-cream?) or leave to cool! Enjoy!
Recipe Notes
Please note: I no longer convert my recipes to imperial as I feel cups are not an accurate measurement. My go-to converter is Cook it Simply.
If you like cookies, you'll love these recipes:
Gluten Free Salted Caramel Thumbprint Cookies (low fat & sugar)
Swedish Cookies: Homemade Blackberry Jam and Vanilla Snittar
Chocolate Hobnob Biscuits (oat cookies)