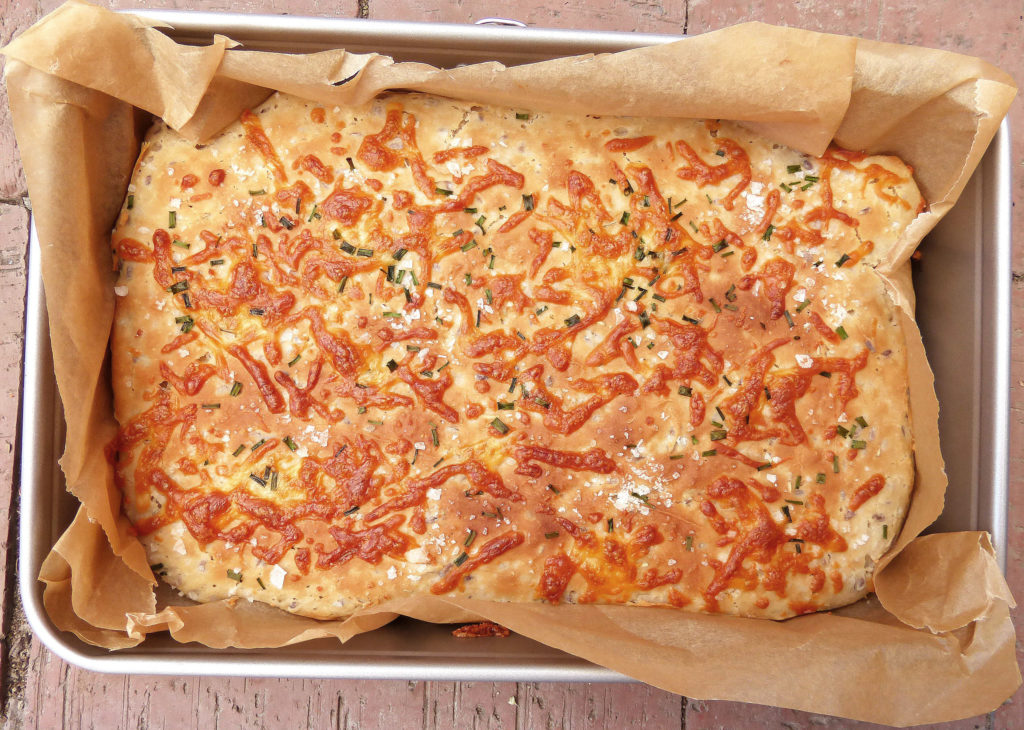 As the owner of this blog, I am fully aware that it can often have a teensy bit of a multiple personality thing going on. One day I proudly present the most ludicrous, all singing and dancing desserts, like my appropriately named Overload Chocolate Cake, and the next, a very quiet and demure gluten free option, like my Two Way Pizzas.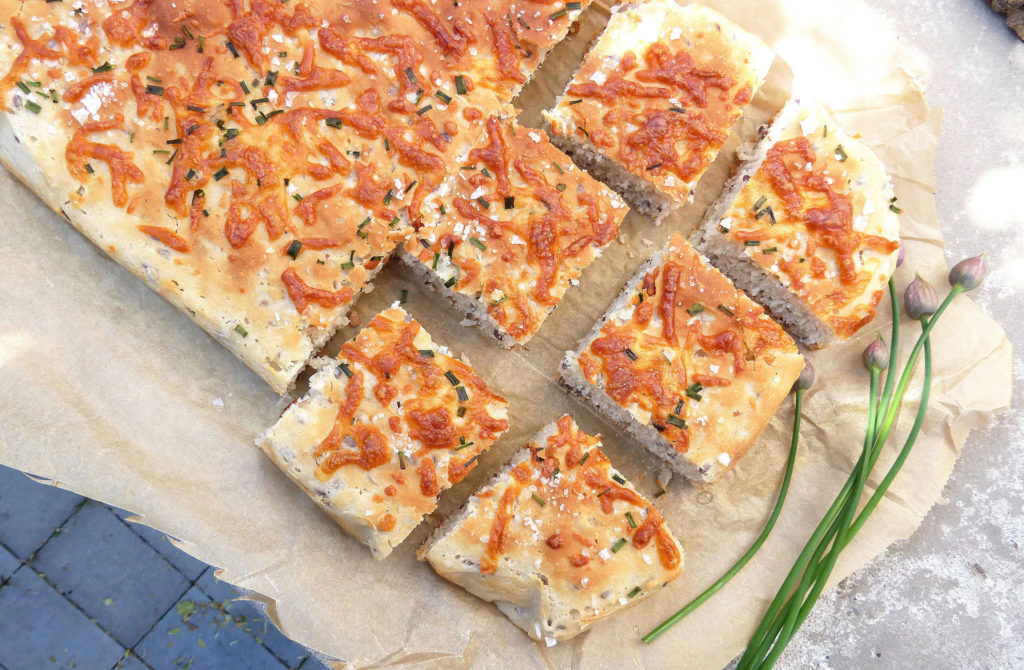 I will level with you guys – I never know what is coming next, seriously. I make gluten free alternatives regularly because gluten doesn't seem to do a great deal for me, and I believe it has the same effect on my son who has high functioning autism.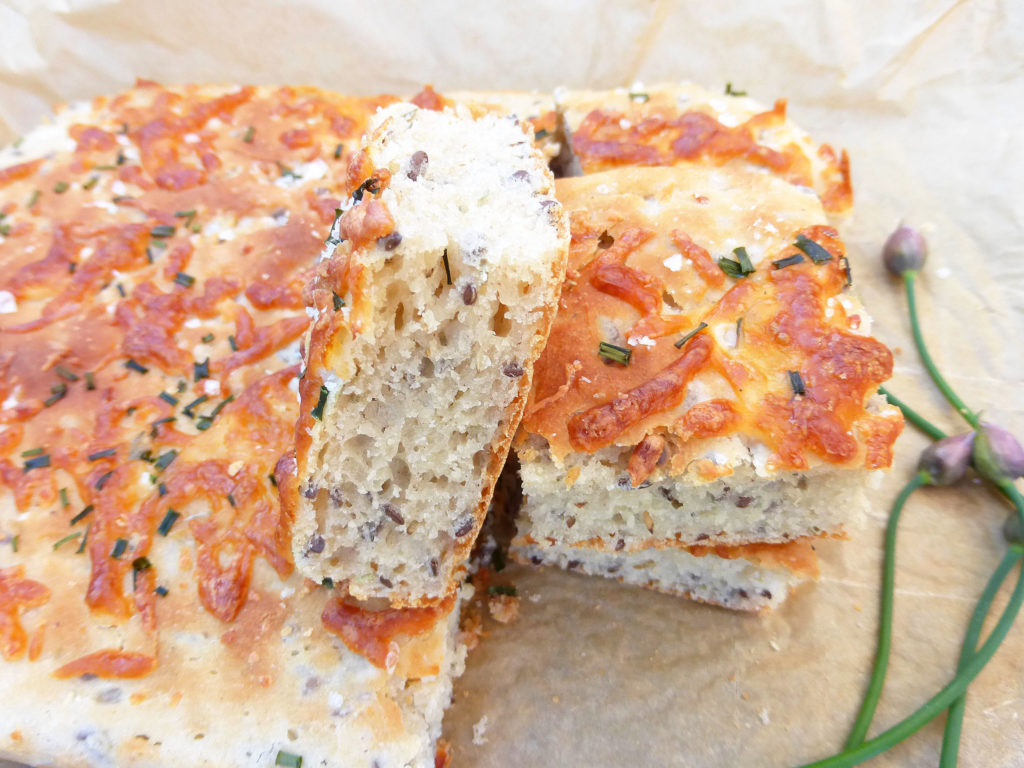 While this blog is a representation of who I am and what I like, I am conscious of how readers might be confused when popping over for a read, especially if they've arrived on a very healthy gluten free recipe, sign up for my newsletter, only to receive a sinful dessert through their inbox.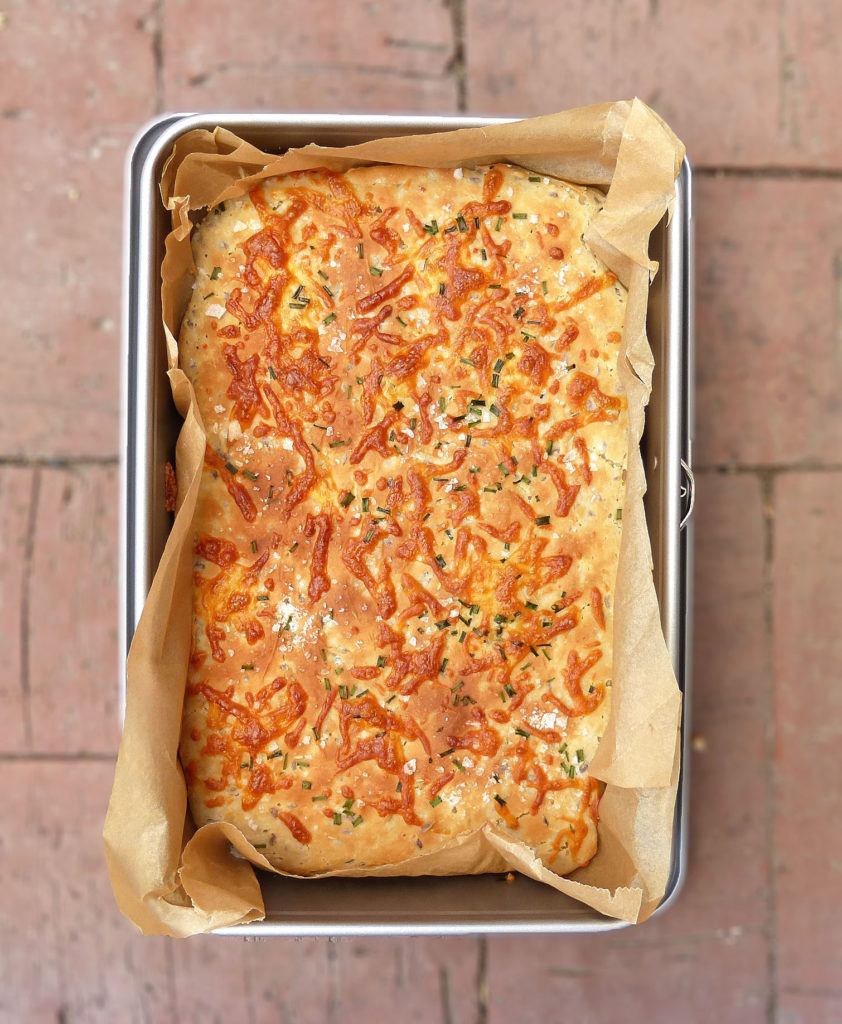 However, my take on it is this: being denied things I really enjoy makes me crave them all the more (and really, we only live once and the occasionally treat won't hurt us), so I won't apologise for shamelessly flaunting cakes that make your eyes water with the amount of sugar in them.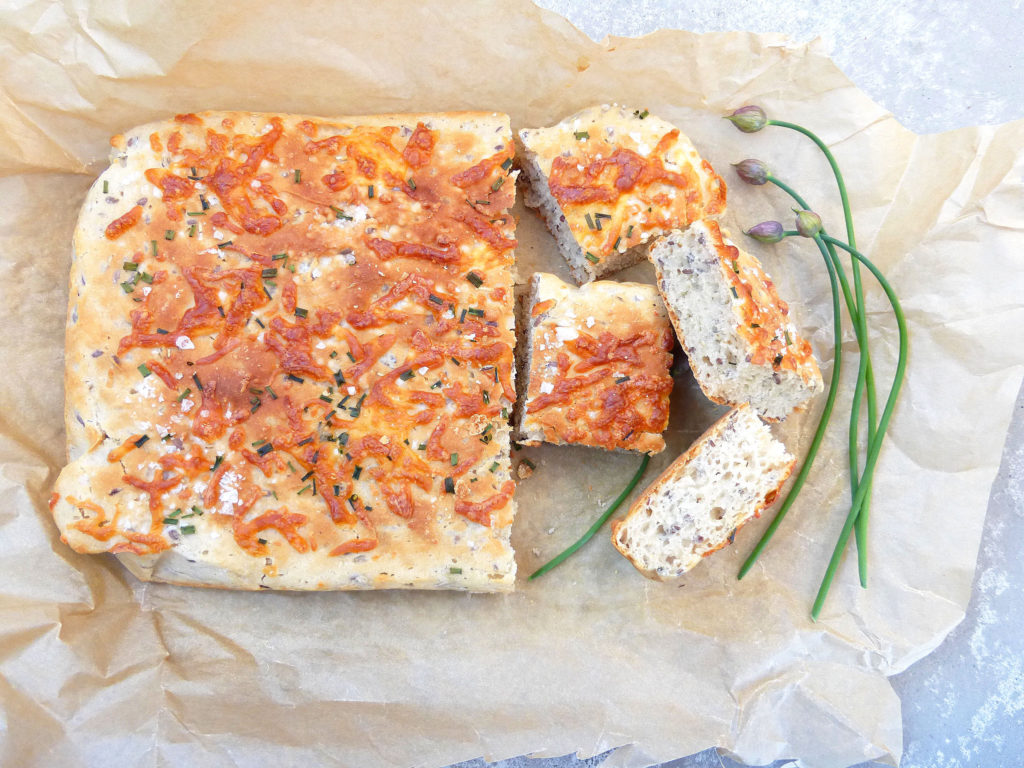 Life is all about balance, don't you think? All my food is made from scratch; I promise you will never see a packet mix around these parts, or any other nasty ingredients that aren't wholesome and as natural as possible (ah yes. You noticed the Nutella in the other recipe, right? Hands up. It does creep in from time to time, but remember: bah-lah-nce).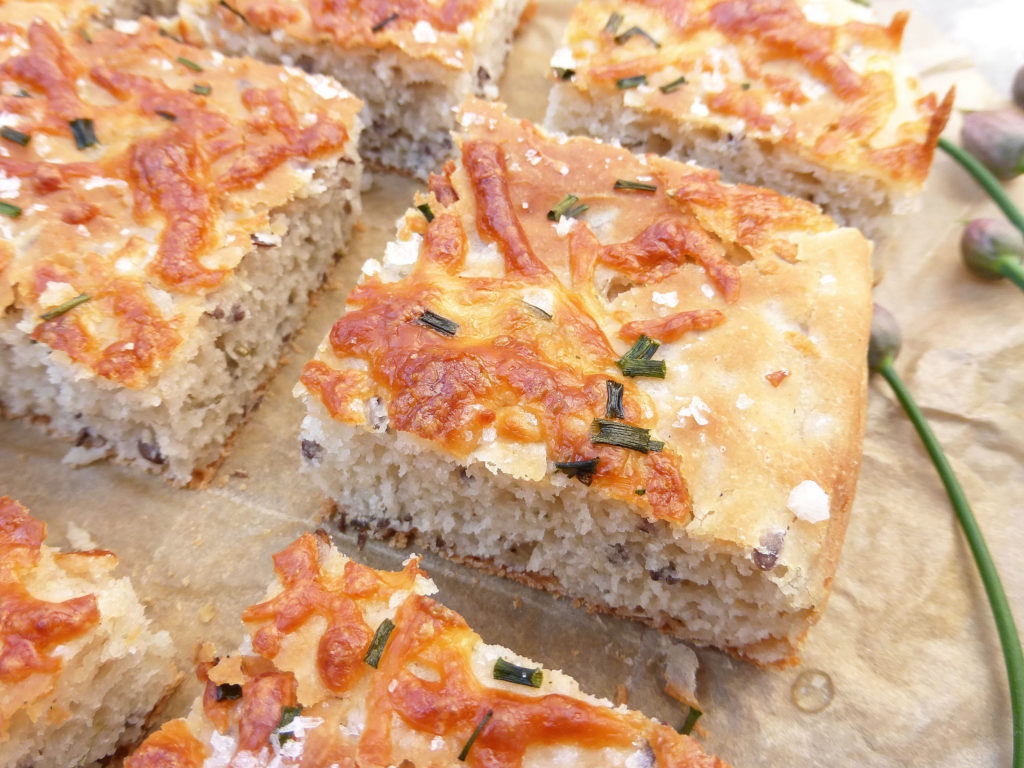 So, enough of my waffling and onto today's recipe. At first glance, looks like it falls into the naughty category, eh? Wrong! It's bread, but not as we know it, Jim.
Seriously though, it is gluten free, which makes it a little different to regular bread (as you can probably see from the close-ups, gluten free bread produces an almost sponge like texture). However, I've found that with flatbreads like this one, the texture doesn't matter as much as it does for loaves, for example.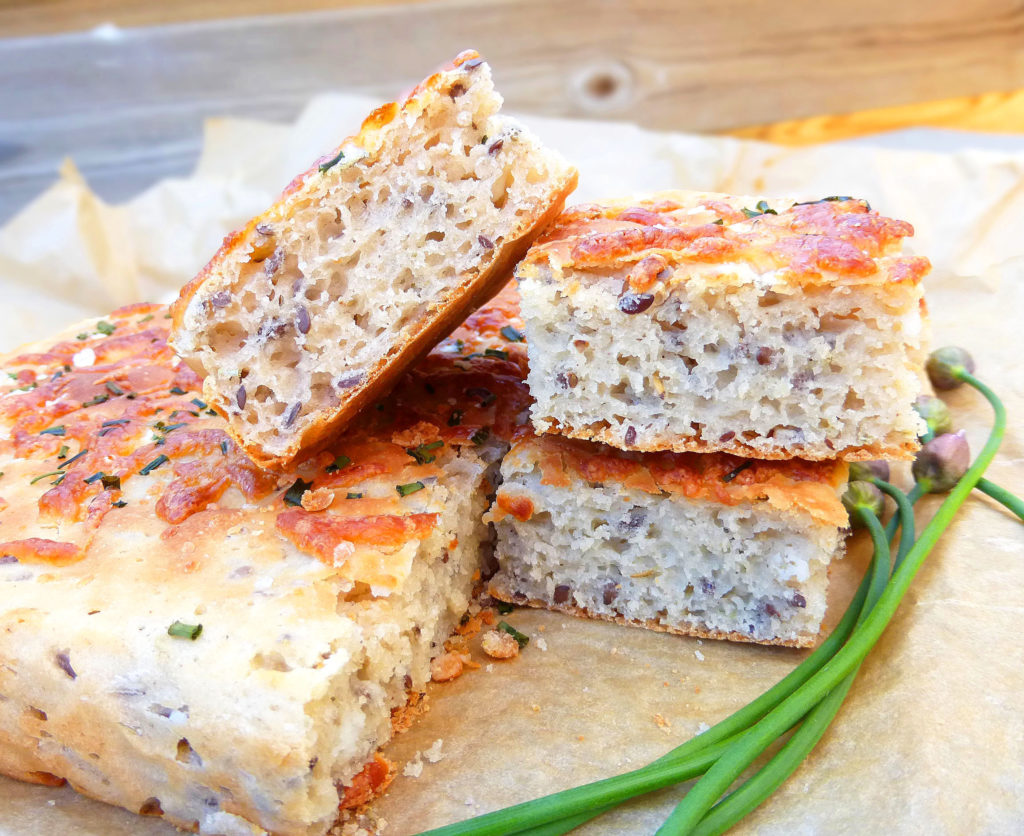 The bread is made with Greek yoghurt and topped with sea salt, chives and a little mozzarella. I chose mozzarella because it is lighter than regular cheese and adds a lovely flavour dimension, but it can be omitted if you prefer.
Serve your bread dipped in some delicious Authentic Homemade Tzatziki  or as a side for your summer BBQ.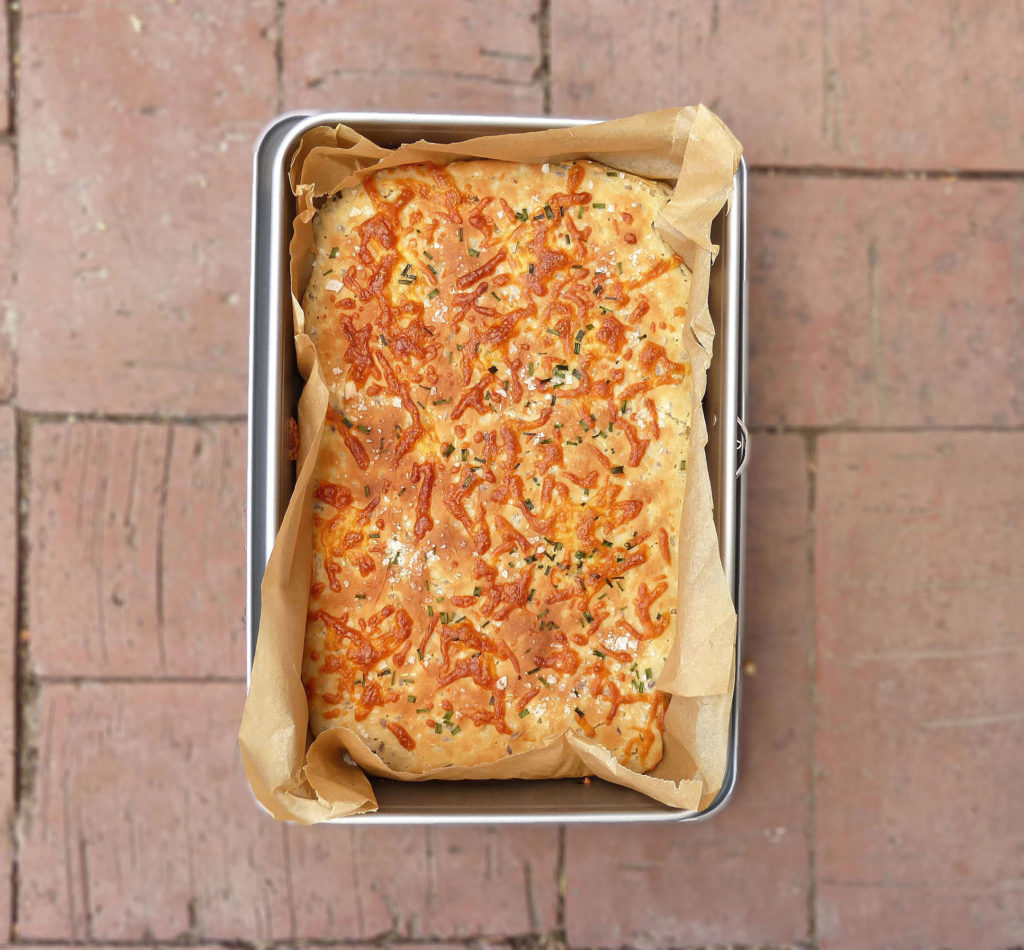 Gluten Free Greek Yoghurt Flatbread with Chives and Mozzarella
---
Ingredients
50g fresh yeast
150ml (2/3 cup) milk
1 tablespoon oil
1 tablespoon honey
1 egg
100ml (1/3 cup + 2 tablespoons) Greek yoghurt
1/2 tablespoon sea salt
200g (1 + 2/3 cups) gluten free bread flour - I used Doves Farm
50g (1/2 cup) buckwheat flour
2 tablespoons whole flaxseeds
1 teaspoon baking powder
1/2 teaspoon bicarbonate (baking) soda
1/2 teaspoon garlic powder
1 teaspoon dried rosemary
1 tablespoon fresh chives (chopped)
Handful mozzarella (as much or as little as you like)
1/2 tablespoon sea salt
Directions
~ Line a square baking tin (mine is 8x8 inches) with greaseproof paper.
~ Heat the milk and add the yeast. Leave for ten minutes to activate.
~ Add the oil, honey, Greek yogurt and egg, and whisk until well combined.
~ In a large bowl, mix the flours together along with the salt, flaxseeds, baking powder, baking soda, garlic powder and dried rosemary.
~ Add the wet ingredients to the dry and stir until combined (the mixture will be wet and NOT resemble traditional bread dough, so please don't panic and add more flour - it hasn't gone wrong!).
~ Pour into the prepared pan, smooth over the top and cover with a tea towel. Leave in a warm place for around one hour.
~ Around 30 minutes prior to baking, pre-heat the oven to 200°C (400°F). Just before popping the bread in the oven, sprinkle with fresh chopped chives, sea salt and mozzarella (if using). Bake for around 20-25 minutes (an inserted skewer will come out clean if ready). Leave to cool and enjoy warm or when cold (if not eating immediately, cover it up as soon as it is cold, as it does dry out easily). Enjoy!
7.8.1.2
189
https://www.theculinaryjumble.com/gluten-free-greek-yoghurt-flatbread-with-chives-and-mozzarella/