Want to give your sweetheart something special this year? Then make them their own Valentine's rocky road with all things pink.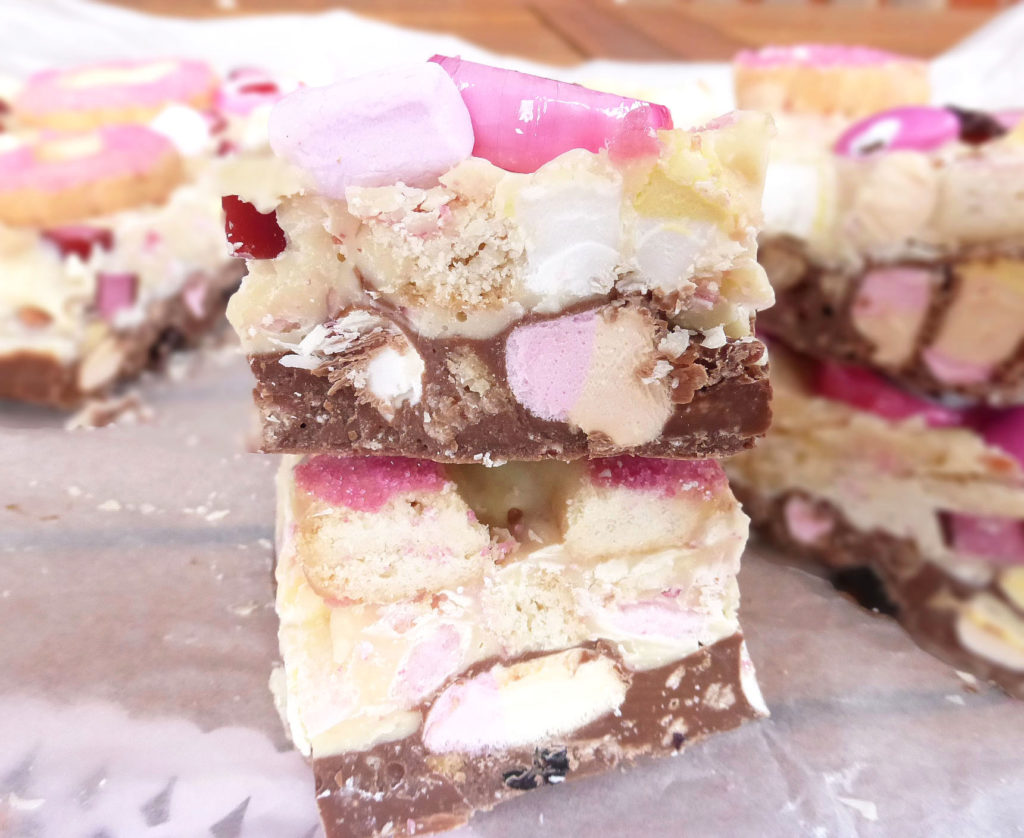 I love rocky road – there is something enticing about the different textures and tastes, and I've christened this one "everything goes" because I threw in a ton of pink sweets (candy) and cookies.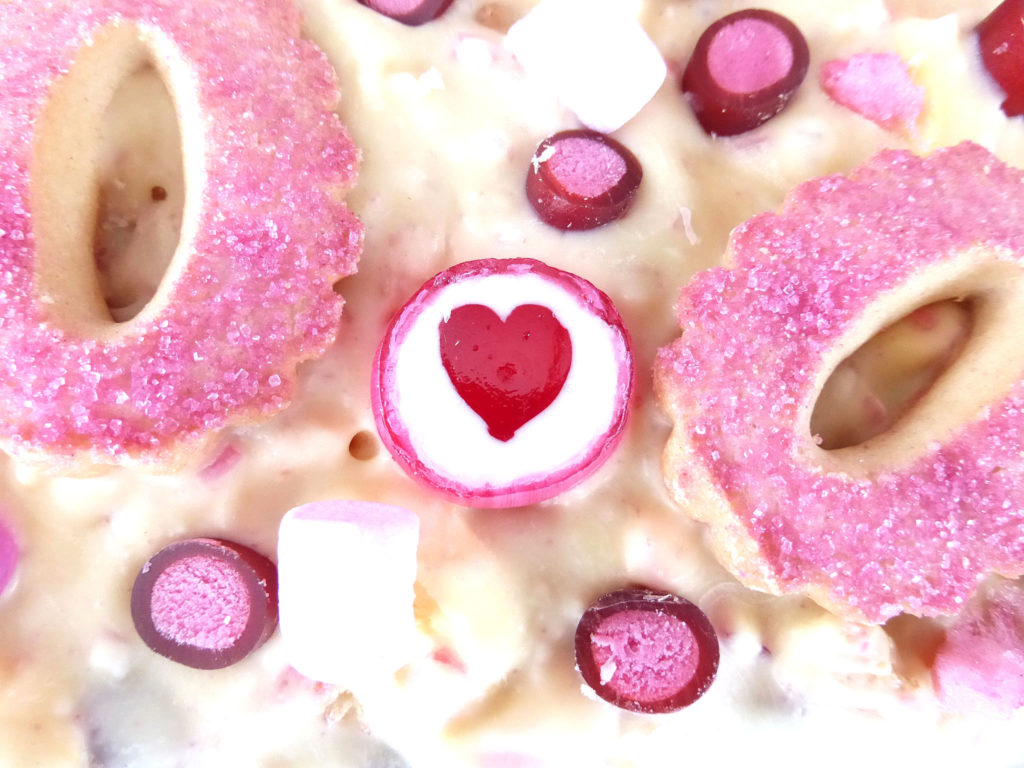 Anyone can make rocky road, it's so easy-peasy. The hardest bit is melting the chocolate and deciding what to put in it. There's no baking, very little mess and only a short setting time. Plus, it's bloody delicious!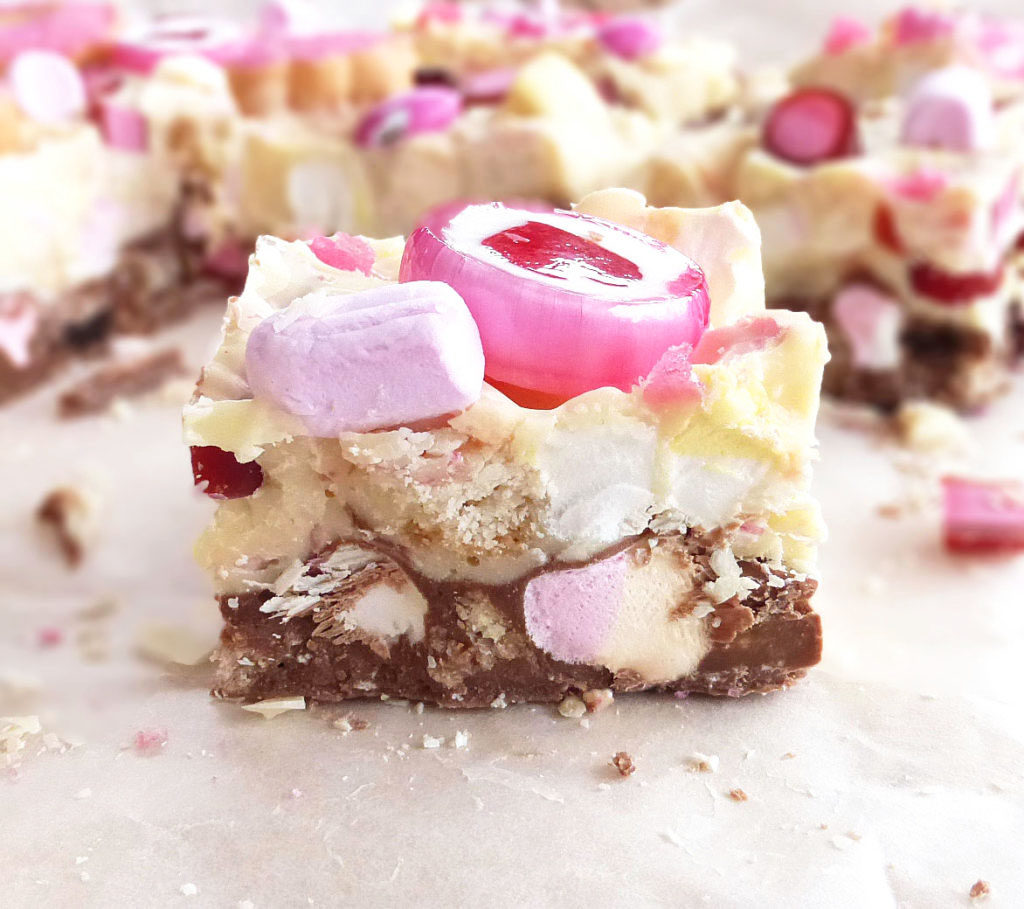 I made these for a Valentine's treat for the kids I teach and let me tell you, I've never seen anything wolfed down so quick. Of course I've used pink in honour of the most romantic day of the year, but the advantage of rocky road is that you can add or omit anything you like.
The measurements below will yield around 15-20 pieces, depending on how big you cut them.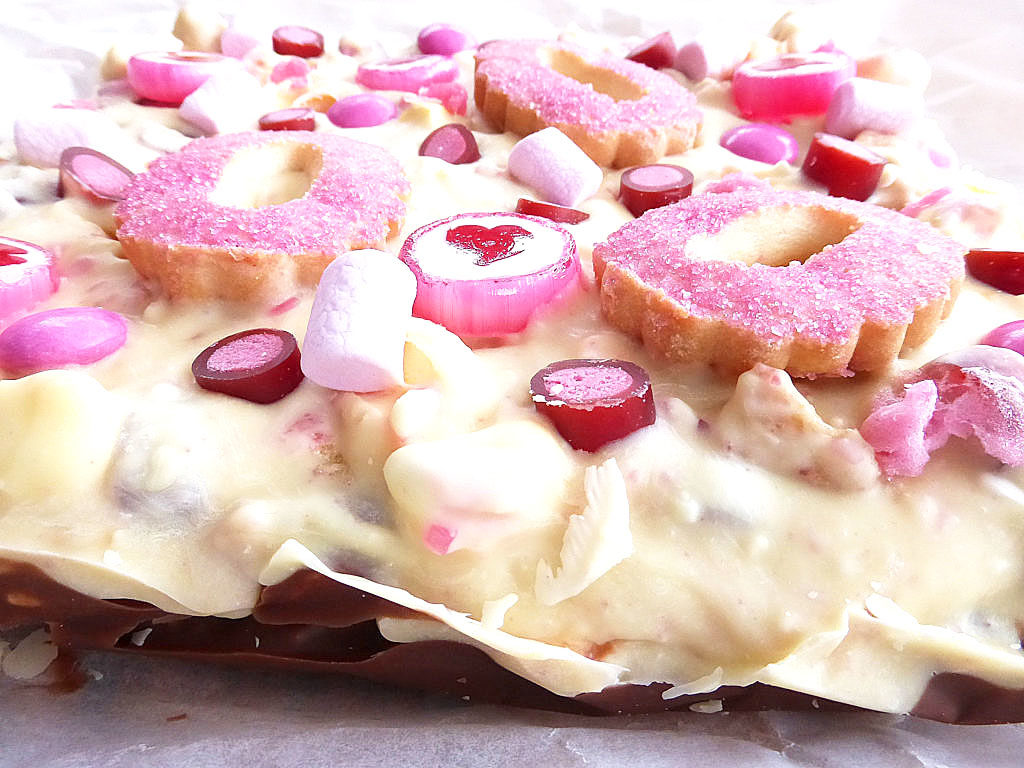 Everything Goes Valentine's Rocky Road
---
Ingredients
Bottom:

300g (2½ cups) milk chocolate
25g (2 tablespoons) raisins
8 large marshmallows (chopped into small bits)
10 small shortbread cookies (chopped into bits)

Top:

300g white chocolate
5 large marshmallows (chopped into bits)
Mixed pink candy (I used a variety of pink candy including Smarties and candy floss)

Topping:

Your choice of candy/cookies sprinkled over the top

NOTES

Don't get too hung up on the amounts and ingredients above. As long as you have plenty of chocolate, you can use any ingredients and don't need to rigorously follow my measurements.
I've used a combination of white and milk chocolate but you could use just one type. If using only one chocolate, there is no need to separate the ingredients as above - just throw them all in together!
Directions
~ Melt the milk chocolate then add the raisins, marshmallows and broken cookies. Line a 8x8 inch baking tin with grease-proof/baking paper and then pour in the mixture. Spread so it is even and then leave to set in the fridge while you prepare the white chocolate.
~ Melt the white chocolate, add the candy and cookies, then spread over the top of the milk chocolate mixture. Decorate with whatever candy or cookies you like and then refrigerate until completely set. Cut into pieces and enjoy! The rocky road goes lovely and soft when out of the fridge (how I like it!), but you may prefer to keep in refrigerated.
7.8.1.2
75
https://www.theculinaryjumble.com/everything-goes-valentines-rocky-road/