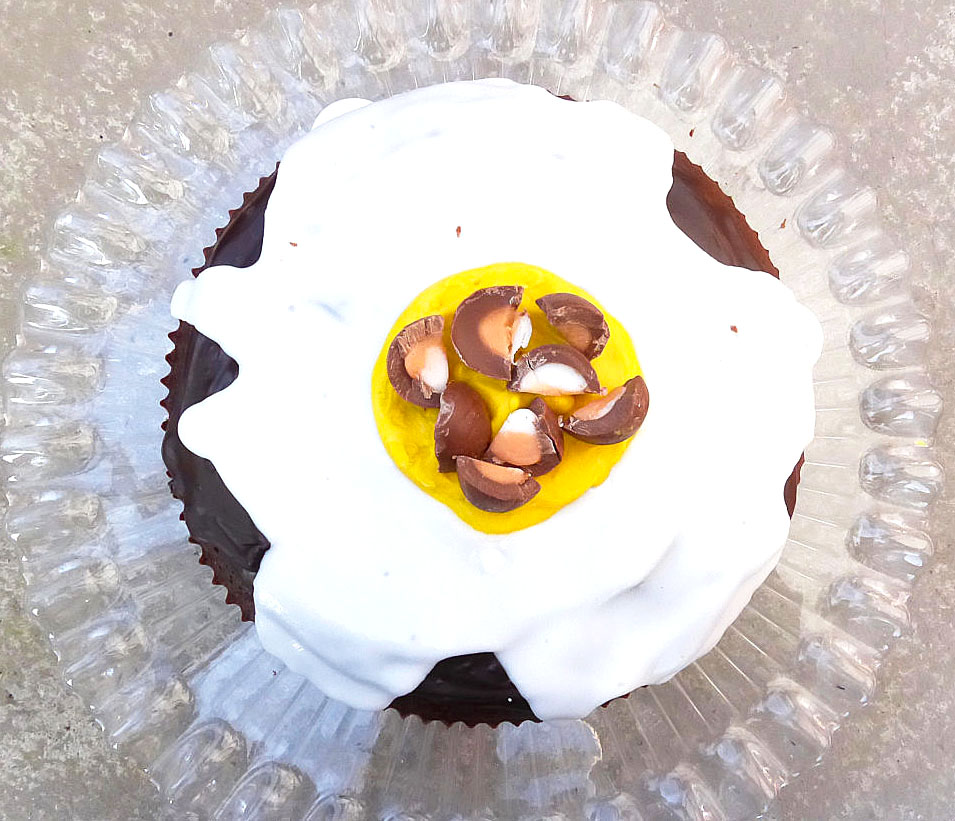 I am not sure what it is like everywhere else in the world, but as soon as Christmas is over in the UK (and I mean before you have a chance to sleep off all that turkey), out come the Easter chocolate eggs and associated goodies.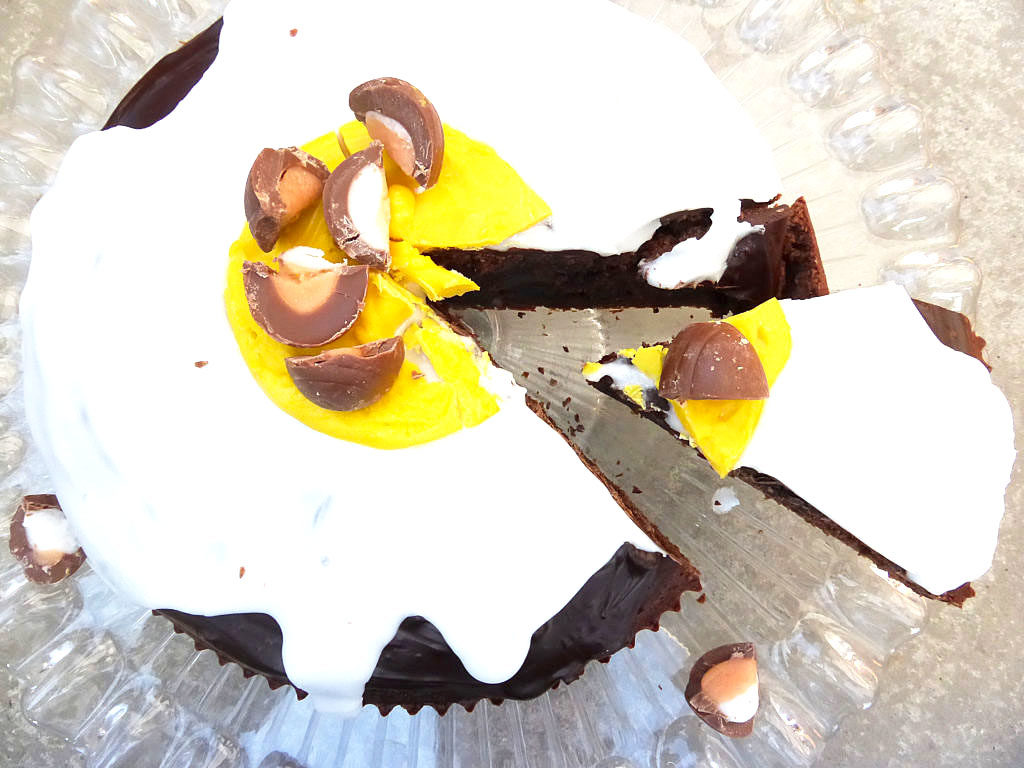 Who on earth would want to be thinking about Easter treats after the season of goodwill to all men, but especially yourself, is anyone's guess. However, for this chocolate-loving expat, it was perfect.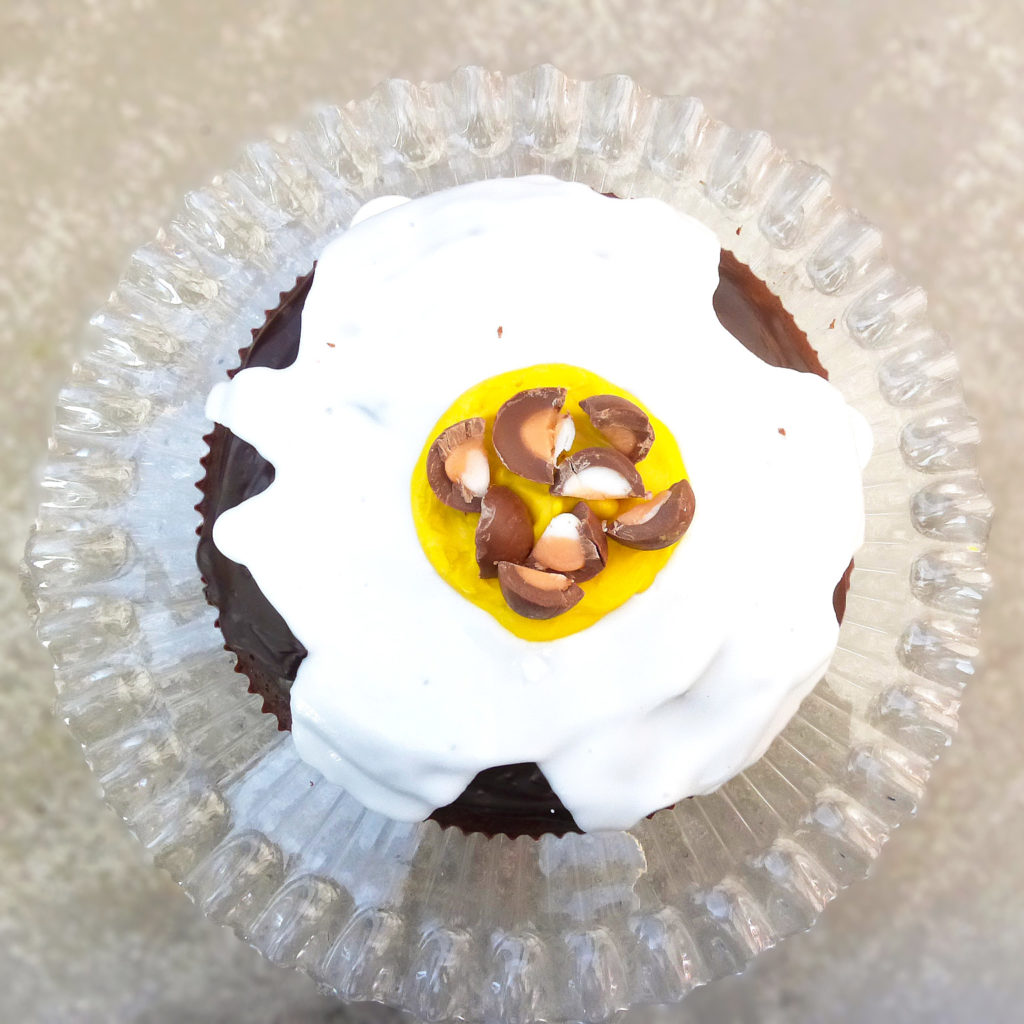 I stocked up on some of my favourites, including a small bag of mini Crème Eggs, which play a starring role in today's recipe.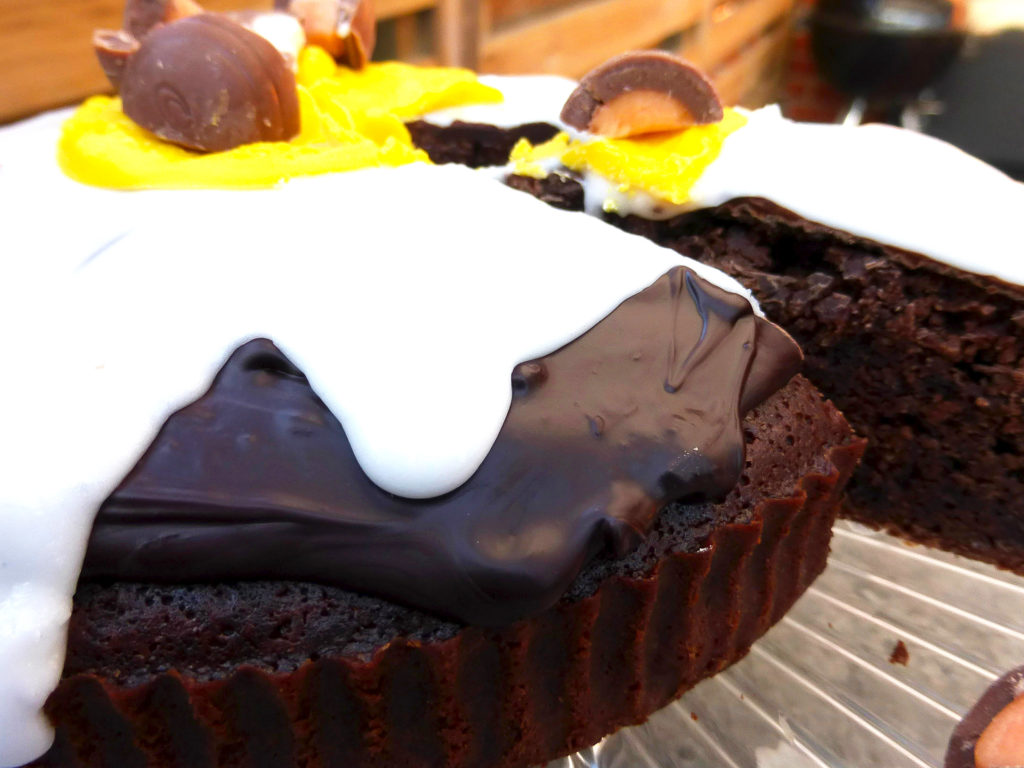 This delicious fudgy, dense Creme Egg cake is a simple one layer creation adapted from the recipe by Alice Medrich featured on the Fine Cooking site.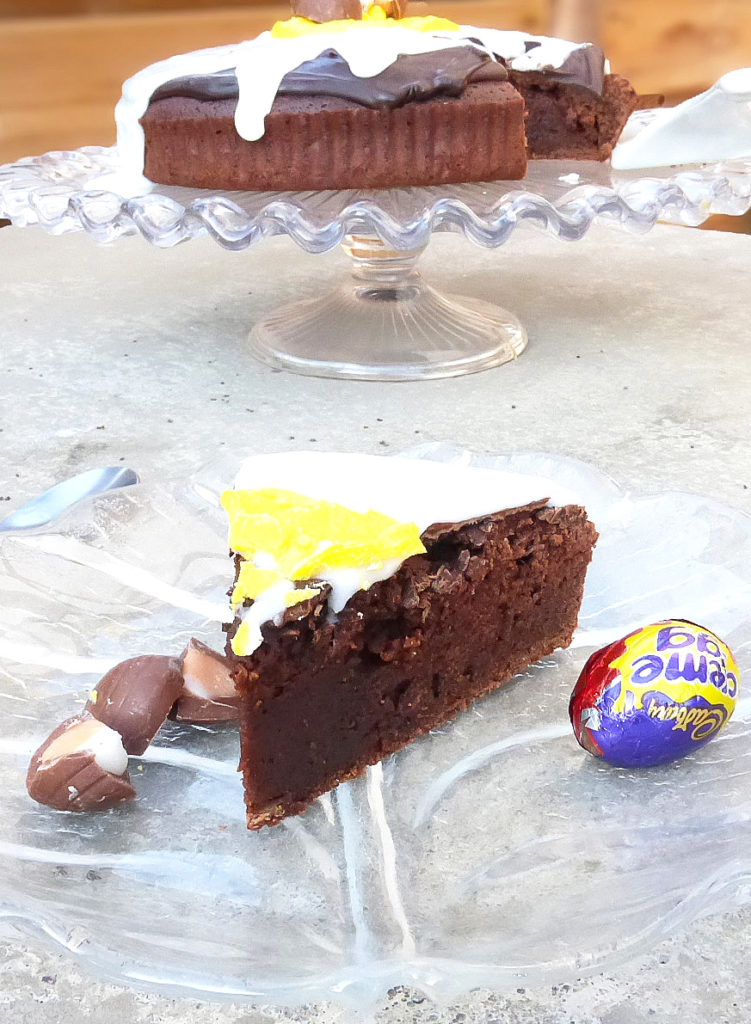 The decoration and frosting pays homage to the wonderful Crème Egg. It has sweetened dark chocolate ganache, gooey white fondant and yellow chocolate.
I am not sure how easy it is to get hold of Cadburys goodies where you are. If mini Crème Eggs are not available, omit them from the recipe entirely. Or, use some other type of candy in their place.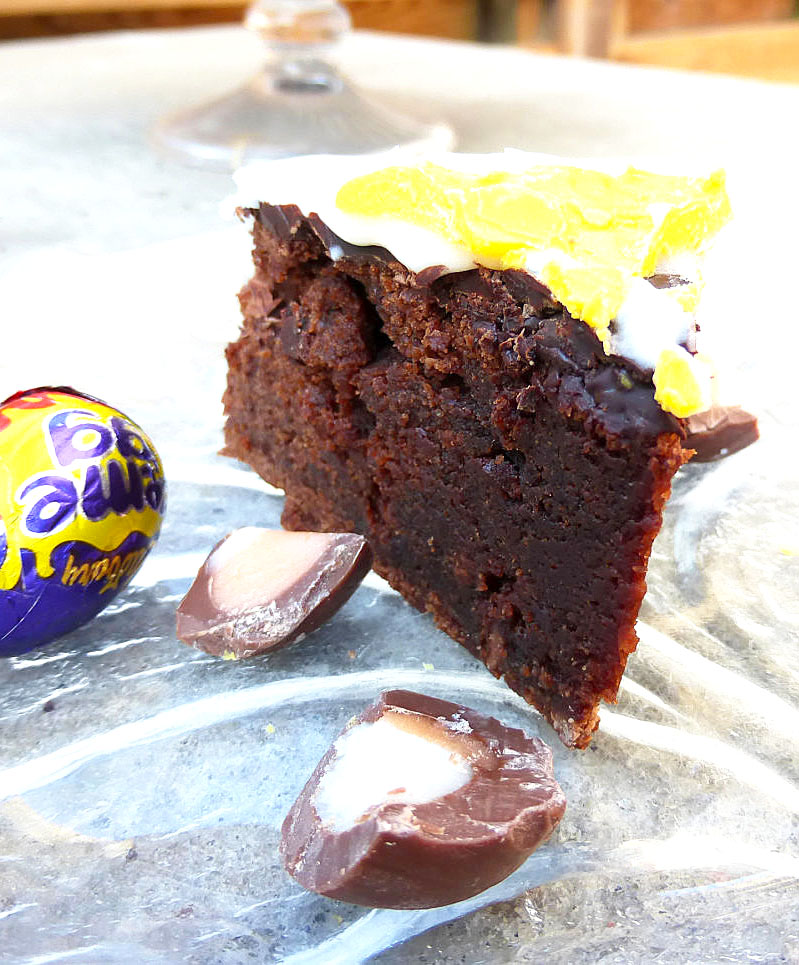 The measurements below made a one-layer cake that would serve 8-10 people (depending on how big the slices were).
Crème Egg Chocolate and Fondant Cake
---
Ingredients
Cake:

115g (1/2 cup) melted butter
220g (1 cup) brown sugar
2 eggs
140g (1 cup) plain (all-purpose) flour
25g (1/4 cup) cocoa
1/2 teaspoon baking powder
1 teaspoon vanilla sugar (see notes)
5 mini Crème Eggs
1/2 cup hot brewed coffee

Ganache:

100g (3/4 cup) dark chocolate (chopped into pieces)
2 tablespoons honey

Fondant:

100-200g (1 to 2 cups) icing sugar
2 teaspoons milk

Topping:

50g (1/4 cup) yellow chocolate (see notes)
1 teaspoon coconut oil
3 mini Crème Eggs

NOTES

I use vanilla sugar in my recipes. If you are using essence or extract, check out this for help with converting.
I used shop-bought yellow "chocolate" but you could use plain white chocolate, or even add food colouring to white chocolate to make yellow.
Directions
~ Pre-heat the oven to 175°C (350°F) and line/grease an 8 inch round cake tin.
~ Melt the butter and then add the sugar. Beat until nice and smooth. Add eggs, one at a time, and continue to beat until fluffy.
~ Sift the flour, cocoa, baking powder and vanilla sugar together and then stir into the wet ingredients. Chop the mini Crème Eggs into fairly small pieces and add to the batter. Lastly, add the hot coffee and mix just until everything is well combined.
~ Pour into the prepared cake tin and bake for around 30 minutes, or until an inserted skewer comes out clean. Take out of the oven and allow the cake to cool for ten minutes before removing it from the tin and allowing it to cool completely.
~ For the ganache: melt the dark chocolate with the honey and stir to combine. Leave to harden a little, just until you have a nice, thick spreadable ganache. Pour over the cooled cake, pushing it gently with a thin palate knife towards the edges. Let the ganache set before moving onto the next stage.
~ For the fondant: put 100g (1 cup) icing sugar in a bowl and add two teaspoons of milk. Continue to add more milk/icing sugar until a thick, spreadable consistency is achieved. Pour just a little over the top of the ganache to start with (the fondant will drip), gradually adding as much as you need to unevenly cover the top (think of the white part of a fried egg!). When finished, leave the fondant to harden before beginning the final stage.
~ Lastly, melt the yellow chocolate with the coconut oil and then pour on top of the fondant. Sprinkle with chopped mini Crème Eggs and leave the cake in the fridge to set completely. Use a sharp knife run under the hot water tap to cut the cake into slices. Enjoy!
If you'd like to see pictures of every stage of making the cake, I've made an Instructable!
7.8.1.2
68
https://www.theculinaryjumble.com/creme-egg-chocolate-and-fondant-cake/