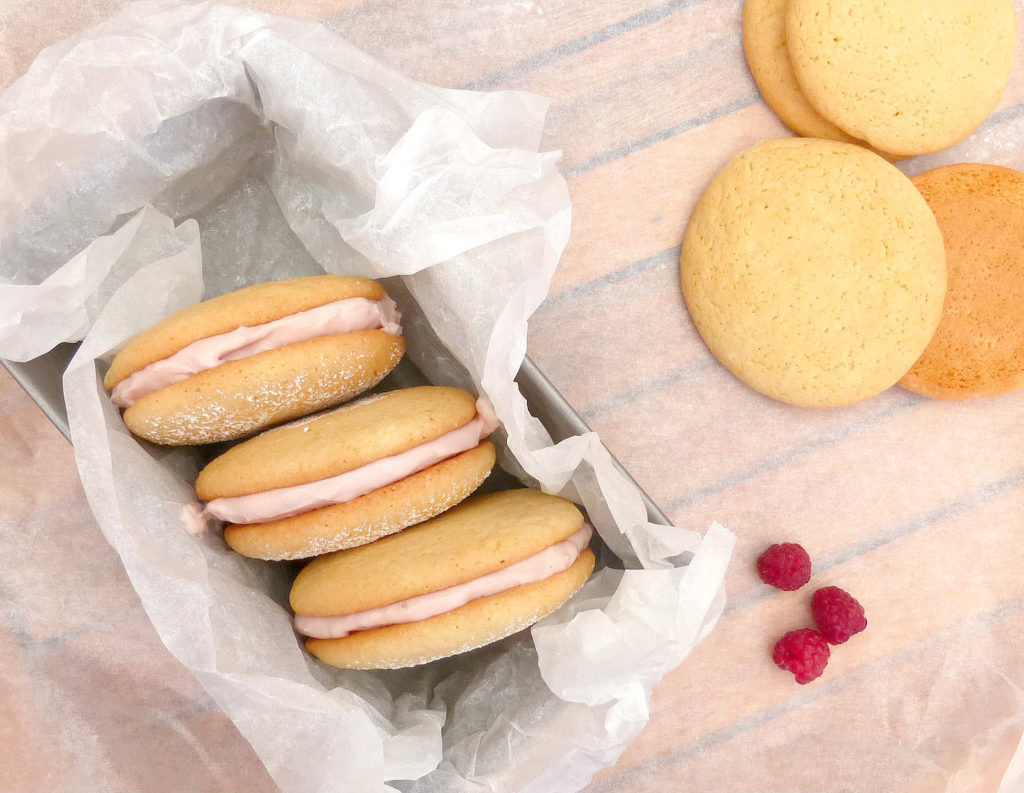 Sometimes, the greatest failures bring about the most amazing things. Like these vanilla cookies.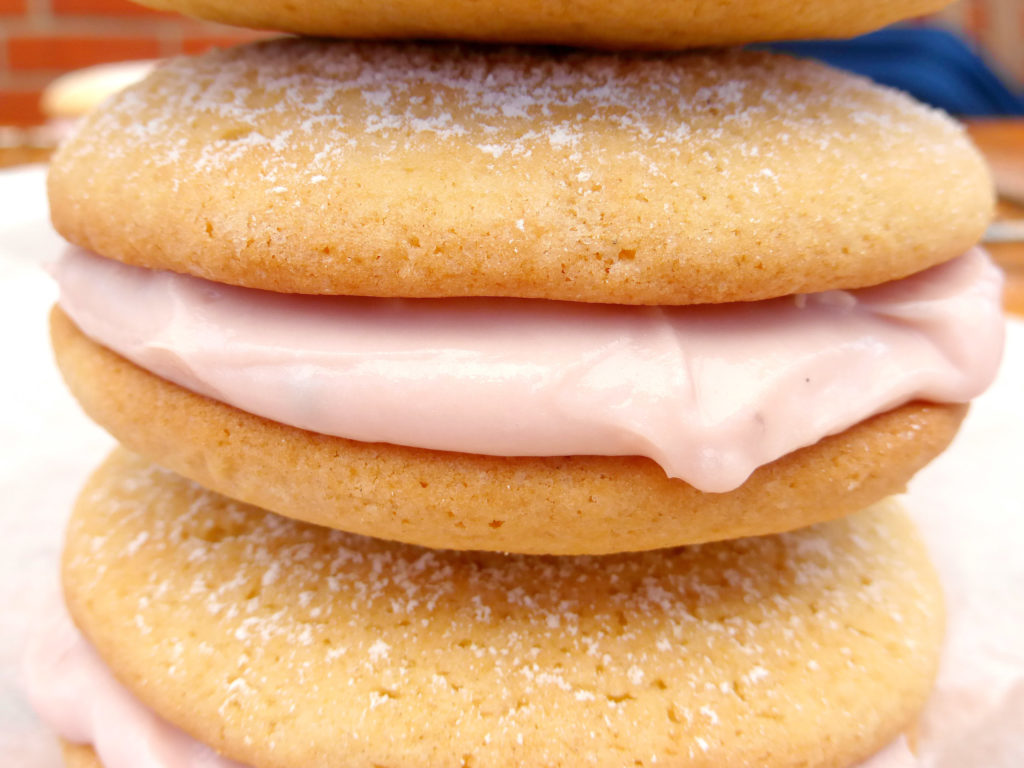 I made some delicious frosting for a cake that was never meant to be. It was a white chocolate bundt cake which literally imploded as soon as I took it out of the oven.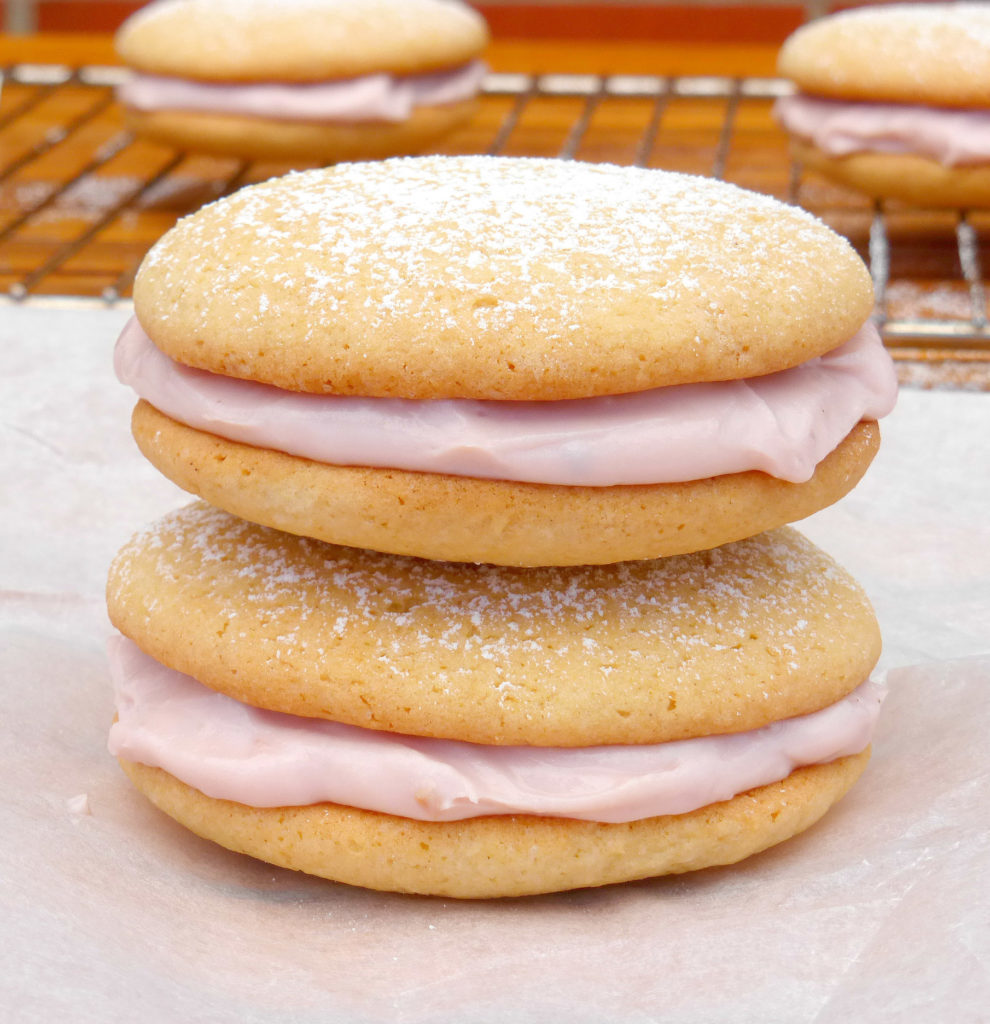 I've never seen anything sink so fast. The good news is that it tasted amazing. The bad news is that it was just a heap of sugar and butter which had no use for the frosting I'd made for it!
The frosting was so good that I did consider eating it out of the bowl with a spoon. However, because it WAS so good, I wanted to put it to good use.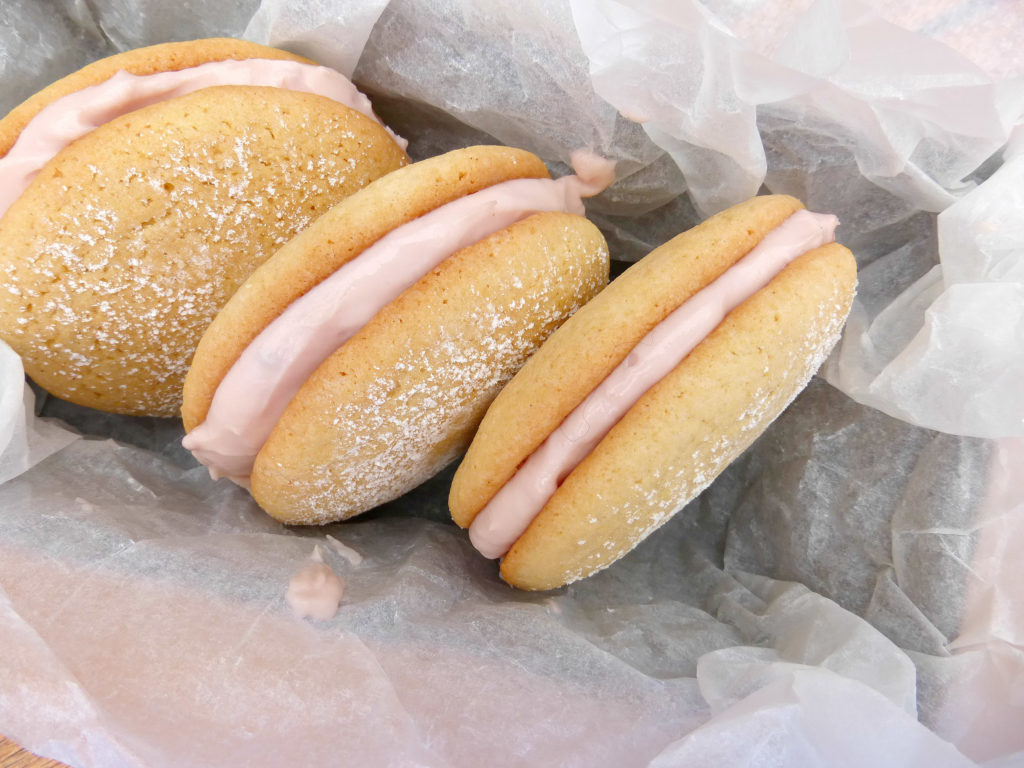 I made some Gluten Free Oat Cookies with a White Chocolate and Peanut Butter Filling a while back, and these inspired me. Enter these fat vanilla cookies stuffed with the superfluous gorgeous raspberry, meringue and cream cheese frosting (now a filling).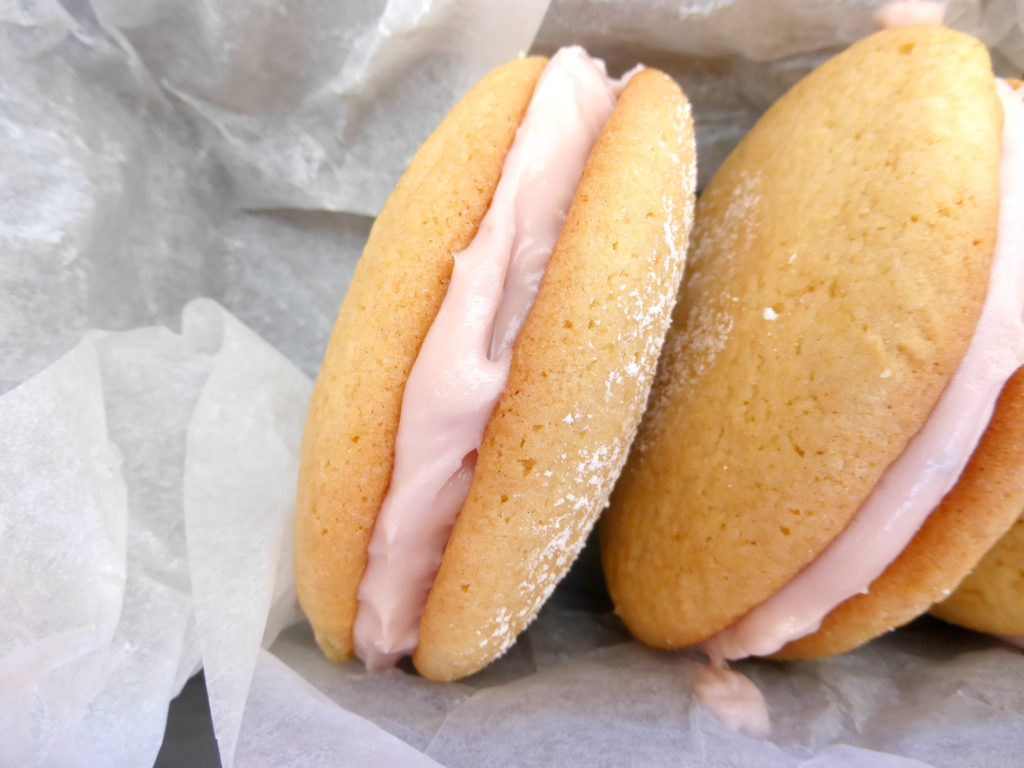 The vanilla cookies were pillowy soft and complemented the rich frosting amazingly well.
I made 12 large cookies and turned them into 6 humongous treats, but you could easily make 18 and end up with 9 if you are mad prefer them a little smaller.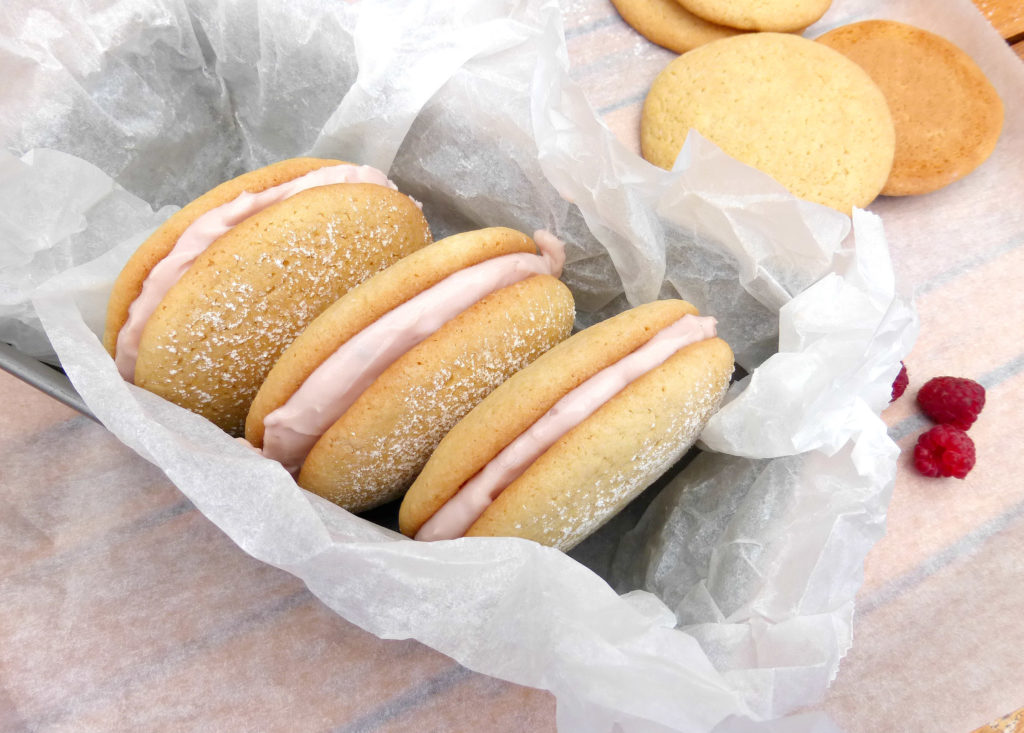 Vanilla Cookies with a Raspberry Meringue Cream Cheese Filling
---
Ingredients
Cookies:

110g (1/2 cup) sugar
85g (3/8 cup) butter
1 egg
2 tablespoons maple syrup
210g (1.5 cups + 1 tablespoon)  flour
1 teaspoon baking soda
1 teaspoon vanilla sugar
Filling:
75g (1/2 cup) white chocolate
200g (7/8 cup) cream cheese
Handful of fresh raspberries
50g-100g (1/2 - 1 cup) icing sugar
4-5 mini meringues (crushed)
Directions
Pre-heat the oven to 350°C (175°F) and line a large baking tray with grease-proof paper.
~ Cream the butter and sugar together until nice and fluffy. Add in the beaten egg and maple syrup, and stir to combine.
~ Sift the flour, baking soda and vanilla together and then incorporate into the wet ingredients until a dough forms.
~ Roll the dough into 12 (or 18) balls of similar size and place on a baking tray (you might need two). Flatten them slightly, making sure you allow space between them.
~ Bake the cookies for 8-10 minutes, just until the edges are starting to brown. Remove from the oven and let them sit on the baking tray for five minutes or so, then transfer to a wire rack to cool completely.
~ For the filling: Melt the white chocolate and allow to cool, then beat it into the cream cheese. Crush the raspberries and add them to the mixture. Sift the icing sugar and add just enough to form a thick, spreadable consistency, then throw in the crushed meringues.
~ Take two cookies of a similar shape/size and spread some of the filling over the flat side of one. Place the other cookie on top. Repeat with the others. If you had some spare raspberries, you could also pop these in between the cookies, but they aren't necessary! Sprinkle with icing sugar and serve. Enjoy!
7.8.1.2
78
https://www.theculinaryjumble.com/vanilla-cookies-with-a-raspberry-meringue-cream-cheese-filling/