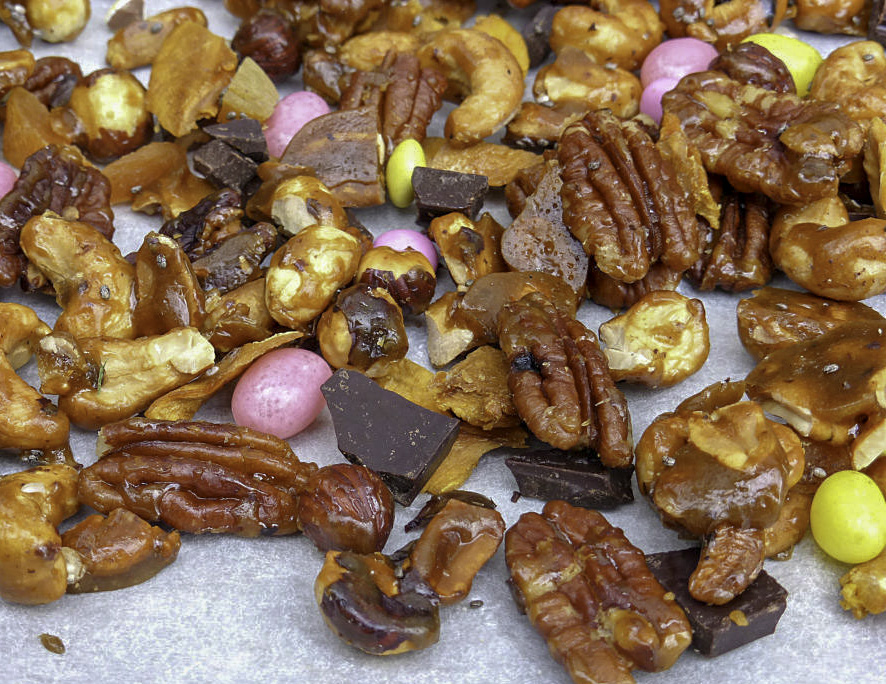 I have a confession to make: until very recently, I had no idea there was such a thing as Trail Mix.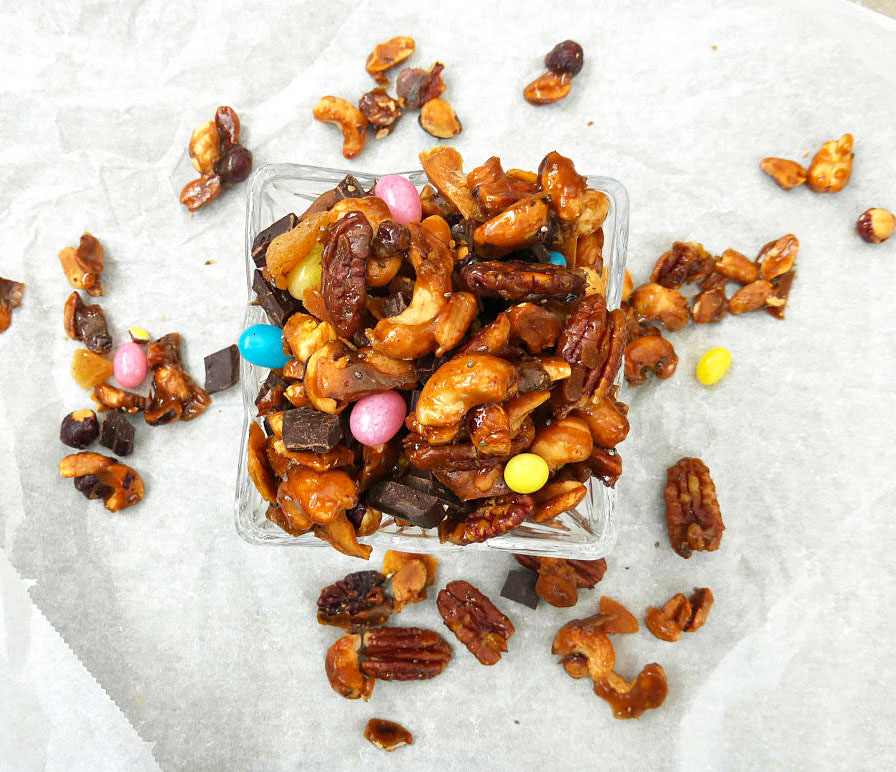 Or, should I say, I had no idea that mixing nuts, seeds, dried fruit and sometimes sweets or chocolate together actually had a name.
The reason this lack of knowledge came to my attention is because Trail Mix Day is approaching (31st August).
In celebration of this, I decided to create an extra special version – this candied nut trail mix. It's naughty, for sure, but when you have nuts and seeds in something, it's always a little bit healthy. Right? No? Aw, give the girl a pat on the back for trying.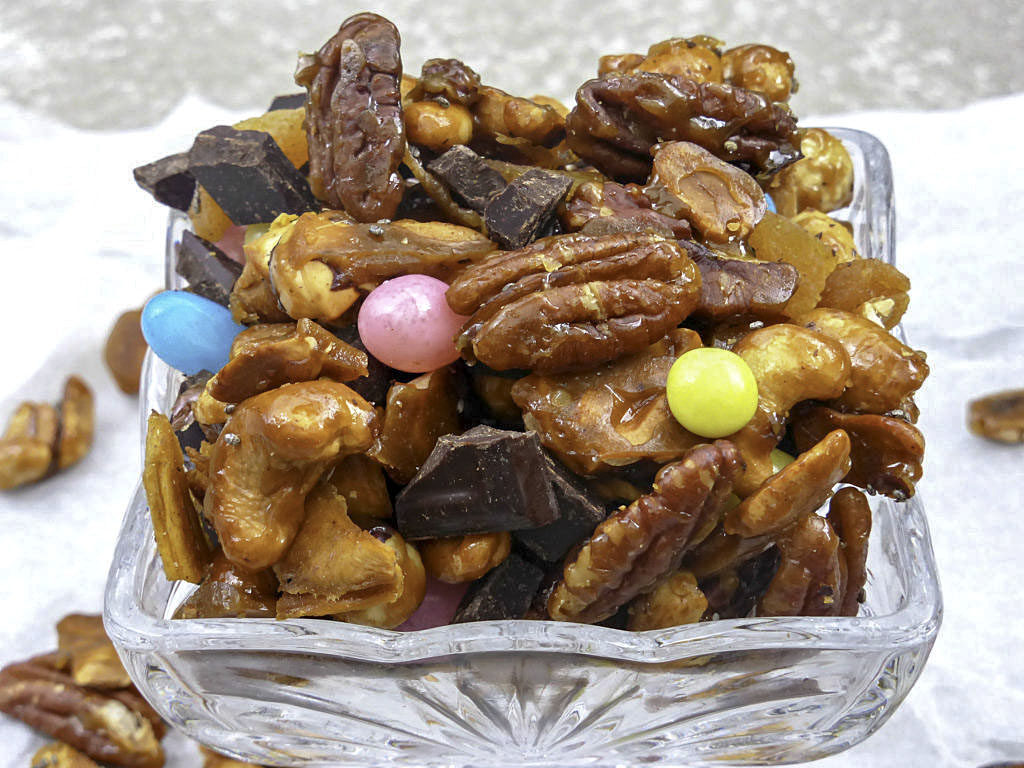 This trail mix comes with a severe warning: eat at your peril! You will not be able to stop with just a small handful – it is incredibly more-ish!
There's something alluring about the different textures in this candied nut trail mix. From the soft sweets to the smoothness of the rich dark chocolate, along with the crunchiness of the candied nuts.
As always, for me, the appeal of any recipe is how easy it is to make. It takes only five minutes to prepare the candied nuts and the rest is literally thrown in with them.
Trail mix can be adapted to suit your own personal taste, so add whatever you have in your cupboard. All kinds of nuts, seeds, dried fruit or candy work, but nothing is off-limits, so use your imagination!
Naughty But Oh So Nice Candied Nut Trail Mix
---
Ingredients
For the candied nuts:

2 cups (250g) mixed nuts (I used hazelnuts, pecans, peanuts and cashews)
1/2 cup (100g) white sugar
2 tablespoons (30g) butter

Additional trail mix ingredients:

1/2 cup (55g) chopped dried fruit (I used mango and apricot)
1 tablespoon sunflower seeds
1/2 tablespoon chia seeds
1/2 cup (50g) candy (I used dark chocolate and bright sweets for colour contrast)
Directions

~ Prepare the candied nuts first. In a large frying pan, melt the butter and then add the sugar and nuts. On a fairly low heat, stir regularly until the sugar starts to melt, after which you should be stirring constantly to ensure even cooking and prevent burning. After about five minutes, the sugar/butter will be completely melted and should coat the nuts evenly.

~ Remove from the heat and place on a large flat tray lined with grease-proof paper. Using a knife or fork, start to separate the nuts as best you can (the sugar coating hardens fast, so move quick). As they cool a little, use your hands to break them apart, but beware, they are HOT! Don't worry if the smaller nuts have clustered together, but just make sure you have bite-sized pieces. Leave the nuts to cool completely.

~ In a large bowl, stir the other trail mix ingredients together, then add in the cooled nuts. Pour into a bowl, serve and eat until your heart's content - be careful though, they are addictive! Enjoy!

7.8.1.2

130

https://www.theculinaryjumble.com/naughty-but-oh-so-nice-candied-nut-trail-mix/

The Culinary Jumble