This gluten free cornflake granola is made with peanut butter, oats and tons of nutritious nuts.

These huge gluten free oat cookie sandwiches are filled with creamy white chocolate and peanut butter.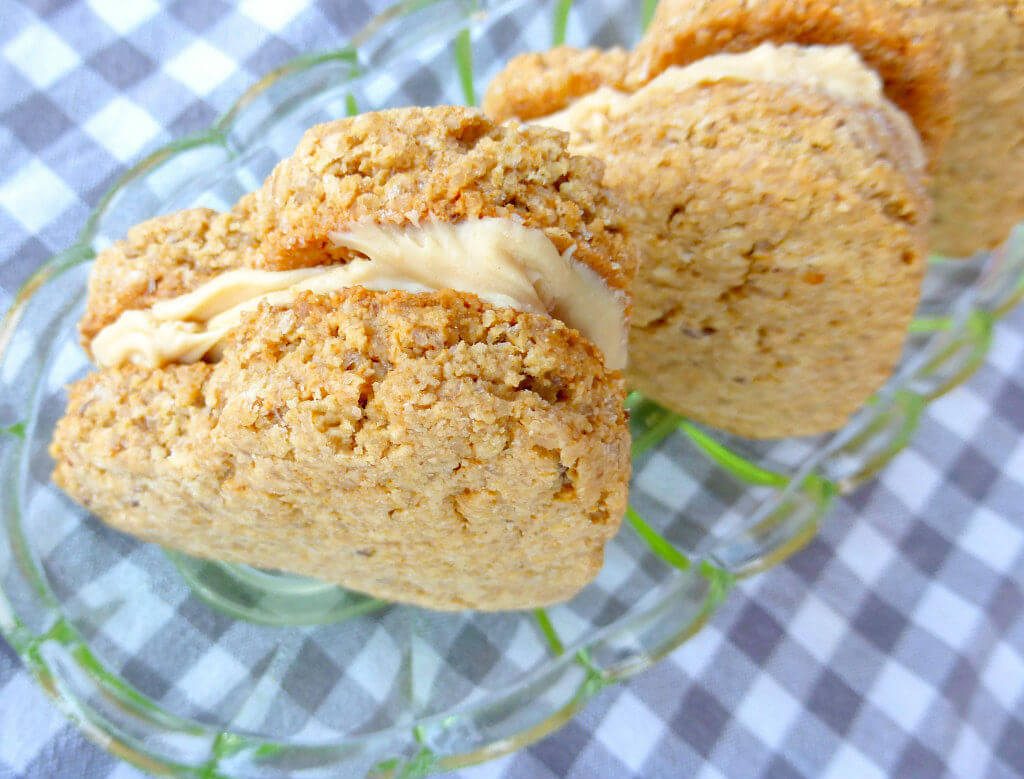 Make no mistake, these are mammoth cookies – thick chunks of oat-y goodness sandwiched together with a creamy white chocolate and peanut butter filling.
They were so chunky that I did reconsider making them single layer and spreading the filling over the top instead, but my kids set me straight and said they were perfect as they are. This is probably because the cookies themselves are not overly sweet, making them a nice contrast to the rich filling.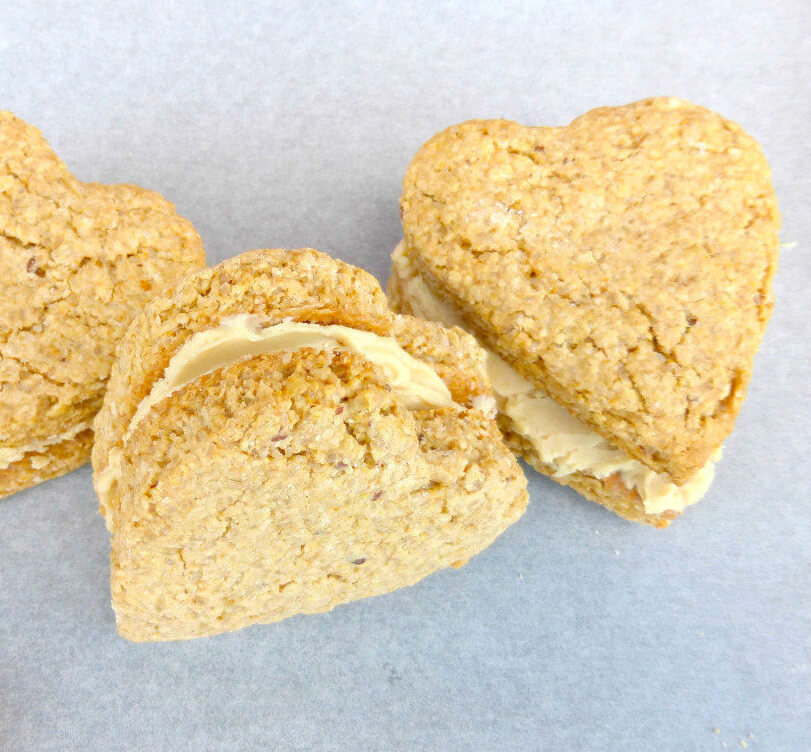 The measurements below made four heart cookie sandwiches (so that's 8 cookies in total). You could easily roll them out a little thinner, make them a touch smaller or forego the double cookie sandwich completely and just have the filling on top.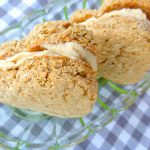 Gluten Free Oat Cookie Sandwiches (White Chocolate and Peanut Butter Filling)
Ingredients
Cookies:
50g

(1/4 cup) butter

60g

(1/3 cup) brown sugar

1

tablespoon

honey

1

teaspoon

baking soda

1

teaspoon

flax seeds

70g

(½ cup) oat flour

100g

(1 cup) oats

up to 2 tablespoons milk
Filling:
30g

(1/4 cup) white chocolate

15g

(1 tablespoon) peanut butter
Instructions
Pre-heat the oven to 150°C (300ºF) and line a baking tray with grease proof paper.

Cream the butter and sugar until smooth. Add the honey and beat in.

In a separate bowl, mix the bicarbonate, flax seeds, oat flour and oats. Add to the wet ingredients until a thick dough begins to form. You will probably need a touch of milk to get the ingredients to stick together better, so start off with one tablespoon of milk and add more if needed. You should be aiming for a dough that can be rolled out (I didn't actually use a rolling pin but instead pushed the dough out with my hands).

Lightly sprinkle a work surface with oat flour and work the dough until it has flattened to a thickness of around 1/4 to 1/2cm. Gently cut out shapes using a cutter (mine was heart-shaped but you could use round) and place on the prepared tray. Scrape together the dough and roll out again and cut more shapes and continue until the dough has been used up (I managed to get eight cookies). It doesn't matter how many pieces you make as long as there is an equal amount to make your cookie "sandwiches".

Cook for 15 minutes and remove from the oven when the edges are just starting to brown. The cookie looks under-baked at this point but they firm up dramatically when cold. Leave to cool completely.

For the filling: Melt the chocolate and peanut butter together and mix until well combined. Leave to cool for a while so that it has chance to harden up (you want it firm otherwise it will just run off the cookies). Spread over the flat side of one cookie and then place another one on top, flat side down. Or, if you prefer, just frost the top of each cookie, rather than joining them together. Enjoy!
 If you like cookies, check out these recipes: