These saffron pistachio snap cookies are pure crunch in every mouthful.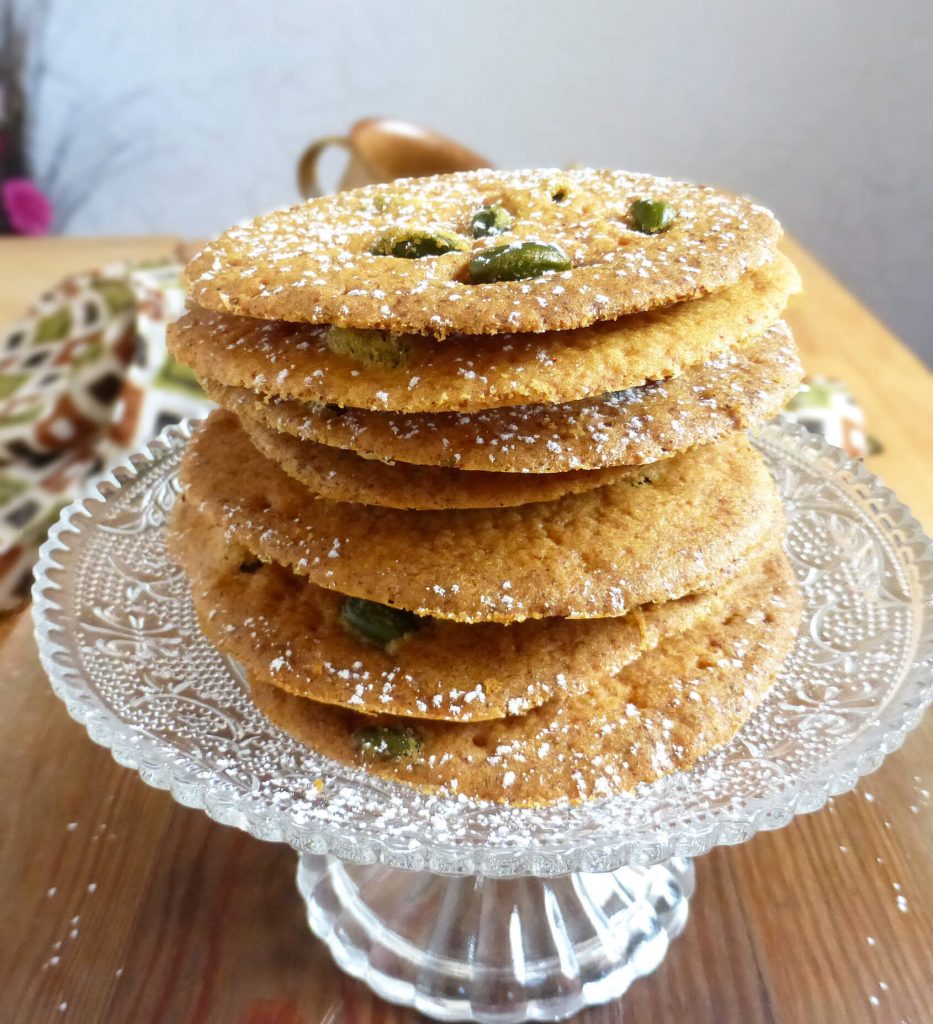 Since moving to Sweden, I've often baked with saffron. The stunning spice is commonly used in bread and cakes especially during the festive season, and over the years, have found myself adding saffron to a multitude of different recipes. Things like my saffron overnight buns and wickedly soft saffronskaka (saffron cake).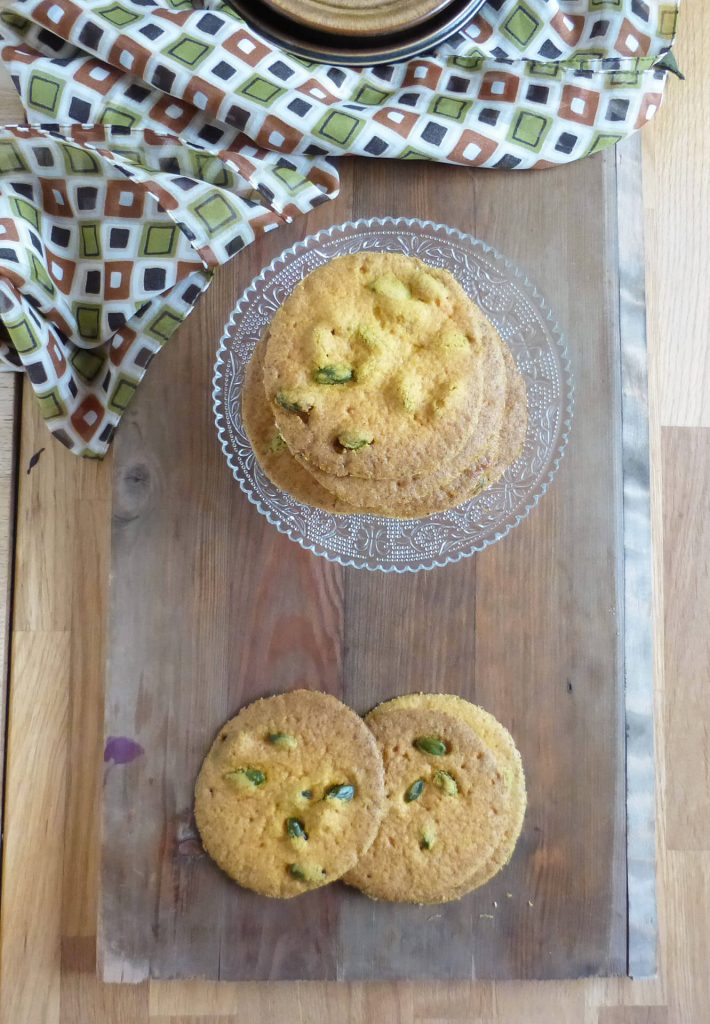 The wonderful thing about saffron (it's beautiful colour and delicious taste aside) is that you can add it to pretty much anything without needing to change the recipe very much at all.
My latest saffron infused offering is this recipe for saffron pistachio snap cookies. The name comes from the fact that you can, well, snap them. Think ginger snap only oodles of times better. They are almost wafer thin which means that they are the crunchiest cookie going.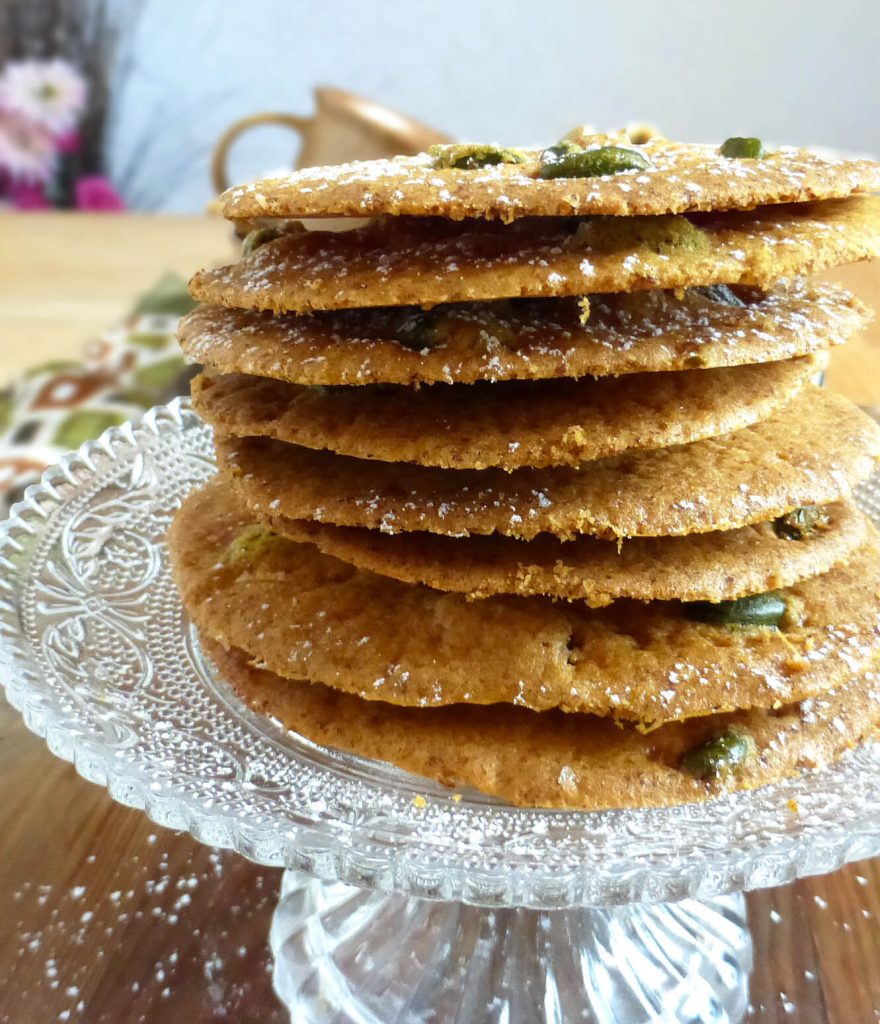 Saffron and pistachios go so well together, especially in cookies. I first used the combination when making Sweden's answer to biscotti, saffron skorpor.
I also added a tablespoon of dark syrup to give the cookies an almost toffee flavour which worked so well with the punchy, powerful kick of saffron.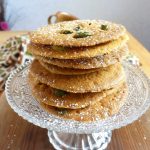 Saffron Pistachio Snap Cookies
Ingredients
50g

(1/4 cup)

butter

(softened)

40g

(1/3 cup)

sugar

½ teaspoon

vanilla sugar (or extract)

½ gram

ground saffron

1 tablespoon

dark syrup (see notes)

75g

(½ cup)

gluten free flour

½ teaspoon

baking powder

25g

(1/4 cup)

pistachios (shelled)
Instructions
Pre-heat the oven to 175ºC (350ºF). Beat the butter and sugar together until fluffy.

Add the vanilla sugar, saffron and dark syrup and beat the ingredients until everything is well mixed.

Add the flour and baking powder and stir until a sticky dough forms. Finally, stir in the pistachios.

Roll the sticky dough into small balls of equal size (you should get around 8-10) and place on a lined baking tray. You will need plenty of space in between them as these really spread when baked.

Bake for around 10 minutes and then keep a close eye on them (they will burn easily). They are ready when the outsides are browning but the rest of the cookie seems uncooked and very soft.

Remove the tray from the oven and allow the cookies to cool completely. They are a little fragile, so take care when moving them from the tray. Sprinkle with icing sugar (optional) and serve with a lovely cup of tea. Enjoy!
Recipe Notes
In Sweden we have something called "dark syrup". It is midway between treacle and golden syrup, so either of these could be used. For North America, I believe that molasses is similar to treacle and can also be substituted.
I use gram measurements in my recipes because I believe it is the most accurate method to measure ingredients. I have converted the grams to cups using online tools, but please note that there is no guarantee the conversions are completely accurate.