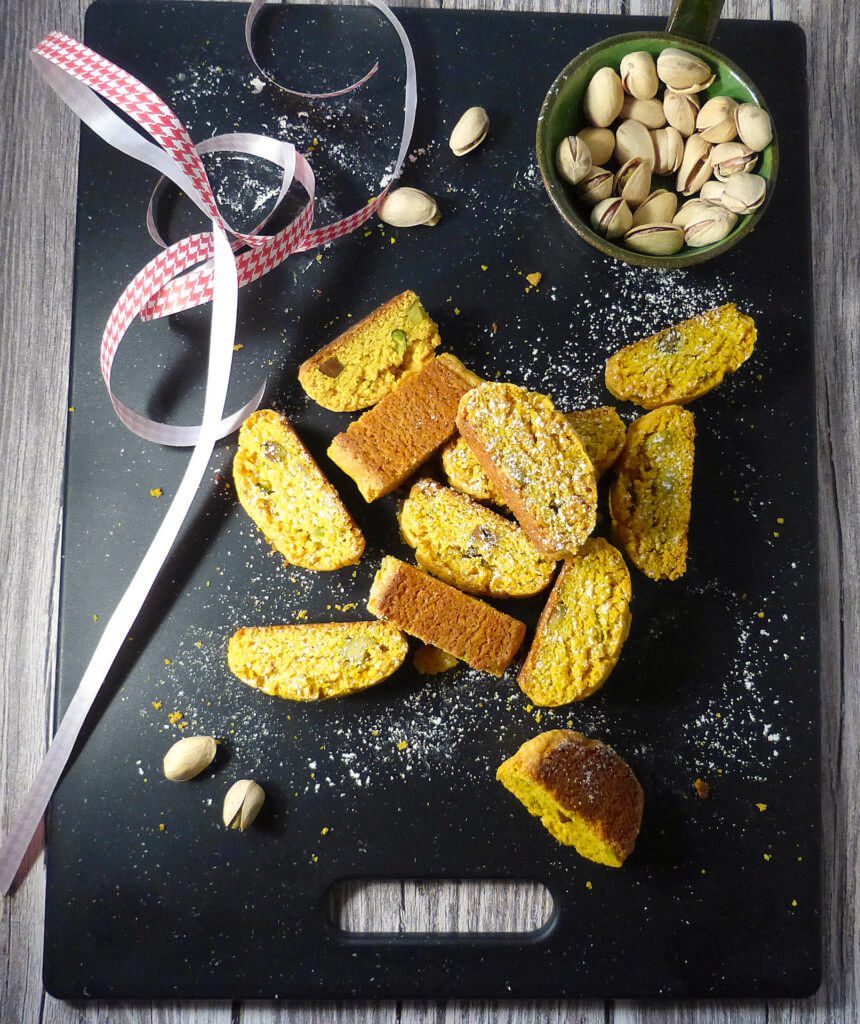 Skorpor are Sweden's answer to biscotti and are very popular here. Up until making these, I had eaten neither biscotti nor skorpor.
As a person totally absorbed by baking and sweet treats, it is rather unusual to come across a well-known food that I haven't tried and I was curious to see how they would turn out.
Notice how I said curious and not excited? That's because although I'd never eaten them, I'd already built up a really huge preconception in my head.
A preconception that had condemned biscotti as being dry, bread-like lumps of, well, bread. Hah! Biscotti lovers among you – I stand absolutely corrected. How wrong can one person be?
Dry? Well, yes. But not dry as in sawdust. More dry as in crunchy. Bread-like? Erm, nope. No bread thing going on at all. These are cookies, without doubt. Good cookies. So good that I ate four while trying to take pictures of them.
Saffron, as I mentioned in my post for Saffranskaka and used in my white chocolate buns, is a very common addition to baking at Christmas here. And it's so easy to see why. I long for the day that "smelly-vision" is a reality because the waft of saffron is unmistakable yet hard to explain. And of course, there's not only the unusual flavour it brings to food but the colour, too.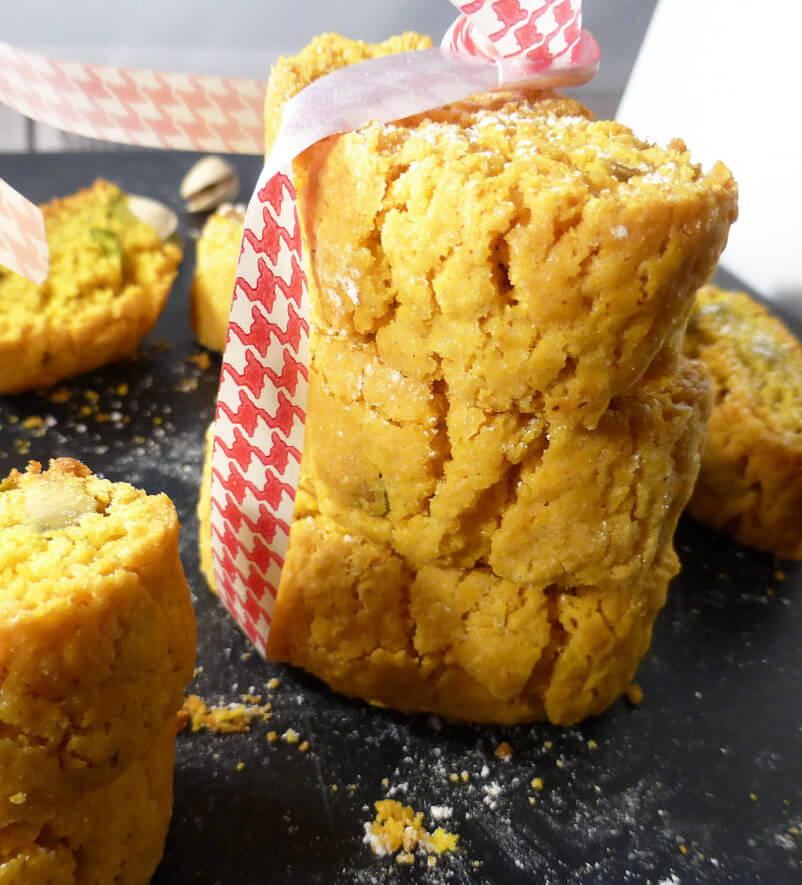 As with most Swedish baking, this recipe is as no-nonsense as they are a nation, with simple ingredients and no faffing about where the directions are concerned.
This recipe came from my favourite Swedish baker, Leila Lindholm after I watched her make them on her programme Leilas Söta Jul (Leila's sweet Christmas). I halved Leila's recipe and the ingredients below yielded around 15 skorpor.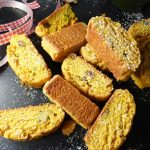 Saffron & Pistachio Swedish Skorpor (Christmas Biscotti)
Ingredients
50g

(3½ tablespoons) butter

0.5g

1 packet saffron (see note 1)

1

egg

60g

(1/3 cup) sugar

130g

(1 cup + 1 tablespoon) spelt flour (see note 2)

3/4

teaspoon

baking powder

30g

(3 tablespoons) chopped pistachios

Icing sugar for dusting
Instructions
Pre-heat the oven to 175º (350ºF) and line a large flat baking tray with grease-proof paper.

Gently heat the butter in a pan until it is almost melted. Remove from the heat and stir in the ground saffron. Leave the mixture to cool for around five minutes then beat in the egg.

Mix all the remaining ingredients in a large bowl. Add the butter/saffron mixture and stir until a dough forms. Roll into two long sausages around 16cm long and place on the baking tray. Bake for 20 minutes.

Remove the cookies from the oven and turn it down to 125ºC (250ºF). Cut the cookies into fairly thick slices (around 1cm) and place back on the baking tray. Return to the oven and "dry" for a further 15 minutes. Sprinkle with a little icing sugar and enjoy!
Recipe Notes
1 - in Sweden, Saffron comes in 0.5g sachets and although I used ground saffron, you could also use strands.
2 - I used spelt flour because it is the flour I use most. The recipe works just as well with regular plain (all-purpose) flour.