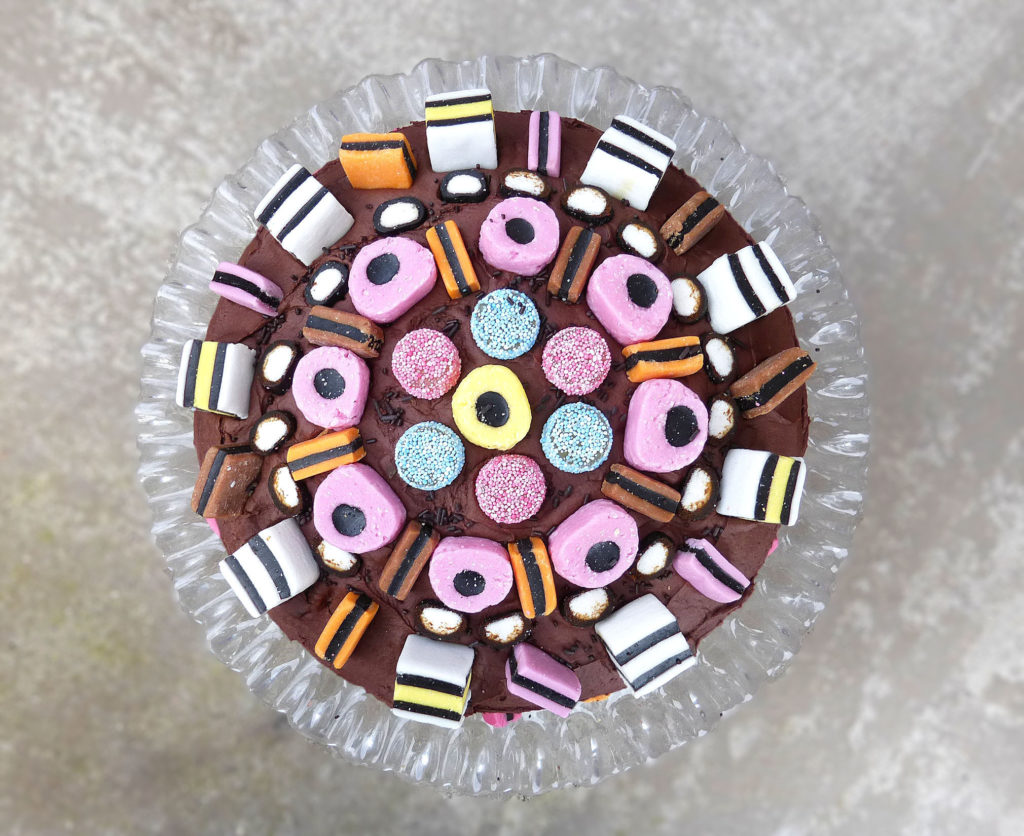 Liquorice is the Marmite of the candy world, and there isn't a middle ground when it comes to the stuff – it's love or loathing.
Me? Well, I fall into the sensible group: the loathers. Seriously though, each to their own. Given my dislike of liquorice, you may be a little perplexed as to why I would choose to bake with it. Well, it wasn't my choice. It was my other half's birthday a few weeks ago, and liquorice is really his thing. I mean scoffing a whole bag in less than 30 seconds kind of thing.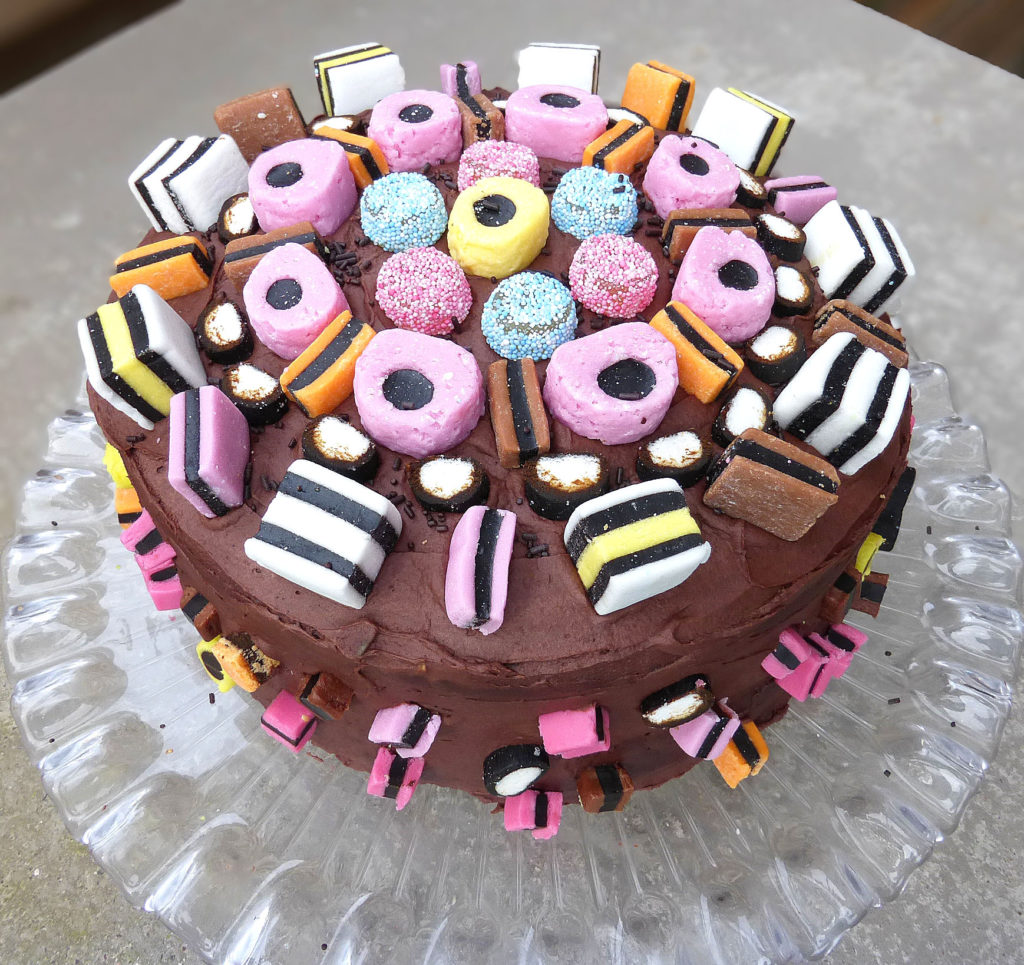 So, being the kind and utterly selfless person I am (really), I decided to make him a liquorice cake.
There's liquorice chocolate in the sponge and frosting, and you can't miss the tons of sweets adorning the top. Brits will instantly recognise it as Liquorice Allsorts, a peculiar confectionary originating in the UK and now enjoyed across Europe along with Australia and Canada.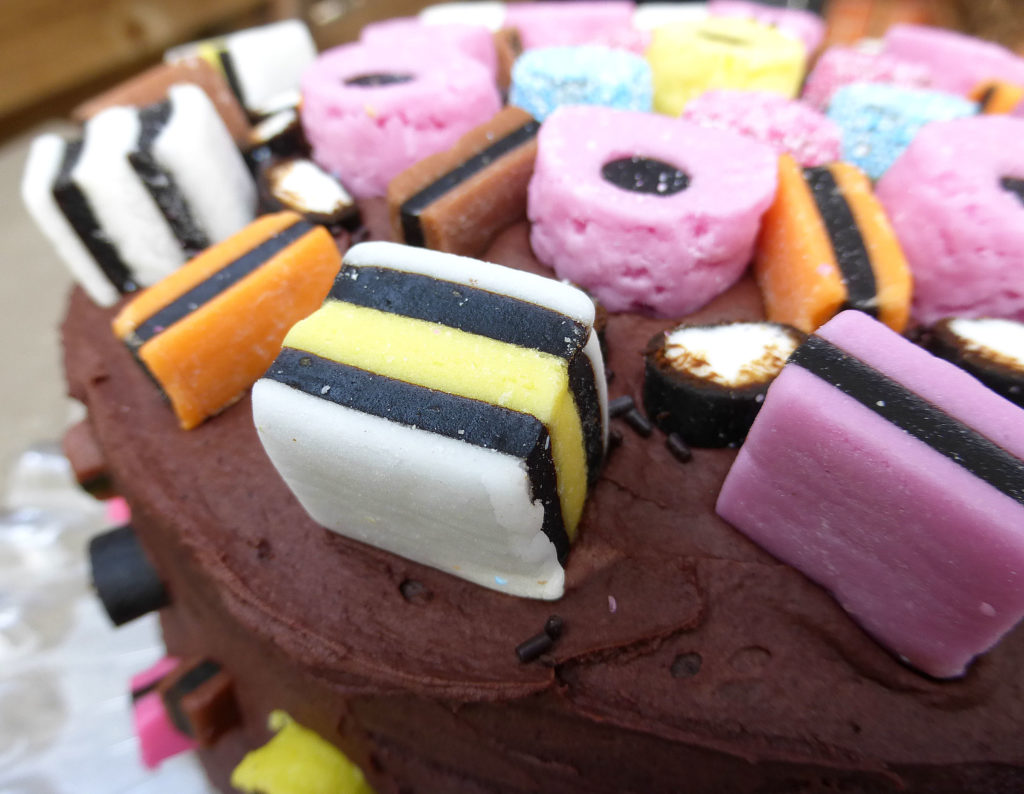 For some reason, the Americans seem to have missed out (good or bad thing, you decide), and my searches don't show an exact replacement. However, if you would like to get your hands on the original candy, you can find them here.
So where were we? Oh yes, I don't like liquorice (did you pick up on that?), and because of this, fully anticipated not eating any of this cake.  Yep. Can you imagine? Making a cake but not eating any yourself. A chocolate cake, at that. Torture doesn't come close.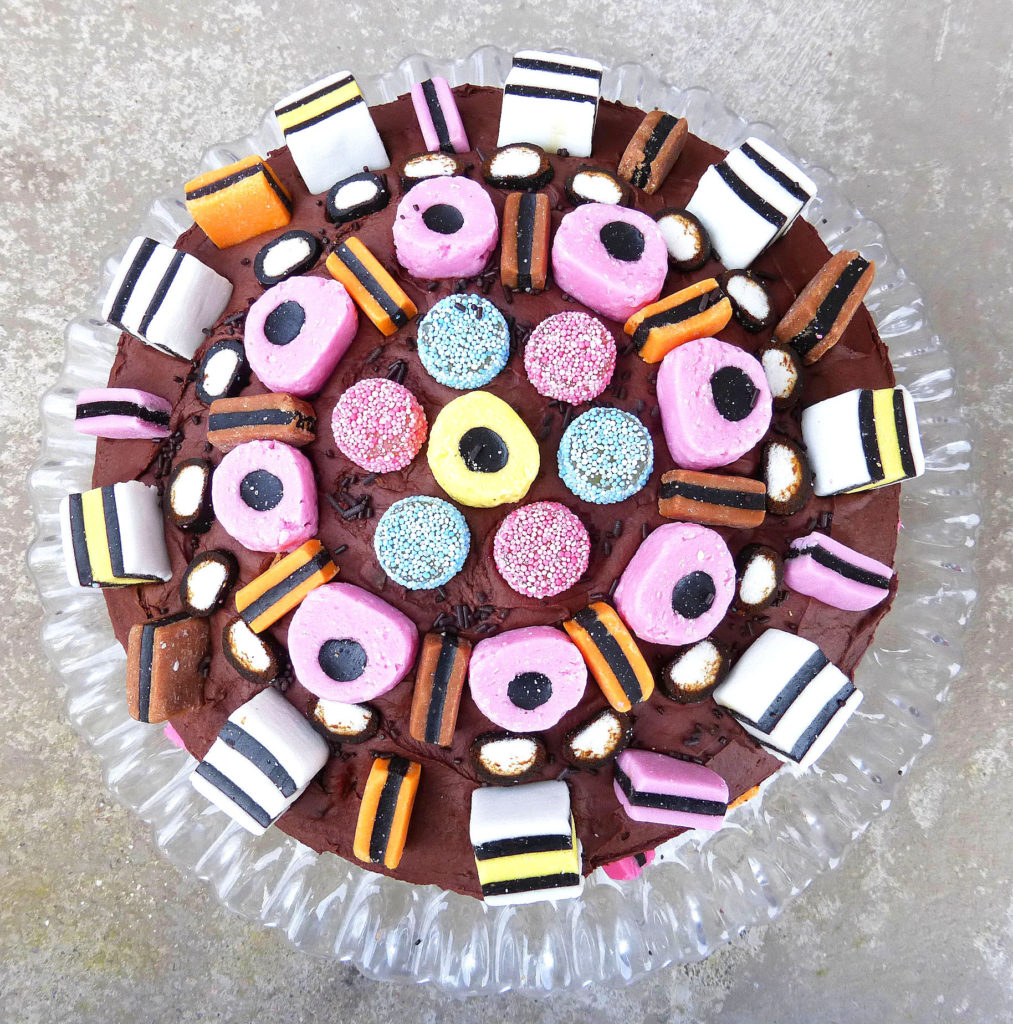 As it happens, no self-inflicted torture was necessary. The lure of chocolate cake, even one flavoured with liquorice, was just too hard to resist. And boy, I am glad I was so weak.
After flinging the candy off the top in the direction of the liquorice lover (because I have my limits), I gingerly tried a nibble of cake (hah, right. I don't do anything gingerly and nibble is not in my vocabulary).
Taking a deep bite, and one for the team, I was pleasantly surprised. A second mouthful later and I was extolling the virtues of liquorice to anyone who would listen. Make no mistake, the liquorice flavour was there, but it was so mild that all it did was give the cake a gorgeous, unusual taste.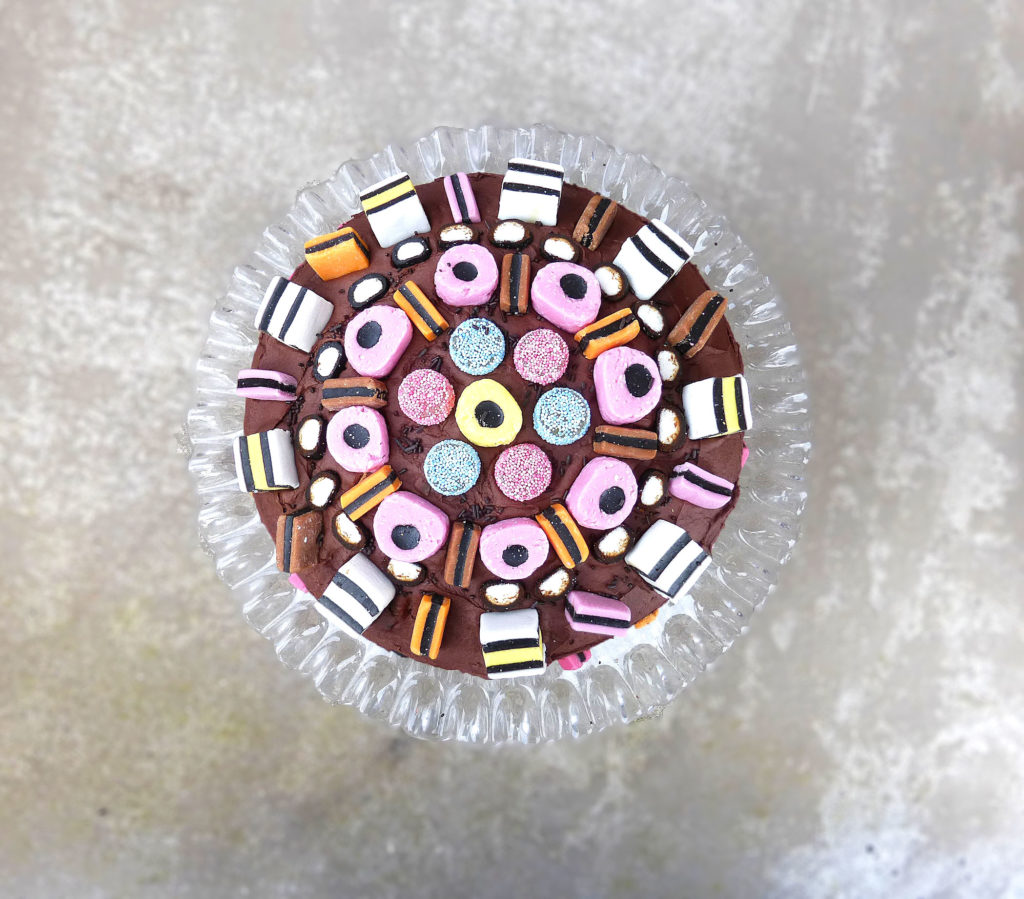 That said, if you don't like liquorice, p'raps it's best you looked for an alternative. Don't panic, though. No need to miss out on cake! Try this Chocolate Overload Cake instead – it's the same chocolate cake recipe, but without a hint of liquorice. Result!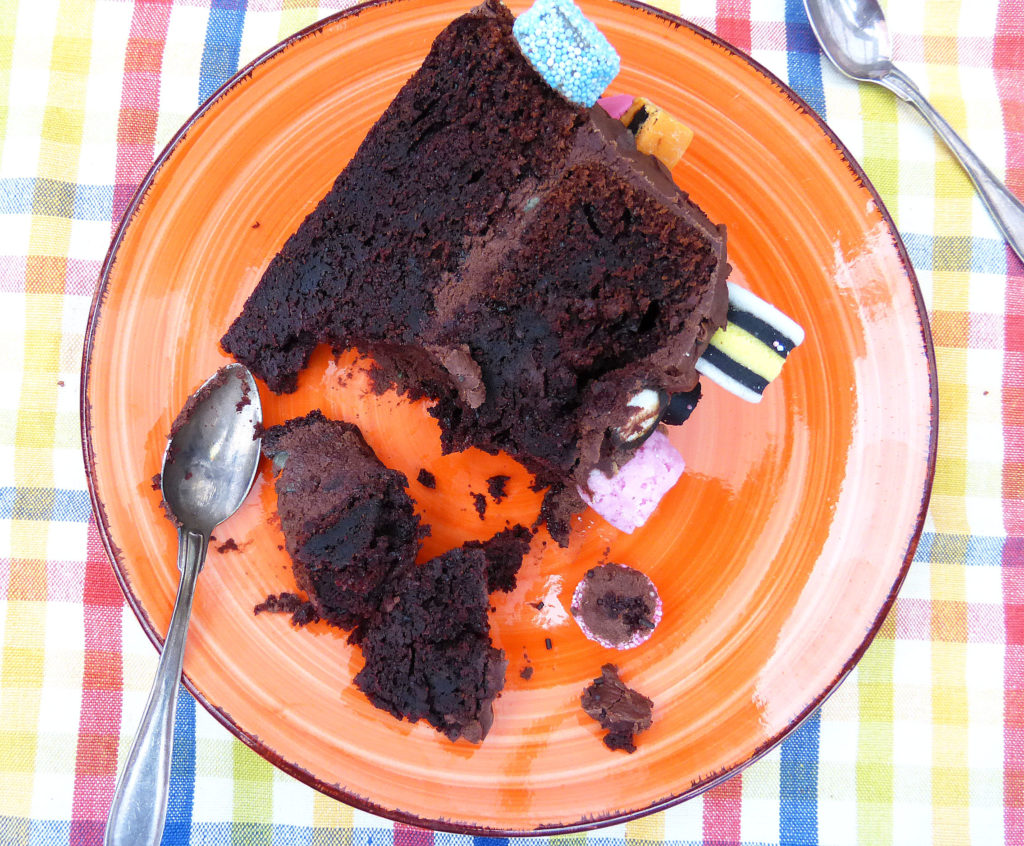 Although it might look a bit tricky, this cake is simpler to decorate than it perhaps initially seems. All you need are nimble fingers and a plan of where you are going to place everything (I sat for about an hour working it out on a piece of paper before trying to attach it to the frosted cake). But that's where the difficulty ends. The rest is just a regular, frosted layer cake.
This is a fairly large cake, making it perfect for birthdays and celebrations, and was more than enough for 12 slices.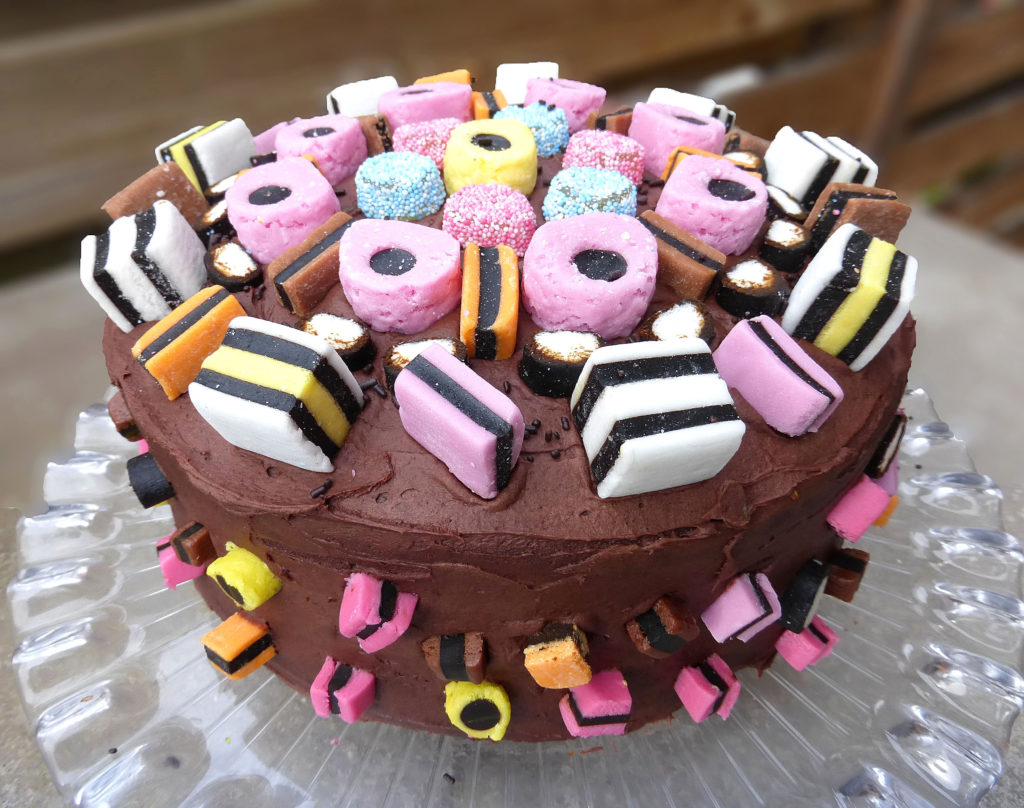 Liquorice Allsorts Celebration Chocolate Fudge Cake
---
Ingredients
Cake:

2 cups (280g) plain (all-purpose) flour
2 teaspoons vanilla sugar (see notes - 1)
1 cup (80g) cocoa powder
1 teaspoon baking powder
1½ teaspoons baking soda
1½ cups (300g) white sugar
1/2 cup (90g) brown sugar
1 cup (250ml) milk
3/4 cup (180ml) vegetable oil
3 large eggs
1/2 cup (45g) chopped liquorice-flavoured chocolate (see notes - 2)
1 cup (250ml) hot brewed coffee (see notes - 3)

Frosting:

1/3 cup + 2 tablespoons (100g) butter
1/3 cup + 2 tablespoons (100g) cream cheese
1-2 cups (100-200g) icing sugar
3 tablespoons (50g) cocoa
3/4 cup (70g) chopped liquorice-flavoured chocolate (see notes - 2)

Decoration:

Liquorice Allsorts (or any other kind of liquorice candy)

NOTES

1 - I use vanilla sugar in my cakes. If this is not available or you'd prefer to use extract/essence, here is a handy article which explains substitutions.
2 - I used chocolate flavoured with liquorice for a milder taste. If you love liquorice, use regular milk chocolate but add a touch of liquorice extract/essence instead.
3 - if you don't have brewed coffee, use the same amount of hot water with one or two tablespoons of instant coffee. Or, just use hot water with no coffee (although it really does accentuate the chocolate flavour).
Directions
~ Pre-heat the oven to 180°C (230°F) and line or grease two 8 inch pans.
~ In a large bowl, sift the flour, vanilla sugar, cocoa, baking powder and baking soda. Stir in the white and brown sugar.
~ In a separate bowl, whisk the milk, oil and eggs until well combined.
~ Add the wet ingredients to the dry and fold together. Add the chopped chocolate. Finally, slowly add the coffee or hot water (it should be recently boiled) and stir until everything comes together. Don't overmix, there will still be a few lumps left in the batter (also note that the batter is supposed to be runny, so don't panic!).
~ Divide between the two prepared pans as equally as you can and then bake side by side for around 30-35 minutes. The cakes are ready when they bounce back when gently pushed on the top, and an inserted skewer comes out clean.
~ Remove from the oven and leave the cakes in the pans for around 15 minutes before turning out onto a wire rack to cool completely before decorating.
~ For the frosting: beat the butter and cream cheese together until nice and smooth (I used a food processor). Sift 100g (1 cup) icing sugar and cocoa together and beat it in. Add more icing sugar as needed until you have a thick, spreadable consistency. Finally, add the chopped chocolate and stir in.
~ To assemble the cake: carefully slice off the tops of both cakes (if they are uneven). On the flat side of one of the cakes, smooth over around 1/4 of the frosting. Place the second cake on top and cover the sides and top with the remaining icing. If you wanted, you could crumb coat the cake, but I didn't bother this time. You don't need tons of frosting, just enough for the candy to stick to. Too much and the sweets will sink in and be covered by frosting.
~ For the decoration: I used whole Liquorice Allsorts on top of the cake and chopped up some others and stuck them to the side.
~ Pop in the fridge for a while just to allow the frosting to harden so the candy stays in place, then enjoy!
7.8.1.2
99
https://www.theculinaryjumble.com/liquorice-allsorts-celebration-chocolate-fudge-cake/