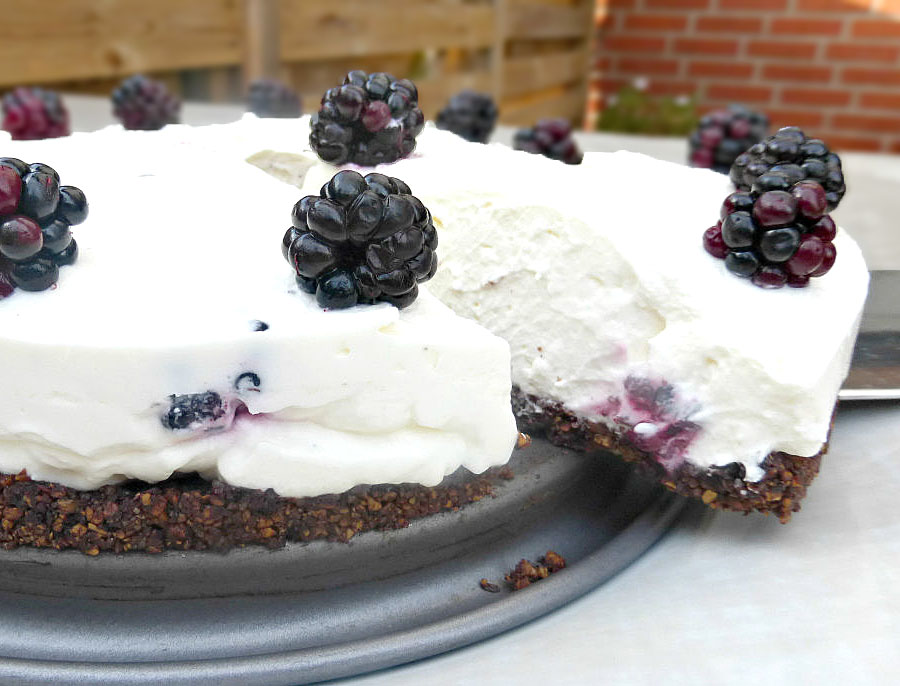 So, this week, I've taken a light-hearted look at the downfalls of being a food blogger. It is tongue in cheek and meant to read as amusing (I try), but I know many food bloggers who feel my pain.
If you are a food blogger, or ever wondered what it was like for us, have a look at my post on the Huffington Post "12 reasons why it sucks to be a food blogger".
Anyway! Back to the food! It's wild blackberry season and I've been out with my youngest gathering nature's finest. He's less scared of spiders than I am (or perhaps it just doesn't occur to him that they could be hanging anywhere in those tangle of bushes), and climbs right in to the hard to reach spots.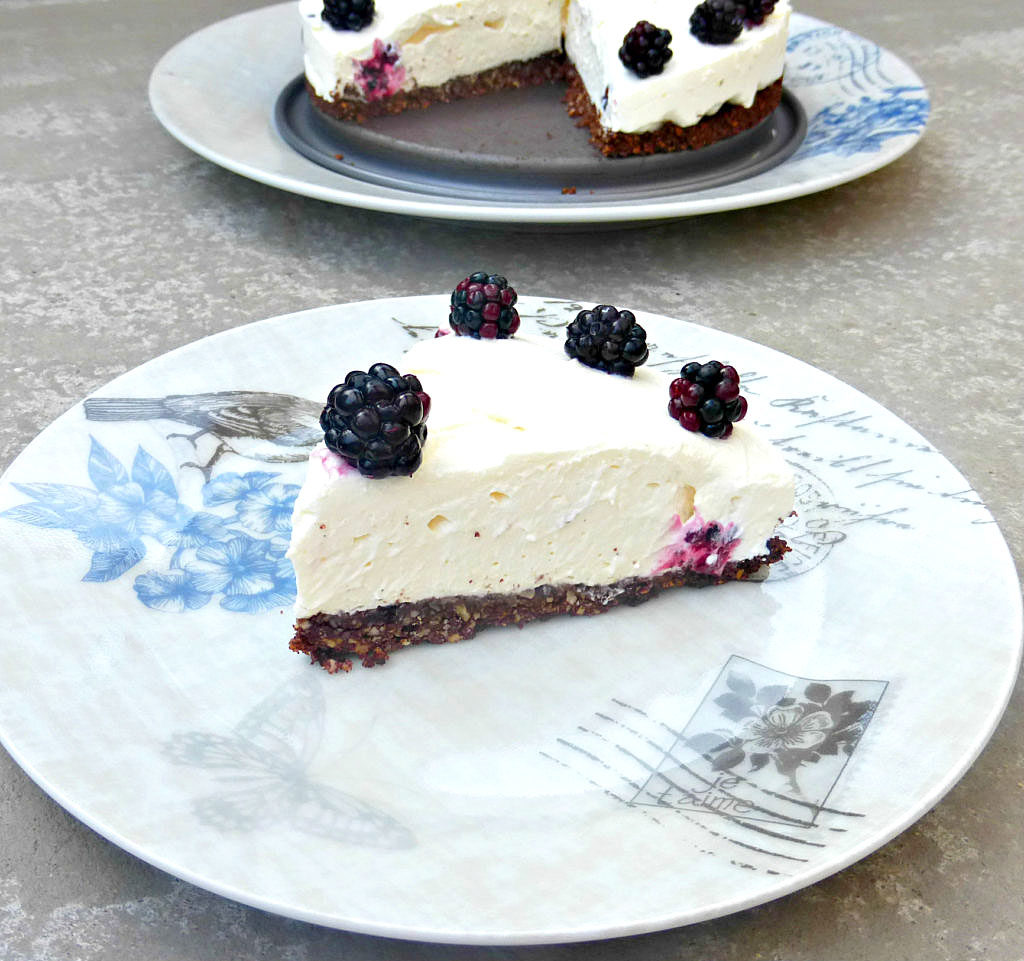 Although our wild blackberries are smaller than store bought varieties, I love the thought of getting something for nothing. I also find blackberry picking really relaxing.
As a kid, I would rush to go "brambling" before everyone else beat me to the juiciest, biggest specimens, but it seems that here in Sweden they aren't as bothered about picking their own blackberries, meaning there are plenty to find.
I came up with this recipe to use up mascarpone I had in the fridge. I thought about adding cream cheese with it, but decided on using cream instead. If you wanted to lighten the recipe a little, I think thick Greek yoghurt would go really well.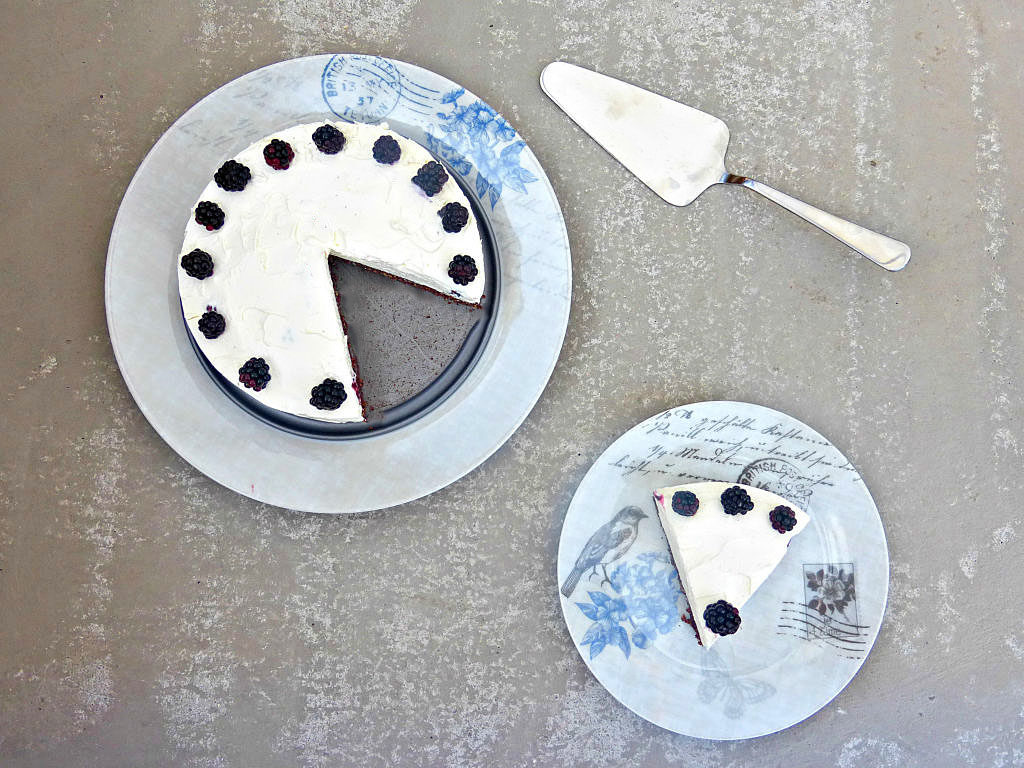 The filling is not sweet at all (I felt it was just right), so if you want to add more icing sugar, you could (it won't alter the texture or setting process in any way).
The crust for this dessert is based on my Gluten Free Lighter Caramel and Almond Pie, but with hazelnuts in place of almonds. Using nuts in a base for cheesecakes or other desserts makes a tasty gluten free alternative to flour versions. 
Wild Blackberry and Mascarpone Cream Pie (Gluten Free)
---
Ingredients
Crust:

80g (1/2 cup) hazelnuts
20g (1 tablespoon + 1 teaspoon) butter or coconut oil (melted)
1 tablespoon brown cane sugar
1 tablespoon cocoa

Filling:

150ml (just over 1/2 cup) whipping cream
250g (1 cup) mascarpone
1 teaspoon vanilla sugar (see notes)
2-3 tablespoons icing sugar (dependent on personal taste)
Around 10 small blackberries (extra for decoration)

NOTES

I always use vanilla sugar in my baking because vanilla extract/essence is not so easy to get here in Sweden. Here's a useful article on the difference between them all, and how to substitute.
Directions

~ Pre-heat the oven to 175°C (350°F).

~ Place the hazelnuts in a food processor and blitz until they are fairly fine.

~ Melt the butter/oil for the base and leave to cool for several minutes. Then, add in the ground hazelnuts, cocoa and brown sugar, stirring to combine. Press into a spring-form tin (mine was 18cm) and bake for around 10-12 minutes (watch carefully because you don't want the crust to burn). Set aside and allow to cool completely.

~ In a large bowl, combine the mascarpone, vanilla sugar and icing sugar. Whip the cream until peaks form and then fold into the mascarpone mixture. Finally, gently fold in the blackberries, just until evenly distributed.

~Dollop over the cooled base and smooth with a palette knife. Place in the fridge for several hours to firm up a little. Before serving, arrange several blackberries on the top. Enjoy!

7.8.1.2

85

https://www.theculinaryjumble.com/wild-blackberry-and-mascarpone-cream-pie-gluten-free/

The Culinary Jumble