These British style spelt cinnamon sultana scones are perfect for afternoon tea.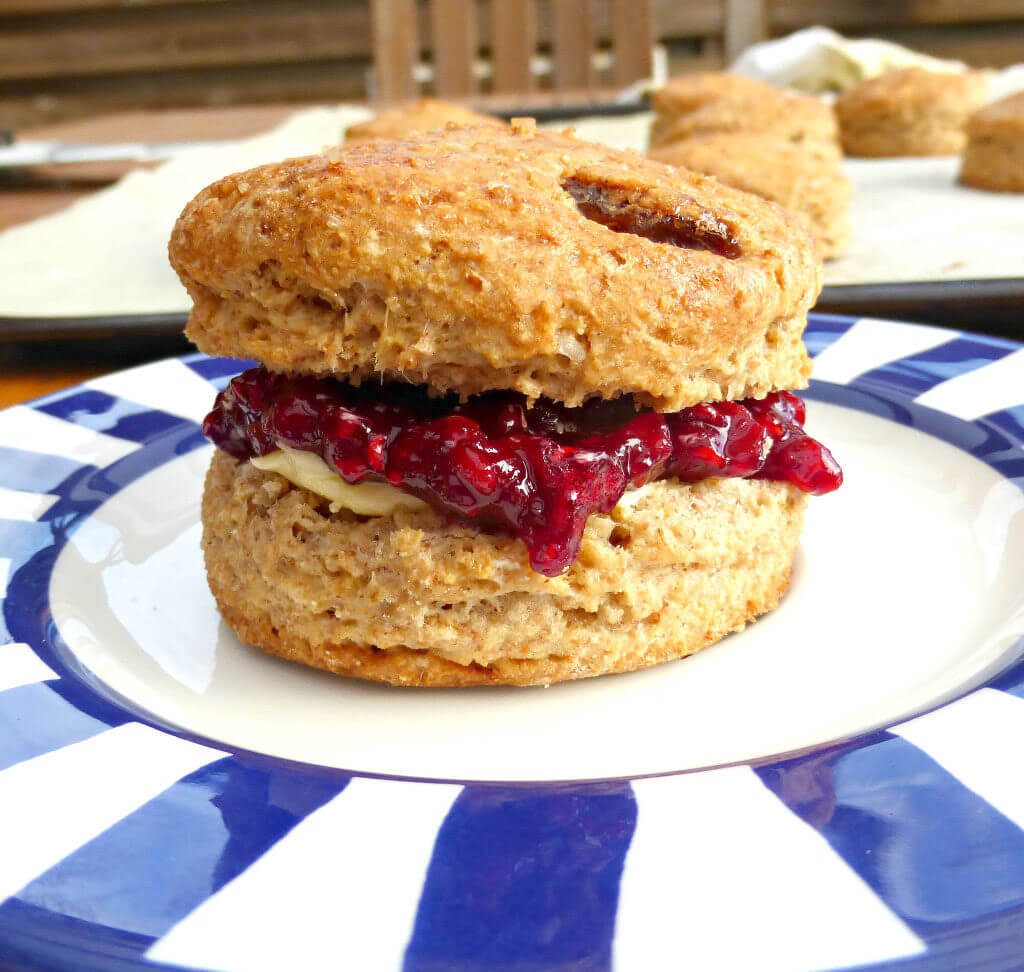 Although at first sight these might look rather decadent, they are actually pretty healthy. Made with wholemeal, spelt and oat flour, these have only a small amount of brown sugar and are low in fat, too.
These are British-style scones and those of you outside of my home country may find they taste a little different to what you are used to. There are some differences between American and British scones which naturally affect texture and taste.
I served mine with homemade raspberry jam (but strawberry or berry chia jam would also work amazingly well) and a little butter. You could even add a touch of whipped cream and make them a special treat. However, although they taste amazing with all the additional touches, they are also pretty dang good all on their own.
The measurements below made nine scones.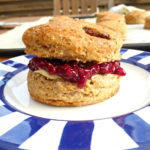 Wholemeal Spelt Cinnamon Sultana Scones (with Homemade Jam)
Ingredients
Scones:
110g

(1 cup) wholemeal flour

100g

(3/4 cup) spelt flour

50g

(1/2 cup) oat flour (or grind up regular oats)

3/4

teaspoon

cinnamon

1

teaspoon

baking powder

1/4

teaspoon

bicarbonate

(baking soda)

20g

(1 tablespoon + 1 teaspoon) butter

30g

(2 tablespoons) sultanas

1

egg

75ml

(1/3 cup) milk

30g

(2 tablespoons) Greek yoghurt (I used 2%)

1

egg

(for the egg wash)

brown sugar

for sprinkling
Homemade Raspberry Jam:
130g

(1 + 1/4 cups) raspberries (fresh or frozen)

2

tablespoons

honey

3

tablespoons

water
Instructions
Pre-heat the oven to 200°C (400°F) and line a large baking tray with non-stick or grease-proof paper.

Mix all flours in a bowl along with the cinnamon, bicarbonate and baking powder, and then rub in the butter.

Beat the egg and add the milk and yoghurt and stir to combine. Add to the dry ingredients and mix until the ingredients come together as a dough.

On a floured surface, roll out the dough until it is about 1/4 inch thick. Use a medium-sized round cutter and cut out nine circles. Place on the baking tray and wash them with a little beaten egg and then sprinkle a touch of brown sugar over the top.

Bake in the oven for around 15-18 minutes until they are nice golden brown. Leave to cool on a wire rack.

For the homemade raspberry jam: place the raspberries, honey and water into a pan and cook for around 25-30 minutes. Remove from the heat and allow to cool completely before using it (this will ensure that it is nice and thick). Spread over the cooled scones with a touch of butter or whipped cream. Enjoy!