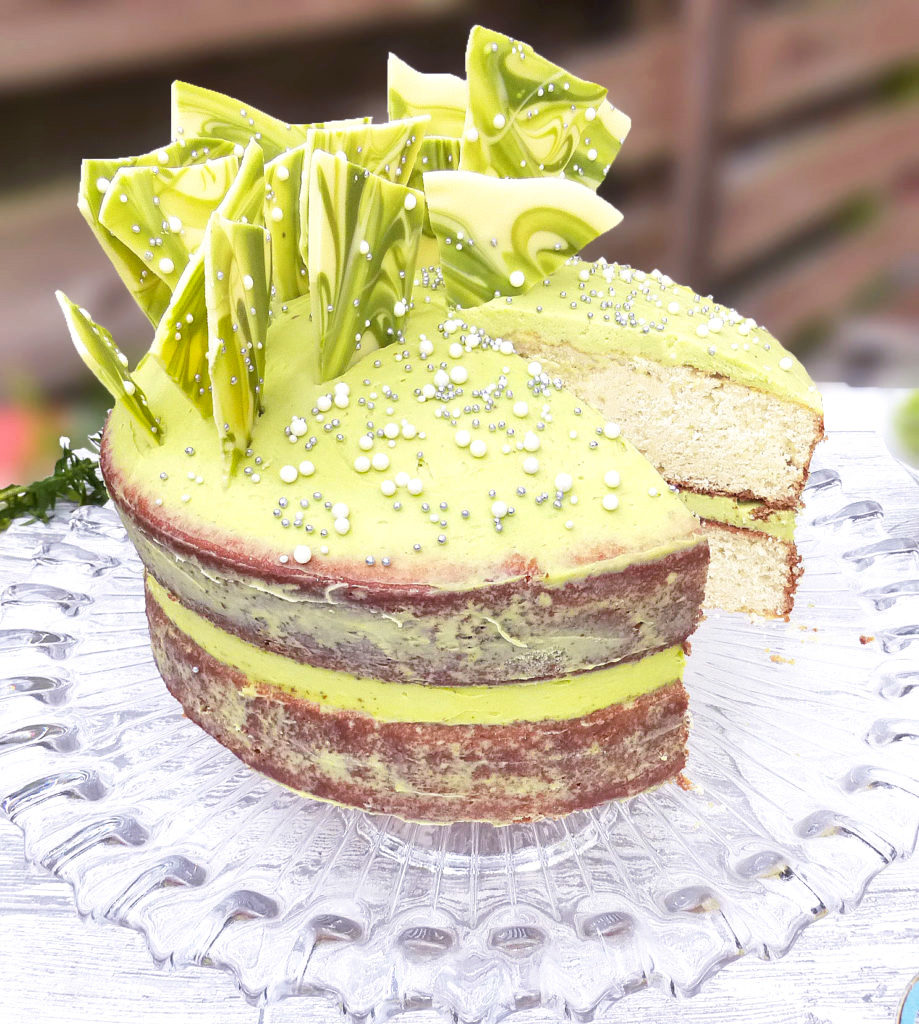 Like many households, we have a tradition whereby every birthday is celebrated with a cake.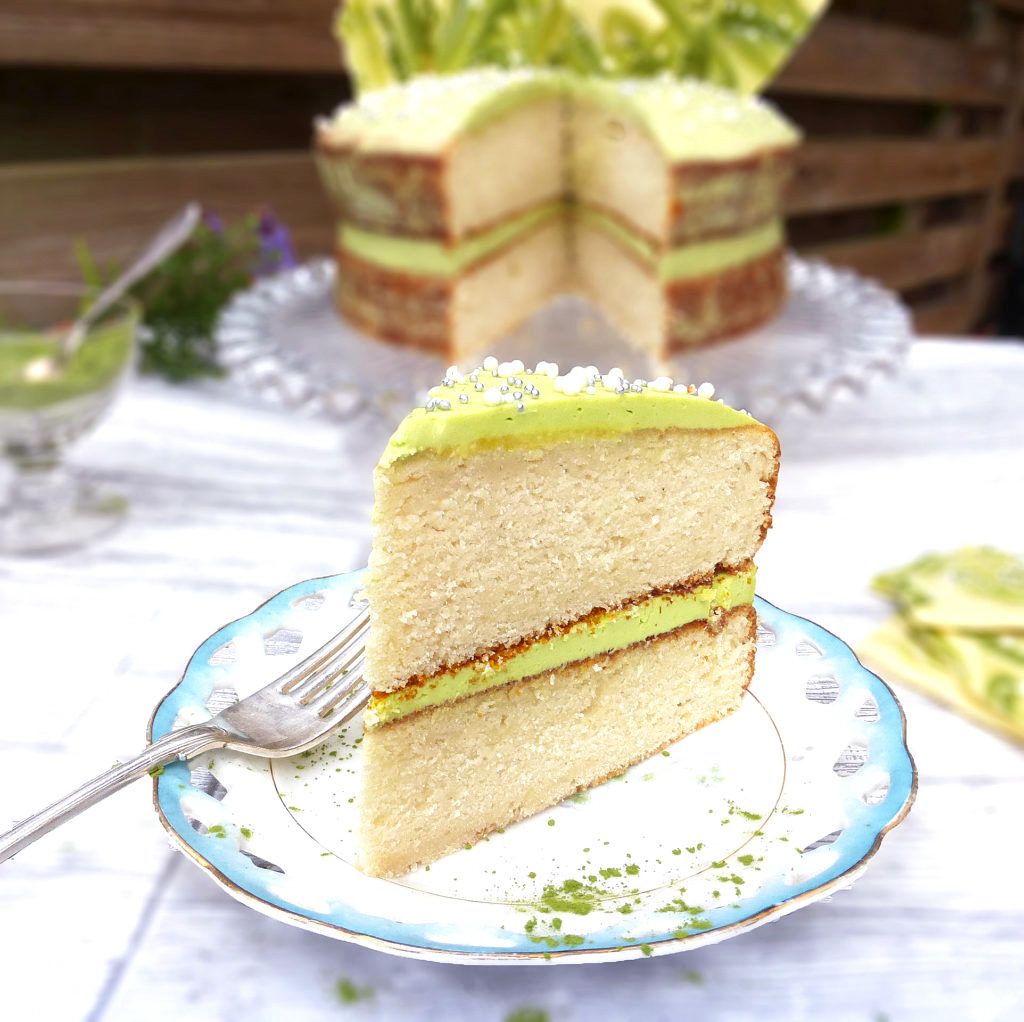 When my kids were small, we often cheated and bought a themed cake from the local supermarket. Now, the food blogger in me uses birthdays as an excuse to be a little extravagant. And why not?
I am not a natural layer cake maker. Really, I'm not. I can't frost well, and every time I pop a cake pan in the oven, I am plagued with self-doubt.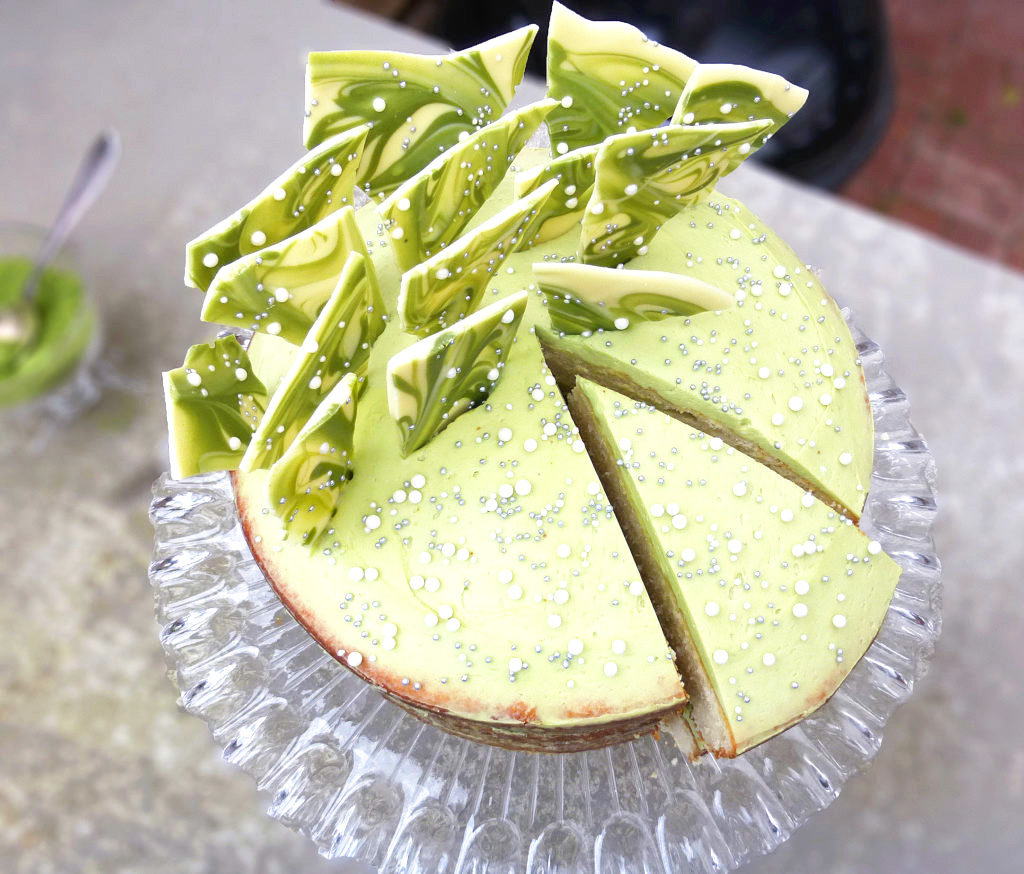 My first attempt saw me spend ten minutes trying to cajole (then threaten by banging and shaking vigorously) the baked cakes out of their tins in one piece. Unsuccessfully. Think ten pieces. That will teach me to be lazy (because not using parchment paper on the bottoms of the tins saved, oh, like all of five seconds).
The second attempt went better. The cakes rose nice and high with fairly even tops (I am queen of the domed cake, usually) and pretty much flew out of the tins (that five seconds was really well spent).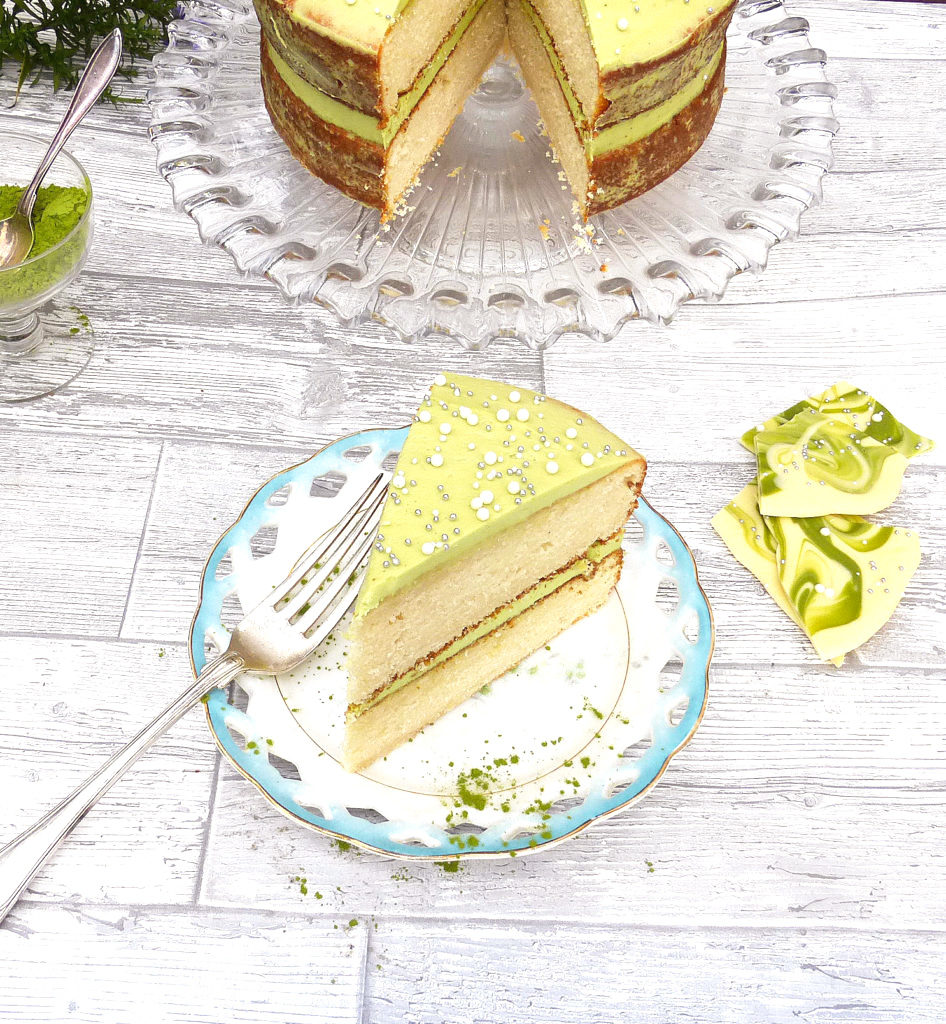 The decorating is often fairly spectacular on our family birthday cakes (it doesn't come more OTT than my Overload Cake). This one had to be even more special as it was in celebration of my oldest son becoming a teen. Imagine that. We have a teenager.
His request was simple – a white chocolate cake. Hands up, it was me who wanted to be all fancy pants and use matcha to colour the frosting. And some white chocolate matcha swirled bark for good measure.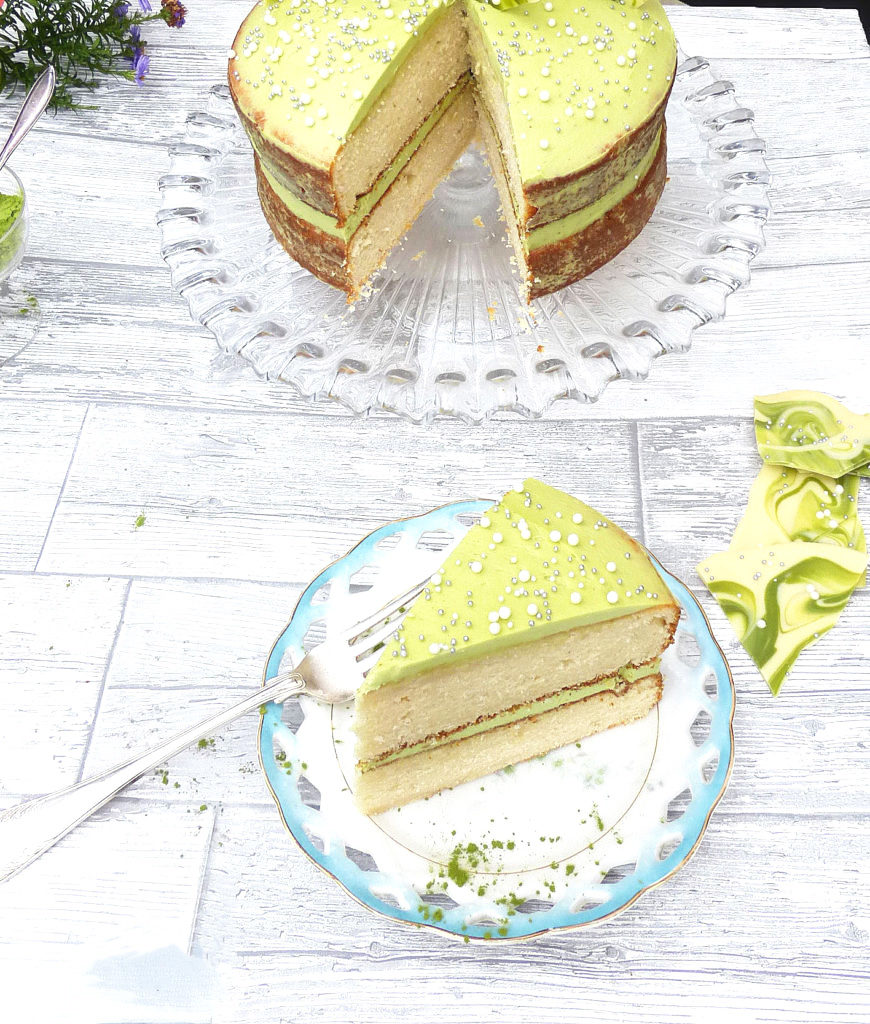 I love food in pretty hues but I'm not a fan of artificial food colouring (the only type we can seem to get in Sweden). After the success of using matcha to colour my Coconut and Matcha Layer Cake, I wanted to see how well it fared in frosting. Oh, it was pretty. So much so that the photos really don't do it justice.
I was a little concerned about how the matcha might affect the taste of the white chocolate frosting. However, although you can taste something a little different, you would never be able to put your finger on what it was. And when I say different, I don't mean bad. One thing I did notice though, is that the taste of the matcha does intensify over time.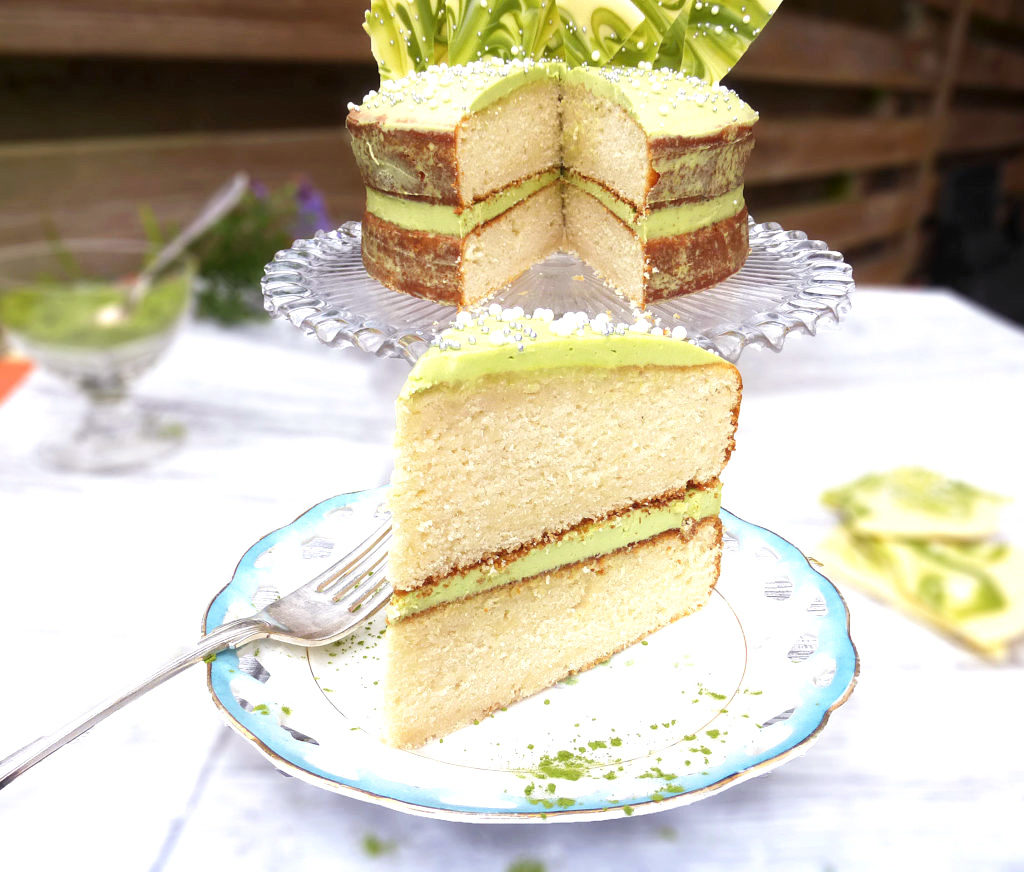 The cake is fairly dense and not too sweet. The frosting is made with more cream cheese than butter, giving it a lighter taste. I also gave the cake a "naked" look, which meant that overall, there was nothing cloying or sickly. Put it this way, I could have eaten three slices and not felt sick.
The shards are made from a simple white chocolate bark and added a finishing touch which pulled everything together. The cake is big enough to feed 10 or 12 people.
White Chocolate Layer Cake with a White Chocolate Matcha Frosting
---
Ingredients
Bark:

200g (1 + 2/3 cups) white chocolate
1 teaspoon matcha
Sparkly decorations (if using)

Cake:

185g white chocolate
113g (1/2 cup) butter (softened)
150g (3/4 cup) sugar
4 eggs
250ml (1 cup) sour cream (if you're in Sweden, I used gräddfil)
250g (2 cups) plain (all-purpose) flour
3/4 teaspoon baking soda
1/2 teaspoon salt (if your butter is unsalted)
1/4 teaspoon baking powder
1 teaspoon vanilla sugar

Frosting:

50g (1/4 cup) butter
200g (just shy of 1 cup) cream cheese
200g (1 + 2/3 cups) white chocolate
1 tablespoon matcha
150-250g (around 2 cups) icing sugar

Recipe adapted from:

Easy Dessert

(the original link to the actual recipe no longer exists).
Directions
~ For the bark: melt the chocolate. Take out around 1-2 tablespoons of chocolate and put it in a separate bowl, mixing in the matcha powder. Set to one side. Using a palette knife, spread the other chocolate thinly over a large, flat baking tray lined with grease-proof (baking) paper, shaping it into a rough rectangular shape. Take the retained chocolate and matcha mixture and using a knife, swirl it through the chocolate you've already spread out. Sprinkle with decorations (if using) and then place in the fridge to set.
~ For the cake: pre-heat the oven to 175ºC (350ºF). Grease and line the bottoms of two 8 inch cake tins. Melt the white chocolate and set to one side.
~ Beat the butter and sugar together until light and fluffy. Add the eggs one at a time, beating between each egg. Add the melted chocolate and sour cream (gräddfil), and mix to evenly combine.
~ Sift together the flour, baking soda, salt (if using), baking powder and vanilla sugar. Gradually mix into the wet ingredients a bit at a time. Divide evenly between the two cake tins and bake for around 25-30 minutes until the tops bounce back when gently pushed and an inserted skewer comes out clean. Leave to cool for a while in their tins then turn out onto a wire rack to cool completely.
~ For the frosting: melt the chocolate and set to one side. Beat the butter and cream cheese together until nice and smooth. Add the white chocolate and mix in. Combine the matcha with one cup (130g) of icing sugar and stir in to the wet ingredients. Continue to add more icing sugar until the frosting is sweetened to your personal taste.
~ To assemble: place one cake top side down and spread around 1/4 of the frosting over the flat side. Place the other cake on top. Spread the remaining frosting over the top and sides. If you make it a "naked" cake like mine, you will have a little frosting left over.
~ Snap the chocolate bark into shards (it helps if one edge is "sharp") and push through the frosting into the cake. Sprinkle with any other decoration you are using and place in the fridge to harden the frosting, allowing the the bark shards to stay in place. If you keep the cake in the fridge, remove it an hour or two before serving. Enjoy!
7.8.1.2
262
https://www.theculinaryjumble.com/white-chocolate-layer-cake-with-a-white-chocolate-matcha-frosting/