This simple white chocolate cake has a rich white chocolate buttercream frosting that's to die for.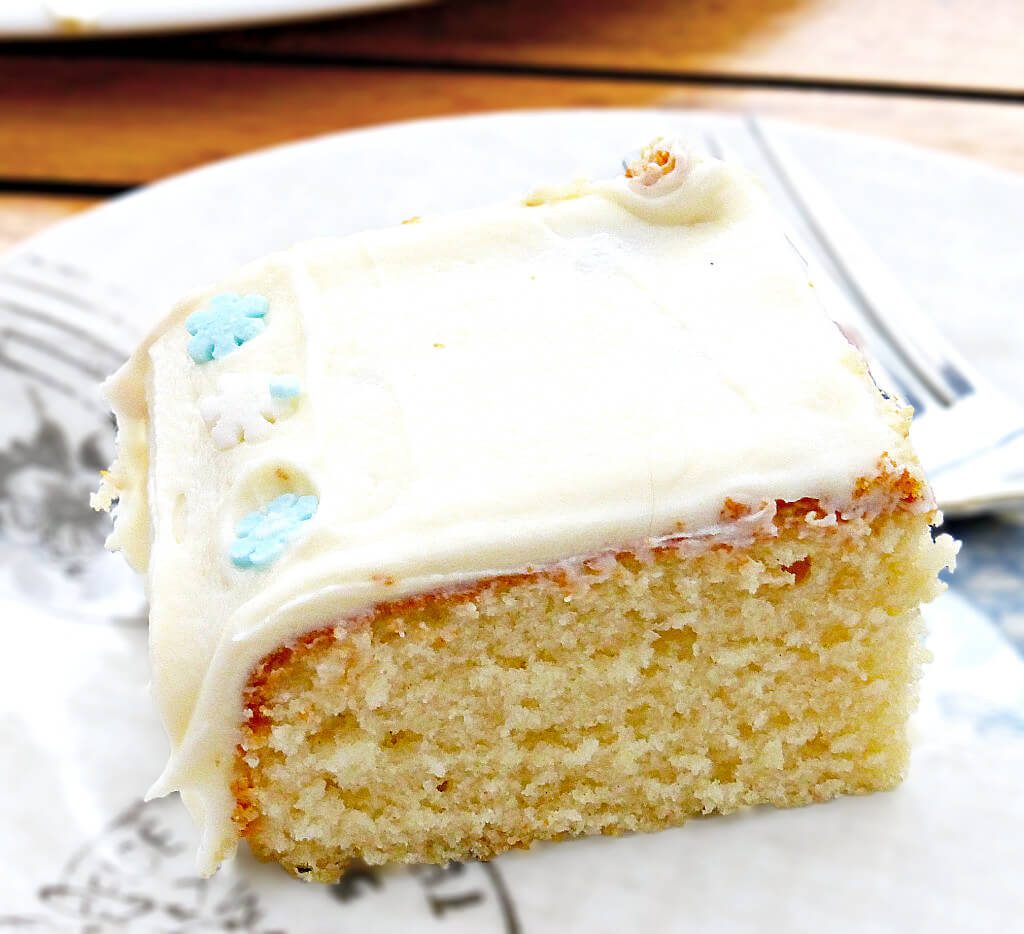 It's been a really exciting week for the Culinary Jumble! My original intentions for the blog were just to share some of my own recipes and it started as a spur of the moment idea when I decided to take a picture of one of my apple pies. As the blog is approaching its first year anniversary, it is amazing to think that I have posted 170 different recipes and have a backlog of around the same number waiting to be published!
Firstly, I have been approached by Homify to write a sponsored post for them – I am a freelance writer and it was so much fun to incorporate my job with the blog (look out for it next week!). I have also been contacted by the After Eight team at Nestle asking my permission to re-create my White Chocolate and After Eight Mousse. All I can say is wow. I love baking and this blog brings me more enjoyment than I ever thought possible – it feels wonderful to be appreciated and acknowledged.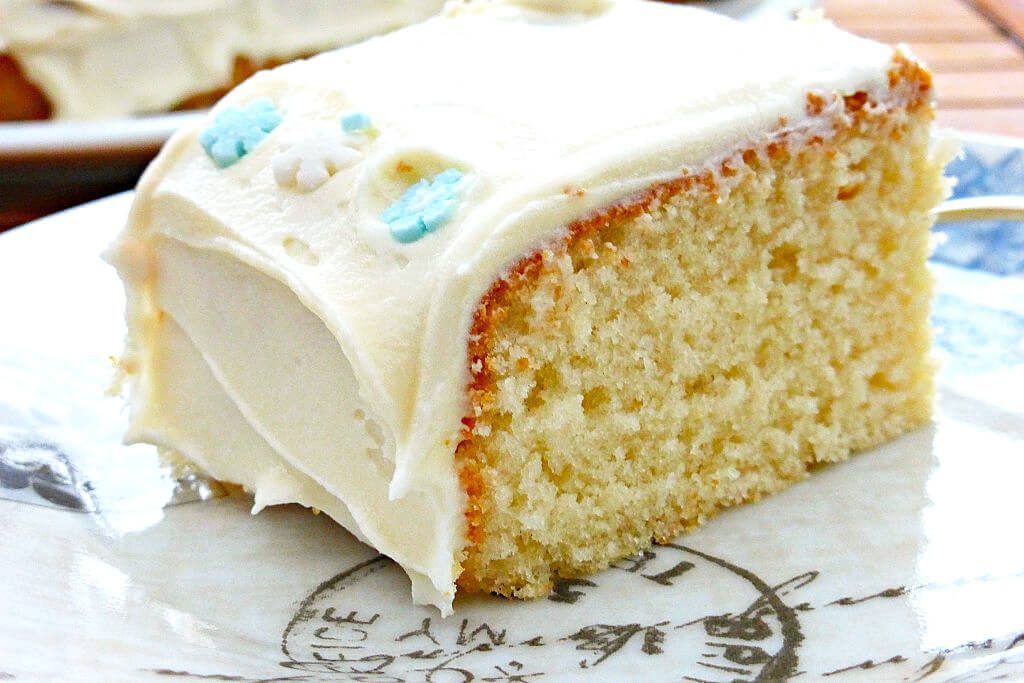 Anyway, back to this gorgeous white chocolate cake which I made for my son's birthday. I was really pleased with it! It is just a simple, elegant, one layer cake with rich butter and white chocolate icing. The cake was definitely thick enough to cut in two if you wanted to frost the middle (although you may need to amend the measurements for the frosting below to make sure you have plenty).
I topped mine with a few decorations but that was more to jazz it up a little to look more like a special birthday cake – they are certainly not necessary and the cake wouldn't be left lacking if you decided to omit them!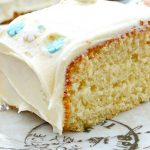 White Chocolate Cake with White Chocolate Buttercream Frosting
Ingredients
Cake:
60g

(½ cup) white chocolate (chopped)

85g

(1/3 cup) butter (softened)

150g

(3/4 cup) sugar

2

eggs

1

teaspoon

vanilla sugar

220g

plain (all-purpose flour)

2

teaspoons

baking powder

pinch

of salt

150ml

(2/3 cup) milk
Frosting:
40g

(1/3 cup) white chocolate (chopped)

50g

butter (softened)

150g

(1½ cups) icing (confectioners') sugar
Instructions
Pre-heat the oven to 175°C (350ºF) and prepare a cake tin (I used a rectangle one, slightly larger than 8″ x 8″).

For the cake: melt the chocolate and then set to one side.

Using a mixer or electric whisk, beat the sugar and butter until light and fluffy. Add in the eggs one at a time followed by the melted chocolate.

In a separate bowl, mix the dry ingredients together. Then, alternating the dry ingredients with the milk, add to the wet ingredients until the batter is nice and smooth.

Bake for around 30-35 minutes until an inserted skewer or toothpick comes out clean. Leave to cool in the pan for around ten minutes and then turn out on to a wire rack and allow to cool completely before icing.

For the frosting: melt the chocolate and set aside to cool. In a bowl, beat the butter and icing sugar together and then stir in the white chocolate, mixing until well combined. If the frosting is too thin, add more icing sugar a little at a time; alternatively, if it is too thick, add a drop of milk until the right spreading consistency is reached. Spread all over the cake and decorate (optional). Enjoy!
Recipe Notes
Please be aware that measurements from grams to cups may not be totally accurate. I use online converters so if you feel that something doesn't seem right, it may be a good idea to work out your own conversion.