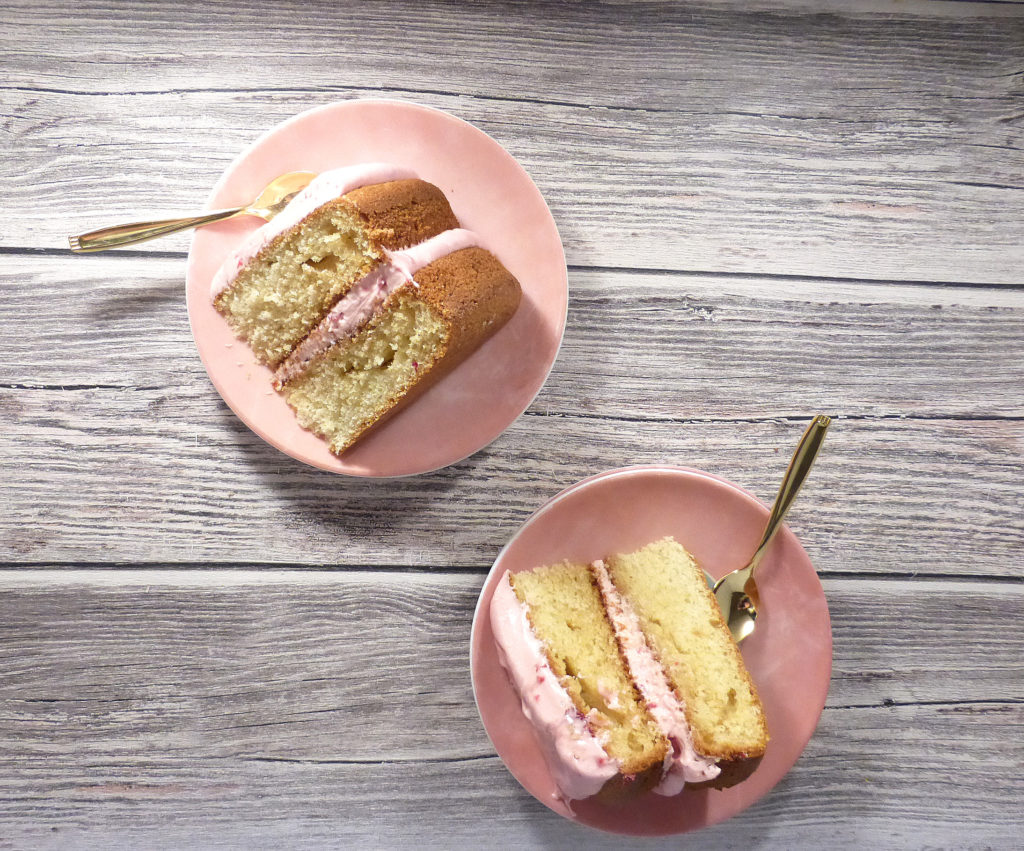 Up on the blog today, we have an olive oil cake.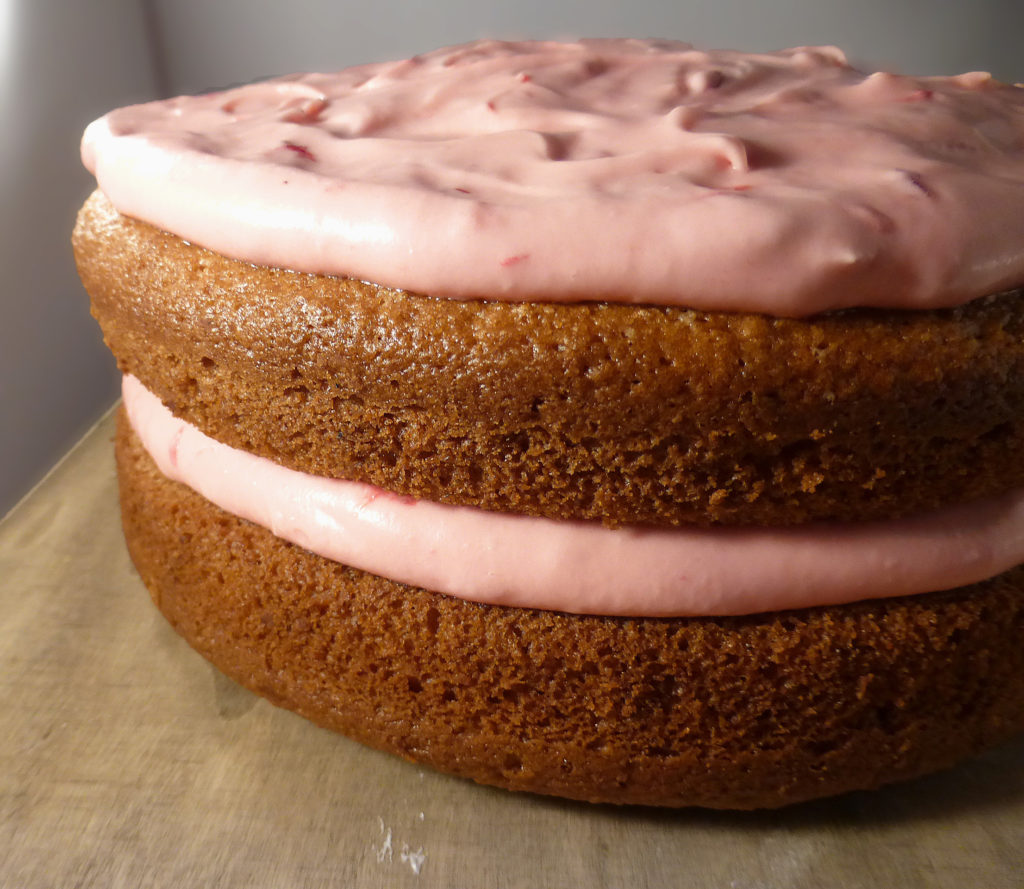 I would love to say I planned an olive oil cake. I didn't. Nope, my plan was to use butter. Only some greedy bugger in my house had eaten it all.
Okay, okay. What I should say is: some forgetful bugger didn't buy any last time she went shopping. Ahem. That would be me.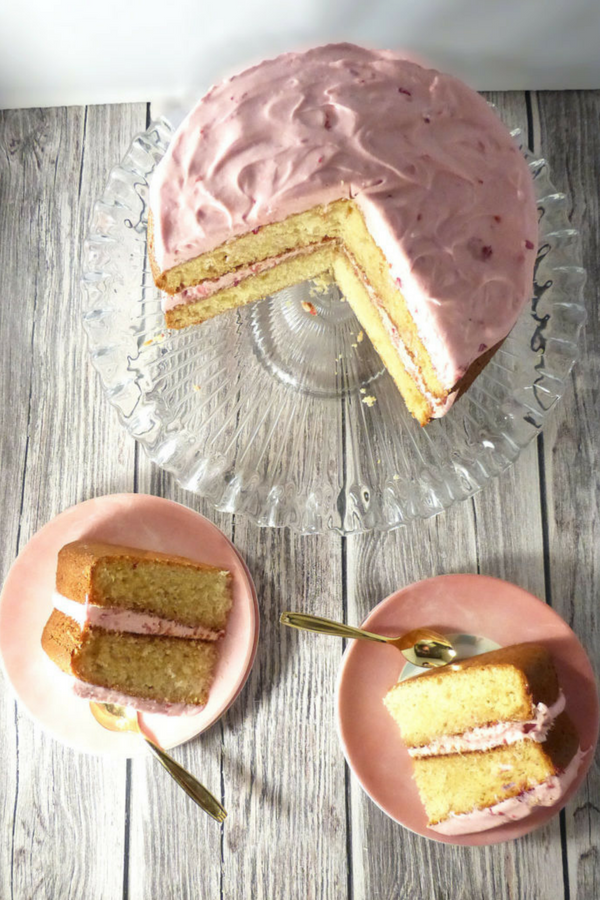 My second plan was to have a mascarpone strawberry frosting. Only, I was exuberant with the mixing and made it too runny, rendering it beyond useless. I had to throw it away, along with the only strawberries I had with it.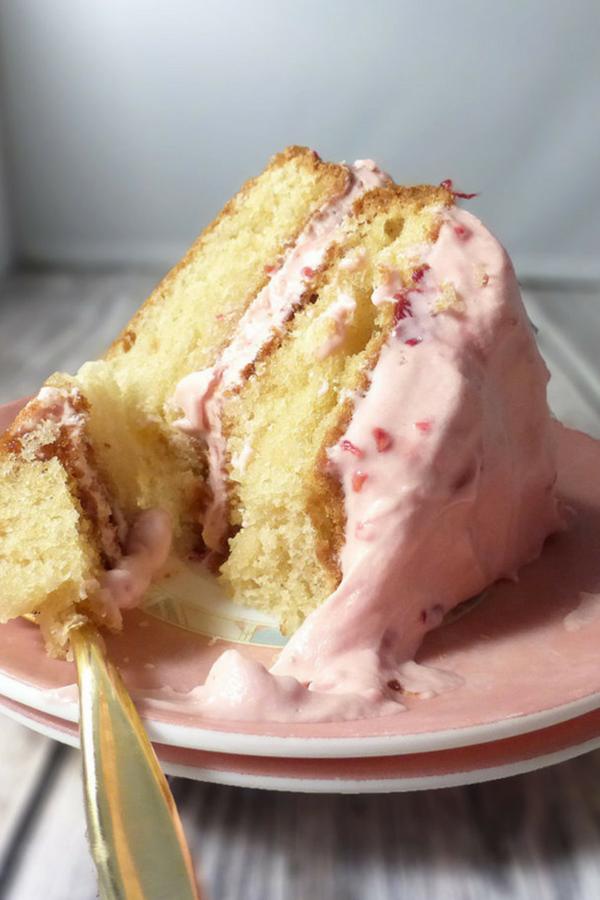 So, the end result was an olive oil cake with a raspberry and cherry frosting. Out of a catalogue of errors came a beautiful cake with an amazing taste.
The sponge is achingly soft and vanilla-y (vanilla-ish?). The rather unusual combo for the frosting makes it sweet, tangy, and just to die for.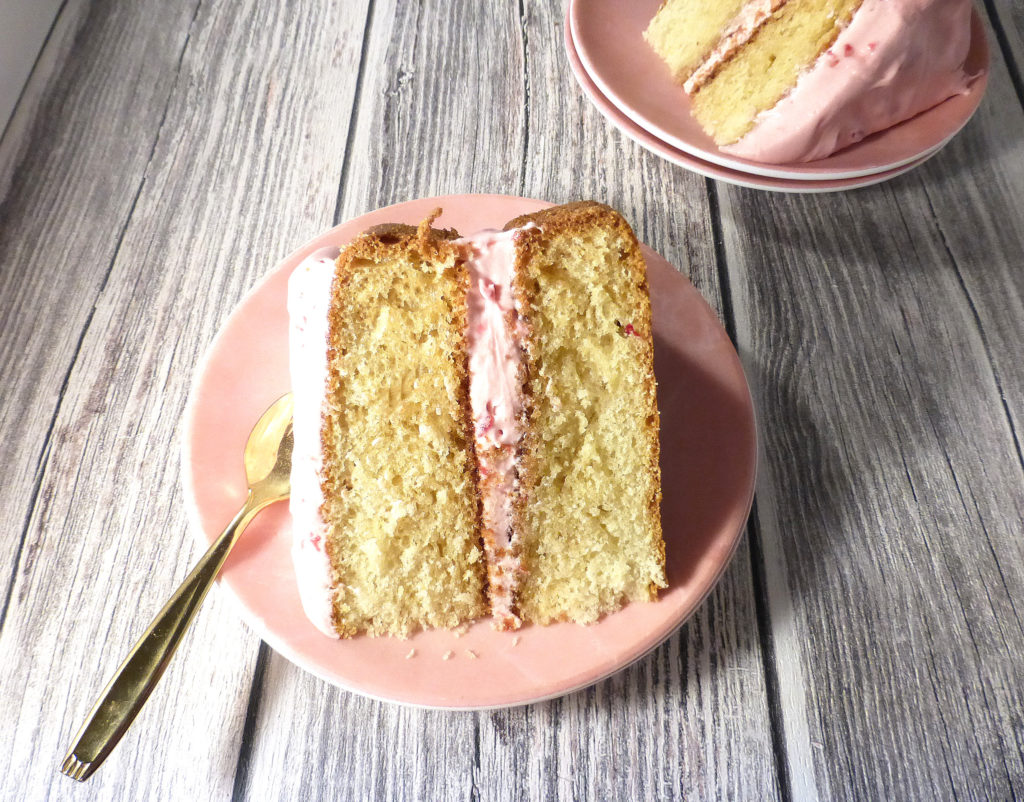 The cake is made with gluten free flour but you would never be able to tell. The crumb is spot on. The other day, a reader asked me a question about my gluten free cashew shortbread. They said it looked amazing but their only experience with gluten free made them feel like they were eating cardboard. Yep, that I can relate to. Anyone else?
It's such a shame that store-bought gluten free items are often so unappetising. Why is that? Nothing I make ever tastes like cardboard. Ah, bread. Yes, gluten free bread is not the best, even when homemade. I'm working on it STILL. Watch this space. But everything else? You'd be hard pressed to find much difference.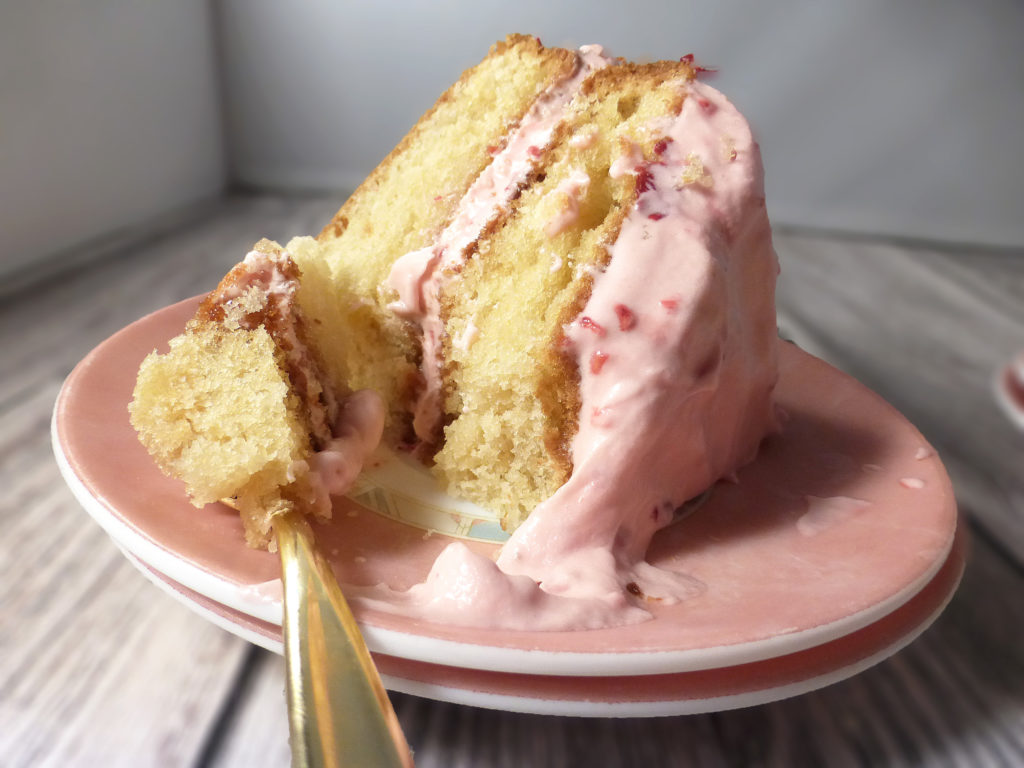 Things have come a long way in the three years since I started blogging. Gluten free blends are now so good that it's just a case of a straight swap with regular flour, at the same ratio. Like in my Jaffa Cake Sponge. Certainly takes a lot of the guesswork out of it all. This means that gluten free cakes look and taste identical to normal cakes. I'd call that a win!
Vanilla Olive Oil Cake with Cherry & Raspberry Frosting (gluten free)
---
Ingredients
Cake:

2 eggs
190g (1 cup) sugar
250g (2 cups) gluten free flour
1 teaspoon baking soda
1 teaspoon baking powder
1 teaspoon salt
150ml (2/3 cup) olive oil
100ml (1/2 cup) milk
110 ml (1/2 cup) greek yoghurt
1½ teaspoons vanilla extract/essence

Raspberry and Cherry Frosting:

50g (1/3 cup) frozen raspberries and cherries (defrosted)
70g (1/3 cup) butter
110g (1/2 cup) cream cheese
250g (2½-3 cups) icing sugar
Directions
~ For the cake: Follow the directions for the two layer Lemon Naked Cake . Please note: I substituted the flour for gluten free and the lemon juice, zest and buttermilk for Greek yoghurt and milk. I also added more vanilla extract.
~ For the frosting: beat the butter and cream cheese together until smooth. Add the icing sugar. Mash the fruit (or if you prefer, blend it) and add to the cream cheese mixture and beat just until everything is well combined.
~ Assembly: Place one cake top down and smooth over half of the frosting. Place the other cake on top and spread over the remaining frosting. Slice and serve. Enjoy!
7.8.1.2
290
https://www.theculinaryjumble.com/vanilla-olive-oil-cake/