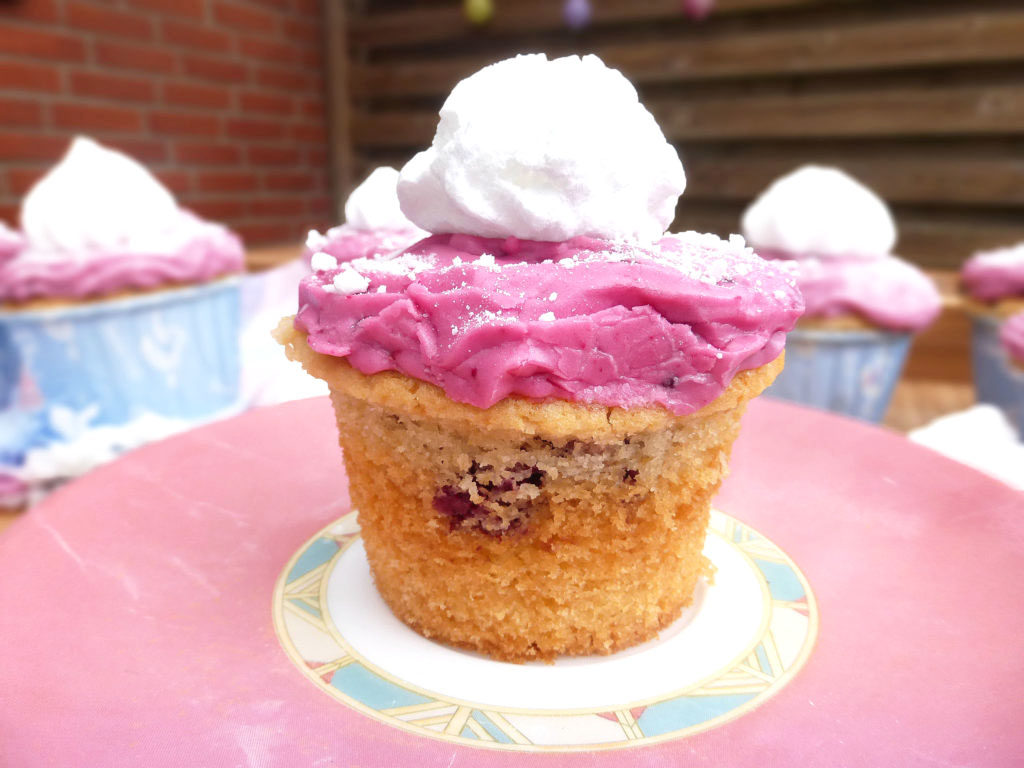 I am a part-time "mother tongue" teacher, and I love any excuse to bake for my students.
There is quite frankly nothing more satisfying than making sinful desserts and then handing the majority over to someone else to scoff (keeping one or two back, just for test purposes, you understand).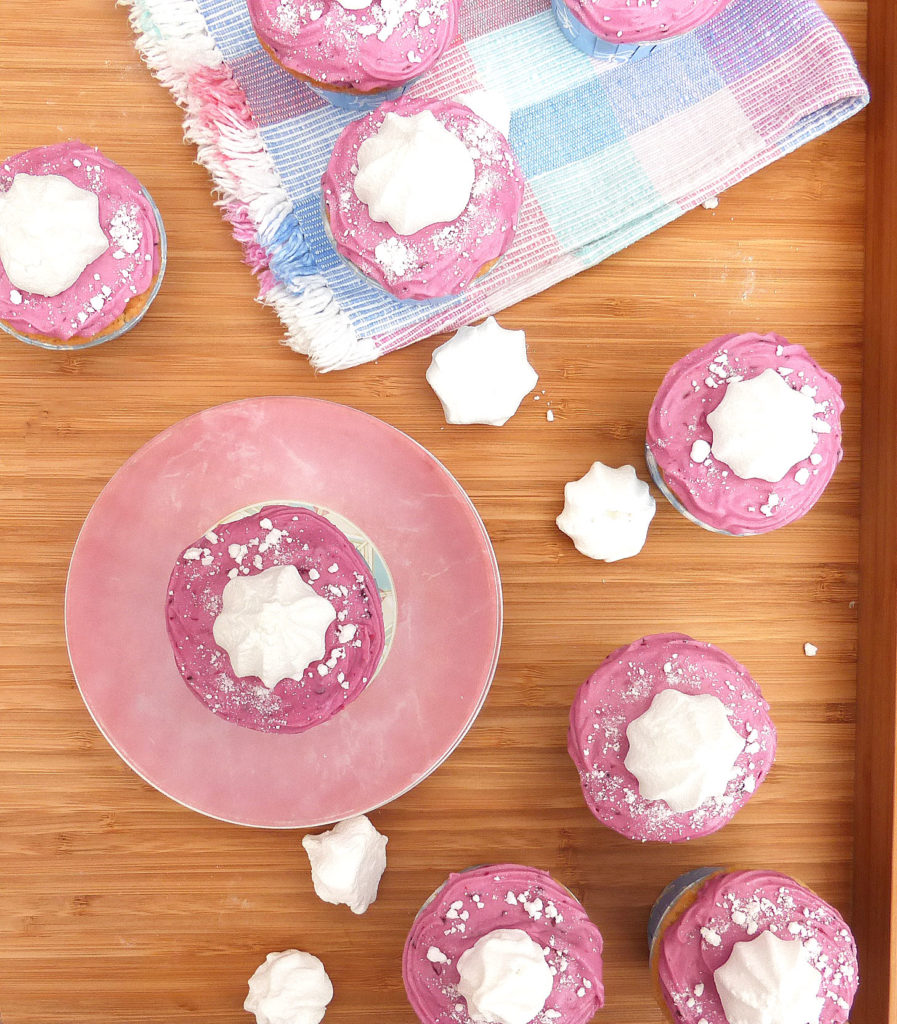 Every special occasion, I make something, with the high point being a picnic to celebrate the end of the school year and the beginning of the summer holidays.
This year, I made these pretty cupcakes. Some of the little girls I teach go wild for a frosted cupcake, and as I rarely make them for us, I like to go a touch overboard when I do bake them for my students.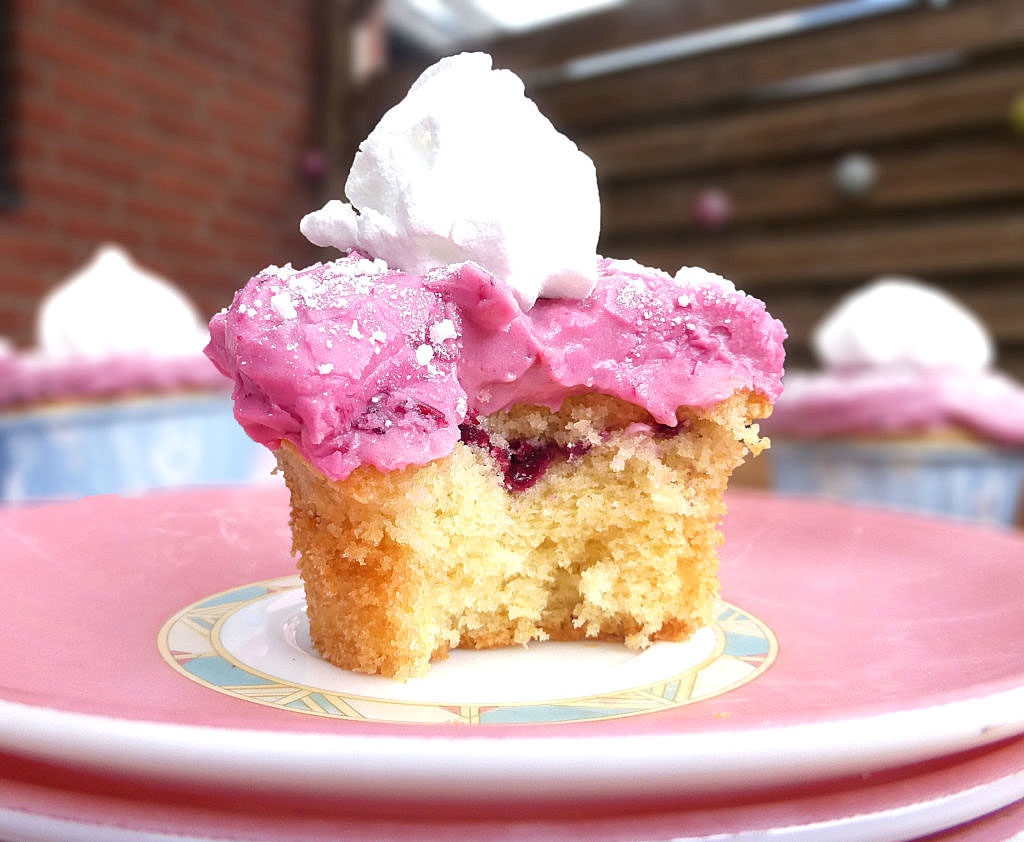 These gorgeous, deliriously soft vanilla cupcakes are made even better by the addition of a dollop of homemade jam swirled through them.
They are then beautifully topped with a berry cream cheese frosting. Just look at that hue – all nature's handiwork and not a drop of artificial colours. Lastly, a sprinkle of crushed, sweet meringue (not homemade this time, so just a tiny cheat) completes the cupcakes.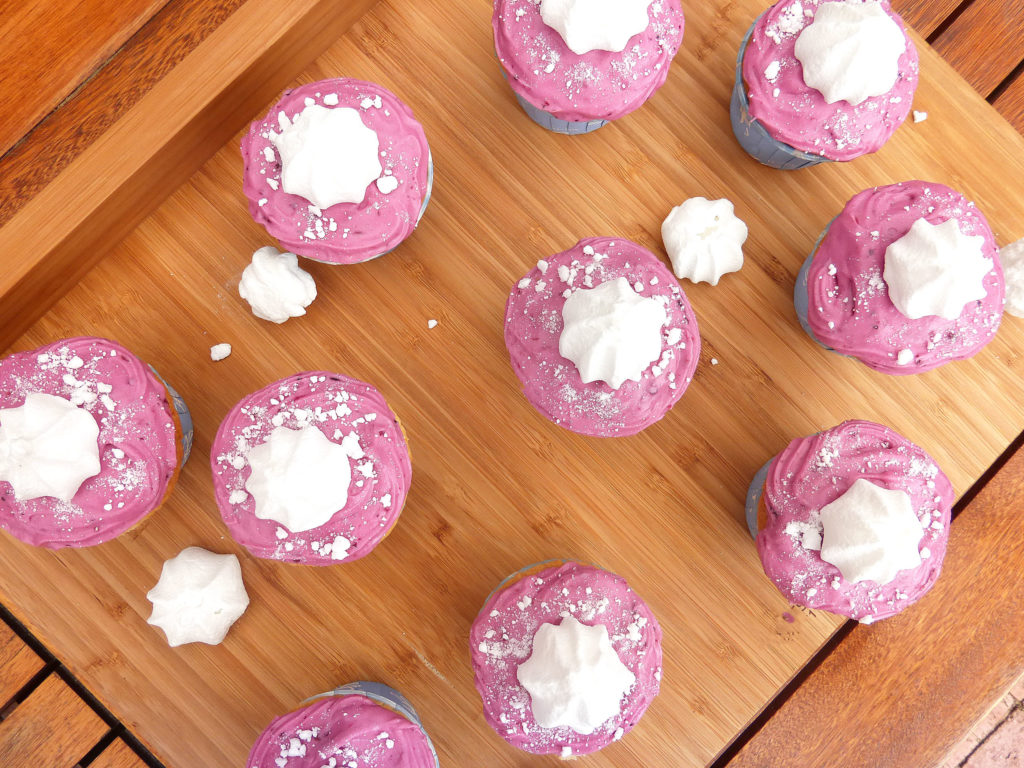 I will admit that my intention was to pipe the cream cheese buttercream frosting. However, my piping skills leave a lot to be desired.
I piped the frosting onto the cupcakes but it seriously looked like huge piles of purple dog poop, so gracefully accepting my lack of ability in the piping department, I hastily took my handy cupcake palette knife and smothered it all over instead.
Let's face it though, kids don't notice whether it's all fancy-shmancy anyway, so frost them however you like!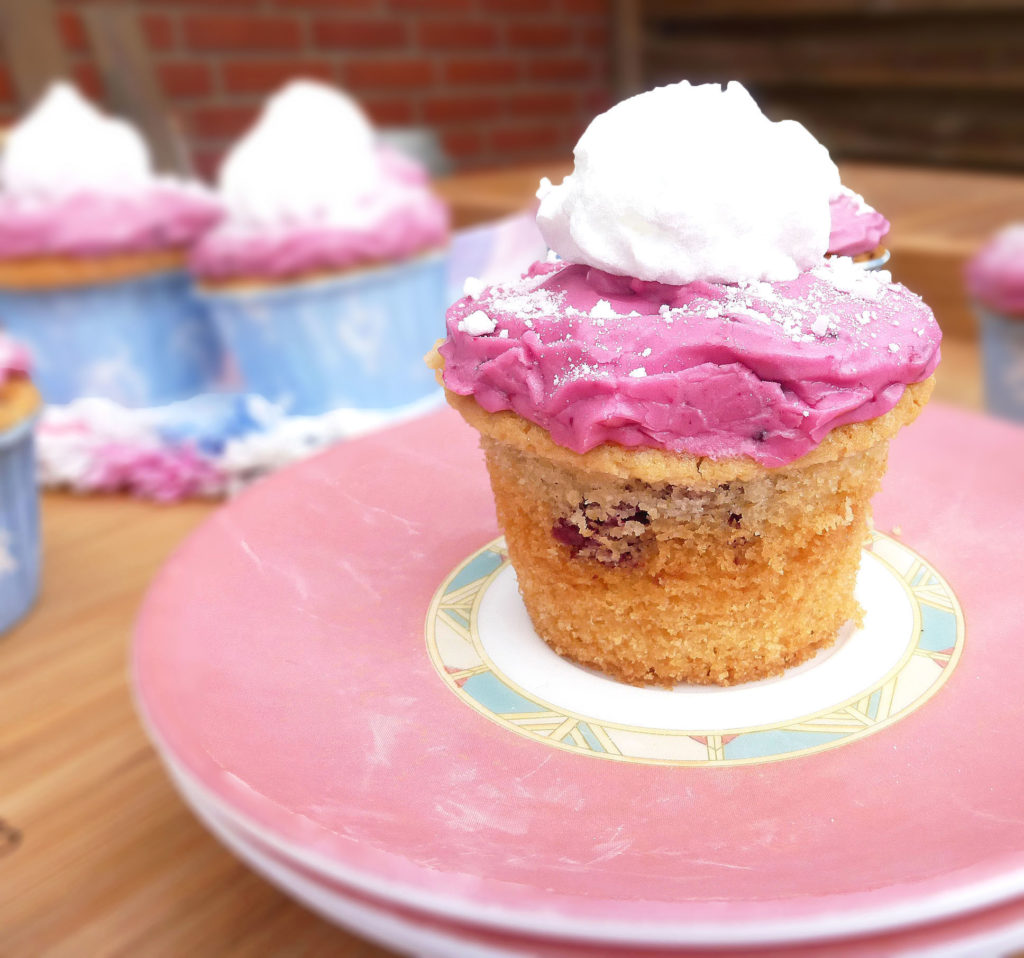 These were pretty big cupcakes and the measurements below made 12. You could easily get 18 regular-sized cupcakes out of the ingredients (if not more).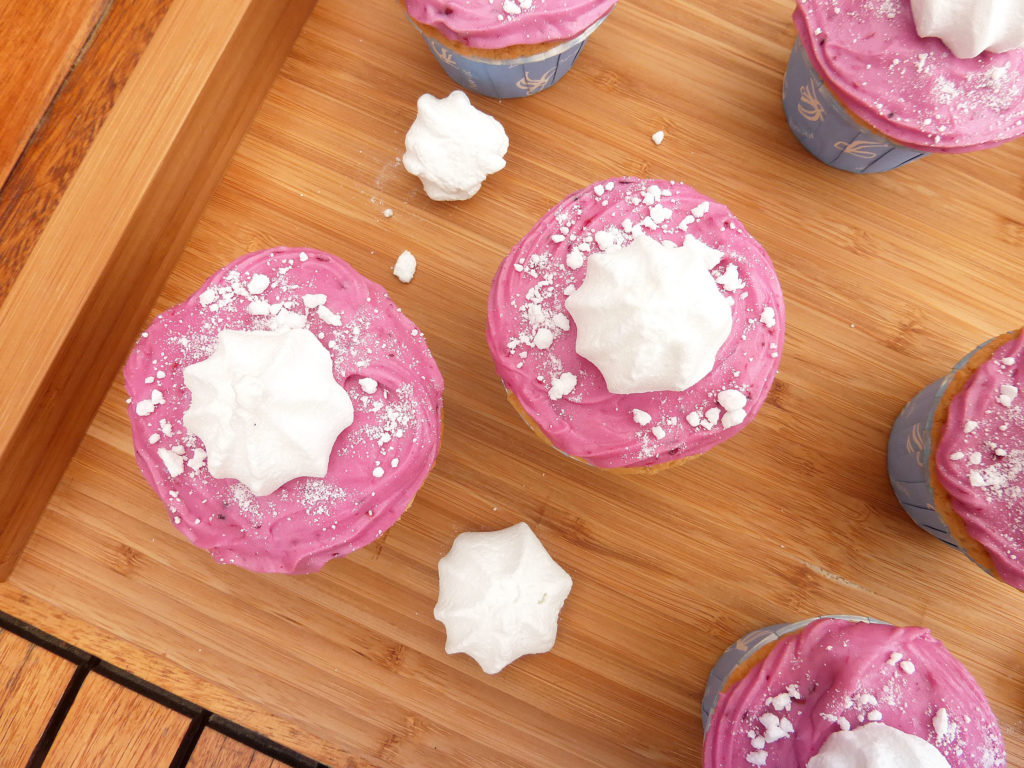 Vanilla and Berry Swirl Cupcakes with a Berry Cream Cheese Frosting
---
Ingredients
Cakes:

150g (3/4 cup) butter
150g (3/4 cup) sugar
2 eggs
190g (1½ cups) plain (all-purpose) flour
1 teaspoon vanilla sugar
2 tablespoons baking powder
1 tablespoon of milk
Homemade jam or any other kind of jam

Frosting:

150g (2/3 cup) Philadelphia/Cream cheese
55g (1/4 cup) butter (softened)
2 tablespoons of jam (see above)
200-300g icing (confectioners') sugar
Meringues for decoration (optional)
Directions
~ Pre-heat the oven to 160°C (320°F). Prepare a cupcake/muffin tin.
~ Cream the butter and sugar until smooth. Beat in the eggs one at a time.
~ Sift the flour, baking powder and vanilla sugar together, and slowly fold into the wet ingredients. Add the milk and stir until combined (don't over mix at this point)
~ Fill each cupcake case to half full with the batter, then dollop around one teaspoon of jam on top of each one. Take a knife and gently swirl the jam into the batter. Top each cupcake with the remaining batter.
~ Place in the middle of the oven and cook for around 17-20 minutes. They are ready when a skewer comes out clean. Leave for five minutes in the pan and then turn out onto a wire rack to cool completely.
~ For the frosting: beat the butter and cream cheese together until soft and smooth, then beat in the jam. Add icing sugar a little at a time until a thick, spreadable/piping consistency is achieved.
~ Crumble a couple of meringues and sprinkle over the tops of the cupcakes (I also used a mini meringue on each cake, but this is optional). Tuck in and enjoy!
7.8.1.2
204
https://www.theculinaryjumble.com/vanilla-and-berry-swirl-cupcakes-with-a-berry-cream-cheese-frosting/