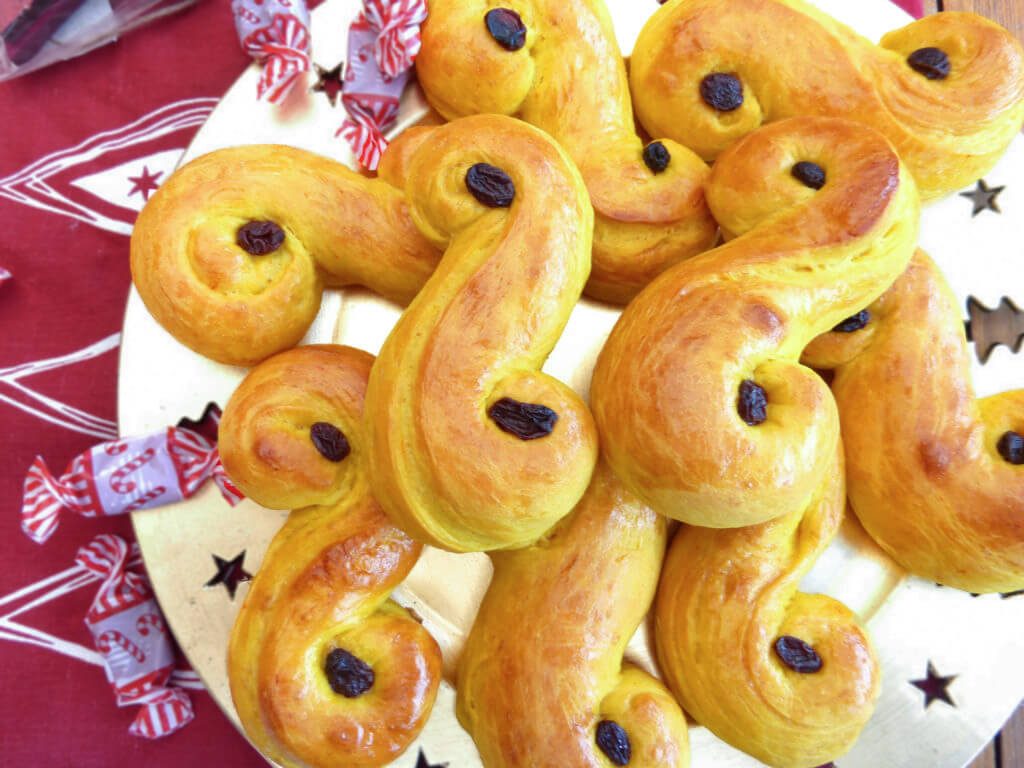 Lussekatter (or Swedish St Lucia saffron-infused buns) are a traditional staple of Swedish Christmas.
They are made to celebrate Sankta Lucia (St Lucia's day) on 13th December, but you start to see them from around the time of the first advent, right up until Christmas itself.
Lussekatter (Katter means cats) are so-called due to their easily-identifiable shape. Can't see the likeness to a cat myself, but let's just go with the flow!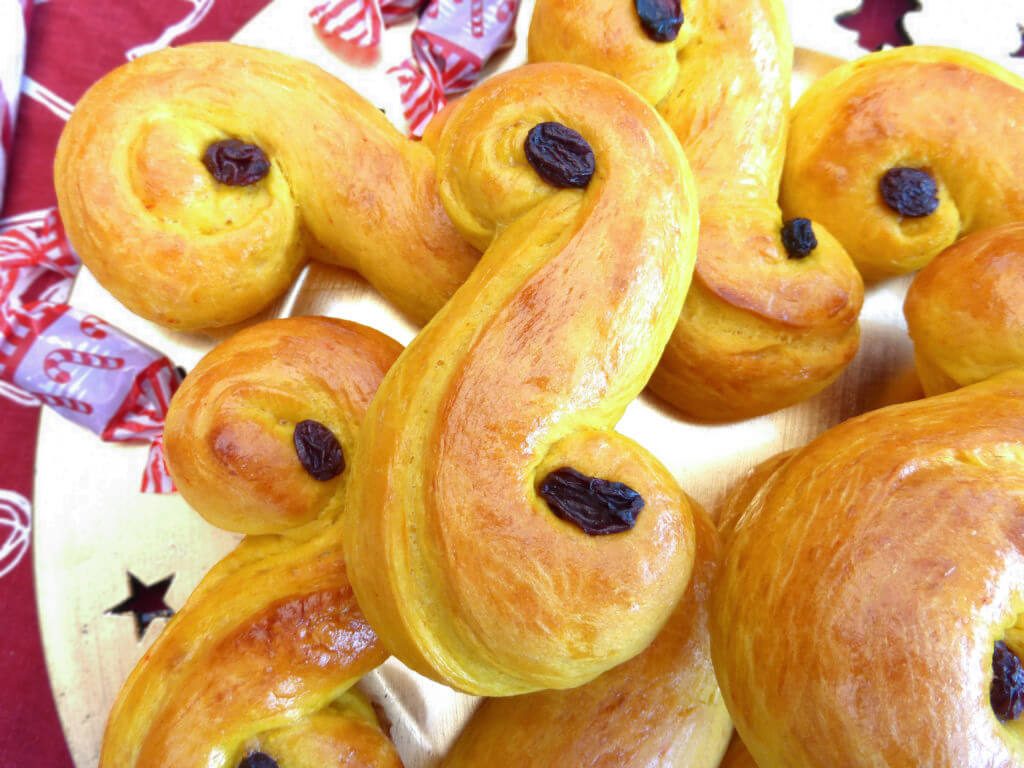 The buns a yeast bread flavoured with saffron, washed with egg and a touch of cream before baking, and then simply adorned with a couple of raisins for decoration.
Lussekatter are visually stunning (the colour in the pictures is authentic – they really are this brightly coloured), and very simple to make. Although this particular style is certainly the most common, you can make them into rings, crosses and other pretty shapes.
The flavour of saffron is big in Sweden over the festivities and I always find it very inspiring to work with. You can see how the colour shines through in my recipes for saffron & pistachio skorpor (biscotti), saffron & white chocolate overnight buns, and saffron & white chocolate Christmas tree bread. 
The only thing for it is to eat them up as quickly as possible, or you can freeze any not immediately eaten, taking them out as and when you need them.
This recipe came from Leila (Sweden's baking queen) and was amended only to reduce the ingredients by half. The measurements below made 12 great-sized buns – you can make them a little smaller, and achieve more, if you prefer.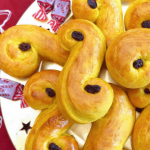 Swedish Lussekatter (Saint Lucia Saffron Buns)
Ingredients
100g

(just under 1/2 cup) butter (softened)

0.5g

(3/4 teaspoon) powdered saffron

250ml

(1 cup) milk

2

tablespoons

whipping cream

25g

fresh yeast

1

egg

65g

(1/3 cup) sugar

400-500g

(3½-4 cups) bread flour
Egg-wash:
1

small egg

½

tablespoon

whipping cream

Handful of raisins
Instructions
Melt the butter in a pan and then add the saffron. Let the mixture cook for a couple of minutes and then remove from the heat. Add the milk and cream and stir to combine.

When the liquid is le-warm, crumble in the fresh yeast and let it sit for five minutes before stirring. Once stirred, leave for a further five minutes to activate. Finally, add the egg and sugar and stir to combine.

Pour around 300g (2½ cups) flour into a large bowl and add the wet ingredients. Quickly stir (almost beating) the ingredients together and slowly (SLOWLY) add only enough flour just to make the dough workable (see my bread making [tips|http://www.huffingtonpost.com/entry/why-making-bread-doesnt-need-to-terrify-the-pants_us_576c42a0e4b0fa01a13fb2a9 ] for advice on how to make any kind of bread).

Pour out on to a floured surface and continue to add more flour as you go. The dough should be very sticky when you first turn it out of the bowl. When the dough is ready to knead, work it for around five minutes until it is pliable and soft. Place back in the bowl, cover, and leave in a warm place to proof for about an hour.

Prepare a large baking tray with grease-proof paper (you may need two). When ready, knock back the dough and divide into 12 bits of pretty equal size. Take each one in turn and roll into a long, thin string (around 25cm). Place the string of dough on the baking tray and gently curve into an "S" shape, curling both the bottom and tip of the "S" into a spiral and then tucking the ends in. Pre-heat the oven to 200°C (400°F), cover again and leave for around 30-45 minutes.

Beat the egg and stir together with the cream, then wash over the buns. Take the raisins and gently add one to both ends of the bun (where the spirals form). Bake for around 10-14 minutes, dependant on size. The buns should be a lovely, yellowy-golden colour when ready.

Remove from the oven and place on a wire rack to cool. Eat when still a little warm or allow to cool completely. Keep in an airtight container or freeze for later. Enjoy!
Recipe Notes
I often use fresh yeast for my bread recipes. However, if you prefer instant or dried, here are some handy tips for converting the measurements.
.