Desserts don't need to be unhealthy. Sometimes, they are actually good for you. Just like this strawberry cottage cheese and Greek yoghurt cheesecake.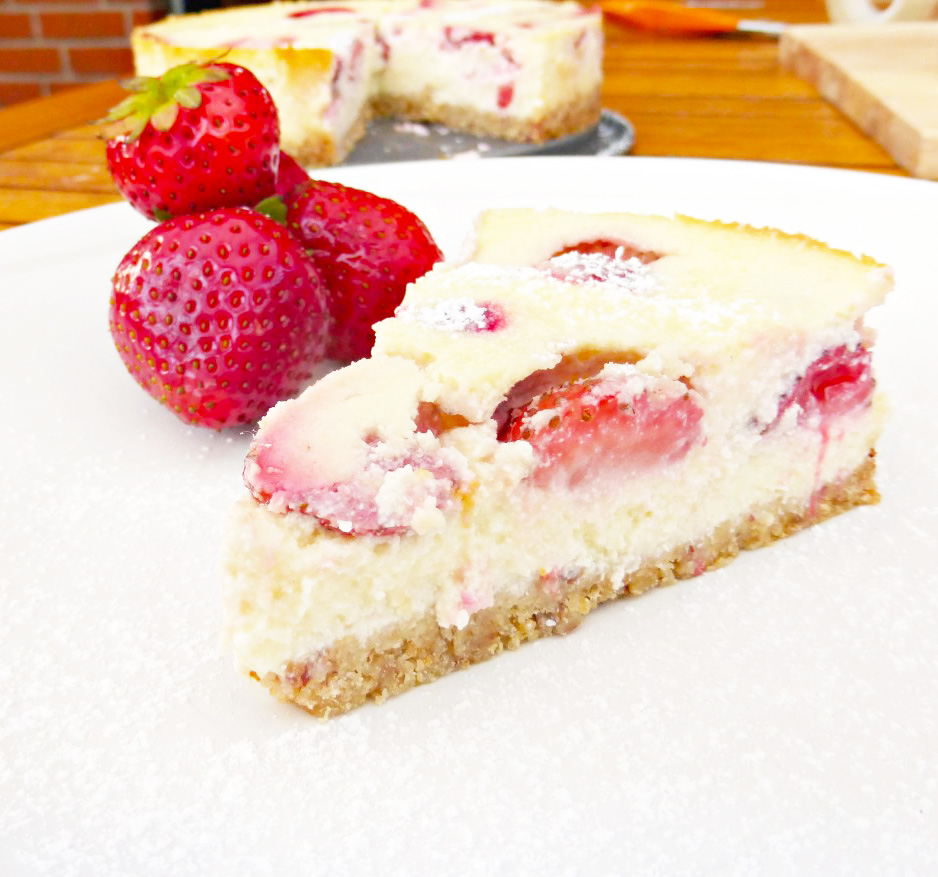 Even if you like cottage cheese, using it to make a fruity cheesecake might not be something that has ever crossed your mind. But if you think about it, cottage cheese isn't so dissimilar to cream cheese, is it?
Using Greek yoghurt and cottage cheese in place of butter or cream cheese, as well as reducing the sugar, this cheesecake is a delicious dessert that you don't need to feel guilty about eating!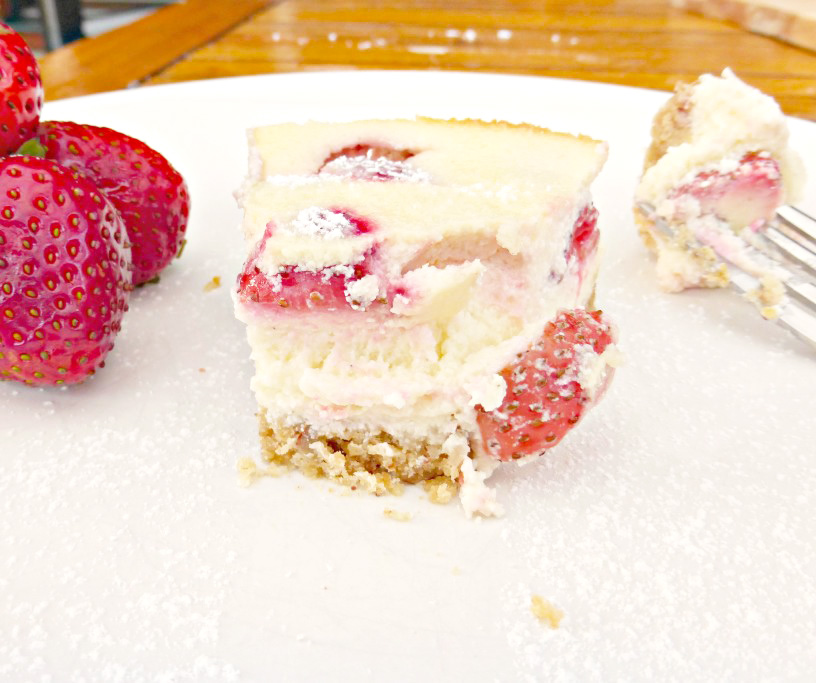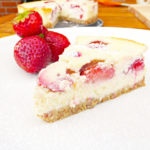 Lighter Strawberry Cottage Cheese and Greek Yoghurt Cheesecake
Ingredients
Crust
15

g

hazelnuts

3

cookies

15

g

butter or coconut oil

(melted)
Filling
2

eggs

250

g

cottage cheese

(I used ecological 4% fat)

80

g

Greek yoghurt

100

g

icing (confectioners') sugar

1

tablespoon

flour

1

teaspoon

vanilla sugar

1/2

cup

strawberries

(chopped)
Instructions
Pre-heat the oven to 150°C.

Blitz the nuts and cookies in a food processor until they resemble fine crumbs. Set aside.

Melt the butter and allow to cool slightly, then add to the cookie crumbs, stirring to combine.

Press the mixture down into a baking tin (I used an 18cm round spring-form) using your hands to evenly distribute it. Leave in the fridge to set for around 30 minutes.

In a mixer or food processor, add the cottage cheese, Greek yoghurt, icing sugar, flour, vanilla sugar, and egg and mix until smooth and well combined. Gently stir in the strawberries.

Pour the batter over the base and cook in the oven for around 60 minutes until the top has just set. Turn off the oven and leave the cheesecake inside for a further 30 minutes. Remove from the oven and allow to cool completely and then refrigerate for several hours. Cut into slices, sprinkle with icing sugar and serve. Bear in mind that this cheesecake has a texture that is a little softer than those made with cream cheese, and therefore should be kept in the fridge at all times. Enjoy!
If you like your desserts on the healthier side like this strawberry cottage cheese and Greek yoghurt cheesecake, check out my Mocha Dark Chocolate Brownies, GF Cashew Shortbread or Spiced Figs in Coconut Sugar Caramel