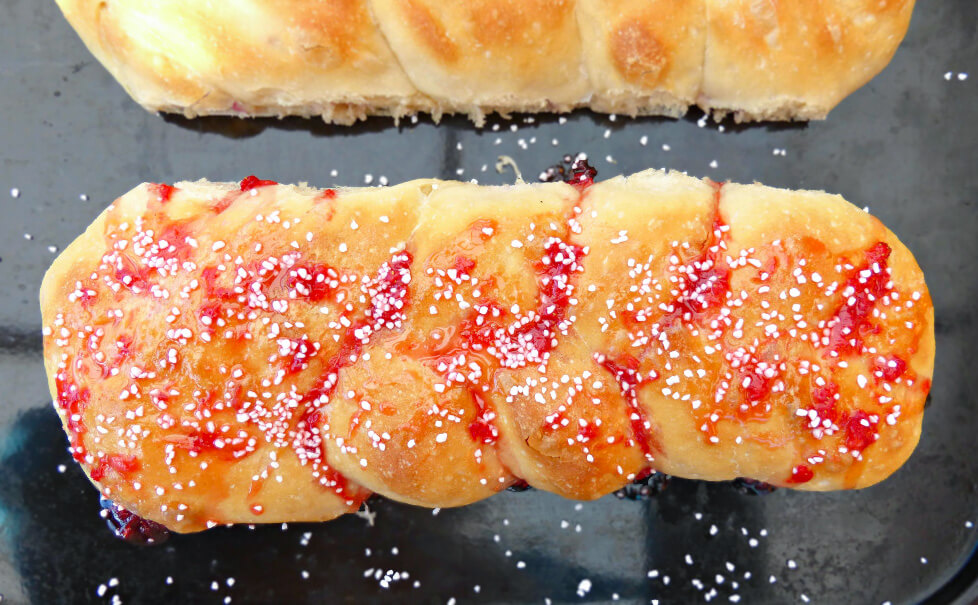 It was my partner's birthday the other day and because he was working in the evening, I thought it would be nice to bake him something special that we could all eat together for breakfast.
Based on my previous recipe for Cinnamon Overnight Buns with a Coffee Drizzle, this is made the evening before and left to slowly prove in the fridge overnight. I love getting the time-consuming part of bread making out of the way the evening because as much as I might be set on doing the whole thing in the morning, time always escapes me (or I forget how long good bread really takes to prepare) and by the time it is ready, breakfast has long gone!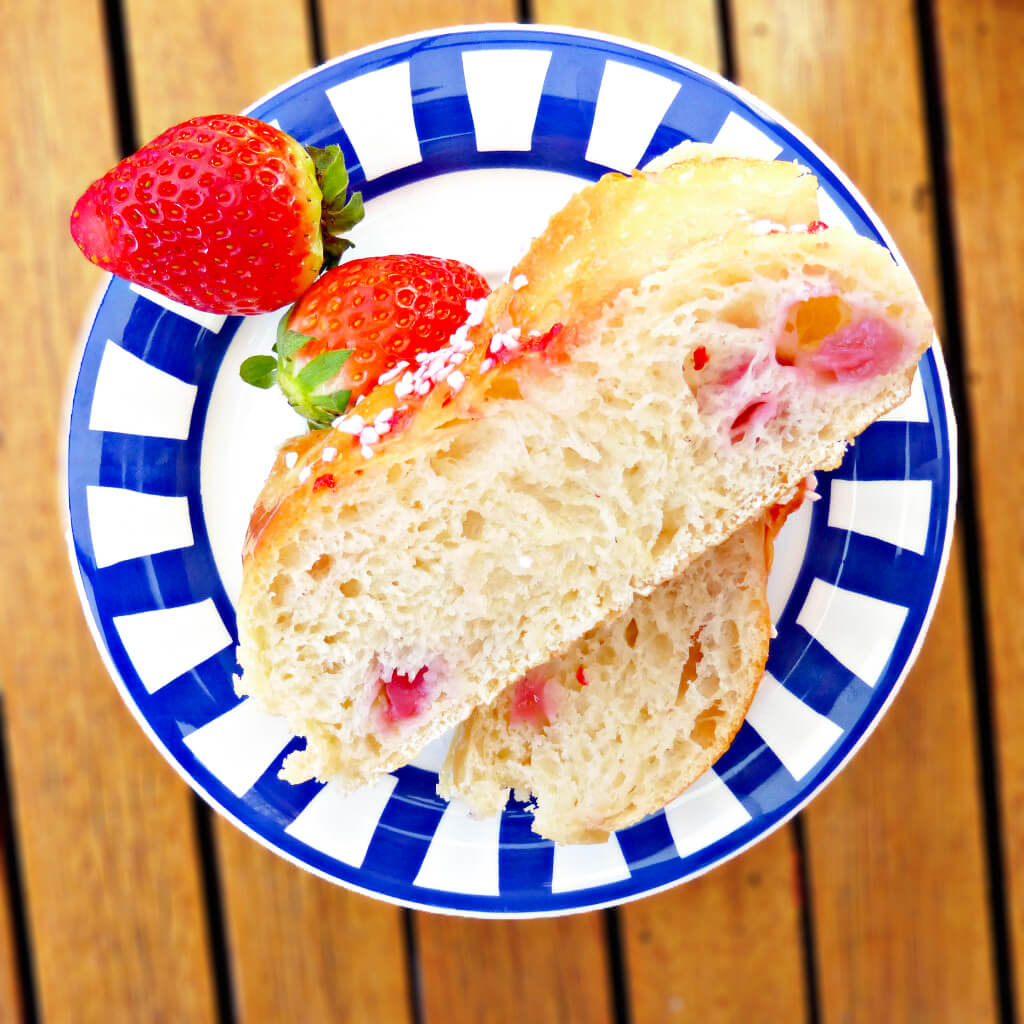 I have used strawberries but I think raspberries would be nice, too. My kids have already requested a Nutella version (sense of deja vu, or what?) and I think that would work really well with a chocolate drizzle and chopped nuts. The topping can also be adjusted to suit your tastes – this bread isn't particularly sweet, so the strawberry glaze and the sprinkling of pearl sugar really complemented it.
You could also leave it just as it comes out of the oven, but if you did decide to leave it plain, I would probably add one or two more tablespoons of sugar to the dough.
The measurements below made two large braids but you could easily half the amounts if you don't have as many greedy hungry mouths to feed.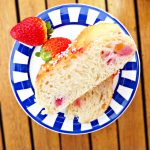 Strawberry and Vanilla Overnight Braid Loaf
Ingredients
Bread:
1/3

cup

lukewarm water

25g

fresh yeast

1

cup

lukewarm milk

2-3

tablespoons

sugar

450-500g

white bread flour

1

teaspoon

vanilla sugar

1

teaspoon

sea salt

6-8

strawberries

(chopped)
Glaze:
3-4

strawberries

50-75g

icing sugar

pearl sugar for sprinkling
Instructions
Crumble the yeast into the warm water and allow to dissolve. Gently heat the milk in a pan until it is also lukewarm and then add to the yeast liquid.

Place the flours, sugar, vanilla sugar and salt in a large bowl, and stir until combined.

Pour the liquid into the dry ingredients and mix.

Turn out onto a floured surface and knead for about five minutes.

Divide the dough into three equal parts. In turn, roll out each piece of dough until it is a long rectangle shape. Long side facing you, place the chopped strawberries right the way along the length, stopping around 1/2 inch from each end. Gently roll the edge of the dough over the strawberries, pushing them down a little, and then continue to roll, keeping the dough as tight as possible.

Continue with the other two pieces until you have three long rolls of dough and then cut each roll in half so that you are left with six pieces. Take three rolls and place seam side down in a vertical position next to each other. Take the tops of the two outside rolls and press down on to the middle one. Gently begin to plait (braid) the three rolls together. When finished, tuck the bottom and tops underneath as this will help keep the bread together. Do the same with the other three rolls so that you are left with two braids.

Grease a large baking tin or tray and place both braids on it. Cover with cling-film and leave in the fridge overnight.

Next morning, take the braids out of the fridge and leave in a warm place for around one hour to rest and come up to room temperature. Heat the oven to 175°C and bake for around 25 minutes until the tops are nice and brown on top. Allow to cool for a while.

For the glaze: mash the strawberries with a fork until there are no large lumps left and use as much icing sugar as necessary to thicken the glaze to a drizzling consistency. Pour over the braids and sprinkle with pearl sugar. Enjoy!