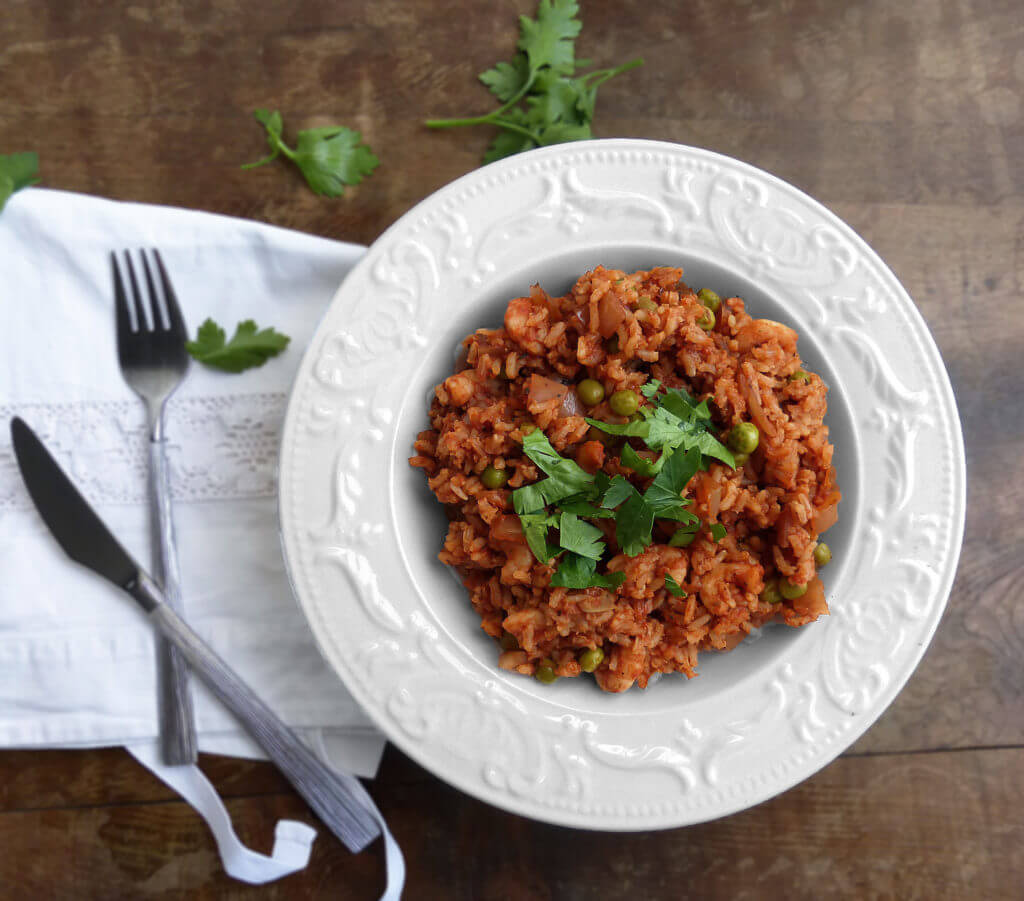 This spicy tomato and prawn rice is heavily inspired by the classic southern dish Jambalaya, but given my own twist.
For those not in the know, Jambalaya (anyone else here the Gipsy Kings' song in their head when they read the word Jambalaya? Perhaps it's just me, then?) is a dish traditionally consisting of chicken, rice, shrimps (prawns) and spicy sausage.
I didn't add spicy sausage or chicken so didn't feel it could rightfully be given the honour of being called Jambalaya. So, I give you, spicy tomato prawn and rice.
I really like this recipe not only because it is delicious, but it is a one pot wonder. Don't you love it when there aren't a hundred and one pans and dishes to wash up after you've created a masterpiece? I know for a fact I would cook and bake a heck of a lot more if there was no mess left behind.
Even better is that the Crockpot does all the cooking for you, too. Sometimes, I really can't be bothered to bugger around cooking dinner at the end of a busy day and there's no greater feeling than coming home to gorgeous smelling food that is pretty much ready to dish up.
I really love the adaptability of this recipe, too. Add whatever you have and remove what you don't fancy. Love it really spicy? Add more. Make it to suit your own personal taste.
The ingredients below made a huge pot of food. The four of us had double helpings and froze the rest for another day, so it would easily accommodate six people.
Nice and Spicy Tomato and Prawn Rice (made in the Crockpot)
---
Ingredients
400g tinned tomatoes
2 cups vegetable stock
2 tablespoons tomato ketchup
1 tablespoon HP or Worcestershire sauce
2 bay leaves
1 teaspoon dried basil
1 teaspoon dried oregano
4 cloves garlic (finely chopped)
1 teaspoon dried thyme
½ teaspoon cayenne pepper
1 tablespoon paprika powder
1 teaspoon black pepper
½ teaspoon Tabasco sauce
1 teaspoon salt
1 medium onion (roughly chopped)
500g prawns
1½ cups white rice
1 cup frozen peas
Directions
~ Add all ingredients bar the last three (rice, prawns and peas) to your Crockpot or slow cooker. Cook for 4 hours on low.
~ Add the last three ingredients and continue to cook on low for a further 1½ hours, or until all of the liquid has been absorbed by the rice. Serve immediately and sprinkle with a few chopped fresh herbs. Enjoy!
7.8.1.2
314
https://www.theculinaryjumble.com/spicy-tomato-prawn-rice-crockpot/
If you like easy to prepare dinners, why not take a look at these:
Sweet Potato, Leek & Garlic Soup
Spanish Style Smoked Paprika Chicken Stew